What to expect when holiday shopping at Alderwood Mall this year
LYNNWOOD, Wash., December 15, 2021 – Alderwood Mall has decked the halls, returning to full capacity and hosting plenty of events just in time for shoppers looking for an in-person shopping experience this holiday season.
Alderwood has a collection of 166 retailers and dining options with something for everyone. Throw in the state-of-the-art AMC Theater and you have the makings of a fun-filled day with family and friends all in one place. Given its convenient location right off the I-5 and I-405, as well as its abundance of parking, Alderwood is a one-stop shop for the community of Lynnwood.
"One major theme that we've noticed this year is that our community is craving a feeling of normalcy. We're seeing a strong return of shoppers to the mall. It's been especially heartwarming to see families shopping, dining, and visiting Santa over the past few weeks. We expect this strong traffic to continue as we enter the new year," Rachel Wille, Senior Public Relations and Social Media Specialist for Brookfield Properties, told the Lynnwood Times.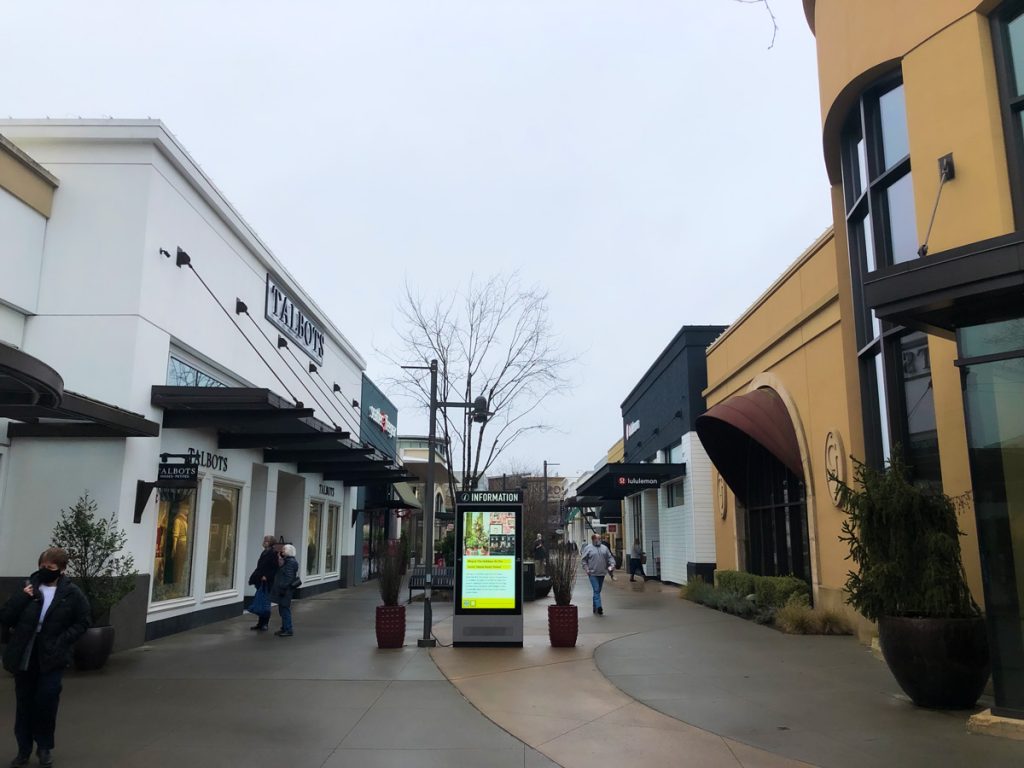 Per the Washington state and CDC guidelines, there are no capacity restrictions for Alderwood Mall. Alderwood Mall is following all CDC guidelines, as it has throughout the pandemic, as well as following state and local mandates. Masks are required for all those entering the center, and the security team has complimentary face coverings for those that do not have one.
"The holidays are one of our favorite times of the year at Alderwood Mall. We are the host of meaningful traditions and experiences that cannot be replicated online, such as Santa visits and shopping with family and friends. Additionally, by shopping in-person, our guests won't have to worry about shipping delays. They'll be able to take their gifts home that same day, worry-free," Wille said. 
The mall will host a number of holiday events to look forward to this season, including Pet Night with Santa, Santa Cares – a sensory-friendly Santa experience for families and children with autism and other special needs – and holiday gift wrapping with Lynnwood High School. For the full calendar of events, as well as additional information on each, visit https://www.alderwoodmall.com/en/events.html.
"We're very excited about the residential addition that has been made to the property and are eager to welcome our newest residents to Avalon Alderwood Place," Wille told the Lynnwood Times.
Santa Photos Near Macy's
Children have the opportunity to tell a vaccinated St. Nick what they want for Christmas and take photos with him every day from 4 p.m. to 8 p.m. until Christmas Eve. Reservations are encouraged but walk-up visits are available as space permits. New health and safety measures have been put in place to protect the wellbeing of visitors and staff, including increased disinfecting and sanitation stations, increased character costume fabric treatment, providing the choice of both contact and social distancing photo opportunities, and active guest volume monitoring. Take photos with Santa and create magical moments for you and your family.
The magic does not stop with human visitors, however. Each Monday through December 20, the mall will host Pet Nights where families can include all members in the fun, including their furry friends. Get the family together to strike a pose with the big guy to capture paw-fect holiday moments!
On Sundays from 9:30 a.m. to 10:30 a.m. (before the mall opens), children within all spectrums of special needs are invited to a sensory-friendly photo opportunity with Santa. 
Lynnwood High School Gift Wrapping Services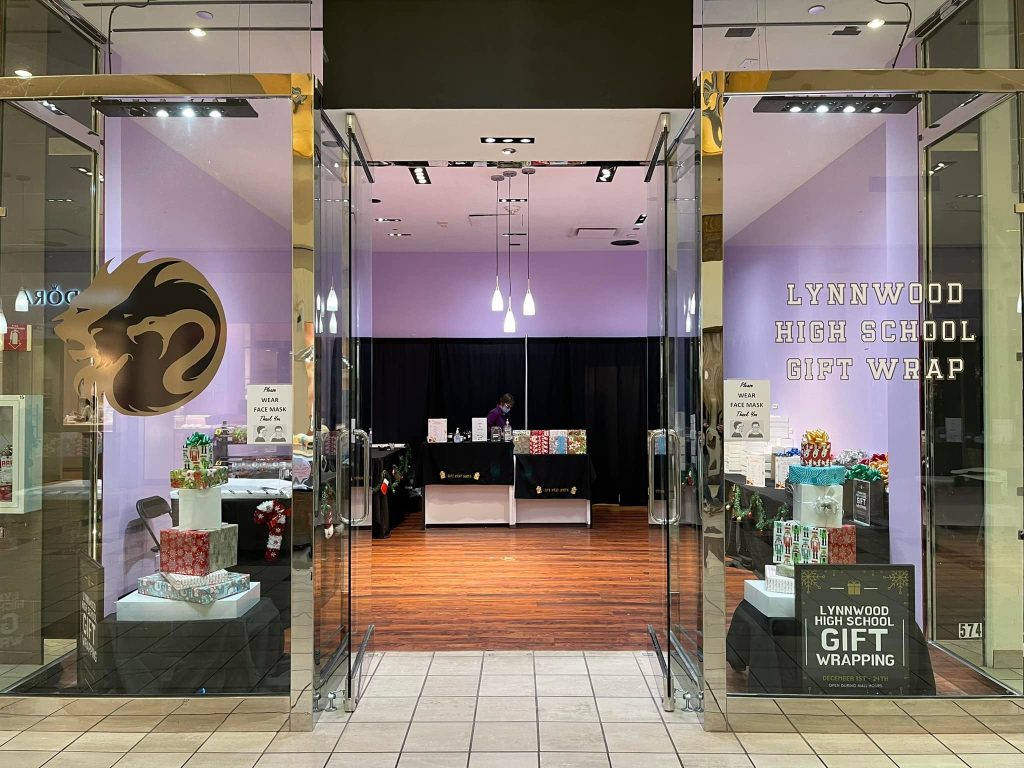 Lynnwood High School volunteers have returned after a year off to provide gift wrapping services that go toward raising money for extracurricular activities such as athletics programs and school dances. Located at space 575, next to Sunglass Hut by the food court, every day during mall hours until Christmas Eve, the Lynnwood High School Booster Club is a 501(c)(3) non-profit run by volunteers and managed by Board and Committee Chair Members to support students, parents, staff, and community members.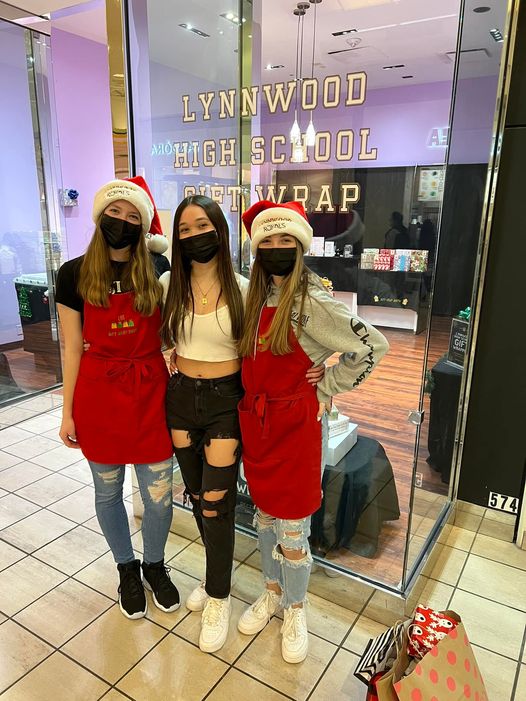 Gift wrapping prices are $3 for a small package ($4 with box), $4 for medium ($5 with box), $5 for large ($6 with box), $6 for extra large ($8 with box), and $15 for huge. All money raised will go toward funding ASB and sports participation fees, homecoming events, the student bus to watch the Lynnwood High School team play in tournaments as needed, college scholarship money, and supporting clubs and teams. 
Holiday Fun at the Food Court
On Sunday, December 11 from 1 p.m. to 4 p.m., join in on interactive experiences, magical moments, crafts, and giveaways at the Alderwood Mall food court. You may even catch a glimpse of Santa himself!
Savor seasonal eats and sip on festive beverages while you do your holiday shopping. 'Tis the season to treat yourself and indulge in all your favorites.
Curbside Pickup 
Alderwood Mall is now offering curbside pickup options at participating realtors to make your holiday shopping safer and easier than ever. After placing an order with a participating store or restaurant, simply go to the pickup location specific to the retailer you shopped with. Once there, the Alderwood Curbside Parking Area will have spaces labeled so you can provide the store with your exact location when you arrive.
Participating stores and restaurants include:
Aerie
Altar'D State
American Eagle Outfitters
BareMinerals
Blazing Onions
Braganza Tea Bar
Build-A-Bear Workshop
Charlie's Philly Steaks
Claim Jumper
Cold Stone Creamery
Hollister Co.
J.Jill
JC Penney
Macy's
New Balance
Nordstrom
P. F. Chang's China Bistro
Pottery Barn
REI
Savory Spice Shop
Snap! The Custom Life
T-Mobile
Talbots
The Cheesecake Factory
Villa Italian Kitchen
Williams-Sonoma
Zales
Keeping the holiday spirit alive, click here to for other upcoming events all over Snohomish County.