[UPDATE] 4:51 p.m. December 26, 2021: Added National Weather Service forecast update.
LYNNWOOD, Wash., December 26, 2021 – Public Works & Utilities crews in cities throughout the county are doing their best to keep priority and secondary roads safe. Once the snow stops, some crews will begin making their way to tertiary streets. Drivers are asked to check their travel routes and options before heading out today and tomorrow. For Emergencies Call 911.
Anti-Ice applications are applied to roadways just ahead of a freeze in an effort to keep ice from building up on the pavement. Roads are then maintained after the snowfall to remove snow, apply sand and close unpassable road sections.
The Lynnwood Times compiled the snow removal route priority maps for major cities throughout Snohomish County. Click on the map enlarge.
National Weather Service Seattle Washington update
Mostly dry and cold through Wednesday. Chance for light snow each day, but no significant accumulations are expected. Another system Wednesday Night/Thursday will bring slightly warmer air, but also a mix for rain and snow. Keep an eye on the latest forecasts towards the end of the week.
Tonight: A 10 percent chance of snow before 8pm. Mostly cloudy, with a low around 17. Wind chill values between 7 and 12. North northwest wind 11 to 13 mph.
Monday: Partly sunny, with a high near 22. Wind chill values between 5 and 15. North wind 5 to 10 mph becoming light and variable in the morning.
Monday Night: A slight chance of snow between 9pm and 10pm. Mostly cloudy, with a low around 19. Wind chill values between 12 and 17. East southeast wind around 7 mph. Chance of precipitation is 20%.
Tuesday: Partly sunny, with a high near 30. Light north wind.
Tuesday Night: Mostly cloudy, with a low around 19.
Wednesday: A 10 percent chance of snow after 4pm. Mostly sunny, with a high near 29.
Wednesday Night: Snow, mainly after 10pm. Mostly cloudy, with a low around 23.
Thursday: Snow before 1pm, then snow likely, possibly mixed with rain. Mostly cloudy, with a high near 36.
Thursday Night: A chance of rain and snow before 7pm, then a chance of snow. Mostly cloudy, with a low around 27.
Friday: A slight chance of snow. Partly sunny, with a high near 34.
Friday Night: A chance of snow. Mostly cloudy, with a low around 23.
New Year's Day: Rain and snow likely. Mostly cloudy, with a high near 36.
Arlington
Priority snow and ice removal routes are cleared with 3 different trucks and include:
Busiest streets that connect neighborhoods
Streets used most frequently by public safety agencies
Streets that serve public institutions such as hospitals and schools
Streets used by transit agencies
Although non-arterial streets are not a priority, additional routes are addressed as time and equipment allow. I-5, SR530 and SR9 are maintained by WSDOT and streets outside of Arlington are maintained by other agencies. The City of Arlington does not maintain private driveways.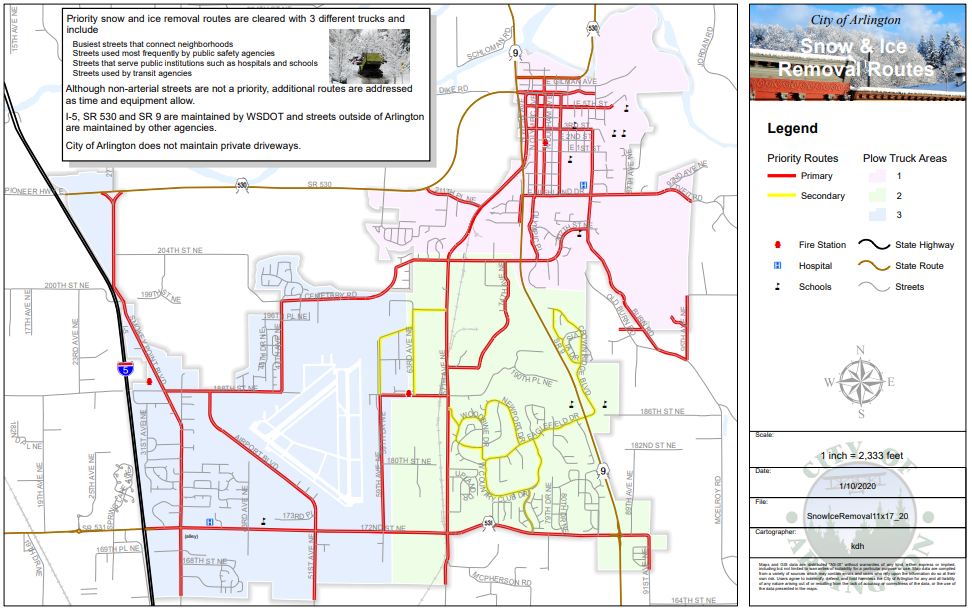 Edmonds
The City's Winter Storm Operating Procedure can be found here.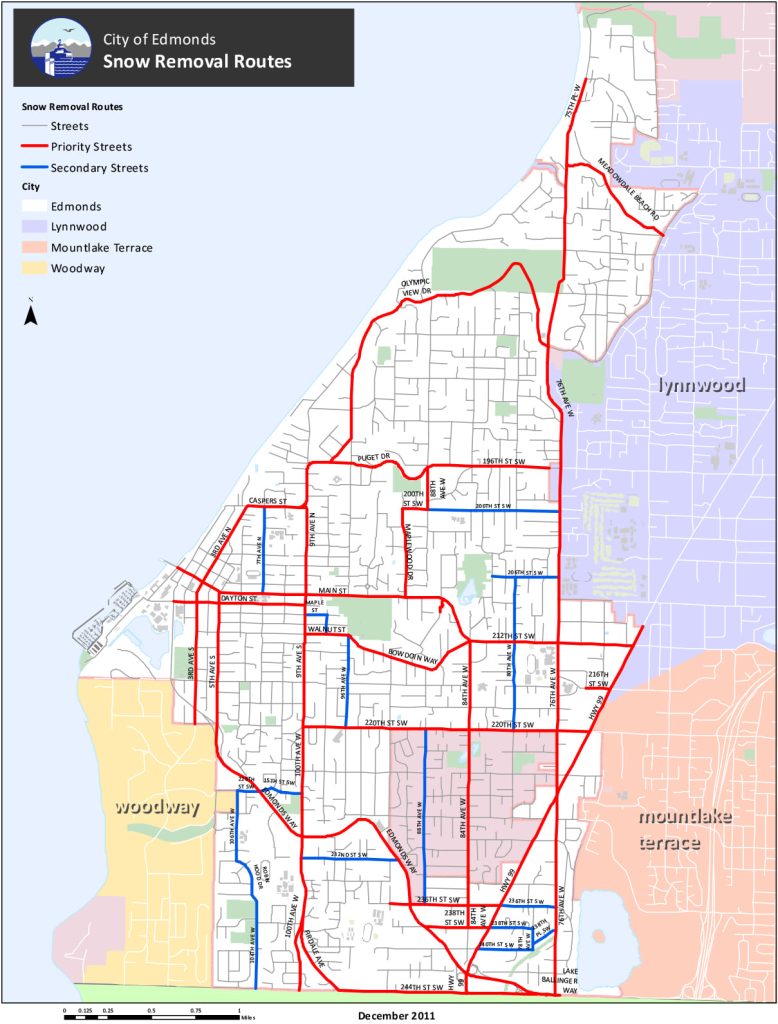 Everett
The primary responsibility for coordination of ice and snow control on Everett streets rest with Public Works. The City of Everett's snow removal plan can be found here.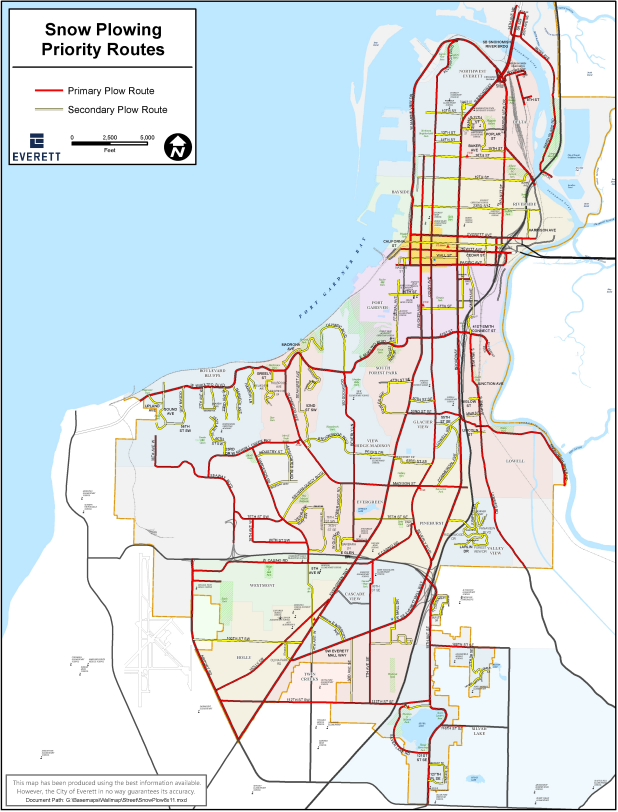 Lake Stevens
The City of Lake Stevens has adopted a Snow and Ice Plan, which is directed by a designated incident commander. The plan establishes priority routes and policies used during a snow and ice event. This route plan has 3 priority levels. If you wish to make a request for services on a non-designated route, please call (425) 622-9444. Reserve 911 for emergency and medical services only.
Ranking of route priorities:
Red = first priority
Green = second
Blue = third
Black/yellow = may have closures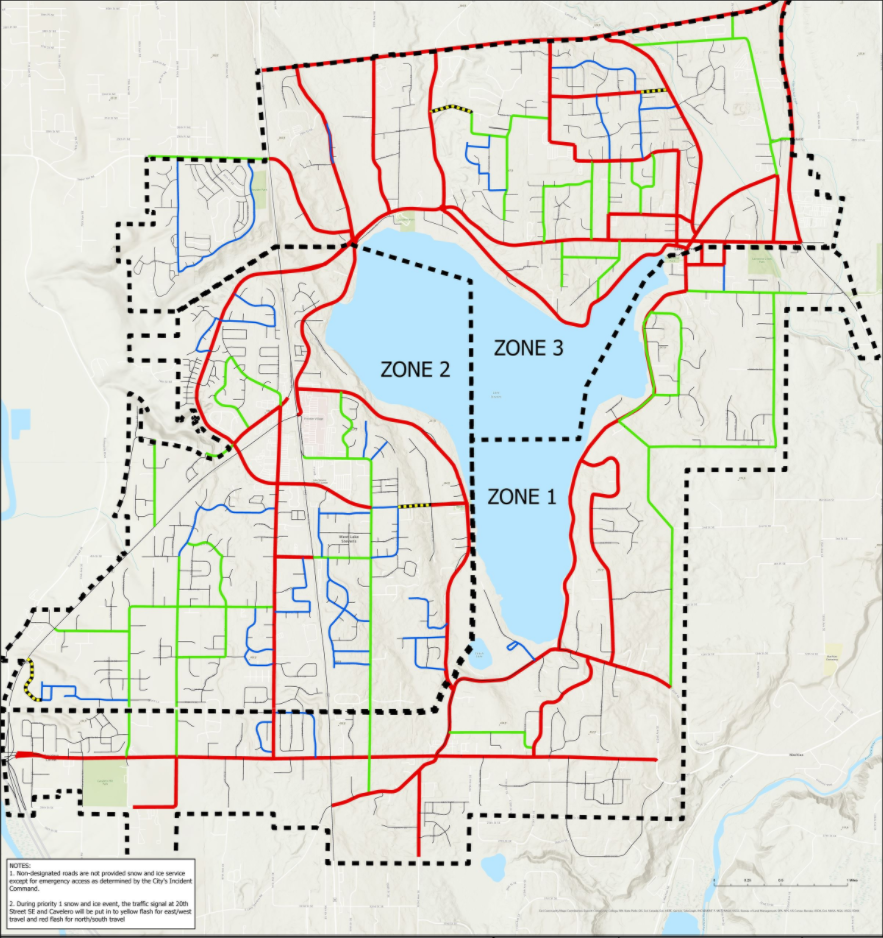 Lynnwood
The City's highest priority is plowing and sanding major arterial so that emergency first responders (Police, Fire and Public Works) are able to get in and around the city to provide essential services and keep the city operational. On the Snowplow Routes map, you will see two levels of the city's highest priorities:
(Red) First priorities are the red marked streets.
(Green) Second priorities are the green marked streets.
The city's next priorities are some of the steepest streets throughout the city.
The city's next priorities are the minor arterial and connection streets.
The city's final priorities are all the other neighborhood streets. These are usually sanded and plowed at night for safety reasons, when traffic is low.
Marysville
During widespread snow and ice conditions, Public Works personnel will focus their removal efforts on the following streets:
Arterials leading in and out of the City
Arterials located on hills within City boundaries
Fire and police access
All other arterials within City boundaries.
The City's Snow and Ice Removal Plan divides the city into zones, as illustrated on the Snow and Ice Routes Map. Each zone has certain routes that are a priority to plow and sand. The Street crews maintain 196 miles of streets within the city during snow and ice conditions. Street crews provide 24-hour coverage, conducting periodic sanding and snow/ice removal using a fleet of winter-ready vehicles that mitigate roadway condition during severe weather events.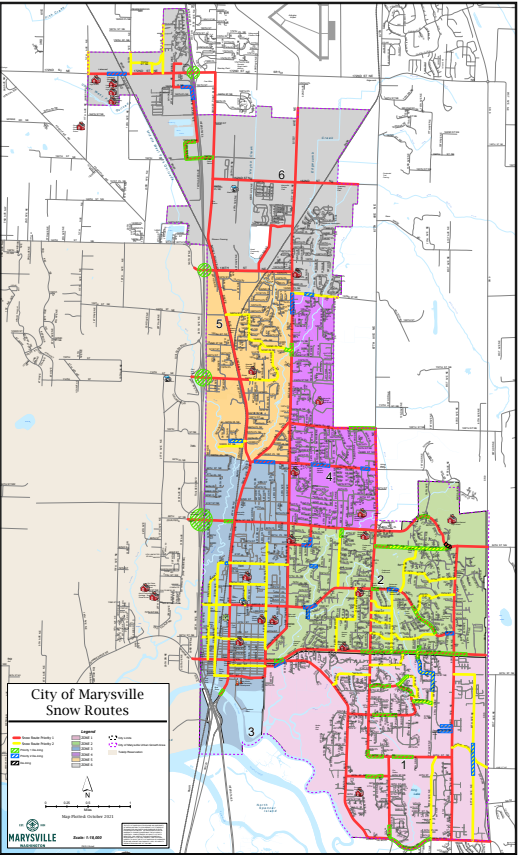 Mill Creek
The City's maintenance staff are responsible for maintaining 50 miles of public sidewalks and 106 lane-miles of street surface, guardrails, application of liquid deicer and sanding during winter snow and icy weather, snow and ice removal, and street signage and pavement markers. To view the map, click here.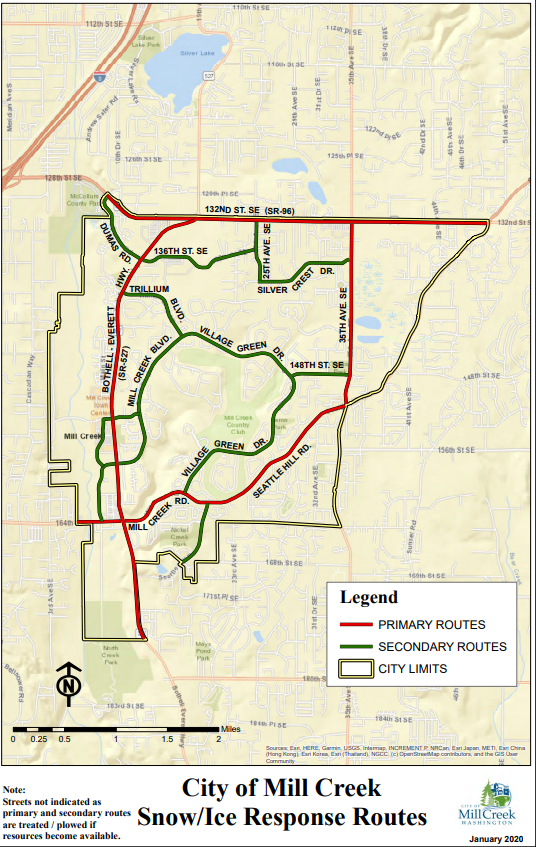 Mukilteo
The Public Works Operations Department is responsible for the maintenance of City-owned infrastructure, facilities, and buildings which includes 67 miles of roadways. A link to the City's Snow Removal and De-icing routes can be found here.
City of Snohomish
The street crew of the Public Works Department for the City of Snohomish is responsible for the maintenance of 40 miles of streets. The City's Snow and Ice Response Plan has been prepared for the purpose of communicating the designated roadways, in priority order, that will receive snow plowing and sanding services during winter snow and ice events. The City's plan details this priority at the street-level.
Snohomish County
Snohomish County Public Works is responsible for approximately 1,650 total miles of county-maintained roads. Routes are prioritized based on traffic volume, transit and school bus routes, terrain, and institutional knowledge of historical problem areas.
To view the status of snow removal on county-maintained roads, click here.