Former Lynnwood Mayor Donald Gough passes away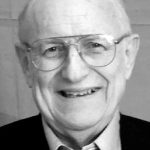 LYNNWOOD, Wash., January 4, 2022 – Former Lynnwood Mayor and civil attorney Donald Gough passed away this morning. He was 70 years of age. Gough, served on the Lynnwood City Council for eight years prior to be being the City's two-term mayor from 2006 through 2013. He was succeeded by Nicola Smith in 2014.
He led Lynnwood through the recession of 2008 and overcame a council attempt to remove him from office in 2010. Gough lost his bid to return to Lynnwood politics last year against Naz Lashgari and Patrick Decker for the Position 2 seat on the council. Decker eventually won the seat in the General Election.
"Some of my fondest memories were when Don Gough and I served on the City Council together," Councilman Jim Smith wrote to the Lynnwood Times. "We would often call out a "Code Brown" which meant that we would meet after the meeting at Applebee's for hot fudge sundaes…and talk politics. His heart was in serving."
"Don Gough served this City for almost two decades as a Council Member and Mayor," Councilman George Hurst. "He made difficult and sometimes unpopular decisions during the great recession of 2008-09 to make sure the City survived financially. He then helped create financial policies that included the creation of a substantial emergency reserve fund, and that fund helped our City through the current Covid pandemic economic crisis. We are all indebted to Don Gough for his service to Lynnwood."
Statement on behalf of Lynnwood Mayor Christine Frizzell:
"On behalf of the City of Lynnwood, I would like to extend my sincere condolences to the family and friends of former Mayor Don Gough, who passed away on January 4, 2022, at the age of 70. Mayor Gough's legacy will continue on in Lynnwood as a leader who helped build a strong foundation for our future growth.
"Don Gough was the sixth Mayor of the City of Lynnwood, serving from 2006-2013. Prior to that, he was on the Lynnwood City Council for ten years from 1995-2005.
"Under former Mayor Don Gough's leadership, our City Center Plan was adopted and Lynnwood began moving forward with key infrastructure projects such as 44th Ave W Widening and the 44th Ave W Pedestrian Bridge which connected the Interurban Trail to the Lynnwood Transit Center. Early planning also began on the Lynnwood Link light rail extension, setting the stage for the infrastructure which we are seeing the benefits of today. Our state-of-the-art Traffic Management Center was constructed along with a City Hall remodel under Mayor Gough, bringing us the ability to leverage technology to keep our busy streets moving efficiently.
"Mayor Gough was instrumental in the creation of Lynnwood Moving Forward: Our Community Vision, which has become our guiding document, our foundation for making strategic and purposeful decisions about the future of our City. Another significant accomplishment of Mayor Gough was his leadership resulting in the renovation of our Lynnwood Recreation Center, which remains one of our city's greatest assets.
"Additionally, Mayor Gough lead our City through the 2008 recession, the worst financial crisis our City has ever experienced. Through critical decision making, Lynnwood was able to keep City services functioning and get us back on a path to recovery.
"Please join me in reflecting on and celebrating the life and legacy of Don Gough."