Upcoming vaccine mandate for truckers could stifle an already fragile supply chain
JANUARY 12, 2022 – A new vaccine mandate requiring cross-border truckers to be fully vaccinated goes into effect this Saturday, January 15, that could potentially be a massive blow to a supply chain already crippled by the effects of the pandemic.
The Trump administration considered land-border crossings essential and allowed it to proceed regardless of individuals' vaccination status. The new vaccine mandate by the Department of Homeland Security will override this exception.
According to the Office of the United States Trade Representative Canada was the United States largest goods export market and Canada was the United States third largest supplier of goods imports in 2019. U.S. goods and services trade with Canada totaled an estimated $718.4 billion.
U.S. trade imports from Canada totaled $319.4 billion, 70 percent of which is transported by truck.
Beginning January 15 truckers entering Canada will be forced to show proof of vaccination, potentially causing around 30,000 cross-border truckers to shut down. A similar vaccine mandate for truckers entering the United States from Canada will go into effect January 22.
"Full vaccination," in this context, means either two doses of the Pfizer, Moderna, AstraZeneca, Covaxin, Sinopharm or Sinovac vaccines; or one dose of the Janssen/Johnson & Johnson vaccine.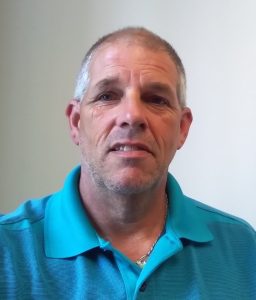 "70 percent of the 700 billion in trade between Canada and the U.S. is moved by truck," Mike Milliam, President of the Private Motor Truck Council of Canada (PMTC), said. "This will have a dramatic effect on supplies and services reaching their destination and getting in the hands of those who need them. One needs to look no further than the recent U.K. fuel shortage, where the military had to be brought in to deliver fuel as a result of a lack of truck drivers. We are already seeing shortages, if these shortages reach critical levels on items such as fuel, food, blood medicine or medical supplies, we will see real, long-lasting damage."
On a regular basis about 120,000 Canadian truck drivers enter the U.S. and about 40,000 U.S. drivers enter into Canada for a total of 160,000 drivers crossing back in forth, a majority of which transport essential items like medical supplies, blood, food, and fuel.
"We understand the governments are putting these mandates in place in order to protect our health," Milliam told the Lynnwood Times. "If we start seeing shortages of medical supplies in our hospitals because we've mandated drivers to get vaccinated, how much is that going to effect people's health? The idea may be good in one direction but I don't think we've really looked at its effects on health and safety on the other side."
A survey conducted at the end of November by the PMTC showed about 25 percent of Canadian drivers crossing into the U.S. are unvaccinated and roughly 50 percent of U.S. drivers passing into Canada are unvaccinated. Once these mandates go into effect, according to Milliam, this could potentially eliminate 25 percent of the work force.
"We've already had a shortage of driver positions before we brought in any vaccine mandates and on top of that, we've got supply chain issues to begin with. We can usually go to the grocery store now and see at least one item that's not on the shelf but once we wipe out 25 percent of the workforce, I think it's going to become a very common case," Milliam told the Lynnwood Times.
In a recent survey conducted by Trucking HR Canada on the labor market, at the end of the third quarter of 2021, roughly 22,900 Canadian driver positions were unfulfilled and around 80,000 U.S. driver positions were unfulfilled before the vaccine requirements were announced.
To view the survey conducted by Trucking HR Canada click here.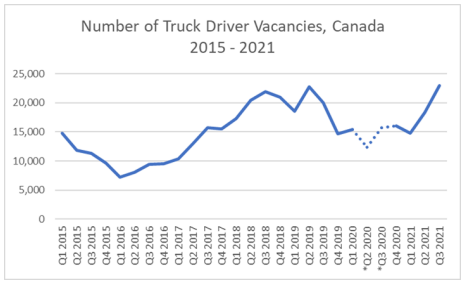 The PMTC has asked the Canadian government to put an extension on the mandates, at the bare minimum, to provide drivers who might decide to get vaccinated the opportunity. In addition, they have requested giving drivers the option to regularly test but the Canadian government has not responded to their requests.
Milliam has attempted to encourage his drivers to get vaccinated, educating them on the benefits, but shared with the Lynnwood Times that he doesn't think vaccination rates will rise much higher in such a short time. To those who have decided to become vaccinated in order to keep their jobs, most won't be considered fully vaccinated by January 15, potentially missing two to four weeks of work.
The Canadian and U.S. governments first announced the vaccine mandates on November 5, 2021, to go into effect eight weeks later. In Canada and the U.S., there is a 28-day waiting period between each dose and an additional 14 days after which the government considers someone "fully vaccinated."
"If you would've gotten on the phone the minute the government announced it, able to book an appointment, and everything went perfect it would have taken you at least six weeks. But we know everything doesn't always go perfect, you can't always get an appointment, truck drivers are on the road for a couple weeks at a time, so it just isn't enough time to get vaccinated," Milliam told the Lynnwood Times.
Private Motor Truck Council of Canada (PMTC) had a call January 12 with CBSA, PHAC, and Transport Canada concerning the potential effects of the mandate, which pertains to both Canadian and non-Canadian drivers seeking to cross into both country's borders.
"Since this policy was first raised in government circles, we have constantly communicated the environment that this mandate would create. We had hoped that both U.S. and Canadian officials would recognize the effects this rule would have on our industry's capacity levels. Unfortunately, at this point neither the Canadian nor U.S. officials have changed their position on this matter," the PMTC wrote in a press release January 12.
In the U.S., the American Trucking Association has formally requested that the Biden Administration exempt professional truck drivers from the vaccine mandate citing that truckers spend the majority of their workday alone in the cab and outdoors.
"Throughout the pandemic, they've proven to operate safely following existing CDC and OSHA guidelines. Our data shows the infection rate of employee drivers was 8.7% – well below the national infection rate," The American Trucking Association (ATA) stated in a news release.
The Supreme Court heard oral arguments by the ATA on Friday, January 7, out of 14 emergency applications. Although U.S. Labor Secretary Marty Walsh has indicated the vaccine mandate may not apply to "most truckers," the ATA's request for official guidance on the topic is still pending.