Freedom Convoy protests at Canadian capital
OTTAWA, Can., February 1, 2022 – Canadian truck drivers formed an 11,000 truck, 43-mile-long "Freedom Convoy," January 23, to protest the Canadian government's mandates requiring cross-border truckers be fully vaccinated. 
The convoy began in the country's Western-most province, British Columbia, and made its way to Ottawa, the country's capital, where a demonstration began on January 29. The truckers said they would not leave until the mandates are lifted and, as of February 1, have held true to their promise.
A new vaccine mandate requiring cross-border truckers to be fully vaccinated went into effect January 15. Many truckers believe the mandate unnecessary and threatening to a supply chain already hit hard by the pandemic. A similar mandate on the U.S. side of the border went into effect January 22. 
On a regular basis, roughly 120,000 Canadian truck drivers enter the U.S., and about 40,000 U.S. drivers enter Canada for a total of 160,000 drivers crossing back in forth, a majority of whom transport essential items like medical supplies, blood, food, and fuel.
"We understand the governments are putting these mandates in place in order to protect our health," Mike Milliam, President of the Private Motor Truck Council of Canada, told the Lynnwood Times. "If we start seeing shortages of medical supplies in our hospitals because we've mandated drivers to get vaccinated, how much is that going to affect people's health? The idea may be good in one direction, but I don't think we've really looked at its effects on health and safety on the other side."
During a press conference last week, Saskatchewan Premier Scott Moe called the mandate unnecessary as the majority of truck drivers are vaccinated and rapid tests are readily available throughout Canada.
"It's an unnecessary policy, and it's one that's going to have, unfortunately, potentially some significant impacts on us accessing essential services, including food that we need in our communities," Moe said.
Canadian Prime Minister Justin Trudeau, who was not at the demonstrations this past weekend due to him and his family testing positive for COVID, told reporters last week that roughly 90% of truckers in Canada are already fully vaccinated. Trudeau and his family left their home in Ottawa for an undisclosed location amid security concerns.
What began as a convoy has since spiraled into a blockade obstructing the Canada-U.S. border, opening
According to CNN, multiple criminal investigations over incidents including the dressing up of the National War Memorial/Terry Fox statue with an upside-down Canadian flag holding a sign that read "Mandate Freedom" and the alleged harassment of Shepherds of Hope staff for meals. The Ottawa Police Service estimated the costs of policing the demonstrations was more than $800,000 a day. 
Friends, it's been a difficult 24 hours. Staff harassed for meals. A service user and security guard assaulted. Through it all, you have donated and filled our hearts with gratitude. Every cent will support people experiencing homelessness. Thank you. See our statement ⬇️ pic.twitter.com/TYHD8r8aLo

— Shepherds of Good Hope (@sghottawa) January 30, 2022
While these incidents proved to be minor in nature, the majority of the protestors remained peaceful, with some even scaling the streets with garbage bags picking up trash, and a group clearing the Terry Fox statue of its "defacement" the following day. 
However, RCMP Alberta tweeted Monday that negotiations with protestors to allow border access were unsuccessful.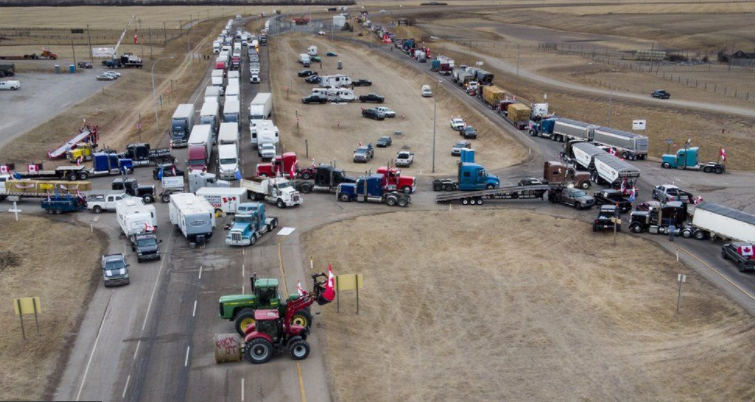 Despite frigid temperatures, thousands took to the streets over the weekend waving Canadian flags and anti-Trudeau signs.
In a public GoFundMe almost $10 million dollars have been raised from over 120 thousand donors in support of the cause. However, GoFundMe has frozen these donations.
The Canadian Trucker Alliance has separated themselves from the protests saying they are doing their part by encouraging their truckers to get vaccinated.