Larsen visits Mari's Place for the Arts in Everett
EVERETT, Wash., February 17, 2022 – Congressman Rick Larsen (WA-02) toured Mari's Place for the Arts to learn more about the nonprofit's program for children of all income levels and ethnic backgrounds around 4 p.m. Monday in Everett.
Larsen met Executive Director Mary Toews and Board President and Mukilteo Mayor Joe Marine. Mari's Place for the Arts is a Non-Profit 501(c)3 organization staffed by volunteers and is funded by donations, sponsorships, fundraisers, and grants.
The National Endowment for the Arts recently awarded Mari's Place a $10,000 grant to support its Arts Summer Performance Project to help youth learn and prepare theatrical, dance, and artistic works for Everett's July Fourth Festival. Larsen said in a press release that the grant enables local youth to continue to discover their "artistic talents and to express their creativity."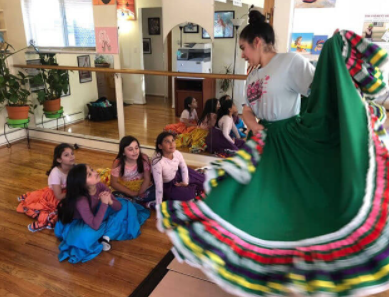 "Mari's Place for the Arts enriches our communities by making the arts and cultural opportunities more accessible to students and working families in Snohomish County," Larsen said.
The Challenge America grant requires a cost share/match of $10,000 consisting of cash and/or in-kind contributions. Mari's Place is one of 168 projects in America selected to receive $1,680,000 in funding from the NEA's Challenge America grant program. NEA Acting Chair Ann Eilers described Mari's Place as supporting the community's "creative economy" in a press release.
"Mari's Place for the Arts in Everett is among the organizations nationwide that are using the arts as a source of strength, a path to well-being, and providing access and opportunity for people to connect and find joy through the arts," Eilers said.
During Larsen's visit, Toews talked about the history of Mari's Place. In 2010, she sensed a feeling of hopelessness in many local BIPOC children. There weren't affordable programs offering cultural enrichment classes to children of economically depressed families struggling to meet basic needs. Toews wanted to help those kids develop and gain access to their unique abilities and talents.
She recruited volunteers who could teach children a variety of classes aimed toward these goals. To start what would later be called "Mari's Place," Toews sold all her property in Mexico. In 2011, after forming a not-for-profit organization, she asked the kids to name it. They chose "Mari's Place" because they had already been calling it that.
Mayor Marine said that the Board is financially preparing for a future when Toews—who does all her work gratis—can no longer be the Director. Marine said the nonprofit is also looking ahead to when Mari's Place will no longer depend on grants and instead work with community partners they've made along the way.
"We were honored to have Congressman Larsen visit Mari's Place because it puts in perspective the great artwork done by the kids, organizational needs, and hear Mari's vision that makes this very special place a reality," Marine said. "We look forward to coordinating with Congressman Larsen's office in the future to help secure funds and grants."
Mari's Place must raise $10,000 by March 31st to match the NEA grant. If you would like to contribute, visit marisplaceforthearts.org/donate.
Mari's Place for the Arts is located on 2321 Hoyt Ave in Everett.