Red Cross NW volunteer, Deb Phelps, is just one of many who save lives nationally
EVERETT, Wash., March 17, 2022 – Deb Phelps got a call from the Red Cross NW on a Monday morning last fall, informing her she was needed in Reno, Nevada, to assist evacuees fleeing California wildfires. She departed within 24 hours.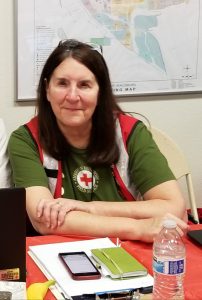 When she arrived in Nevada the next morning, Phelps entered the Reno Convention Center, which had been converted into a mega-shelter amidst the pandemic, servicing 300-400 evacuees who were driven further and further east by what the state of California deemed "unprecedented fire conditions."
The 2021 wildfire season in California experienced an unusually early start amidst an ongoing drought and historically low rainfall and reservoir levels. By January 2021 alone, 297 fires burned 1,171 acres on nonfederal land, almost triple the number of fires and more than 20 times the acreage of the five-year average for January.
Phelps keeps a bag packed at all times in anticipation for calls like these as a Disaster Health Service co-lead volunteer for the Red Cross Northwest and has every day since joining in 2017, after hearing of the California wildfires from her daughter. Within one year of that conversation, Phelps "dropped everything," including her career as a nurse, to help any way she could.
"We're so quick to move on to the next big news story that we just forget that, after a terrible event, these people are just left for weeks and months trying to recover. . . . But we're just on to the next disaster it seems like," Phelps said.
When she arrives on-site after being called to action, Phelps typically meets with the supervisor to get the lay of the land and hear whether she will be working in a shelter or in a management position.
Each shelter has 2-6 licensed nurses or physicians who spend about 12-14 days employed until the torch is passed to the next group of volunteers. At that point, the first thing Phelps does is take a nap for a couple of days, she joked.
Through the Red Cross, victims of environmental disasters are connected to caseworkers who help find housing, provide pet assistance, long-term medical assistance, and even mental health services and counseling to deal with the more everlasting effects of trauma.
"It's a drop in the bucket of course because sometimes these people need $50,000, and the Red Cross doesn't have that kind of money, but they give them enough to get them started and point them in the right direction for long-term recovery," Deb Phelps said. 
Before joining, Phelps didn't know much about the Red Cross or what was being done for disaster relief, she was just going off her daughter's assessment of a Facebook post that said they were looking for help.
"Once I got there, I saw that the Red Cross had everything really well in hand. It was a really well-oiled machine. They were serving hundreds and hundreds of evacuees in Santa Rosa and the surrounding areas," Phelps told the Lynnwood Times.
Phelps has many titles and roles as a volunteer. She is an instructor for new disaster volunteers, she teaches community preparedness education, provides disaster health services, prepares for disasters, trains new nurses, and readies supplies in case an evacuation is in order. If there is a disaster or an emergency, she first responds by providing whatever medicine or medical equipment that may have been lost.
"Wherever I'm needed, I roll up my sleeves," Phelps said.
On her very first deployment, she was excited but did not exactly know what to do. She was assisting a family that was in the process of losing their farm and noticed the farmer had one shoe that was "just a few steps away from falling apart."
She asked the farmer if she could fix his shoe and, to some hesitation, he agreed. Although Phelps has since been deployed all over the country, including Texas, Delaware, South Carolina, and California, dealing with flooding, earthquakes, tornadoes, and wildfires, she informed the Lynnwood Times that seeing how such a small gesture could make a difference was one of her favorite memories working with the Red Cross.
"That took ten minutes of my time, but it made this guy's day. Was I trained to do this? No – you just think on your feet. I did that within the first day of my deployment, and I felt so happy that I was able to make a difference in this guy's life," Phelps said.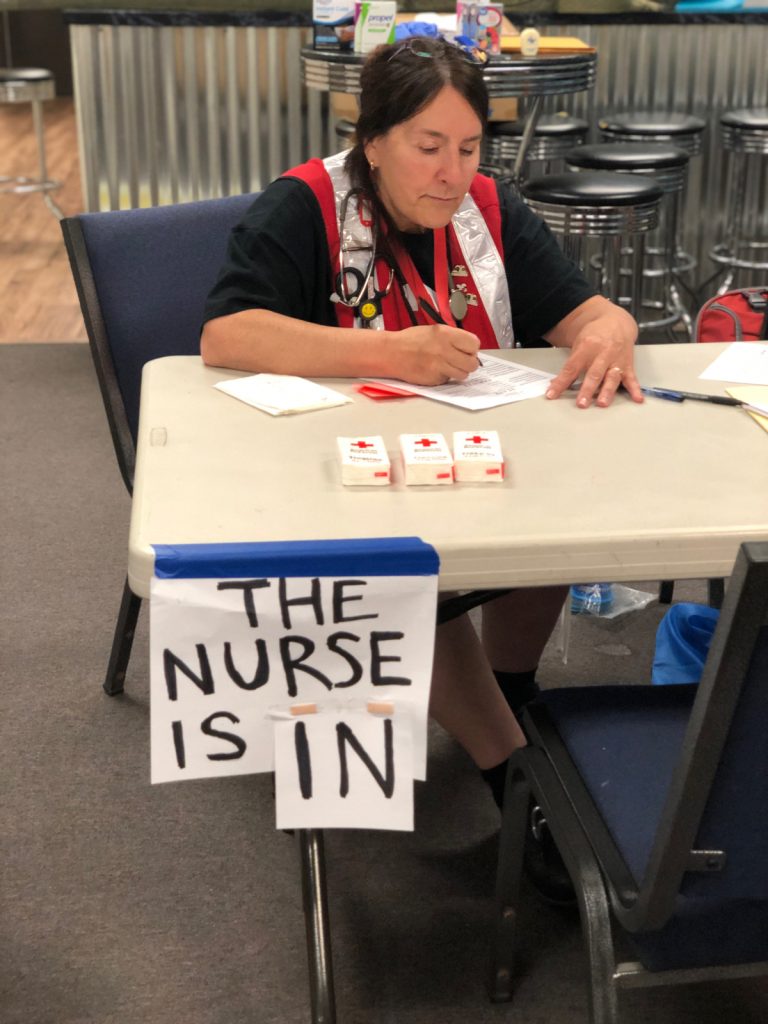 Although Deb Phelps is currently preparing for the wildfire season in the Pacific Northwest and California, she said it's "killing" her not to provide her services to the Ukraine or Poland right now.
Phelps shared with the Lynnwood Times that dropping everything in her life, quitting her job, and joining the Red Cross five years ago has been "worth it on a daily basis."
She leaves for Santa Monica next month to take a class on mass causalities to further her expertise to deal with mass shootings, hurricanes, or whatever catastrophe leads to a large loss of life.
Deb Phelps is just one of over 300,000 volunteers offering their services to the Red Cross, more than 90% of their workforce, assisting in anything from blood donations to providing services for veterans all over the world for more than 140 years.
More recently, the Red Cross needs volunteers more than ever after suffering from staffing shortages and increased environmental disasters due to climate change.
Despite these challenges, Red Cross volunteers continue to prepare supplies in between breaks from catastrophe in every way they can, always awaiting their next call to action.
"It used to be that we only had a few disasters a year, and now disasters are getting more frequent and more severe than ever before. I admire that the Red Cross is planning for the effects of climate change and this new mentality of ongoing disasters. I like that they're looking forward and not just reactionary – they're planning for the future," Phelps said.
March is considered Red Cross Month and March 23 is Giving Day. You can donate to the Red Cross for disaster relief by visiting https://www.redcross.org/donate/giving-day.html/.
The Red Cross NW office in Everett is currently seeking an Executive Director position. To apply visit: https://americanredcross.wd1.myworkdayjobs.com/American_Red_Cross_Careers/job/Everett-WA/Executive-Director_RC52455.