MUKILTEO, Wash., March 18, 2022 – At approximately 10 a.m. this morning, Mukilteo Police received a report of a break in at an unoccupied business. According to the Snohomish County Jail, the suspect, Antonio White, was booked into the jail for Burglary in the First Degree (Class A Felony) at 10:47 a.m. and is awaiting bail sentencing.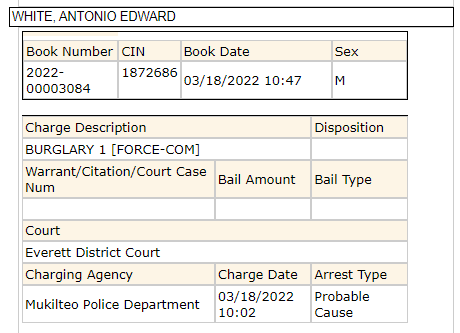 Earlier, the property owner arrived and found an unknown man at his locked business. The subject was armed with a large blade and yelled at the property owner. The property owner backed out and kept himself safe and quickly called 911 to report the crime.
Mukilteo Officers arrived on scene shortly after and found the subject walking away from the business with a blade in their hand.
The Mukilteo Police Department would like to thank the swift actions of the property owner who gave clear and accurate information to the 911 operator.
Mukilteo officers involved in the arrest and booking are Corporal Shoudy, Officer Arno, and Officer Ponti.