BLM Global Network Foundation involuntarily closed in Washington state
SEATTLE, Wash., April 7, 2022 – Black Lives Matter (BLM) Global Network Foundation has been involuntarily closed in Washington State effective January 5, 2022, after failing to successfully complete the registration or renewal process. To date, the Washington Secretary of State has not received the required registration/renewal application.
The Black Lives Matter Global Foundation has collected donations in Washington State since 2019, has a street address in Oakland, California, and a mailing address in Mesa, Arizona. The Washington Secretary of State sent a letter of delinquency to the organization in December 2021, notifying the organization of its delinquent status and impending closure.
Last month, the Lynnwood Times did not find evidence regarding a Washington Examiner report that claimed the Washington Black Lives Matter chapter was at risk of being closed by the state; however, further investigations found that all four charities registered in the state under the name Black Lives Matter have been involuntarily closed, or in one instance, merged.
Survived by the four registered charities are 11 registered businesses using the name Black Lives Matter, all representing the Black Lives Matter movement statewide, which the Washington Examiner did not specify. Six of these businesses have since been dissolved.
One of which, Black Lives Matter Seattle King County (BLMSKC), which uses the same name and address as the merged charity, filed its voluntary annual report on March 3, 2022, lifting the business from delinquent status with the Washington Secretary of State's office and is currently active.
Currently, out of the remaining registered corporations in Washington State using the title Black Lives Matter (not including those dissolved), all remain active except Black Lives Matter Seattle, which uses a Vashon address and cites different founding members than BLMSKC. The Black Lives Matter Seattle corporation has until June 30 to file its annual report or risk dissolution.
These remaining registered corporations include the largest, Black Lives Matter Alliance, which currently has an active 501(c) nonprofit status and has not received a closure notice from the state.
Currently, the Black Lives Matter Alliance represents the state-wide movement and operates as Washington's leading BLM organization with support from King County executives. Since founded as a statewide coalition during the legislative sessions of 2021, the alliance has appeared in over 1,500 news stories, broadcasted to an audience of 167.5 million, and has sent over 40,000 emails to lawmakers, according to its website.
What is the difference between BLM groups?
Black Lives Matter refers to a social movement, political action committee, or a loose confederation of groups advocating for social justice. As a movement, Black Lives Matter is decentralized, grassroots, and leaders have emphasized local organizing over national leadership.
There are, broadly speaking, two branches of activism within the larger BLM movement; on-the-ground, grassroots organizers who work locally with little money, and the larger, more professionalized Black Lives Matter Global Network Foundation with corporate donations and fundraising power.
Even among the general BLM movement, there is tension between the two paths, the Intelligencer wrote. While local chapters stretched themselves thin fighting for social justice, BLMGNF reaped millions of dollars. Many organizers are increasingly concerned that their work is being co-opted by profiteers capitalizing on the suffering of Black families who have lost loved ones to police brutality.
While many local BLM organizers have demanded that funds raised by BLMGNF be returned to mourning families – or at the very least financial transparency – Intelligencer pointed out that they fear "right-wing" organizers could use the lack of financial transparency as a way of discrediting the movement's work as a whole.
Controversies with Black Lives Matter Global Network Foundation
In 2013 the Black Lives Matter Global Network Foundation was established by Patrisse Cullors, Alicia Garza, and Opal Tometi to provide activists with a shared set of principles and goals. Local Black Lives Matter chapters were asked to commit to the organization's list of guiding principles but operate without a central structure or hierarchy. Although the BLMGFN is not the sole organization within the broader BLM social movement, it is the largest, most funded, and claims to speak on behalf of the movement.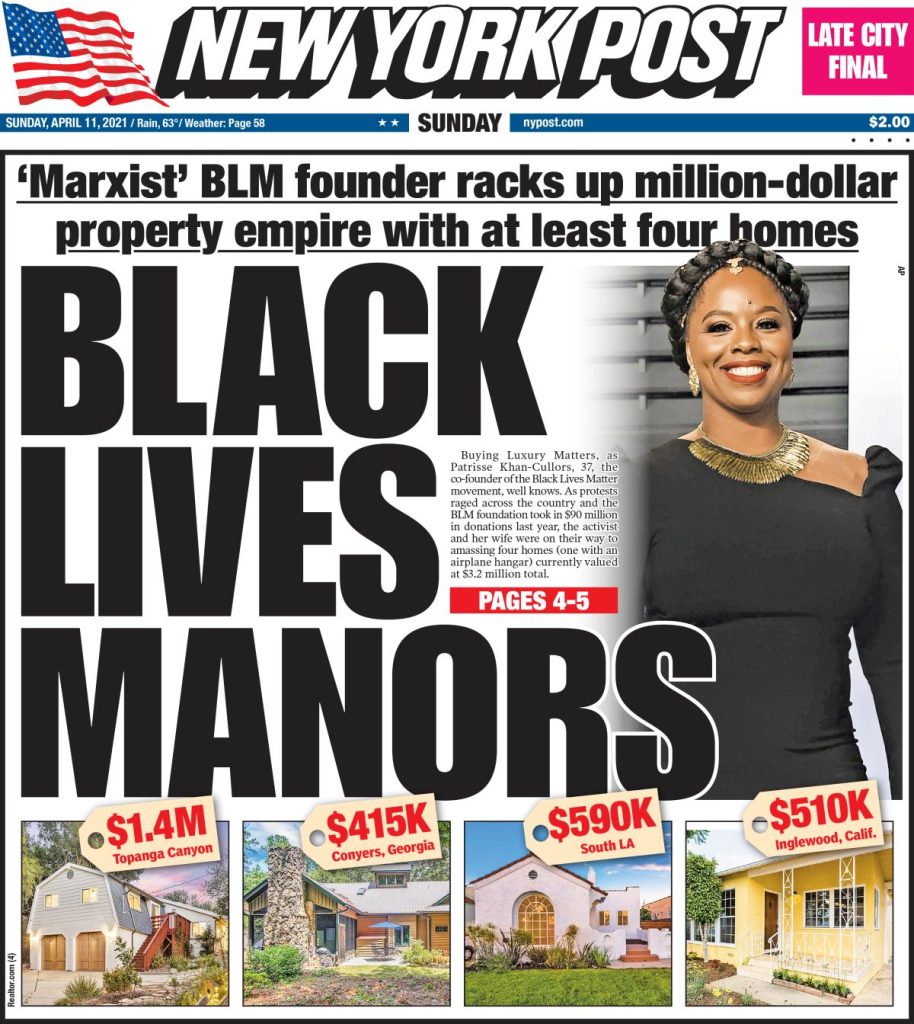 Garza and Tometi have since left the organization, and in 2021, Patrisse Cullors resigned from her formal role as executive director of the Black Lives Matter Global Network Foundation after an investigation revealed she spent $3.2 million on four homes in California and Georgia, leading many to question how the organization was spending its money.
The Black Lives Matter Global Network Foundation took in about $90 million in 2020, following the murders of George Floyd and Breonna Taylor by police, according to the Associated Press.
However, Cullors denies she used donations to purchase her four properties, and USA Today was unable to confirm where the money came from.
Since Cullors' resignation, BLMGNF has appeared to be operating under no discernible leadership. While Cullors stated she would be appointing two fellow activists to serve as the group's senior directors, both activists announced last September that they refused the positions over disagreements with the organization.
BLMGNF has received millions from sponsors and donations, including a transfer from former fiscal sponsor Thousand Currents of $66.5 million in 2020. Despite claiming they have "committed approximately $21.7 million to 30 organizations and BLM chapters," the charity has not stated outright if the funds have been actually distributed and to which organizations, which could be verified by an audit of financial statements and tax filings that BLMGNF has yet to provide.
In January 2022, BLMGNF moved millions of dollars to a charity in Canada run by Cullors's wife to purchase a mansion that used to be owned by the Communist Party of Canada. The 10,000 square foot home near College and Spadina in Toronto will, according to BLM Canada, "Build an enduring space that could cultivate the most transformative and radical ideas from Toronto's diverse Black communities."
Wildseed Centre for Art & Activism has found its new home. Wildseed was birthed by Black Lives Matter artivists who hope to build an enduring space that can cultivate the most transformative and radical ideas from diverse Black communities. @blmcanada_ #BlackSpaceMatters pic.twitter.com/GsCLKBUCyR

— Wildseed Centre for Art & Activism (@WildseedCentre_) July 8, 2021
Amazon suspends BLM Global from charity website
Just the other month, Amazon's charity website, AmazonSmile, suspended BLMGNF amidst questions about the group's financial transparency. AmazonSmile donates 0.5% of purchases to designated nonprofits which still include dozens of local BLM chapters among its thousands of approved charities.
The decision was made following the demands of Washington and California attorneys that the organization submit delinquent financial disclosures. BLMGNF is also delinquent in financial reports in New Jersey, North Carolina, Connecticut, Colorado, Maryland, Maine, and Virginia.
At the end of 2020, BLMGNF reportedly ended the year with a $60 million balance. It has since not publicly named anyone responsible for the $60 million since co-founder Patrisse Cullors has resigned.