Rotary Club of Lynnwood awards $55,000 in scholarships to students
LYNNWOOD, Wash., May 20, 2022 – The Rotary Club of Lynnwood presented $55,000 in scholarships to students Thursday, May 19, at the Lynnwood Convention Center, for their outstanding academic achievement and commitment to community services.
"We're very proud of these children. We're so grateful that we have so many active community members that are able to offer these opportunities and proud of the school district for producing these students," Debra Kilgore, Vice President of the Edmonds School District Board of Directors, told the Lynnwood Times.
$5,000 University Scholarship recipients for four-year colleges
Alejandra Engel from Meadowdale High School who has been a library teaching assistant at her school and a member of the Auto Technician program, track and field varsity team, hurdle team, concert team, pep band, and jazz band. She has also received a creative writing top senior exhibitor award from Evergreen State Fair.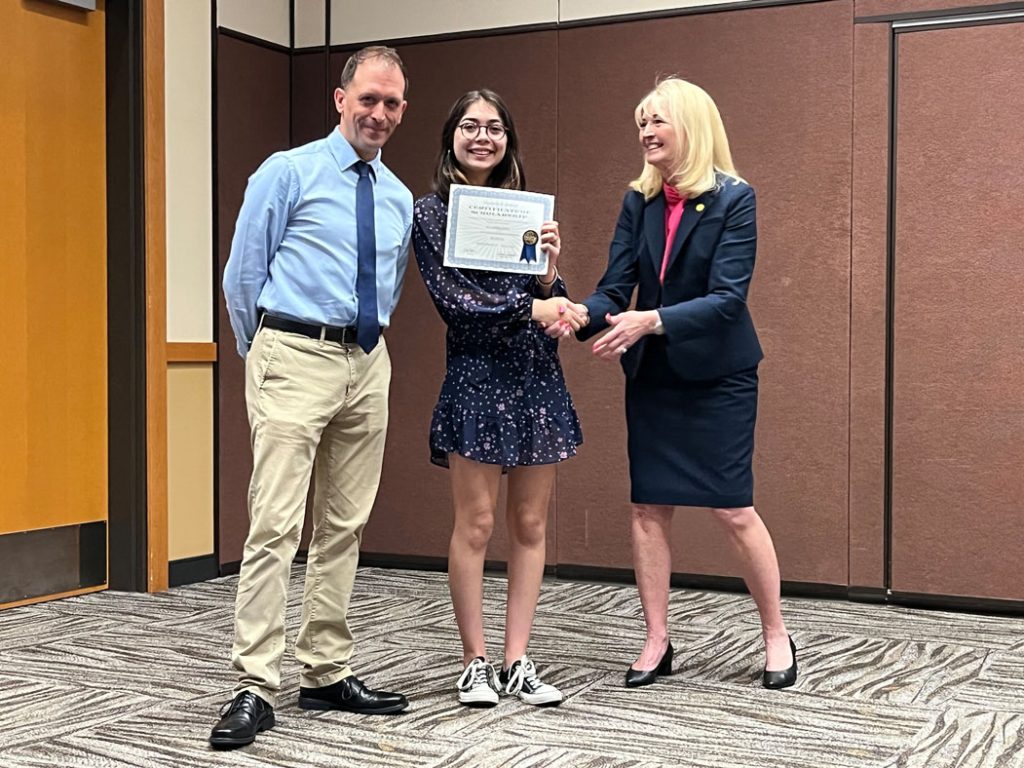 Engel has completed 274 hours of service through the Edmonds Rotary on service projects and has been the Vice President of Snohomish County 4H Club, a camp counselor, and a volunteer in several organizations. Engels either wants to get involved in the medical field or welding after attending her dream school at St. Martin's University in Lake Stevens.
"I'm really excited knowing the caliber of students in the area and the limited number of opportunities, it's just really cool to have Alejandra selected," Steve Engel, Alejandra's father told the Lynnwood Times.
"I feel really, really grateful and lucky," Alejandra Engel said. "Hard work's paying off."
Saul Gonzales from Meadowdale High School has been involved in his school's orchestra, Black Student Union, Ski Club, Link Crew, and others. He was Link Leader of the Month, and Youth Merit Award recipient at the Edmonds Rotary Club. He wants to become a teacher or youth counselor and achieve an equitable school system with plans to attend Edmonds College before the University of Washington.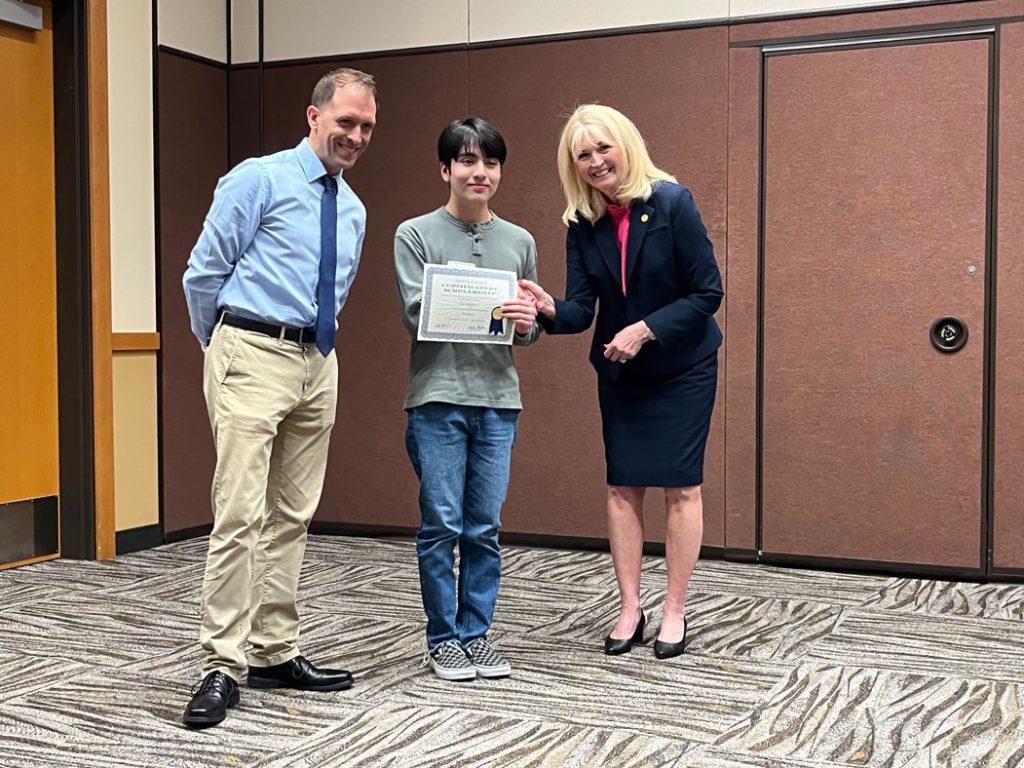 Madeleine Karnikis from Meadowdale High School has been captain of the high school swim team, a member of Young Life since sixth grade, a certified life guard at sixteen and has worked in various park and recreation programs throughout the area. She was a member of the honor society both junior and senior year and set a swim team record in 2019. She has volunteered in the Dominican Republic building bathrooms and water sanitation in the country. She has also volunteered at the Special Olympics. Karnikis hopes to obtain her degree in biology and pursue a degree in medicine, through the lens of public health.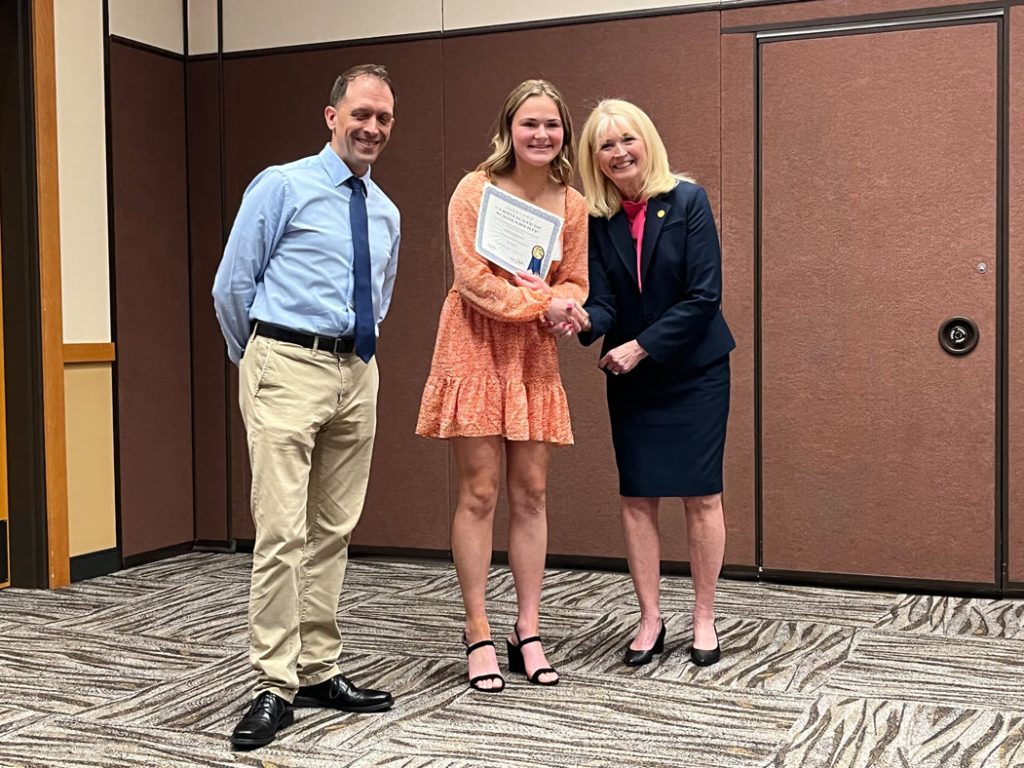 Aurysia Ko from Meadowdale High School was on the Band Leadership team, Wind Ensemble, Jazz Band, National Honor Society, YEOC (Young Executives of Color), and Link Crew. She was the Meadowdale High School Student of the Quarter in Physical Science, Meadowdale Arts Music Booster Organization Student of the Month twice, a Link Leader for two years, and alto saxophone competition finalist. She participates in local clothes drives through Goodwill and wants to help middle school students learn the alto saxophone. Ko hopes to pursue a bachelor's degree in Business with a minor and music and help local businesses. Ko's family is building a restaurant and Ko will be helping get it up and running while attending the University of Washington.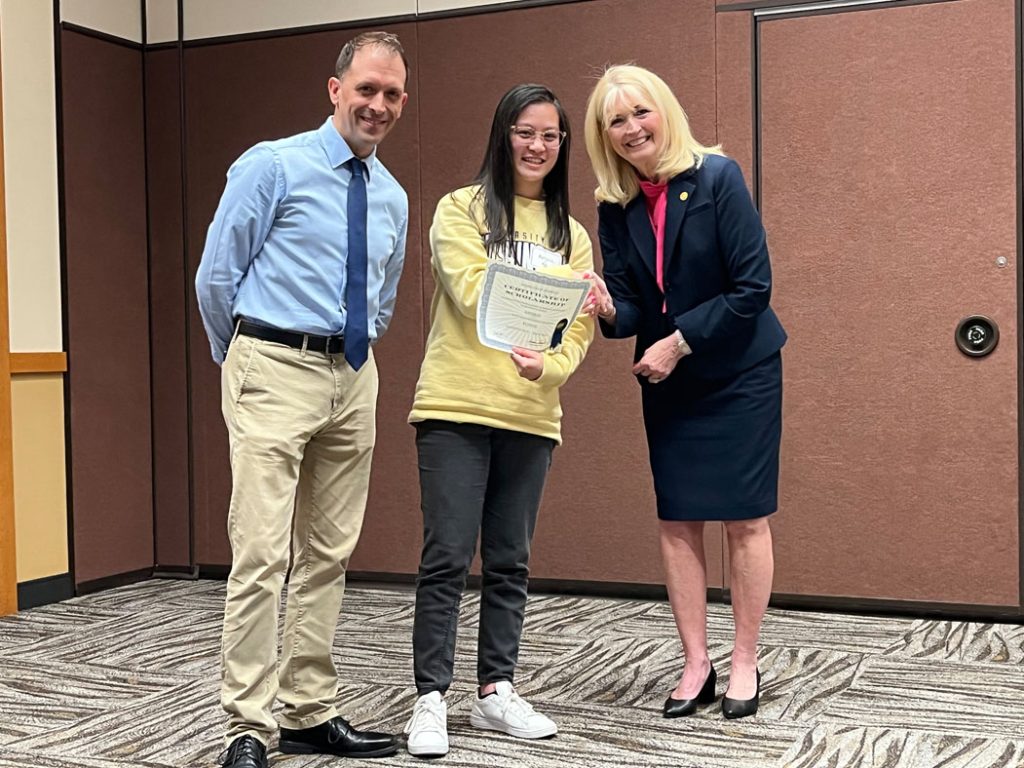 Imogen French from Lynnwood High School has been on the varsity tennis team for three years, was class council and school leadership class two years in a row and directed and planned her school's talent show. Her awards include Honor Role for four years, home coming court, and volunteered at Edmonds School District Nourishing Network, Lynnwood Food Bank, and wants to major in Environmental Science and minor in Teaching Education at Oregon State University.
"I'm very proud. Imogen has worked very hard all the way through high school and put in a lot of time and effort to outside activities and projects. This award is amazing and she deserves everything she's got," Kevin French, Imogen's father told the Lynnwood Times.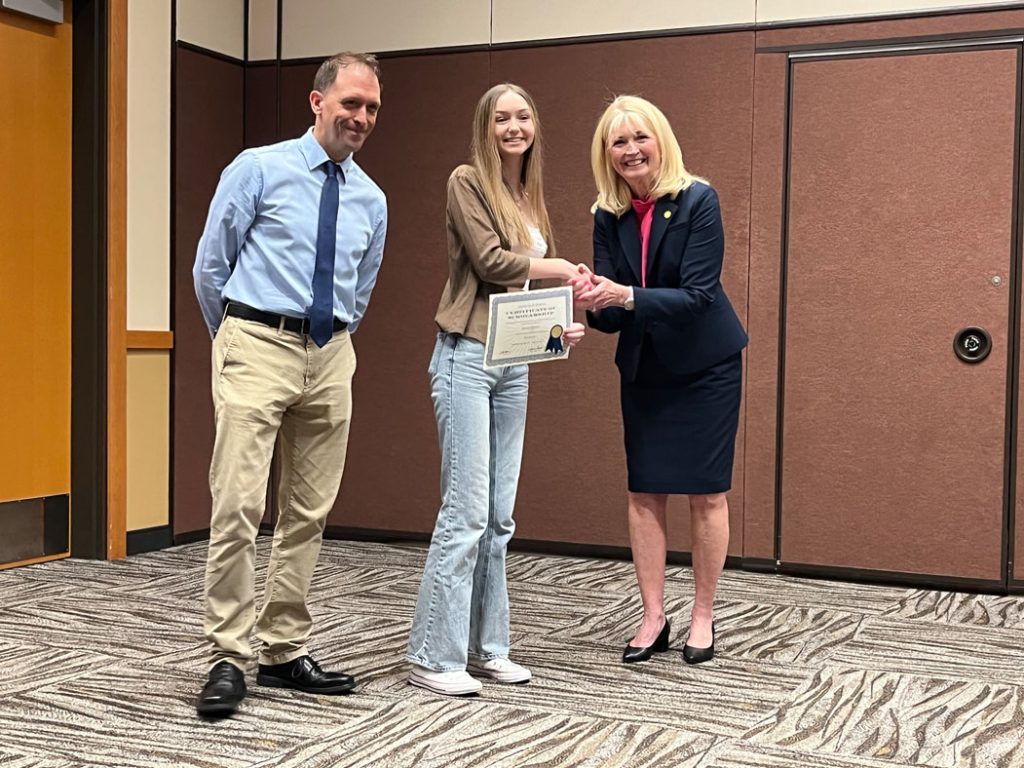 Faith Murray from Lynnwood High School is an ACL leader and captain of her high school's swim team of which she's served four varsity years, and one varsity year on the track team. She was an honor roll student for two years, five quarters on the Dean's honor roll at Edmonds College, received a Legacy Award on the Lynnwood swim team and graduated high school with an Associate's degree from Edmonds College. She founded and organized Hope Group, volunteered at the Lynnwood Food Bank, and wants to focus on environmental studies.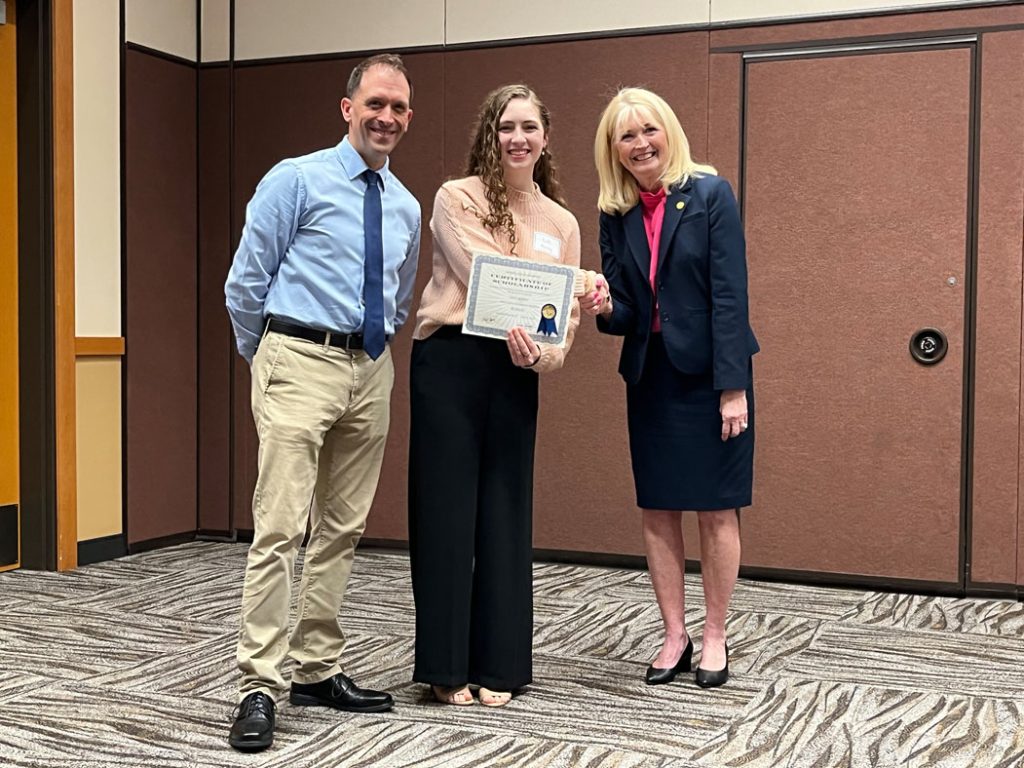 Damarius Ibrahim of Mountlake Terrace High School was in track and field and cross country, jazz band, and ecology club. She gained an award in Washington Journalism Education Association in a feature write off competition, received two outstanding musician awards at the University of Oregon Jazz Festival, and varsity lettered in cross country and track. She has volunteered at Root of our Youth Coalition and aspires to pursue her passion for music and athletics and study environmental studies at college.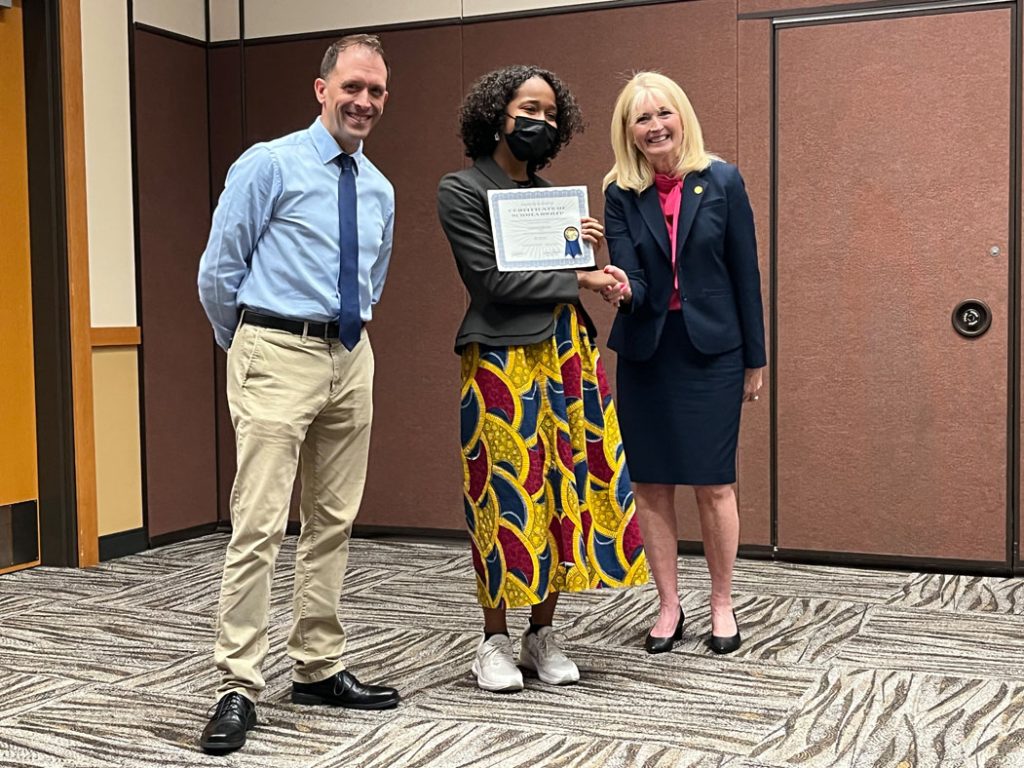 Ritika Khanal from Mountlake Terrace High School is the editor-in-chief of the school newspaper, the Hawkeye, and is a student advisor to the school board to the Edmonds School District and a member of the Ecology Club. She was a Washington delegate for the Al Newport Journalism Conference and was student of the month in 2021 and 2022. She has volunteered in Math Textbook Adoption Committee, a volunteer at the Nepal Seattle Society and a member of the National Honor Society. Khanal wants to pursue a degree in law and will attend Harvard University later this year.
Brooke Rinehimer from Mountlake Terrace High School was captain of the robotics program, a four-year varsity golf player, and was a finalist in the National Merit Scholar, winner of an Advanced Placement with Distinction Award, National Honor Society, and Mountlake Terrace Athlete of the Month. She was on the city of Edmonds Youth Commission and has volunteered at the Edmonds Food Bank. She wants to pursue a career in the research field after attending University of California Santa Barbara.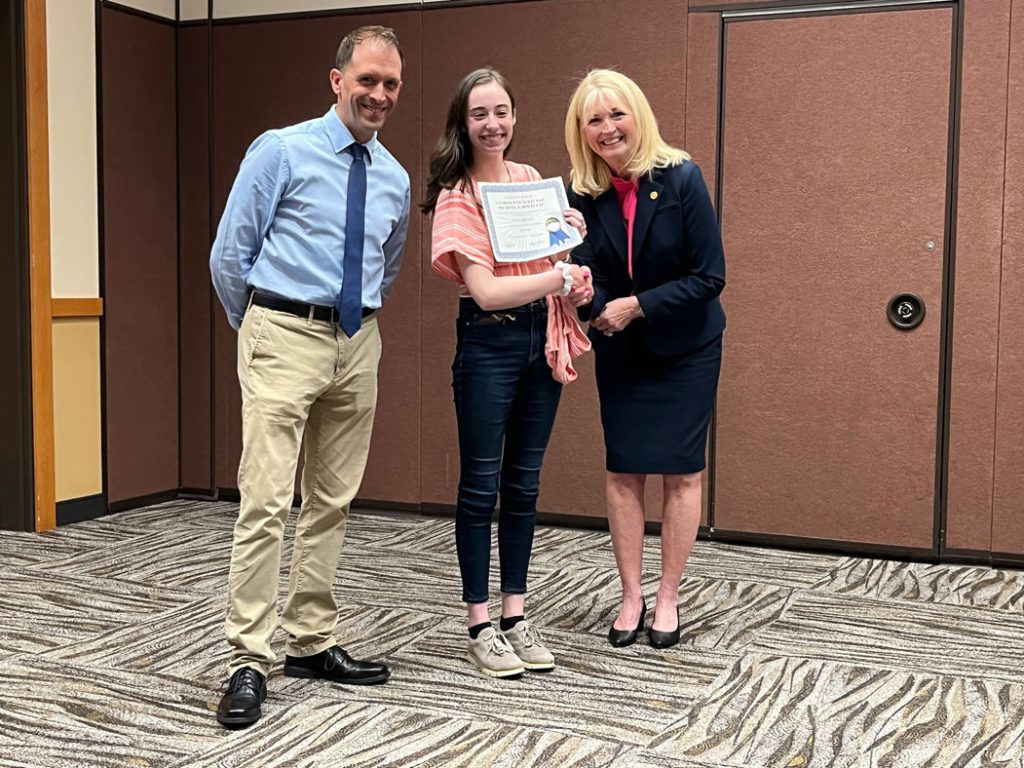 Minh Vu from Mountlake Terrace High School was on the National Honor Society, Connect Crew, Key Club, Asian Student Union Vice President, Class of 2022 ASB, and a Western Aerospace scholar. He was an AP scholar with honors, and volunteered at his high school's PTSA Goodwill drive, was a math tutor, and a member of the soccer club. He will attend University of Washington later this year.
$2500 grant recipients for Community College Scholarships
Banelli Rios Santana from Scriber Lake High School wants to focus her future on helping homeless people. She has volunteered at Housing Hope and through her church on many community based projects. She hopes to use the funds to receive an A.A. degree from Everett Community College and eventually secure a career in healthcare.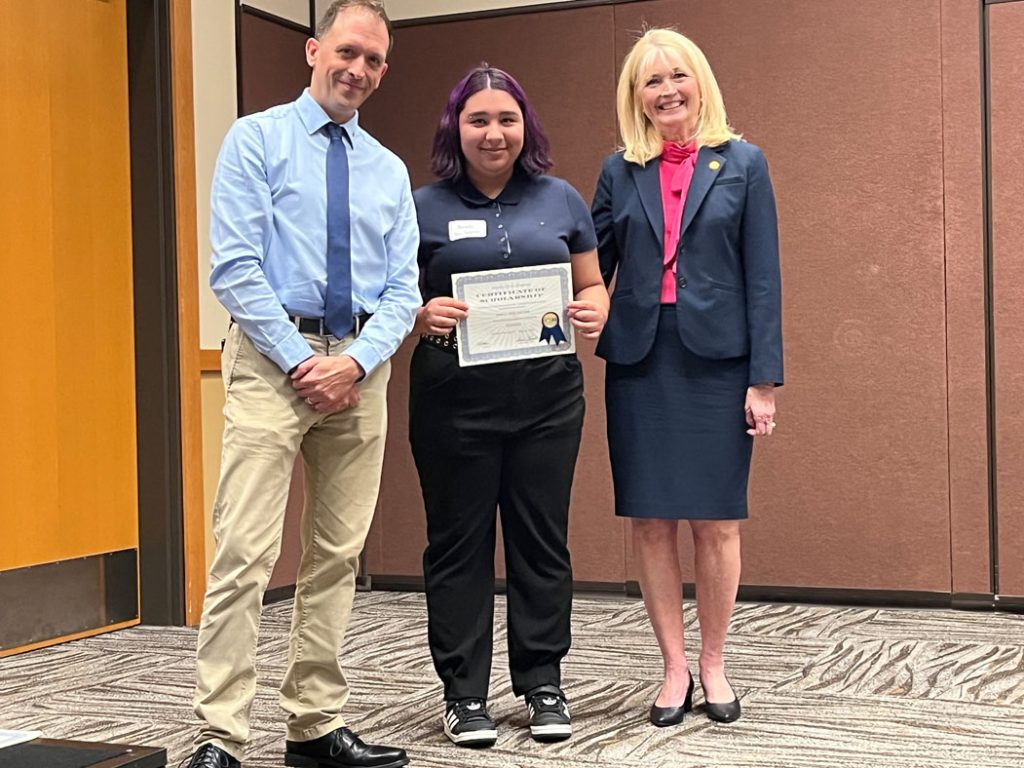 Meredith Camacho from Lynnwood High School has been involved in the robot program at school and helps run the Lynnwood High School flower shop. She is an honor roll student and has helped in food drives during the holiday season. She hopes to someday run her own business and non-profit organization. She will be attending Shoreline Community College and transferring to a four-year university after receiving her Associates degree.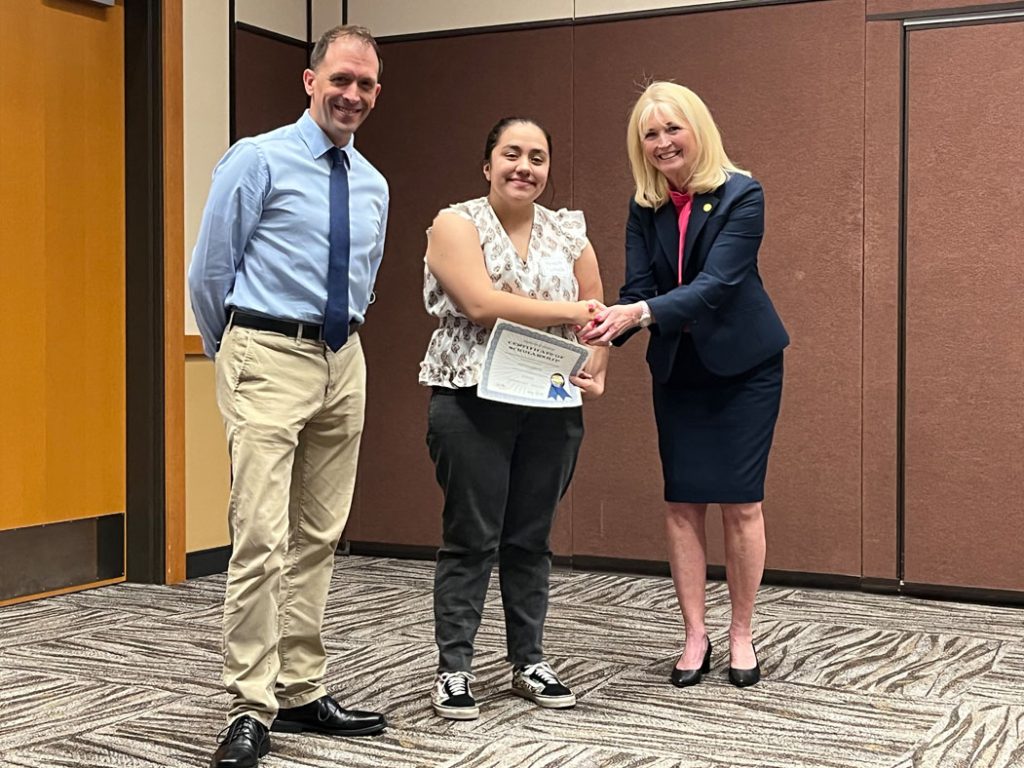 About Lynnwood Rotary Club
The Rotary Club of Lynnwood is a fellowship of leaders who voluntarily support others through Vocational, Community, and International and Youth Service. To learn more visit https://www.rotarycluboflynnwood.com.