Lynnwood hosts "Let's Talk About Public Safety" forum
Lynnwood Wash., May 26, 2022 — Local leaders and community members gathered at Lynnwood's Trinity Lutheran Church & Schools to discuss public safety in an open forum setting. Residents were given two minutes to ask Deputy Police Chief Cole Langdon questions about their safety concerns. 
The event was the first of its kind and was organized by Lynnwood City Councilwoman Julieta Altamirano-Crosby. Mayor Christine Frizzell, Council President Jim Smith, and Councilman Patrick Decker were also in attendance.
"We received a lot of emails and phone calls, and text messages regarding safety in the City," Councilwoman Altamirano-Crosby said, recounting why she organized the event. "For me, safety is the priority. Receiving all those messages, I felt a commitment to do something as a public servant."
Within the Lynnwood area, there has been three shootings in the last two months. The first was in April with a fatal shooting in Daleway Park. On May 11, a 14-year-old boy was shot while walking with his friends near 186th PL SW and Highway 99 and five days after that, a man was shot outside the Arco Gas Station at 1515 164th St SW.
Determined to take action, the councilwoman reached out to Pastor Hector Garfias-Toledo of Trinity Church who sits on the Lynnwood Police Chief's Advisory Committee, and volunteered to host the event at his monastery. Councilwoman Altamirano-Crosby also contacted Deputy Police Chief Cole Langdon, who loved the idea and agreed to participate.
"The community deserves this," said Altamirano-Crosby, "and the community needs to talk to us so we can know exactly what their safety priorities are."
In addition to asking questions verbally during the forum, attendees were also invited to list their top three concerns about safety in Lynnwood on a paper handout, which will later be tallied and considered among City officials and directors.
Roughly twenty residents turned out for the event. Participants voiced concerns ranging from lighting in the City's parks to rumors of gang violence, with volunteer translators assisting when necessary.
What the Lynnwood Police Department needs from you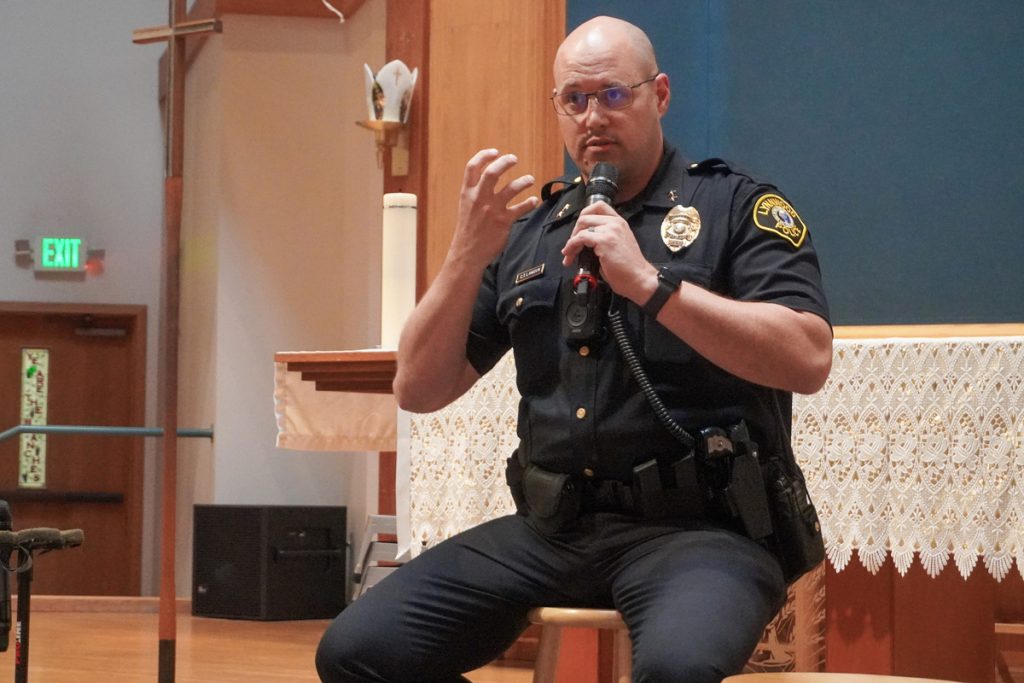 The first question of the night came from a resident who wanted to know how community members could help the local police department. "What do you need from us?" They asked. "What things can we do to help you and our neighbors?"
"Great question. Let's create the climate of accountability," said Deputy Chief Langdon. While mentioning the tragedy at Daleway Park, Langdon implored residents to "have some level of faith in the processes we have [and] allow them to play out," pointing to the Snohomish County Multiple Agency Response Team's (SMART) Investigation into the matter.
Langdon also noted the importance of having a strong relationship between the community and the police department. "We're only as good as the community that we serve," he said. "The more that we can engage to have these conversations, the better."
"You should feel comfortable that if something is happening in your neighborhood that is unsafe, to call the police department," he added.
Speaking about the civil upheaval in the wake of the pandemic has sewed anger and distrust towards law enforcement officers, Langdon asked that the community to, during heightened moments, realize that police officers are fallible human beings, allow the process to play out, and wait till all the information has been gathered before rushing to conclusions.
Langdon concluded his response, saying "Let us be a part of the community."
According to Crime Prevention Volunteer Coordinator Nic Li, neighbor connections are an integral component of public safety. "Get to know each other," Li said, explaining how the department puts on events to bring neighbors together.
"Even something as simple as having a contact list among your neighbors—that's probably one of the best things you can do," he said.
Li also highlighted the various volunteer opportunities available to community members who'd like to get involved, including the Department's Citizen's Patrol and Volunteers in Public Safety programs.
Say something to improve public safety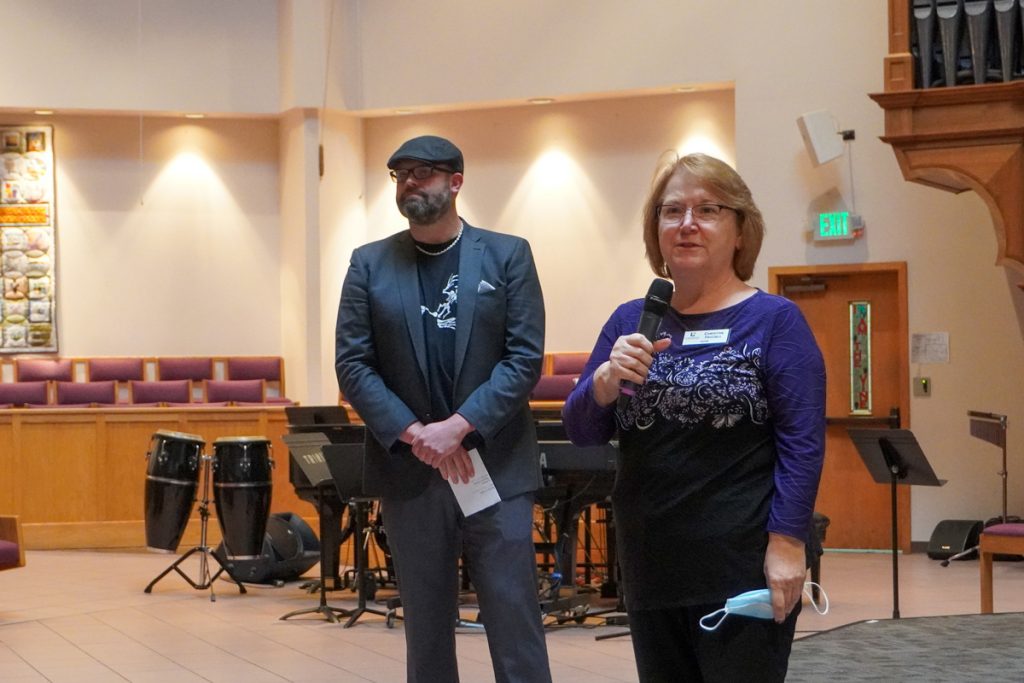 "If people don't feel safe, then that affects everything," said Mayor Christine Frizzell. "They have to feel safe," she said before referring to Maslow's Hierarchy of Needs, a concept in psychology that suggests that basic needs must be met before humans can reach 'self-actualization.'
"That's what we've got to provide so that people can get to the next level," she added.
After the forum concluded, Mayor Frizzell said, "One thing I want to tell people is if you see something, say something."
"I'm an accountant at heart, and if you don't call 9-1-1, it doesn't go into the crime stats. We don't know if a problem's bigger than it is because people say it doesn't matter or it's too little of a problem, so if you see something, say something."
Altamirano-Crosby echoed the Mayor's sentiment, reiterating how the purpose of Thursday's event was to create trust and better understand the community's concerns. "And without this [forum], we can only assume, right? So this will help us make an intentional plan," she explained.
The "Let's Talk About Safety" public forum is looking to become a regular event, according to Altamirano-Crosby, who said the next one will be held sometime this fall.