The month of June was originally named after the Roman goddess Juno, previously known to the ancient Greeks as Hera. She was said to be the goddess of women, marriage, childbirth, children, and family. It's not such a surprise to know therefore that June is the biggest month in the year for marriages. It's especially good news for all wedding planners out there this month to know that the "Mercury Retrograde" will end on June 3rd! Consequently, any delays, communication mix-ups and travel mishaps that some have been experiencing through much of May should become a thing of the past now.
Other good planetary news is that both Mercury and the planet of creativity and love, Venus, will both be entering the Sign of Gemini this month. This effect tends to lighten the soul, keeping everything chattier and more playful. It's therefore potentially a wonderful time to let that "inner child" out from within us all. The mid-month appearance of a Full Moon in Sagittarius should heighten the more adventurous side of our spirits for many, whereas the Sun entering Cancer on June 21st should enable everyone to get more in touch with their feelings more easily.
The big challenges of this month could be when the powerful planets, Saturn and Neptune, both turn retrograde at different times. This can indicate a time to confront past karma, or more positively, revisit our forgotten dreams for better or worse.
June 2022 Horoscope by Sign

ARIES: Being that you are a more naturally adventurous kind of spirit, this month should bring many more opportunities for many like you and your fellow Arians – where you should be able to act and play more expressively. The Full Moon in Sagittarius this month especially is a wonderful trigger for you to get out there and boldly explore new horizons in your own way. Who knows, where you go others may follow!

TAURUS: Your general tendency may be not to be too spontaneous in all you do. If so, this month will give you the potential to lighten up a little, break out of that same-old, same-old routine and let the child within you play. You, more than many, know that we all need safe and reliable foundations in our lives. However, what use are strong foundations if we don't build something new and inspiring upon them. It is time to build – emotionally, if not in other ways!   

GEMINI: Of course, liberated from the frustrations of Mercury Retrograde – and with your ruling planet, plus Venus, entering into your birth Sign this month – you'll probably need very little encouragement to express your inner child in all its uninhibited glory. So, get out there, play and chat to your heart's content – despite that old seeming spoilsport, Saturn, showing up in his retrograde form to maybe remind us all of our more practical obligations.  

CANCER: As you are much more of a touchy, feely type of person in general, you probably won't feel too comfortable with all the heady, chatty, Gemini-driven stuff happening at times this month. However, when the Sun enters your own Sign on the 21st you may find that you can at last begin to come into your own much more. Family get-togethers and time spent with the kids, could be your big thing to do at this time. Indeed, it might be a great time to dust that old BBQ off in the garage and express yourself much more expressively, weather permitting of course.   

LEO: Invariably, some of the biggest "party animals" are found in your Sign of Leo. So, liberated from the frustrations to your plans by Mercury Retrograde ending, and all that playful Gemini stuff coming in with a rush as well this month, you may find that June is a time where you should be able extend yourself to the fullest. The Full Moon later on in the month will no-doubt encourage you to explore new adventures. Just remember though there's a price to pay for too much of anything – which the Saturn Retrograde effect this month may well remind you of.

VIRGO: You, more than most I would imagine, will be very relieved to see the back of Mercury Retrograde at the beginning of the month. More meticulous and detail-oriented than most, the retrograde effects probably upset you and your systems more than anyone. However, with all that now behind you – and your ruling planet, Mercury, taking on a more playful Gemini role for much of this month – use it as an opportunity to relax a little more. That's probably not easy for you to do, I know. However, if you can't do it this month then you never will!

LIBRA: Being a member of the AIR element, Libran spirit should find the compatible Mercury and Gemini trends this month much to your liking – that is, until the far more emotional and squishy Cancerian effect feelings take hold. However, as you probably know by now, the secret of life is "balance". So, as long as you can walk that difficult line between logic and feeling this month, then all should be good. At least you don't have Mercury Retrograde threatening your own inert sense of balance after the beginning of this month!

SCORPIO: I'm sure that if you were greatly affected by Mercury Retrograde last month your intense feelings of frustrations were strong. Fortunately, they should be somewhat abated in June. At the same time, emotional trigger days this month may surface here and there, especially in issues relating to family and siblings if you have them. However, with a liberated and much more objective Mercury (mind) coming to the fore, and the more playful elements of a Gemini lightening everything up, perhaps you can let your always concealed "inner child" enjoy things a little more than would normally be possible.    

SAGITTARIUS: Liberated from that Mercury Retrograde effect this month and with the Full Moon happening in your own Sign of Sagittarius, June could be a wonderful break-out month for you. Remember however, for every action there is an equal and opposite reaction. So, allow the Saturn restraining effect that may well appear in your life to be a positive one – effectively holding you back somewhat from your sometimes more foolhardy and reckless instincts.

CAPRICORN: Mercury Retrograde may not have been a friend to you over the past few weeks. You are a planner and a long-term strategist, so anything that delays or disrupts these plans can be frustrating. However, with your ruling planet, Saturn, turning retrograde this month, use it as a time for reflection and to more constructively understand that delays and setbacks can be great teachers for a new and much more effective way forward for us in the future.

AQUARIUS: Always unpredictable and often a law unto yourself, perhaps the Mercury Retrograde effect that is now passing may not have been as frustrating to your as it might have been for others who are more set and obsessive in their ways. This month could well offer you much to feed your mind, encourage new directions in your life and perhaps even present an opportunity for you to contact your much deeper, often concealed, thoughts and feelings. "Knowing oneself" is the best way of knowing others, after all.

PISCES: Perhaps with one retrograde planet leaving us and one of two now appearing – especially in your case, your ruling planet Neptune – this could be a valuable month for you to learn, express and find value in your lost dreams especially. However, whereas the Saturn retrograde effect may make you much more mindful and understanding of the consequences of your past actions, the Neptune one might open up new and greater opportunities to restore what has been lost, rejected or denied – providing you with a wonderful new way of realizing things.  
JUNE 2022 Horoscope featured days at a glance…
JUNE 01 / MOON enters CANCER: Emotions can tend to rise more to the surface at this time. A great opportunity for understanding the inner motivations that encourage all our actions.
JUNE 03 / MERCURY RETROGRADE ENDS: With Mercury in Taurus right now, the change from Retrograde to Direct might be a little slow to recognize. But it is happening, so when it does, make the most of it!
JUNE 04 — SATURN RETROGRADE in AQUARIUS: Could be that the excitement and motivation of Mercury going direct feels somewhat restrictive in some way. However, this is a great opportunity for us to sit back and reflect on what we're trying to do – maybe finding a more practical, or responsible, way to do it instead!
JUNE 06 — MOON enters VIRGO: Details! It's all about dealing we details right now – that is, if we want to feel better about what we're trying to do, yet maybe can't.
JUNE 13 — MERCURY enters GEMINI: A time for mind games – but there's nothing sinister about this. These are the games of the mind that are fun to do and playful – almost innocent – with their intent. Definitely a time to release that inner child of yours!
JUNE 14 — FULL MOON in SAGITTARIUS: Some may well feel that this is a time to explore new horizons, to travel, to expand their mind through study, philosophy, higher learning, or spirituality. Go for it, if he opportunity presents itself, and let the adventure begin!
JUNE 21 — SUN enters CANCER: Emotions and feelings can come to the fore at this time. A good opportunity to let yourself feel and reflect on your life and those in it. A good time too for nurturing those you love or those you feel are in the greater need right now. However, "mother love" should not become "smother love"!
JUNE 15 — VENUS enters GEMINI: A time where words and wit can form a major part of your attraction, or perhaps creativity. Write that book, paint a picture, or simply charm the object of your romantic affections with words, rather than deeds.  
JUNE 28 — NEW MOON in CANCER: Again, a time where emotions might run high. So, accept your moods and your feelings and perhaps try a new direction in expressing them – that is, if the old ways are not working as you would wish.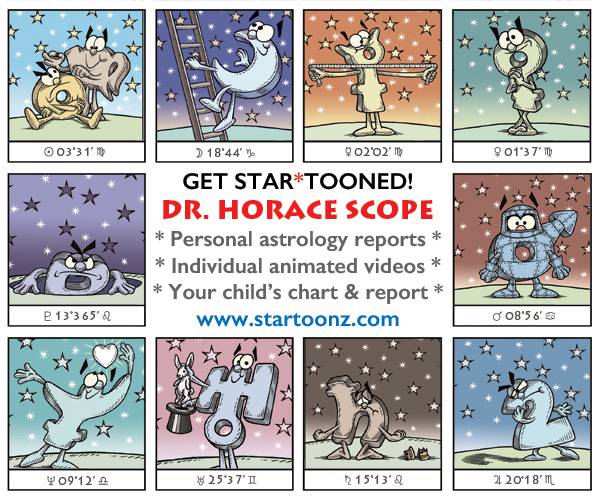 To learn more about Tony White or for a personal chart or other product, click here.
To view last month's horoscope, click here.