LYNNWOOD, Wash., June 22, 2022 – On Wednesday, May 25, at approximately 2 a.m., Next Step Pregnancy Services' ADT alarm system went off. When Executive Director Heather Vasquez and her team showed up for work later that morning, they found five of their clinic's windows smashed and hateful graffiti painted across the front and back doors reading "if abortions aren't safe neither are you" and "Jane's revenge".
"I think this was definitely politically motivated. You have the group Jane's Revenge which is basically telling people to go out and be violent against pregnancy clinics and basically any organization that helps women with pregnancies," Vasquez told the Lynnwood Times.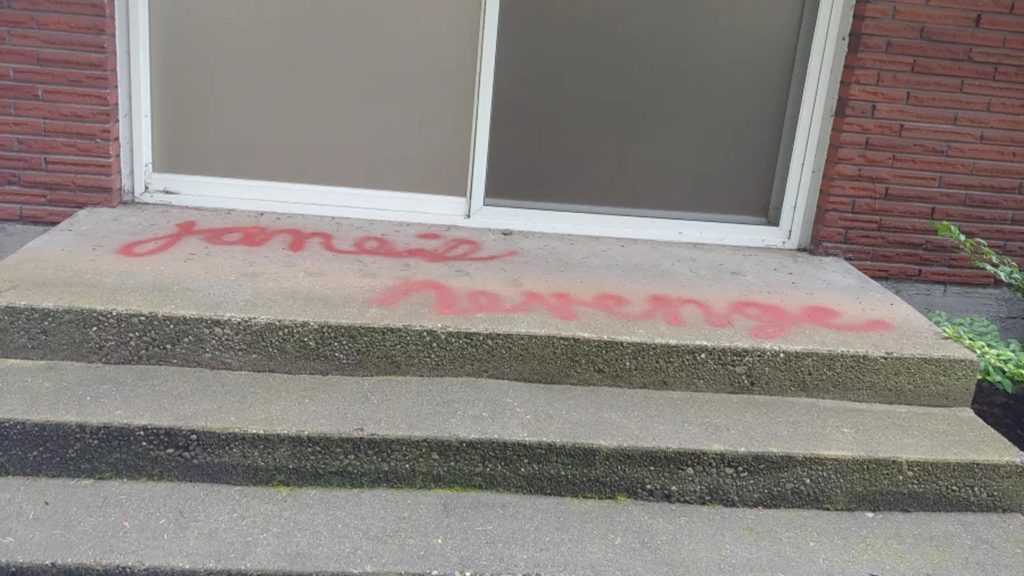 Jane's Revenge is an American far-left group which has perpetrated and threatened domestic terror attacks in the name of defending abortion rights. The group was formed in 2022 as a response to the Supreme Court leak overturning Roe v. Wade and has committed acts of firebombing, vandalism, and arson across the country since. The name is most likely a reference to the Jane Collective, an underground organization that helped women obtain abortions prior to the Roe v. Wade decision.
Next Step pregnancy services is just one of several targeted vandalism cases against pregnancy clinics across the nation following the SCOTUS leak on May 2.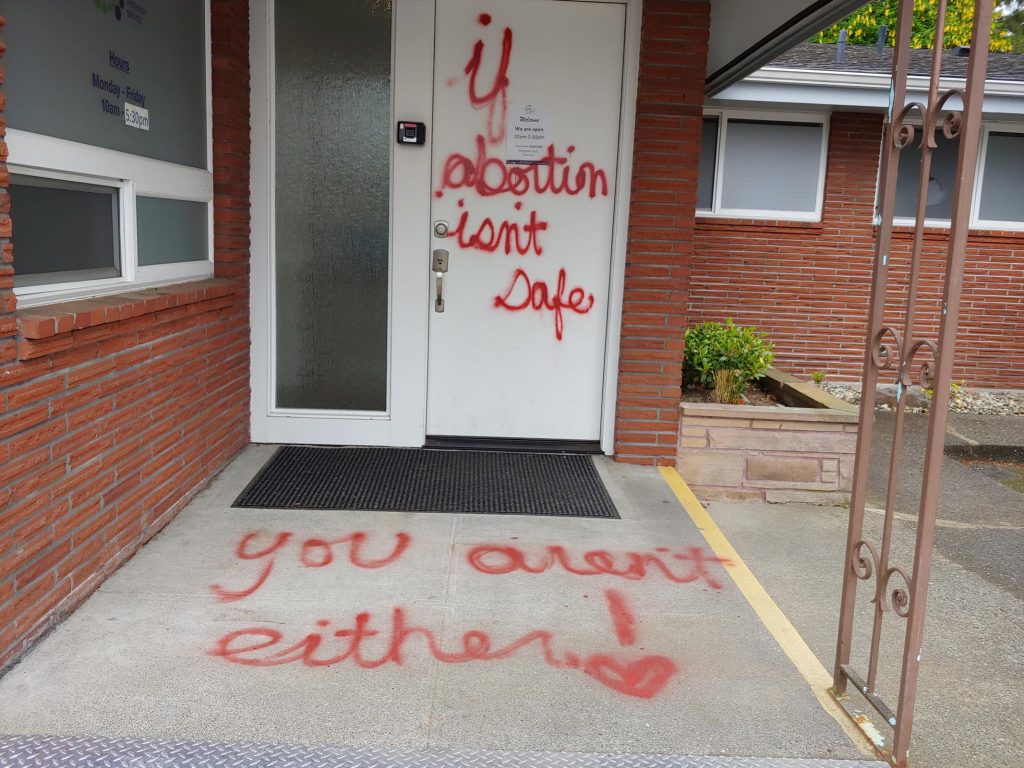 Beginning with the firebombing of a crises pregnancy center in Madison, Wisconsin, in May 2022, the group has since targeted pregnancy centers in New York, North Carolina, Washington, Wisconsin, Ohio, Maryland, the District of Columbia, Iowa, and Oregon. After the Madison firebombing the organization issued a statement demanding the disbanding of antiabortion organizations with the threat of "increasingly extreme attacks".
However, according to Heather Vasquez, Next Step pregnancy services is not an antiabortion clinic at all.
"It was disheartening. I feel sorry for the person because I think there is a misconception about what really goes on at places like ours," Vasquez said. "We don't make any choices for our clients, if they come in and they're not sure what to do we talk about all of their options and listen to them attentively."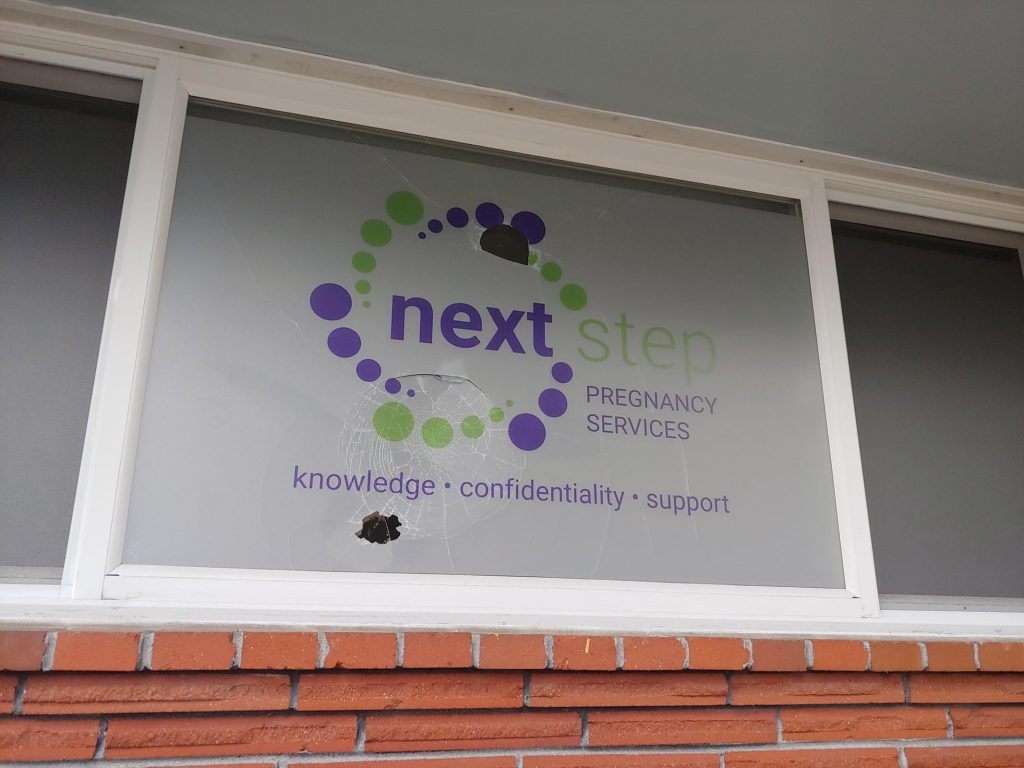 Vasquez informed the Lynnwood Times their website clearly maps out the free services they provide, which includes pregnancy testing, ultrasounds, pregnancy counseling, material assistance, post-abortion support, reproductive loss, adoption information, and community assistance referrals.
"We do invite people to come take tours, and ask questions, but nobody ever comes," Vasquez said. "I just feel there's a lot of misinformation about what we're really doing in here. I think they feel there is a lot more pressure or religious things going on but that isn't happening."
Video surveillance captured that morning revealed what appears to be a woman wearing a hooded sweatshirt and mask spray painting the front and back door of the facility. The security system indicated there were attempts at testing the doors, but the suspect was unable to enter. Although the suspect was heavily concealed, Vasquez described her as female, slender, and around 5'2" to 5'5" in height. This was the first incident of vandalism the clinic has experienced since opening their Lynnwood location in 2010.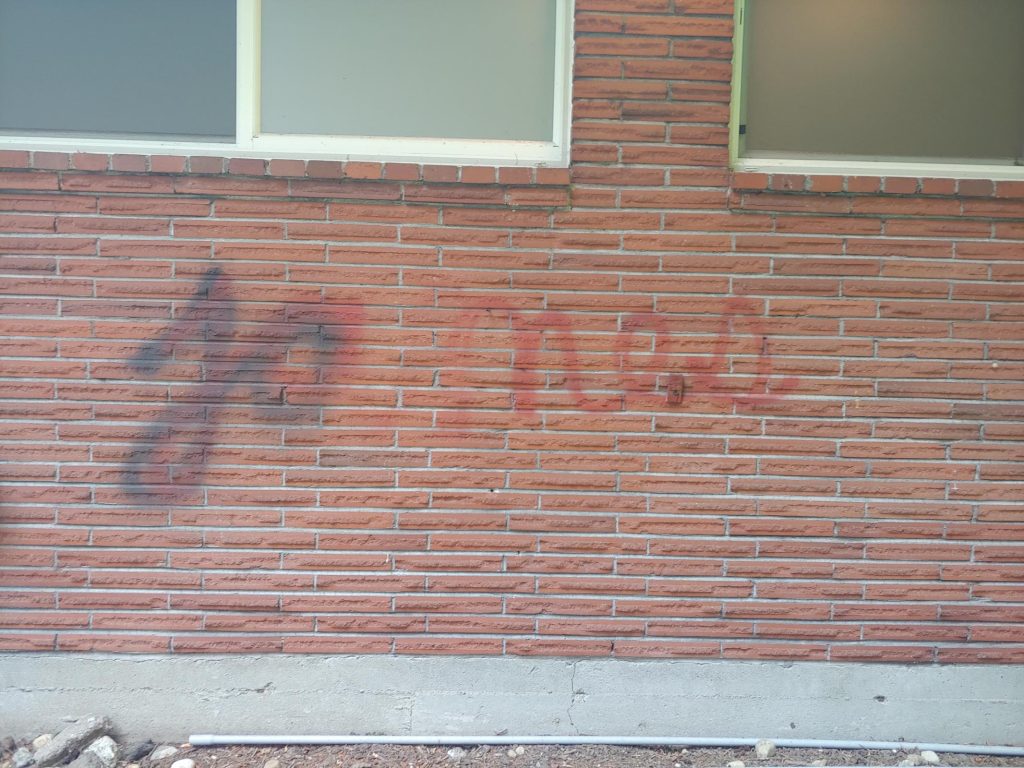 Vasquez, joined by Rebecca Anderson of Next Step, brought attention to the incident during the public comment section at the Lynnwood City Council meeting Monday, June 13. Anderson informed the Lynnwood Times that Mayor Christine Frizzell approached her after the meeting, deeply concerned, and asked what the city could do to help including assisting with the costs for additional security cameras.
"Lynnwood Police has been very attentive," Vasquez said. "They've come by and definitely stepped up their patrols around our building, sat in our parking lot, and given us their cellphone numbers and told us to call if we see anything suspicious."
In addition to added police presence, Next Step is installing additional security cameras this week, under the recommendation of the Lynnwood PD, to increase their angles should any further incidents arise.
About Next Step Pregnancy Services
Next Step Pregnancy Services is a licensed medical facility and a 501(c)3 NonProfit Organization operating in the North End since 1998 and out of their Lynnwood location since 2010. The vast majority of their funding is secured through individual and private donors that allow them to offer an array of free services for women exploring their options with pregnancy, curious about adoption, or seeking counseling and guidance.
Their Lynnwood clinic is located at 19526 64th Avenue West.