From small town to city, "The Lynnwood Song" by Joanne Davis
LYNNWOOD — For years, Joanne Davis, 83, has been coming to Lynnwood's Veterans Park to play her guitar and sing among the flowers and birds. She favors classics from Elvis and Creedance Clearwater Revival to Jimmy Rogers and Marty Robbins. 
"It's just regular music that most everybody knows," she explains from a park bench while holding up a list of songs she jotted down on some paper. Joanne is a regular open mic performer at Snohomish's SnoTown Brewery. "And I always plan ahead and practice for my Thursday performance."
"Everything she does is from her memory," her friend Allen Gilbert, 59, says from the other side of the bench. Allen and Joanne met one day just before the pandemic when Allen was on a stroll through the area and heard Joanne jamming. They quickly bonded over their shared love for the classic artists mentioned earlier and have been meeting weekly at the park to play music ever since.
"On rainy days, we'll go into Fred Meyer's Starbucks and chat," says Allen.
Joanne first learned how to play the piano when she was young but mostly sticks to the guitar these days. "I haven't played the piano in years. I live in a small apartment, so there's no room for one. But I learned a lot about music from piano."
After inheriting her grandmother's piano, she began taking lessons as a child. "My mom told me straight off that she doesn't like popular music," Joanne recalls. "She likes classical music. So that's what I was taught."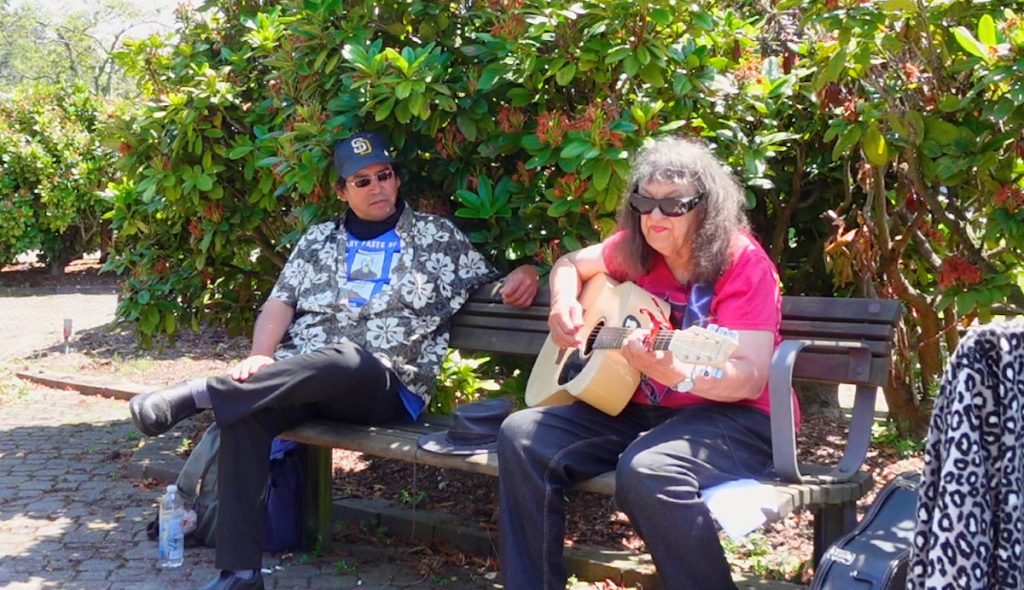 Joanne doesn't just do covers; she's got countless originals too. She wrote one about "being stood up in Marysville" and another one called "The Joanne Blues." Each of her songs emulates the simplistic yet captivating aspects of classic folk and blues music.
One of the songs she's most proud of is "The Lynnwood Song." Having grown up in the area, she's seen Lynnwood grow from a small town into a city. "I remember Lynnwood before it was ever a city," she says, noting how the only store around back then was an Albertson's.
"It's changed. It's got so many stores and restaurants. I mean, they got so many things going on here. It's amazing."
No matter the change, Lynnwood continues to have a place in Joanne's heart, leading her to even write a song about it. "It's just the finest place to be," she concluded.
"The Lynnwood Song" by Joanne Davis
As we road into the City of Lynnwood
On the new light rail where we stood
Preparing to walk into our town
Everyone was smiling not a single frown
'Cause we're living large in Lynnwood
Getting bigger and better every day
We're growing like a mighty oak
Getting more vibrant in every way
Yes, Lynnwood is the finest place to be
Yes, Lynnwood is the finest place to be
Joanne plays her songs at SnoTown Brewery, located at 511 2nd St, Snohomish, WA 98290, every Thursday during their Open Mic time. Open Mic typically begins at 7 p.m. but has recently become so popular that it's currently starting closer to 6 p.m.