The state of Lynnwood is solid for growth into the future
LYNNWOOD, Wash., March 3, 2023—Lynnwood Mayor Christine Frizzell delivered her state of the city address on Friday, March 3, at the Lynnwood Event Center, covering a wide array of topics from public works; to public safety; to transportation, financial strength, and growth.
According to Frizzell, Lynnwood is successfully positioned for growth by securing key state and federal grants, fiscally sound with an AA+ bond rating, committed to remaining a safe place to work and play through recent ordinances and interagency partnerships, and in the process of developing a regional entertainment district within its City Center.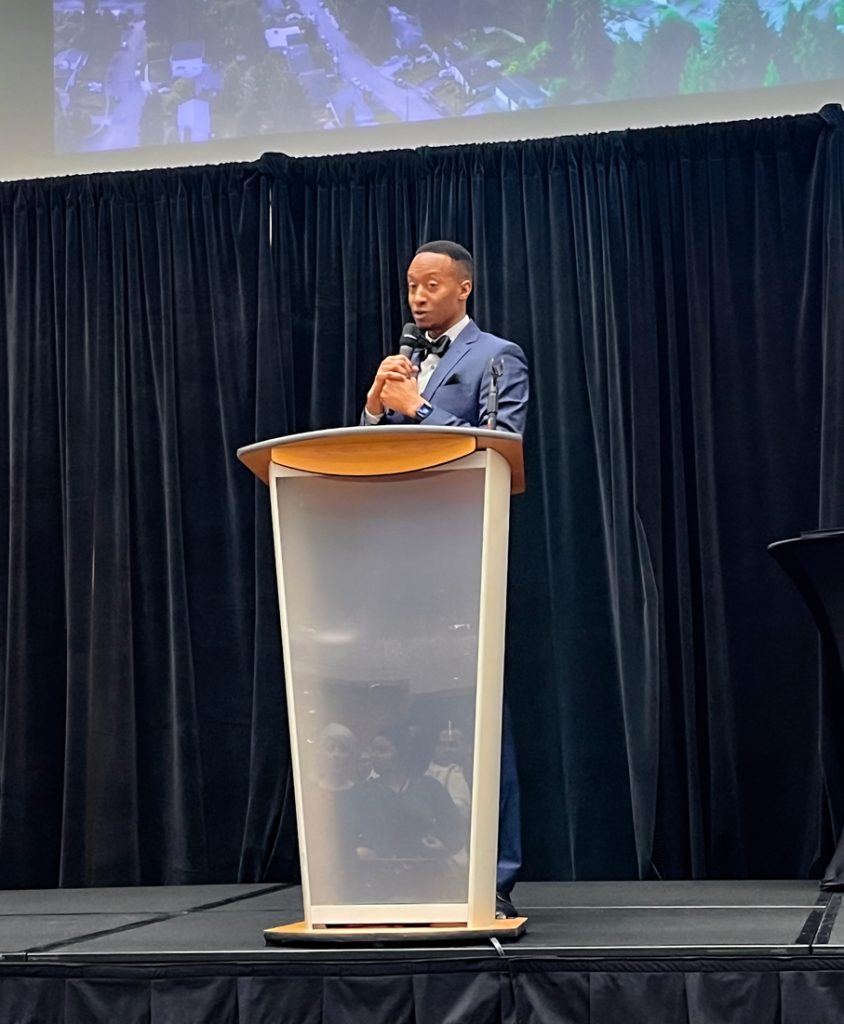 The Emcee for the event was Garry Clark, President and CEO of Snohomish County Economic Alliance, who kicked off the morning by reciting some poetry and acknowledging that the city resides on the native lands.
"The people matter," said Clark. "Today you're going to hear about why the people matter here in the city of Lynnwood."
Also in attendance were Dr. Steve Woodard, Vice President of Community Engagement for Volunteers of America, Olympia Edwards, Founder and CEO of Project Girl, Everett Mayor Cassie Franklin, Stanwood Mayor Sid Roberts, and Lynnwood Police Chief Jim Nelson, among hundreds of others.
Lynnwood City Council address and community recognition
Clark then invited Lynnwood City Council Vice President Julieta Altamirano-Crosby and its President Shannon Sessions to the stage to say a few words for International Women's Day, and recognize several women who made key contributions in community. Also in attendance was Lynnwood Councilman Jim Smith.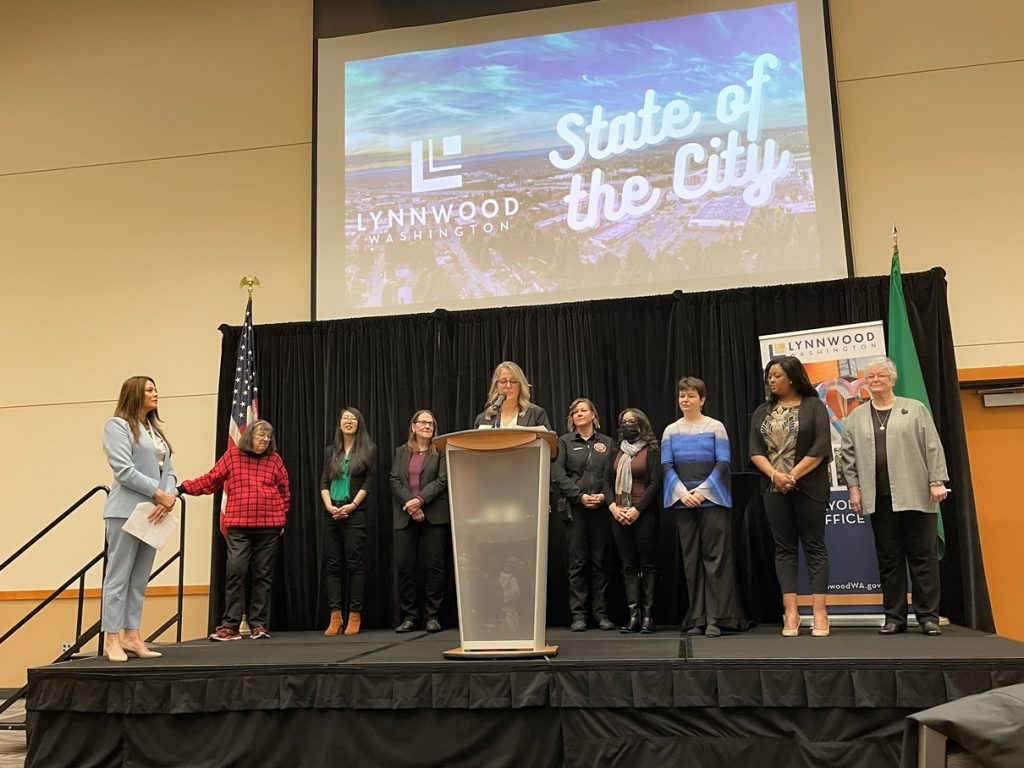 The women recognized include former Mayor Tina Roberts Martinez, the first woman to be elected to the Lynnwood City Council in 1976, Salam Habte, who help immigrant families find a sense of belonging, Svetlana Spivak, a Ukrainian immigrant who decorated the newly constructed roundabout on 36th Avenue, Maria De Jesus Garcia, who works as a Family Resource Advocate in the Edmonds School District, Shawneri Guzman, South County Fire Outreach Manager, Alissa Jones, Executive Director at the Lynnwood Food Bank, and Myra Rintamaki, a Gold Star Mother who is active in supporting the city's active duty military and veteran community.
One-by-one each of these women were brought on stage, after brief introductions, and presented a certificate by council leadership Session and Altamirano-Crosby.
"I'm so honored this year to be the council President and to have the opportunity to share with you about the wonderful city and the people who go above and beyond in making it special," said Councilwoman Sessions to attendees. "Long before Julieta and I joined this council, we have been embedded in this community in a variety of ways and still are. Finding ways to volunteer, create meaningful public programs, and assist where our strengths can make a possible difference as mothers, [and] as women, it has always been personally important for us to serve others in this community."
Councilwoman Sessions is serving her eighth year on the Lynnwood City Council and also her last after announcing she will not be running for reelection in 2023.
Mayor Frizzell's State of the City Address
Lynnwood Mayor Christine Frizzell was introduced to the stage for the main event—the State of the City for Lynnwood.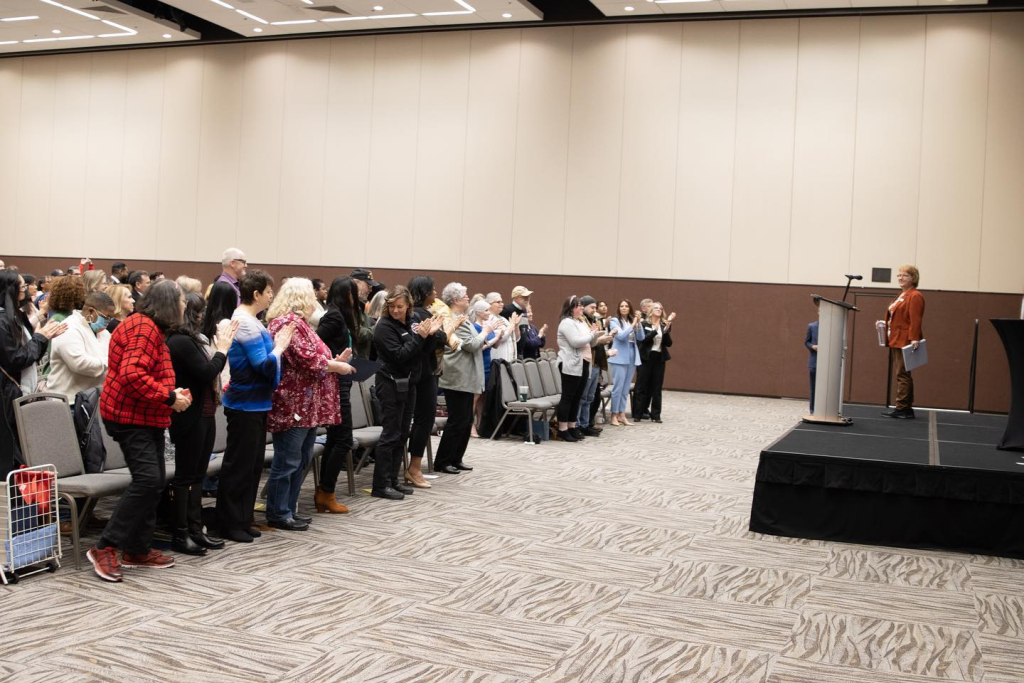 "It's hard to believe that the last time we held a State of the City in person in this building was all the way back in June of 2019. Back then, I was on City Council and didn't know that I would become Mayor of this great City that I have called home for most of my life and where I raised my two daughters," Mayor Frizzell opened. "While we didn't know about the devastating effects that the pandemic would have on our community, we quickly learned how incredibly resilient our community was, and how we could work together to care of one another and find ways to thrive under such unprecedented circumstances."
Frizzell's first major topic was growth. Lynnwood has had a long history with preparing for its future, Frizzell mentioned, dating back to 1917 with the planned community of Alderwood Manor through Legacy Lynnwood in 1993, under the leadership of then Mayor Meryl Hrdlicka. More recently the city has updated its City Center Planned Action Ordinance for environmental mitigation and efficient processing of City Center projects and is currently working on updating its comprehensive plan to guide and manage growth over the next 20 years. The comprehensive plan update is projected to reach completion by next year.
Some of the most visible progress has been around the new City Center area, as the city prepares for Link light rail opening in 2024, through an increase in mixed-use and mixed-income housing. Frizzell continued to announce that the Events Center is doubling in size as part of Lynnwood's new entertainment district, The District, which hopes to reach completion by the 2026 World Cup soccer game at Lumen Field in Seattle.
As far as transportation goes, Mayor Frizzell, a member of both the Community Transit and Sound Transit Board of Directors, has been working hard to make way for the influx in commuters the city is expected to experience, when light rail opens next year. This includes the Scriber Creek Trail redevelopment which will present a non-motorized option for traveling to and from the future City Center station.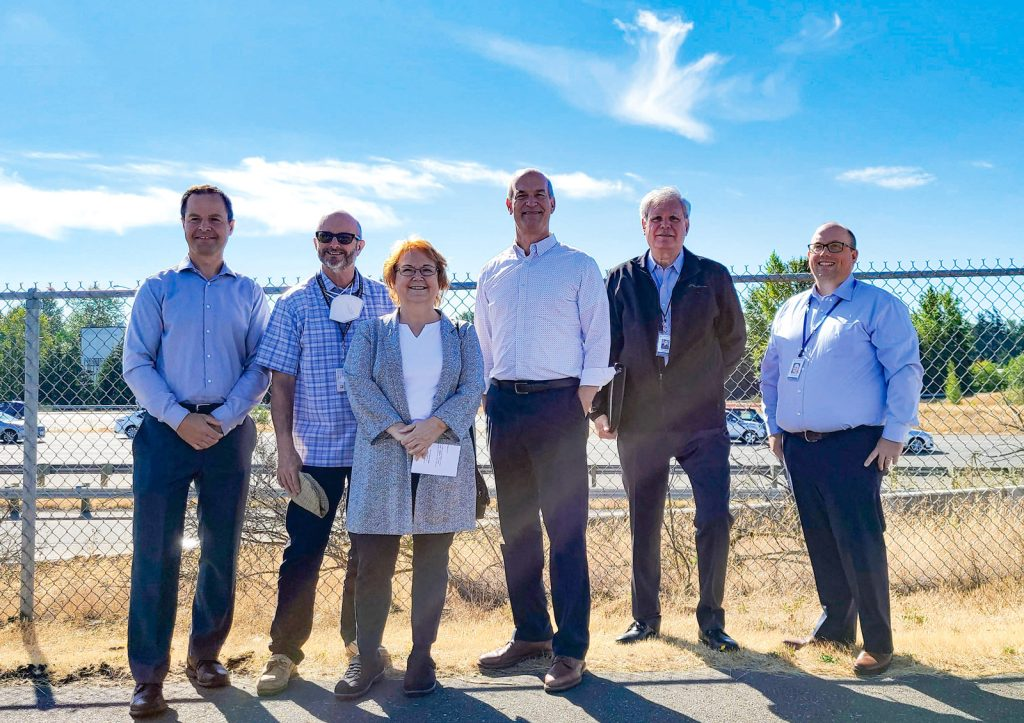 To mitigate traffic congestion in the city, the Poplar Way Bridge will connect Poplar Way to 196th street, over Interstate-5. To fund this project the city has been awarded a $25 million RAISE Grant fund by the U.S. Department of Transportation, in addition to a $15 million grant from the Washington State Transportation Improvement Board – for a total of $40 million. The city hopes to begin construction on the bridge next year.
The Mayor quickly recognized the city's Public Works Department for all of the good work they do—snowplowing, and clearing debris, as well as beautifying our parks – before transitioning to the topic of Public Safety.
Through two Let's Talk About Safety events (with a third scheduled for March 30), the city has learned from community members that the city needs more mental health services. Mayor Frizzell is excited about the addition of the city's new Community Resource Center, working in conjunction with the Community Justice Center, which is anticipated to reach completion later this year, in order to meet these requests.
The city of Lynnwood is also increasing its proactive policing efforts with its newly formed Violent Crime Reduction Unit, by partnering with the Everett Police Department and the Snohomish County Sheriff's Office, placing emphasis on rising retail thefts and gang-related graffiti, and brining in new laws that prohibit open air drug use.
Mayor Frizzell concluded by thanking the city's first responders and mentioning the city ended 2022 with healthy financial reserves, continuing receive recognition from the Government Finance Officers Association and no findings from the State's Auditor's Office. The city's Standards and Poor's Bond Rating remains a steady AA+.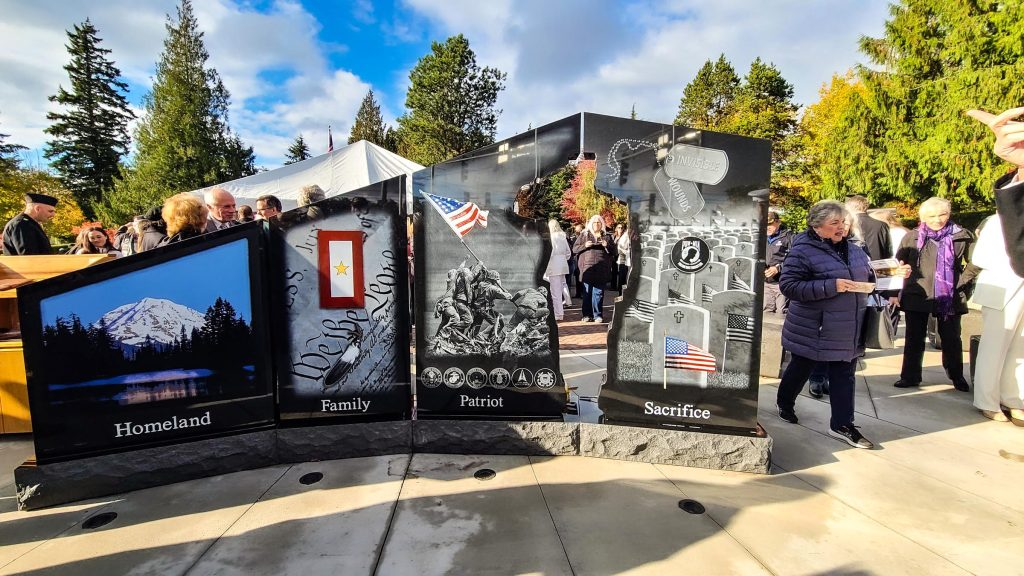 Other talking points Frizzell shared included recognizing the city's commitment to its veteran community by becoming the 200th city in the nation, and third in the state, for having a Gold Star Families Memorial, raising and releasing over 30,000 coho salmon into lakes, through the city's salmon hatchery on Hall Lake, introducing its All Are Welcome Flag through its Diversity, Equity, and Inclusion Committee, and bringing back Lynnwood University after a five-year hiatus – a five week course that teaches the interworking of the city's Departments.
The Mayor also introduced a new event coming this summer, called Celebrate, that will feature music, games, and a beer and wine garden. The details of this event are still being finalized and will be in addition to the city's annual Fair on 44th street fair.
Concluding with The Lynnwood Song
To conclude the hour-long event, Joanne Davis, 83, closed out the morning with her acoustic guitar singing her original song, The Lynnwood Song, as attendees exited the conference room.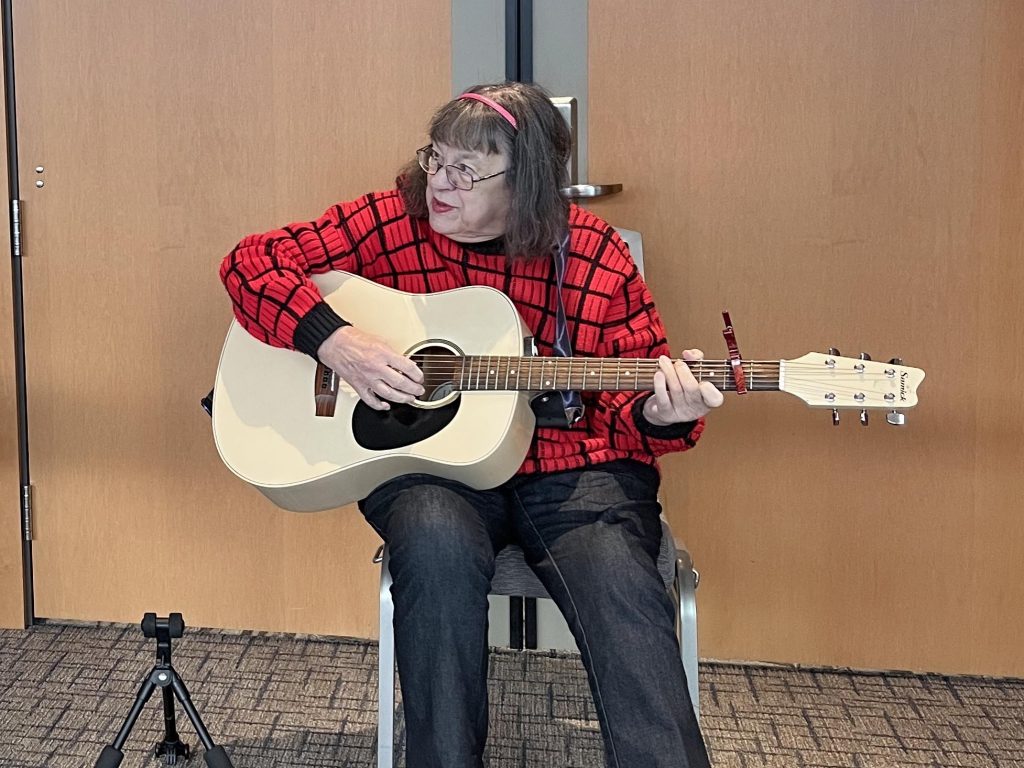 For years, Joanne Davis, 83, has been coming to Lynnwood's Veterans Park to play her guitar and sing among the flowers and birds. She favors classics from Elvis and Creedance Clearwater Revival to Jimmy Rogers and Marty Robbins.
Davis' Lynnwood Song
As we road into the City of Lynnwood
On the new light rail where we stood
Preparing to walk into our town
Everyone was smiling not a single frown
'Cause we're living large in Lynnwood
Getting bigger and better every day
We're growing like a mighty oak
Getting more vibrant in every way
Yes, Lynnwood is the finest place to be
Yes, Lynnwood is the finest place to be
Davis plays her songs at SnoTown Brewery, located at 511 2nd St, Snohomish, WA 98290, every Thursday during their Open Mic time. Open Mic typically begins at 7 p.m. but has recently become so popular that it's currently starting closer to 6 p.m.