Somers, Fortney, Krajcar sign historic public safety labor agreement
SNOHOMISH COUNTY, November 4, 2022—Snohomish County Executive Dave Somers, along with Sheriff Adam Fortney, and Snohomish County Deputy Sheriff's Association (DSA) President Jonathan Krajcar signed a new four-year labor agreement for the County's approximately 250 commissioned officers on Wednesday, November 2, 2022, in a united commitment to public safety.
"The Snohomish County Deputy Sheriff's Association would like to extend our gratitude to Sheriff Fortney and the Snohomish County Government for the collaboration on the recent labor contract," DSA President Krajcar told the Lynnwood Times.
"Snohomish County's top priority is public safety, and this agreement with DSA will ensure we are doing everything possible to retain our law enforcement professionals and attract others to the Sheriff's Office," Snohomish County Executive Somers told the Lynnwood Times. "This contract is one part of an overall strategy to ensure we are addressing street-level crimes, working to counteract the fentanyl crisis, and helping to move people out of homelessness into a more stable life. All of these pieces work together to improve public safety and help some of the most vulnerable members of our community."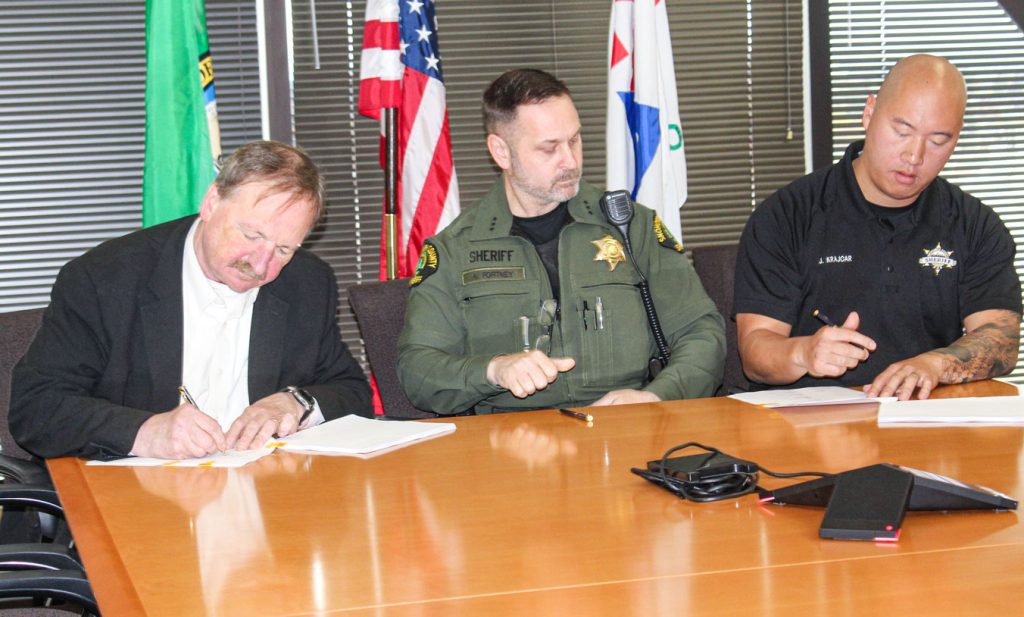 The 2022 Collective Bargaining Agreement between Snohomish County and the DSA is the largest in over two decades according to Sheriff Fortney. To see the video of the historic signing, click here.
"Thank you to Executive Somers, the Snohomish County Council and our county government team for supporting public safety in Snohomish County," Sheriff Fortney said.
To mitigate the officer shortage's impacts to the county resulting in slower 911 response times and an increase rate of officer injuries, Sheriff Fortney announced on June 6 that some special unit officers would be reassigned to patrol. He and other law enforcement leaders attributed recent staffing shortage to a lack of support from Washington State's elected officials, recruitment and retention challenges, and low wages.
Krajcar is optimistic that the new contract will address staffing shortages and provide a better work-life balance for deputies. He stressed that the Sheriff's Office is facing an unprecedented staffing shortage coupled with an increasing population has deputies doing more work with less personnel.
"We are optimistic this contract will help hire and retain the best deputies," DSA President Krajcar said.
With over 75% of the County's General Fund budget spent on law and justice agencies, including the Sheriff's Office, the signing of the 2022 Collective Bargaining Agreement signifies the commitment to public safety for county leaders. Sheriff Fortney is hopeful that the agreement Executive Somers, DSA President Krajcar and he signed, and the Council approved last month, will "Lead the Way" to a safer Snohomish County.
"We are looking forward to hiring new or lateral deputies, so Lead the Way, [and] apply today," Sheriff Fortney said.
For details about qualifications and to apply to the Snohomish County Sheriff's Office, visit Sheriff.Snoco.org/jobs.
2022 Collective Bargaining Agreement Breakdown
The new contract includes significant pay increases and additional incentives for retaining existing law enforcement professionals and recruiting new ones to address public safety in the County.
The new agreement calls for a 4% increase in wages effective April 1, 2021, an 8% increase effective April 1, 2022, a 6.5% increase effective April 1, 2023, and a salary increase equal to 100% of the CPI-W for the Seattle area of a minimum of 1% to a maximum of 5% effective April 1, 2024. It is common practice for governmental entities to use CPI-W in cost-of-living adjustments (COLA) for employees who are part of collective bargaining agreements.
Effective immediately, all Sheriff Deputies will receive a 12% increase in pay to an annual base salary of $74,890 to $98,055.72 (this does not include any incentive pay increases). Sergeants will now make a base annual salary between $111,423.10 to $113,598.10.
Effective January 1, 2023, and a first for the County, it will contribute one dollar for every dollar contributed by the County Deputy or Sergeant. The County's matching contribution will not exceed 2% of the monthly base salary.
Additional incentive pay increases agreed upon include:
Up to 6% for no more than two specialty assignments
3.5% for Associate, 7% for Bachelor's, or 9% for Master's degree.
Longevity ranging from 2-11%.
Deputies may receive a take home vehicle
Specialty assignments now include the Office of Neighborhoods and the Courthouse Security Unit. Also, employees shall have the option of receiving either longevity pay or college incentives but not both.
Snohomish County Council Statements
The Snohomish County Council unanimously authorized the County Executive to sign the 2022 Collective Bargaining Agreement between the County and the DSA on October 18, 2022. Vice-Chair Jared Mead made the motion to approve with Councilmember Nate Nehring seconding to carry the motion forward.
"I was proud to vote for this new contract," Councilman Nehring told the Lynnwood Times. "The contract demonstrates that Snohomish County supports and appreciates our brave men and women who serve in law enforcement and keep our communities safe."
This was one of the first major votes for County Councilman Rep. Strom Peterson (D-Edmonds) who was appointed to the Council on September 29 following the resignation of Councilwoman Stephanie Wright who took a position as Executive Policy Officer.
"The first couple of weeks have been a bit of a whirlwind, but just like at the city and state level, Snohomish County has an incredible staff of dedicated public servants," Councilman Peterson wrote to the Lynnwood Times when asked to share how he is assuming his new duties.
"I am thankful the Council put forward a strong compelling contract offer that showed value, trust, and respect to our deputies and the great work they do here in Snohomish County on a daily basis," Councilman Sam Low wrote to the Lynnwood Times.