Sheriff Fortney discusses the fentanyl crisis with journalist Sam Quinones
EVERETT, Wash., March 27, 2023—Snohomish County Sheriff Adam Fortney, interviewed American journalist and author, Sam Quinones, on his podcast Friday, March 24, where they discussed the rising fentanyl crisis in the United States.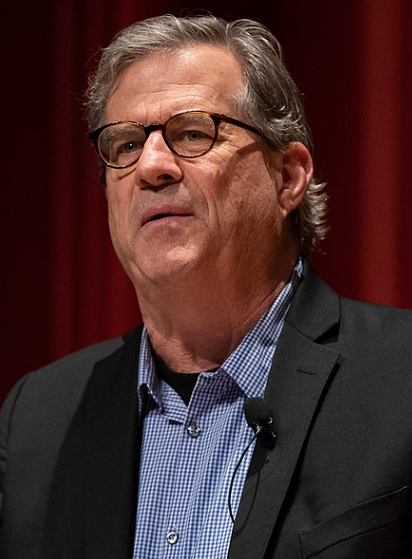 Before the interview, Quinones presented to law enforcement and local elected officials his research, and observations, of drug trends across the states and the impacts fentanyl and methamphetamine are having on different communities, being brought in by the Snohomish County Regional Drug Task Force.
Quinones is a freelance journalist with 35-years of experience in the field, and author of the books Dreamland and The Least of Us, both chronicling the opioid epidemic in America. Prior to turning freelance, he worked as a reporter for the Los Angeles Times covering immigration and crime, politics for the Tacoma News Tribune, and wrote about Mexican people in America while living in Mexico from 1994 to 2004.
During the interview with Fortney on Friday, March 24, Quinones began by stating the fentanyl crisis in the country is not isolated to a particular area stating the "same story here in Everett, Washington, that you get in Oklahoma."
Fentanyl is unique and unlike heroin, Quinones explained, in that it's extremely potent, cheap to manufacture, and unbelievably profitable. It requires multiple doses a day compared to heroin which may be administers once or twice a day making it a "no brainer" for drug cartels to hop onboard.
"Fentanyl is a magnificent drug, it's a fantastic drug surgically," said Quinones. "In fact, for years, it's been used almost exclusively for surgery. When used properly in the medical environment it's a great drug. Revolutionary, really, in some ways. The problem is when it gets into the hands of the drug trafficking world, who are all about profit motive, understanding the enormous potency that makes it such a good drug, and also understand something very important: that if it gets you in and out very quickly that means that you can sell to an addict, fentanyl, over, and over, and over again far more than you ever sold them heroin."
Quinones added that many drug cartels in Mexico have begun manufacturing the drug synthetically—meaning it comes from synthetic chemicals and not plants—due to the ease of obtaining materials, inexpensive production costs, and its ease to smuggle through various ports that honor free trade.
Two days, two huge loads, 2.5 million fentanyl pills.

On Friday, CBP officers found approximately 829,000 fentanyl pills in the quarter panels of a car.

On Saturday, officers took down approximately 1,663,040 fentanyl pills hidden throughout a pickup truck. pic.twitter.com/EAjFTxVqxJ

— Port Director Michael W. Humphries (@CBPPortDirNOG) March 21, 2023
Additionally, what makes Fentanyl unique to heroin is that you typically don't find a long-term Fentanyl user, Quinones said, where, in contrast, you can find heroin users that have been using up to 40 years. The reason, he shared, is its illicitly manufactured potency and "cut."
With Fentanyl, one can get high from a couple of grains of the substance or death with a few more. Because the drug is often mixed, or "cut." with other substances, drug dealers seldom know how to cut the drug concoction which can prove deadly no matter the user's tolerance.
"This is an opioid but it's the most powerful opioid we've ever known," said Quinones. "And that's saying something considering heroin was the other one, and pain pills too. But it has, in my opinion, everything to do with supply."
Sheriff Fortney asked Quinones to share a user's dependence on Fentanyl, drawing upon his experience working in social outreach programs where he observed many users living in homeless encampments refusing help when offered. Quinones answered that he suspects it's because many of those living in active addition on the streets fear a life without the drug, which he says inhibits a person's survival instinct—likening the addiction to a constant "beast" on the shoulder.
"The idea of affordable housing plays an important part of it I suspect," said Quinones concerning the root cause of rising homeless encampments. "But you don't have problems with affordable housing in rural West Virginia, or rural Indiana, or places like that."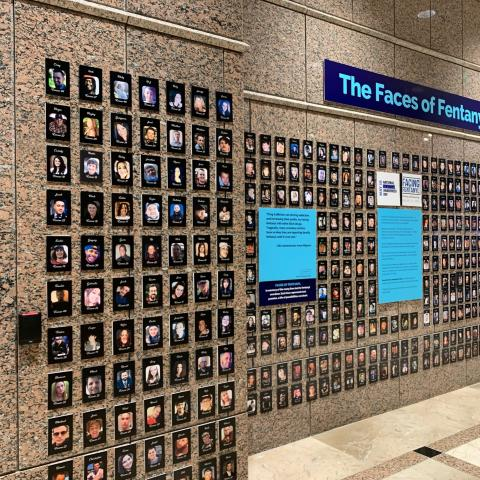 Quinones continued that he does not believe housing, "the way it's currently practiced," is a solution for the country's drug problem where many of the homeless suffer mental illness, drug addiction, and/or trauma. He said it's a wonderful solution to people who have lost their housing due to some economic issue, but he suspects that is not the case with most people living in tent encampments. He believes a better solution would be offering social programs, and recovery programs, first and foremost, then offer a housing solution.
While Quinones admitted that jail systems across the country has its flaws, he dismissed the idea of not incarcerating drug users explaining that jails can be a tool to get users into recovery through, what he calls, "recovery pods." He proposed, after a user goes through a jail-sponsored recovery program, that they then get set up with a nonprofit, dental insurance, and Medicare to reintegrate them into society.
"I've seen people on both sides of that spectrum just through the profession," said Sheriff Fortney. "I've seen people at the height of their addiction and seen people in recovery, the same people. When you've seen both sides of the human being, you've seen people in recovery, their spirit completely changes. There's a different countenance. It's amazing to see."
Fortney asked Quinones' opinion on Washington state's Blake decision, and what he thought of treating simple possession charges as less of a policing issue and more of a social service issue, to which Quinones replied that not cracking down on the small issues could eventually allow them to become larger issues.
To conclude the discussion, Quinones told a story about a man, named Eric, who was working in homeless outreach at a V.A. in Los Angeles. Eric is a United States Marine Corps veteran and was also an active methamphetamine user, which he picked up to self-medicate his depression. Eric sought a life of recovery and kicked his drug abusing habits but still suffered from the depression he attempted to self-medicate in the first place.
Years later Eric found a stray pit bull wandering through traffic that he rescued. He named the dog "Mundo," which is "world" in Spanish. Little by little, taking in Mundo as a companion lifted Eric out of his depression; forcing him to remove the barriers of self-isolation and form a connection with another sentient being. Over time, Eric became more social as many people approached him asking if they could pet his "pettable" pup. Before he knew it, Eric was enrolling in school and lifted himself out of a world of depression, thanks to Mundo's influence. The way Eric put it, Quinones said, is they were "both lost looking for love."
"Mundo became the exact opposite of this very sinister world of meth…What I really love about this story is it's the small things that go toward a larger goal," Quinones said. "In his case there were no pills involved, it was just this connection.
"I tell this story because that's kind of the idea that I think is so important, one of the lessons of this epidemic of addiction, and that this nasty, toxic, world of drugs is teaching us, is these are the kinds of things we need to turn to. Not the big magic answer, it's just that small stuff and being aware that when you're trying you're going to stumble…But keep trying to find other people to add their energies, and their synergies, and eventually you'll get to a little bit better solution and more possible solutions than you thought were possible when you were on your own."
According to the CDC, 107,375 people in the United States died of drug overdoses and drug poisonings in 2022. A staggering 67% of those deaths involved synthetic opioids like fentanyl. More Americans under 50 die from fentanyl than any other cause of death, including heart disease, cancer, and all other accidents. Among teenagers, overdose deaths linked to synthetic opioids like fentanyl tripled in the past two years.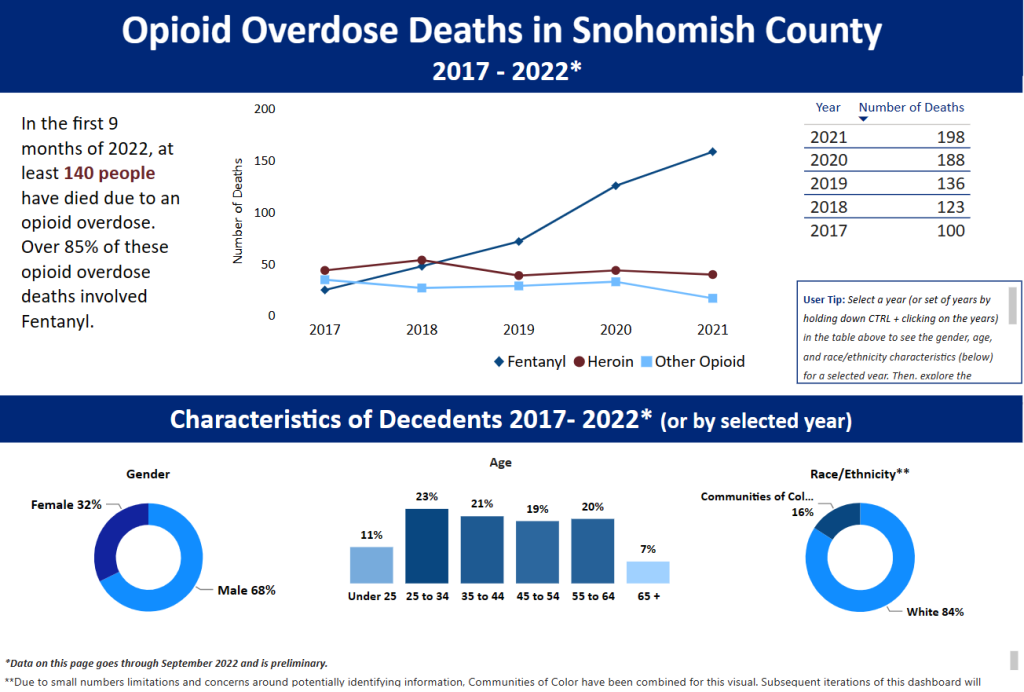 In 2022, The U.S. Drug Enforcement Administration (DEA) seized more than 57.7 million fentanyl-lace fake pills and more than 13,700 pounds of fentanyl powder.The 2022 seizures are equivalent to more than 410 million lethal doses of fentanyl. As of March 31, 2023, the DEA has seized more than 8.17 million fentanyl-lace fake pills and more than 1,660 pounds of fentanyl powder. This is equivalent to approximately 47.2 million deadly doses.
Drug dealers are dangerously mixing illicitly manufactured fentanyl w​​ith, and disguising it as, other common drugs like Oxy, Percocet and Xanax to increase profits, according to the DEA. It has also been found in party drugs like cocaine and MDMA. This production process is not regulated and does not undergo any kind of quality control. Users have no way of knowing what they are getting in these street drugs, putting them at significant risk of poisoning and overdose – and as little as two milligrams of fentanyl (two grains of sand) can kill a person.
The DEA released a Public Safety Alert on March 20, warning of a sharp increase in the trafficking of fentanyl mixed with xylazine.
"Xylazine is making the deadliest drug threat our country has ever faced, fentanyl, even deadlier," said U.S. Drug Enforcement Administration Anne Milgram in last Monday's announcement. "DEA has seized xylazine and fentanyl mixtures in 48 of 50 States. The DEA Laboratory System is reporting that in 2022 approximately 23% of fentanyl powder and 7% of fentanyl pills seized by the DEA contained xylazine."
According to the DEA, Xylazine and fentanyl drug mixtures place users at a higher risk of suffering a fatal drug poisoning for which naloxone (Narcan) does not reverse its effects. Also, those who inject drug mixtures containing xylazine appear to develop severe wounds, including necrosis—the rotting of human tissue—that may lead to amputation.
To raise awareness about this emerging national problem, the DEA is observing May 9, 2023 as National Fentanyl Awareness Day to educate individuals around the dangerous threat that fentanyl poses to the safety, health, and national security of the public.