Sheriff says, 'Fentanyl crisis is real' at public safety forum
LYNNWOOD, Wash., March 14, 2023—The need for School Resource Officers to return to school campuses, increasing gang-related activity, interagency communication, the Community Recovery Center, and current legislation were just a few of the gamut of topics discussed at Saturday's forum on public safety at Gateway Hall in Edmonds College.
"What can we do and what resources are out there?" Asked by Kurt Russell, Board President of a local condominium association, whose question represented the overall theme after two and a half hours of conversation between residents and panelists.
Hosted by Snohomish County Councilman Strom Peterson with panelist Sheriff Adam Fortney and Lynnwood Police Chief James Nelson, roughly 30 residents including four Lynnwood City Councilmembers—Shannon Sessions, Shirley Sutton, George Hurst, and Jim Smith—gained an understanding to city-county boundary law enforcement coverage and the complex impact of fentanyl to public safety.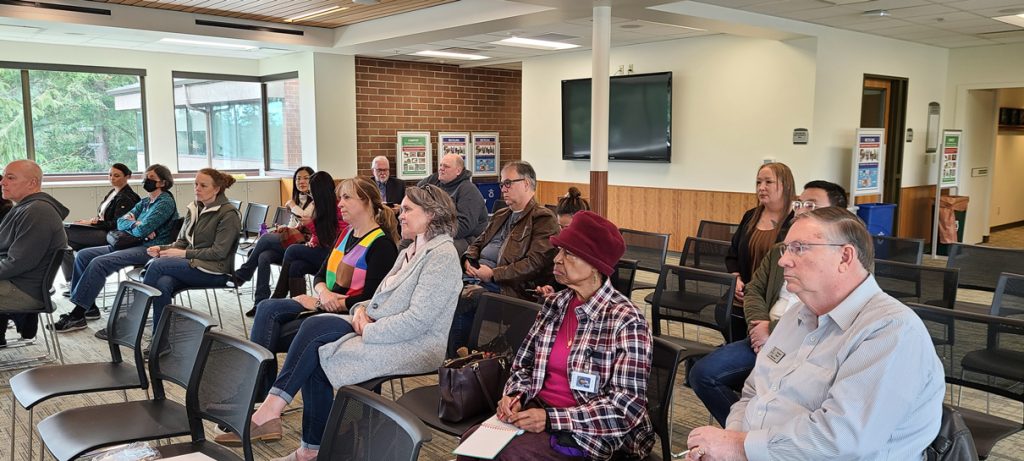 "Anecdotally, 85 percent", Sheriff Fortney responded when asked by a resident to provide his best estimate to the proportion of drugs influencing homelessness and crime. "This fentanyl crisis is real and we need to start looking at it a little bit differently… What we are finding though is the fentanyl that is currently mixed with methamphetamine, or name your synthetic drug, is so strong, [most of] these people on the streets aren't capable of making that decision [to willfully accept help]."
Fortney added later in the forum to express the potency of fentanyl, "We all carry Narcan now… with heroin it use to be one dose and you can bring somebody back [from an overdose]; now we are looking at three, four, or five doses of Narcan."
The City of Lynnwood will be hosting a public safety forum from 6-7:30 p.m. on March 30 at Meadowdale Community Church that is located at 4900 168th St Southwest.
Residents opened Saturday's forum voicing their frustrations with vehicle prowls, "smash and grabs," and trespassing by vagrants mostly near the Ash Way Park and Ride area and other parts of unincorporated Snohomish County.
"I need you to call 911 when it's going on, so we can send teams out there," Fortney told residents on how to initiate Office of Neighborhood resources that will walk the location and either provide help to vagrants or make it clear to them that criminal behavior is "not acceptable" and to "move on."
Both Lynnwood Police Chief Nelson and Sheriff Fortney shared the elements of their respective Crisis Intervention Training programs, that involves de-escalation techniques when engaging those from under the influence of drugs to those on the autism spectrum.
Because of recruitment challenges, there are 14 vacancies Chief Nelson and his team need filled to be fully staffed at 81 funded officers.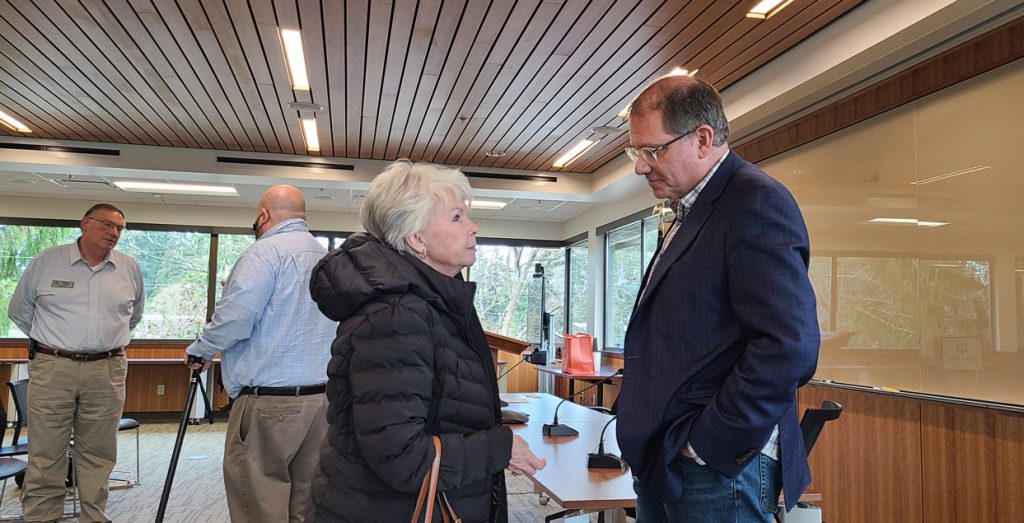 "It's a tough job, in tough times," Chief Nelson said. "If we want a Police Department and Sheriff's Office that reflects our community, we need our community to step up. We need people that are just regular men and women to take this job to do extraordinary things."
In addition to a joint 10- to 12-member Violent Crime Team comprised of Everett, Lynnwood and County law enforcement, LPD has an internal team devoted to combatting the rising gang-related activity, a cyclical occurrence according to Sheriff Fortney, in South Snohomish County.
"We have rededicated an officer on each squad," Chief Nelson said. "We kind of formed our own little gang unit internally. So the four patrol squads are talking to each other and they're being supervised by our patrol commander, who is in an acting position but his normal duties is as a special operations sergeant which is in charge of gang work."
Despite their frustrations with rising crime, the consensus of attendees was thankful for the efforts of law enforcement and advocated for the return of the School Resource Officer program (SROs) that was removed by the Edmonds School Board in 2020.
"Contact your Edmonds School District Board and tell them you want SROs back in school," Council President Sessions said.
"I agree with [Councilwoman] Shannon," a mother whose daughter knew one of the victims who died in the fatal shooting at Spruce Park said. "I emailed my high school; she goes to Lynnwood [High School]…to get the school district to get SROs back in schools because they are off the beaten path. We live in unincorporated Snohomish County…and I know that they [Sheriff's Office] are short staffed. So, to get to somebody if something happened there might take longer."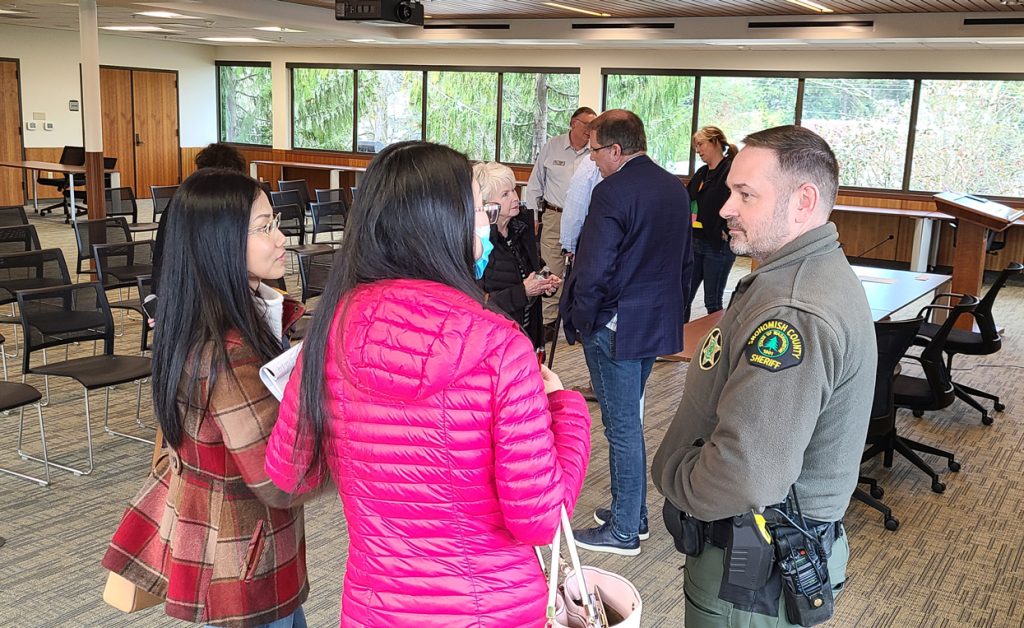 One of the attendees, Vivian Dong, spokeswoman for the local advocacy group Safe Lynnwood, along with several other residents questioned Councilman Peterson, who also serves in the Washington State House of Representatives, on his stance on several pieces of legislation he voted for this session that they claim appear to enable criminal behavior—specifically HB 1268.
One of the concerns brought up is that the bill eliminates "stacking" for offences involving a minor in a criminal street gang-related felony and for certain controlled substance violations. According to the bill analysis, some sentences for multiple offenses can be served consecutively in a policy referred to as "stacking." This bill would eliminate this policy for minors.
"We're not letting kids off if they're committing crimes," Peterson said. "There is a thing on how we would stack these different things on top of each other. So, if you committed a crime here [in Washington state] we would stack the other [offenses] on top of that. We are one of the few states in the country that does that… This was not kind of a 'soft on crime approach,' this was much more targeted than that and really dealt with some issues around unfair sentencing."
When asked by the Lynnwood Times during the forum what incentives the state can offer for the City of Lynnwood to potentially annex portions of land near the Alderwood Boys & Girls Club to address resident concerns over public safety jurisdiction, Peterson referred to Senate Bill 5522 that passed in March of 2020.
The bill provides "cities with the ability to annex unincorporated areas pursuant to a jointly approved interlocal agreement with the county." Essentially, annexations can be enacted in Washington if the county and city governments agree to do so.
Lake Stevens became the first city in Snohomish County to utilize this law for its Southeast Interlocal Annexation in July of 2021. No county nor city residents voted on the matter as officials used a new method called interlocal annexation in which the annexation was approved by majority council vote.
Strom also shared a law that would offset expenses to a City annexing new land into its jurisdiction.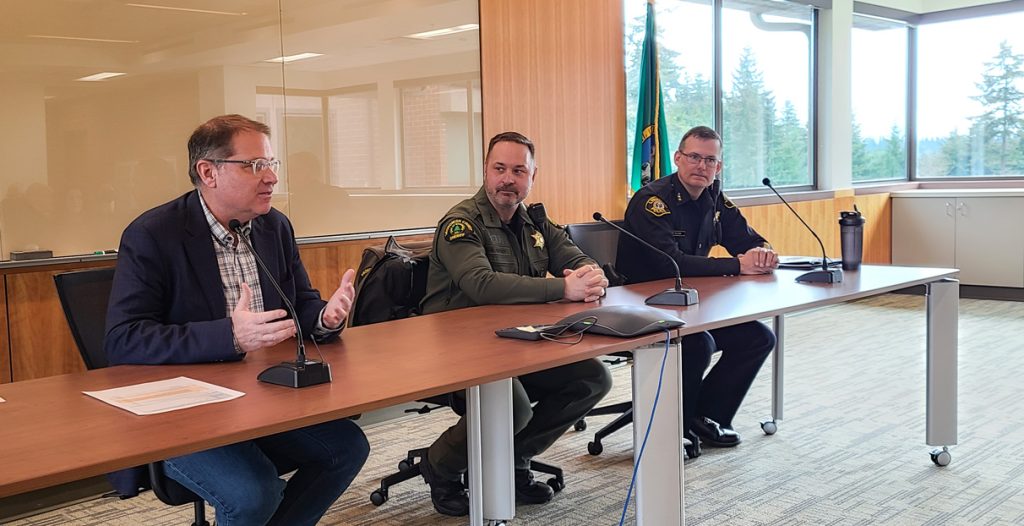 Overall, attendees were in favor of Lynnwood's passage of its ordinance against public drug use, which Sheriff Fortney shared that a similar ordinance is in the works for Snohomish County.
Panelist ended with words of encouragement to empower residents to act and not be afraid nor ashamed to call 911.
"Maybe if they are smoking fentanyl at the bus stop they are going to overdose, and you call the police we can come and help," Fortney said.
Peterson wants residents to know that there is a text 911 option as well for cases where calling would place the caller at risk. Also, attendees were informed that Community Transit will be increasing the number of social workers on their buses who will provide help to those afflicted by addition or who are in a mental health crisis.