Snohomish County, Happy Hunger Games! And may the odds be ever in your favor
SNOHOMISH COUNTY, Wash., May 20, 2023—Elections in Snohomish County have officially kicked off, and like usual, filing week was full of surprises. From a father-son duo vying for Snohomish City Council to entire races in five cities and two school districts uncontested, this election season is going to be a game of strategy, wit, and do I dare say…drama!
At exactly 5:01 p.m., on Friday, May 19, Jen Winckler, President of the League of Women Voters of Snohomish County, joined Wendy Mauch, Elections Supervisor, to begin the candidate lot drawing; a process of determining the order candidates will appear on the ballot. The lot draw is a manual process of rotating a sealed net-like golden tub called the "Bingo Barrel" containing the letters A through Z. Each letter is on a wooden scrabble piece located in a closed black opaque film canister to ensure fairness and randomness in the order selection.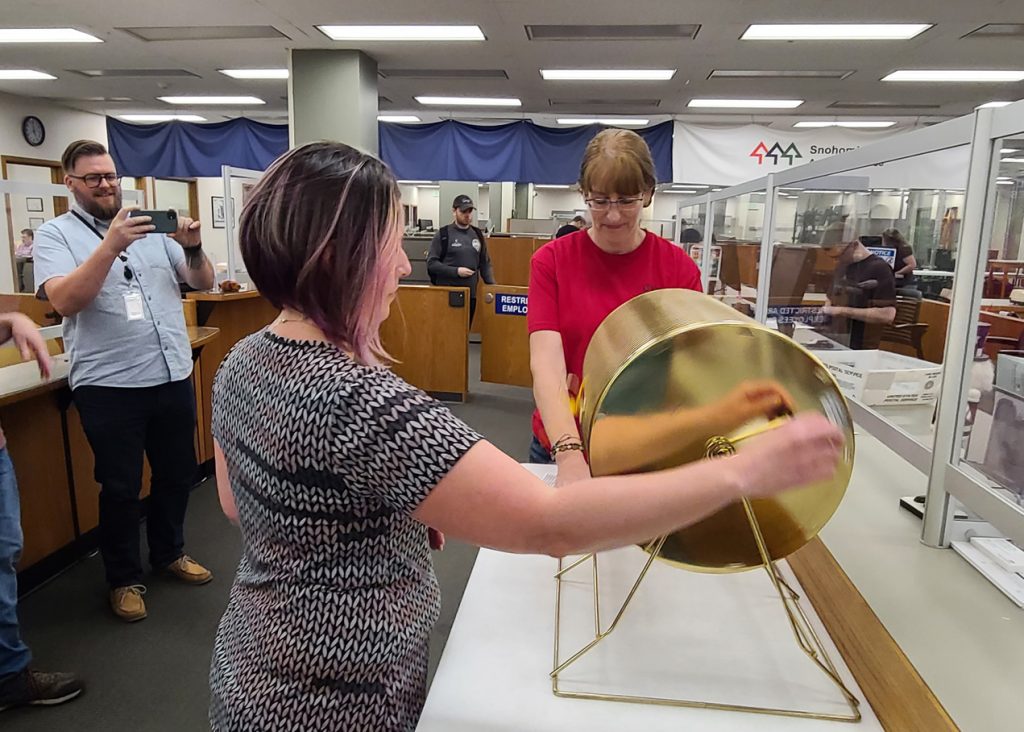 After the a few turns by Winckler followed by cutting the seal on the door of the Bingo Barrel, the first draw was made.
"Y," Winckler said, before handing the letter to Mauch who visually confirmed the reading and recorded the letter on the official Candidate Lot Drawing document. Mauch then placed the letter and the now-opened film canister on the counter. For 25 more drawings by Winckler, this process repeated. Just before certifying the official order a candidate is listed on the ballot, both Winckler and Mauch verify the sequence pulled out of the "Bingo Barrel" a final time.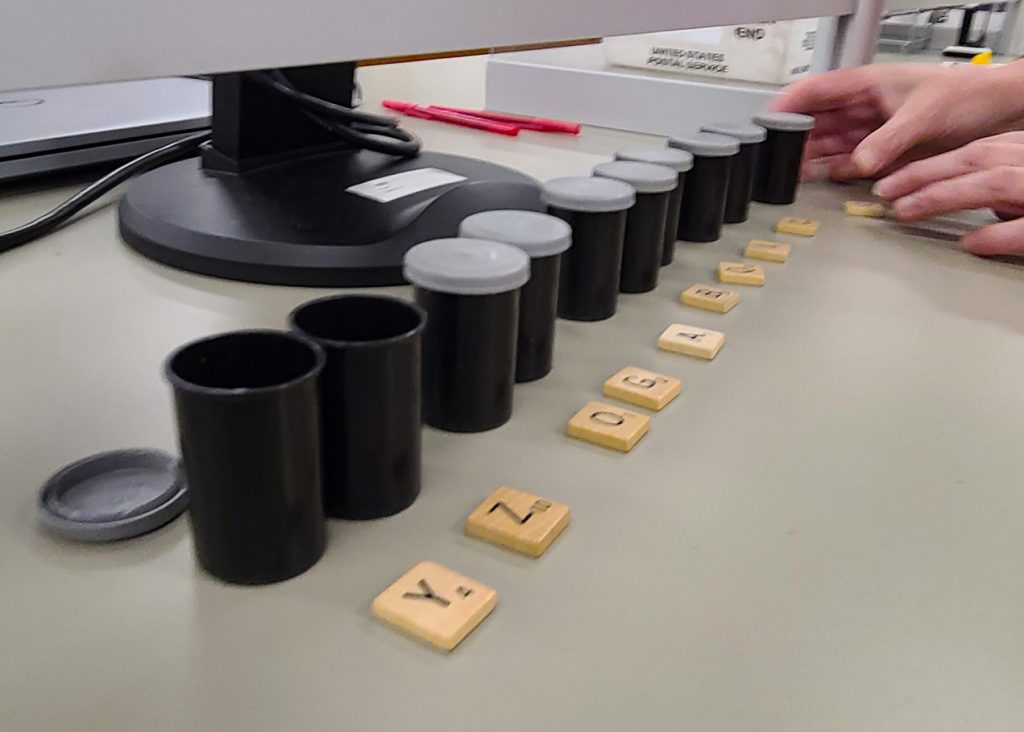 "Voting is a great opportunity to have your voice heard," Winckler told the Lynnwood Times. "These local elections involve the people who are making the decisions that affect your daily life."
A Primary Election is required if more than two candidates file for the same position or if the race is a partisan office which will be held on August 1, 2023. The Top 2 candidates will then advance to the General Election scheduled for November 7.
Currently, election officials predict a 28% voter turnout for the Primary Election but will be reassessing that estimate on Monday, May 22.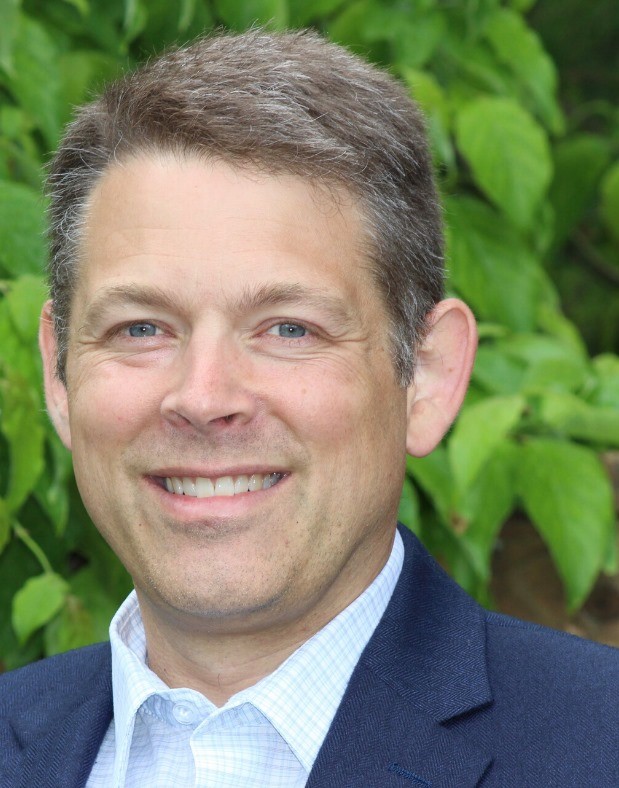 Snohomish County Auditor Garth Fell shared with the Lynnwood Times that his office received budget for translation services to encourage voter turnout in traditionally underrepresented communities. This will also include social media efforts and paid advertising.
"Local elections matter," Fell said when asked how he would encourage a disengaged voter. "The people being elected this year will have a direct impact on the services residents will see at the local level such as decisions that are made in their schools and their local cities. We see a high turnout in Presidential Elections, but these local elections really do affect your day-to-day life and we need people to participate to make sure their voice is heard and that we are electing leaders that reflect their communities."
Fell shared that every vote matters even in races with a large spread.
"Your vote is being registered and that sends a message to a candidate of the level of support they have," Fell said. "We are very fortunate in Snohomish County to have top notch election administrators working for the Auditor's Office. They are well trained, they know their job, and have delivered fair, accurate, and transparent elections."
Of the 176 offices up for grabs throughout Snohomish County this year, 171 of the races have at least one candidate as of the 5 p.m. filing deadline on May 19. Fire District 10 Position 3, Fire District 25 Position 2, Fire District 26 Position 3, and East County Park and Recreation Commission-at-Large for positions 4 and 5 currently have no candidate. Only these five races will be reopened for a special 3-day period for eligible residents to run.
For a list of all registered candidates as of the May 19 filing deadline, click here.
An astounding 85 of 176 (or 48.3%) of the races are uncontested, meaning only one candidate filed for the race. It will be presumptuous of the Lynnwood Times to call these races months before the General Election, but unless a successful write-in campaign is launched, these candidates have well over a 95% probability of winning their uncontested race and being sworn-in to public office.
For the write-in candidate, their name will not appear on the ballot, there is no voter's pamphlet statement, and a filing fee may be needed; huge hurdles to overcome!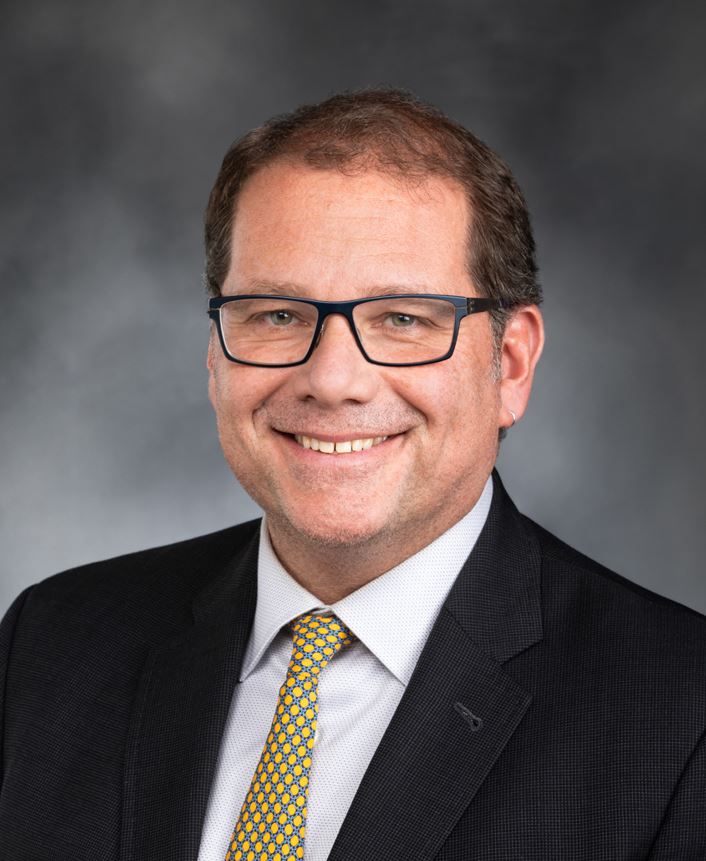 Newly appointed County Councilman Strom Peterson and 84 others no doubt slept well Friday night and can now pool their resources to help their preferred candidates in the 29 races currently expected in the upcoming Primary Election.
"I think my record of working across the aisle while still holding true to my progressive values represents the 3rd district well," Councilman Peterson told the Lynnwood Times. "I look forward to connecting with voters across the district and making sure their voices are represented at every level of government."
All the candidates who submitted their names for the city council and mayoral races in the cities and towns of Darrington, Gold Bar, Marysville, Mountlake Terrace, and Woodway, along with the Granite Falls and Mukilteo school districts will face no challenger.
As mentioned earlier, expect some "hotly contested" seats that we at the Lynnwood Times will be paying special attention.
Let's begin with the City of Snohomish. After a defeat at the ballot in 2021, former Mayor John Kartak is making a return to politics by running for City Council Position 1 against challenger Maygen Hetherington. His son, newcomer Ashton Hobelman, will be running for Position 2 against Judith Kuleta.
Although Snohomish County Councilman Peterson is virtually assured re-election, his colleague and fellow progressive Councilwoman Megan Dunn of Everett is facing Republican challenger Georgia Fischer of Mukilteo and Kristina Mitchell of Lynnwood for the District 2 seat.
Dunn, best known for a controversial anti-police post which critics accused her of encouraging the use of Molotov cocktails against law enforcement, dubbed her the nickname, "Molotov Megan." During the time of the post in 2020, Molotov cocktail attacks were used against local police officers. Dunn has since denied her post encouraged violence, but the Everett Police Officers Association called on Dunn to apologize and resign.
In March of 2020 as Boeing, Snohomish County's largest employer located within Dunn's council district, was in a $25 billion financial crunch caused by the coronavirus and its 737 Max safety crisis that led to the layoff of thousands of workers, Dunn again posted disparaging remarks writing, "the factory can become a giant indoor sports arena."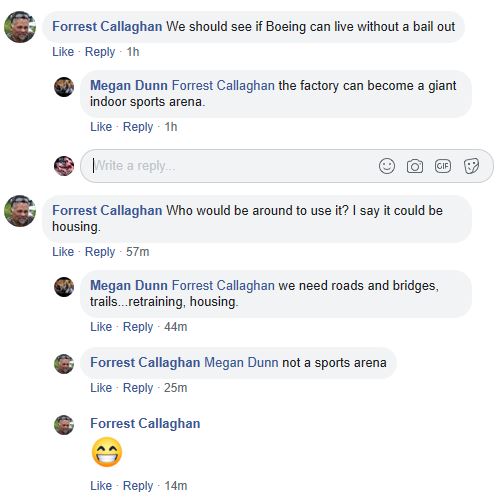 Edmonds Mayor Mike Nelson is facing three challengers – Mike Rosen, Diane Buckshnis, and Brad Shipley. Nelson's handling of shack-like streetaries lining the upscale streets of downtown Edmonds along with his controversial appointment of Sherman Pruitt as Police Chief who, within just days, had his offer rescinded due to a shoddy evaluation process, is going to be facing a tough reelection battle. Pruitt did file a legal claim against the city.
Another "hot race" to follow is that of Snohomish County Sheriff. Incumbent Adam Fortney, who overcame four failed recall attempts because of his pro-liberty and constitutional stance as it pertained to COVID lockdowns, will be facing Bothell Deputy Police Chief Susanna Johnson.
Lynnwood City Councilman George Hurst, who successfully convinced at least one candidate who originally intended to run against him, to run against another candidate, is running unopposed – that is what one can call politicking at its finest! The race to watch in Lynnwood is between incumbent Jim Smith and Nick Coelho. According to the PDC, Coelho has $11,472.49 in contributions.
In a Friday surprise, Mukilteo City Councilwoman Elisabeth Crawford, who was on the political fast track, did not file for re-election. The Lynnwood Times reached out for a statement but has not received a reply as of the date of this article. The race to watch in Mukilteo is between Insurance Agent and businessowner Mike Dixon and incumbent Riaz Khan, a Boeing Engineer. After running for office five times, Khan won against unknown Christopher Maddux in 2019. Both men are resilient and tenacious, this will be a race to watch!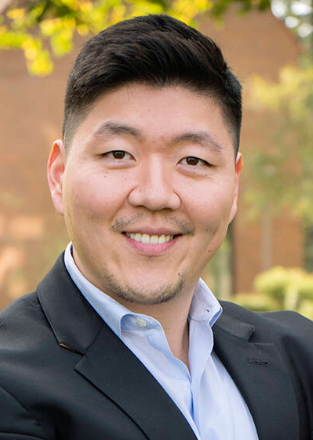 Newcomer Mukilteo City Councilman Jason Moon, who is running unopposed, told the Lynnwood Times he is committed to continuing his service with unwavering passion.
"The trust, support, and collaboration extended to me have been the driving forces behind my dedication to make a positive impact," Moon told the Lynnwood Times. "I am committed to continuing my service with unwavering passion and striving for priorities that embrace our city. We must ensure that all council members are held accountable and actively engage with those residents who consistently attend our meetings.
"If you truly want to know who has been doing a good or bad job in council ask the staff and the residents who regularly attend [council meetings]. I extend my utmost respect to all those who attend our meetings in person or online, sharing their valuable insights and perspectives.
"My sincere admiration goes out to you, my fellow residents. I am grateful for the opportunity, and I carry the lessons learned and memories made as I continue this journey of service. Although it might be the end of my honeymoon, I strive to treat every day like its my first; it's day one every day. God bless you all!"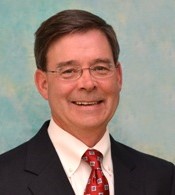 Another race to watch involving Mukilteans is that of Port of Everett Commissioner District 2. With the Mukilteo Waterfront Development Project a primary focus in the Mukilteo City Council, one of three Mukilteo residents – former Mukilteo City Council President Bob Champion, Ken Heaton, and Alfred Favre – hope to succeed incumbent Tom Stiger who is serving in his third term.
Another race, without a doubt that will be a fight to the very end will be that of Snohomish County Auditor. Former opponent Democrat Cindy Gobel and controversial Republican Robert Sutherland will face incumbent Garth Fell. There were accusations of Gobel embellishing her resumé in the previous bid for Auditor; whereas, Sutherland was ordered by the Legislative Ethics Board to pay $2,500 to settle a complaint alleging he violated state ethics law last March accosting the sergeant of arms.
Sutherland, a staunch advocate for election integrity, attended a cyber symposium organized by MyPillow CEO Mike Lindell that argued the 2020 election was hacked. Although, many have criticized and mocked Sutherland for this stance, the outcome of Arizona gubernatorial candidate Republican Kari Lake's election challenge trial may put election integrity front-and-center in our local race.
Overall, key items for this year will no doubt be public safety, school budgets, zoning policies and property rights, and drug addiction. However, if current economic uncertainty manifests into hard realities over the next few months, pocketbook issues will also be a significant factor influencing voters by the General Election in November. With a two-year double-digit inflation, the debt ceiling stand-off, failing banks, a cooling housing market, and an even colder commercial rental market, consumer confidence for May dropped to a six-month low according to the University of Michigan Consumer Sentiment Index.
As an added bonus this election cycle, the Public Disclosure Commissioners raised contribution and reporting threshold limits effective on April 1, 2023. For local races here in Snohomish County, non-judicial candidates can now receive a maximum contribution of $1,200 (or 20% more) from an individual donor per election — that's $2,400 for both the Primary and General elections. Judicial candidates can now receive $2,400 per election!
In addition to raising contribution limits, the Commission adjusted most of the thresholds that guide disclosure by candidates and committees by as much as 300%. For example, the threshold for required reporting of a contributor's identity was raised from $25 to $100; and the contribution threshold for including a contributor's name in the Top 5 or Top 3 on a qualifying political ad increased from $1,000 to $2,000. No doubt that raising the thresholds will reduce administrative overhead for both candidates and PDC staff, but it will also legally conceal donors from public disclosure.
Anyone who wishes to observe the election process may do so. Snohomish County Elections offers observer information sessions for the public that provide an overview of the elections process and an introduction to the basic rules of conduct all observers must follow. For more information on election observations including upcoming information sessions, click here.
If anyone has questions about their ballot or registering to vote, they can call the Auditor's Office at 425-388-3444 or visit in-person in Everett at 3000 Rockefeller Ave., Administration West building, 1st floor.
Table of 2023 Snohomish County Elections
District Type

District

Race

Name

City/Town

CITY OF ARLINGTON

Council Position 4

Kenneth Dilbeck

City/Town

CITY OF ARLINGTON

Council Position 4

Michele Blythe

City/Town

CITY OF ARLINGTON

Council Position 5

Rob Toyer

City/Town

CITY OF ARLINGTON

Council Position 5

Scott Pratt

City/Town

CITY OF ARLINGTON

Council Position 6

Gregory Miller

City/Town

CITY OF ARLINGTON

Council Position 6

Yvonne M. Gallardo-Van Ornam

City/Town

CITY OF ARLINGTON

Mayor

Barb Tolbert

City/Town

CITY OF ARLINGTON

Mayor

Don Vanney

City/Town

CITY OF BOTHELL

Council Position No. 2

James McNeal

City/Town

CITY OF BOTHELL

Council Position No. 2

Mason Thompson

City/Town

CITY OF BOTHELL

Council Position No. 4

Andy Rheaume

City/Town

CITY OF BOTHELL

Council Position No. 4

Ann Aagaard

City/Town

CITY OF BOTHELL

Council Position No. 4

Carston Curd

City/Town

CITY OF BOTHELL

Council Position No. 4

Mark Swanson

City/Town

CITY OF BOTHELL

Council Position No. 6

Amanda Dodd

City/Town

CITY OF BOTHELL

Council Position No. 6

Thomas E. Agnew

City/Town

CITY OF BRIER

Council Position 4

Christopher Roman Young

City/Town

CITY OF BRIER

Council Position 4

Derek Hamilton

City/Town

CITY OF BRIER

Council Position 4

Valerie Rosman

City/Town

CITY OF BRIER

Council Position 5

David Marley

City/Town

CITY OF BRIER

Council Position 5

Kevin Davis

City/Town

CITY OF BRIER

Council Position 6

Hisham (Sham) Othman

City/Town

CITY OF BRIER

Council-at-Large

Daniel Allen

City/Town

CITY OF BRIER

Council-at-Large

Kristin Bigoff

City/Town

CITY OF EDMONDS

Council Position 1

Chris Eck

City/Town

CITY OF EDMONDS

Council Position 1

Roger Pence

City/Town

CITY OF EDMONDS

Council Position 4

Mackey Guenther

City/Town

CITY OF EDMONDS

Council Position 4

Michelle Dotsch

City/Town

CITY OF EDMONDS

Council Position 5

Vivian A. Olson

City/Town

CITY OF EDMONDS

Council Position 6

Kevin Fagerstrom

City/Town

CITY OF EDMONDS

Council Position 6

Susan Paine

City/Town

CITY OF EDMONDS

Council Position 7

Jenna Nand

City/Town

CITY OF EDMONDS

Mayor

Brad Shipley

City/Town

CITY OF EDMONDS

Mayor

Diane Buckshnis

City/Town

CITY OF EDMONDS

Mayor

Mike Nelson

City/Town

CITY OF EDMONDS

Mayor

Mike Rosen

City/Town

CITY OF EVERETT

Council-at-Large Position 6

Bill D. Wheeler, Jr.

City/Town

CITY OF EVERETT

Council-at-Large Position 6

Brian Hennessy

City/Town

CITY OF EVERETT

Council-at-Large Position 6

Demi Chatters

City/Town

CITY OF EVERETT

Council-at-Large Position 6

Scott Bader

City/Town

CITY OF EVERETT

Council-at-Large Position 7

Bryce Nickel

City/Town

CITY OF EVERETT

Council-at-Large Position 7

Judith Martinez

City/Town

CITY OF EVERETT

Council-at-Large Position 7

Judy Tuohy

City/Town

CITY OF EVERETT

Municipal Court Judge Position 2

Remy Leonard

City/Town

CITY OF GOLD BAR

Council Position 2

Lee Russell

City/Town

CITY OF GOLD BAR

Council Position 4

Charles R. (Chuck) Lie

City/Town

CITY OF GOLD BAR

Council Position 5

Jordan M. Sears

City/Town

CITY OF GRANITE FALLS

Council Position 4

Bruce Straughn

City/Town

CITY OF GRANITE FALLS

Council Position 5

Justin Thoreson

City/Town

CITY OF GRANITE FALLS

Council Position 5

Matt Hartman

City/Town

CITY OF LAKE STEVENS

Council Position 3

Ryan Donoghue

City/Town

CITY OF LAKE STEVENS

Council Position 4

Gloria Ngezaho

City/Town

CITY OF LAKE STEVENS

Council Position 4

Kymm Shipman

City/Town

CITY OF LAKE STEVENS

Council Position 5

Anji Jorstad

City/Town

CITY OF LAKE STEVENS

Mayor

Brett Gailey

City/Town

CITY OF LYNNWOOD

Council Position 4

Jim Smith

City/Town

CITY OF LYNNWOOD

Council Position 4

Nick Coelho

City/Town

CITY OF LYNNWOOD

Council Position 5

Julieta Altamirano Crosby

City/Town

CITY OF LYNNWOOD

Council Position 5

Robert Leutwyler

City/Town

CITY OF LYNNWOOD

Council Position 6

George Hurst

City/Town

CITY OF LYNNWOOD

Council Position 7

David Parshall

City/Town

CITY OF LYNNWOOD

Council Position 7

Derek Hanusch

City/Town

CITY OF LYNNWOOD

Lynnwood Municipal Court Judge

Valerie Bouffiou

City/Town

CITY OF MARYSVILLE

Council Position 1

Peter Condyles

City/Town

CITY OF MARYSVILLE

Council Position 5

Kelly Richards

City/Town

CITY OF MARYSVILLE

Council Position 6

Stephen Muller

City/Town

CITY OF MARYSVILLE

Council Position 7

Kamille Norton

City/Town

CITY OF MARYSVILLE

Mayor

Jon Nehring

City/Town

CITY OF MILL CREEK

Council Position 5

Tannis Golebiewski

City/Town

CITY OF MILL CREEK

Council Position 5

Vincent J. Cavaleri

City/Town

CITY OF MILL CREEK

Council Position 6

Melissa Duque

City/Town

CITY OF MILL CREEK

Council Position 7

Sean Paddock

City/Town

CITY OF MONROE

Council Position 4

Heather K. Fulcher

City/Town

CITY OF MONROE

Council Position 4

Melanie Lockhart

City/Town

CITY OF MONROE

Council Position 5

Jacob Walker

City/Town

CITY OF MONROE

Council Position 5

Junelle Lewis

City/Town

CITY OF MONROE

Council Position 5

Will Schlegel

City/Town

CITY OF MONROE

Council Position 6

Jason Gamble

City/Town

CITY OF MOUNTLAKE TERRACE

Council Position 3

Rory Paine-Donovan

City/Town

CITY OF MOUNTLAKE TERRACE

Council Position 5

Bryan Wahl

City/Town

CITY OF MOUNTLAKE TERRACE

Council Position 6

Laura Sonmore

City/Town

CITY OF MOUNTLAKE TERRACE

Council Position 7

Erin Murray

City/Town

CITY OF MUKILTEO

Council Position 4

Ashvin Sanghvi

City/Town

CITY OF MUKILTEO

Council Position 4

Richard Emery

City/Town

CITY OF MUKILTEO

Council Position 5

Michael (Mike) Dixon

City/Town

CITY OF MUKILTEO

Council Position 5

Riaz Khan

City/Town

CITY OF MUKILTEO

Council Position 6

Dode Carlson

City/Town

CITY OF MUKILTEO

Council Position 6

Donna Vago

City/Town

CITY OF MUKILTEO

Council Position 7

Jason Moon

City/Town

CITY OF SNOHOMISH

Council-at-Large Position 1

John T. Kartak

City/Town

CITY OF SNOHOMISH

Council-at-Large Position 1

Maygen Hetherington

City/Town

CITY OF SNOHOMISH

Council-at-Large Position 2

Ashton Hobelman

City/Town

CITY OF SNOHOMISH

Council-at-Large Position 2

Judith Kuleta

City/Town

CITY OF SNOHOMISH

Council-at-Large Position 3

Felix Neals

City/Town

CITY OF STANWOOD

Council Position 3

Chloe A. Pennington

City/Town

CITY OF STANWOOD

Council Position 3

Darren Robb

City/Town

CITY OF STANWOOD

Council Position 4

Brian Kemp

City/Town

CITY OF STANWOOD

Council Position 4

Robert (Chili) Hicks

City/Town

CITY OF STANWOOD

Council Position 5

Steve Shepro

City/Town

CITY OF STANWOOD

Council Position 6

Andreena Bergman

City/Town

CITY OF SULTAN

Council Position 4

Joseph Hund

City/Town

CITY OF SULTAN

Council Position 5

Heidi Dawson

City/Town

CITY OF SULTAN

Council Position 7

Jeffrey Allen Beeler, Sr.

City/Town

CITY OF SULTAN

Council Position 7

Winnthrop E. Maass

City/Town

CITY OF SULTAN

Mayor

Russell Wiita

City/Town

TOWN OF DARRINGTON

Council Position 3

Billie Lee Burtenshaw

City/Town

TOWN OF DARRINGTON

Council Position 4

Reed Rankin

City/Town

TOWN OF DARRINGTON

Council Position 5

Gary Willis

City/Town

TOWN OF DARRINGTON

Mayor

Daniel O. Rankin

City/Town

TOWN OF INDEX

Council Position 2

Jon Jackson

City/Town

TOWN OF INDEX

Council Position 4

Chad Walker

City/Town

TOWN OF INDEX

Council Position 4

Kimberly Hanson

City/Town

TOWN OF INDEX

Council Position 4

Scott MacDonald

City/Town

TOWN OF INDEX

Council Position 5

Alysse Hotz

City/Town

TOWN OF WOODWAY

Council Position 2

John Brock

City/Town

TOWN OF WOODWAY

Council Position 4

James Willett

City/Town

TOWN OF WOODWAY

Council Position 5

Elizabeth Mitchell

Countywide

County

Assessor

Joe Wanagel

Countywide

County

Assessor

Linda Hjelle

Countywide

County

Auditor

Cindy L. Gobel

Countywide

County

Auditor

Garth Fell

Countywide

County

Auditor

Robert J. Sutherland

Countywide

County

Clerk

Heidi Percy

Countywide

County

Council District 2

Georgia Fisher

Countywide

County

Council District 2

Kristina A. Mitchell

Countywide

County

Council District 2

Megan Dunn

Countywide

County

Council District 3

Strom Peterson

Countywide

County

County Executive

Bob Hagglund

Countywide

County

County Executive

Christopher Garnett

Countywide

County

County Executive

Dave Somers

Countywide

County

Sheriff

Adam Fortney

Countywide

County

Sheriff

Susanna Johnson

Countywide

County

Treasurer

Brian Sullivan

Fire

FIRE DISTRICT 04

Commissioner Position 2

Craig Erickson

Fire

FIRE DISTRICT 04

Commissioner Position 2

Jill Gleason

Fire

FIRE DISTRICT 04

Commissioner Position 3

Brian E. Mills

Fire

FIRE DISTRICT 04

Commissioner Position 3

Richard E. Flath

Fire

FIRE DISTRICT 05

Commissioner Position 3

Dave Moon

Fire

FIRE DISTRICT 05

Commissioner Position 3

Kelly Geiger

Fire

FIRE DISTRICT 05

Commissioner Position 3

Steve Lowe

Fire

FIRE DISTRICT 12

Commissioner Position 3

Tonya Christoffersen

Fire

FIRE DISTRICT 15

Commissioner Position 3

David W. Sherman

Fire

FIRE DISTRICT 16

Commissioner Position 3

Brian Anderson

Fire

FIRE DISTRICT 17

Commissioner Position 3

James E. Glover

Fire

FIRE DISTRICT 17

Commissioner Position 3

Ron Stephenson

Fire

FIRE DISTRICT 17

Commissioner Position 5

Rick Hjelle

Fire

FIRE DISTRICT 19

Commissioner Position 3

Steven Geiger

Fire

FIRE DISTRICT 21

Commissioner Position 3

Ed Taft

Fire

FIRE DISTRICT 22

Commissioner Position 3

Randy Bauer

Fire

FIRE DISTRICT 24

Commissioner Position 3

Joseph McConnaughy

Fire

FIRE DISTRICT 27

Commissioner Position 1

Ray Stephanson

Fire

FIRE DISTRICT 27

Commissioner Position 2

Brad Tinius

Fire

FIRE DISTRICT 27

Commissioner Position 2

Mike Worthy

Fire

FIRE DISTRICT 27

Commissioner Position 3

Duan Tinius

Fire

FIRE DISTRICT 27

Commissioner Position 3

Steve Slawson

Fire

NCRFA COMMISSIONER DIST 2

Commissioner District 2

Henry Kelley

Fire

NCRFA COMMISSIONER DIST 4

Commissioner District 4

Holly Sloan-Buchanan

Fire

NCRFA COMMISSIONER DIST 5

Commissioner District 5

Marilyn Oertle

Fire

NORTH COUNTY REGIONAL FIRE AUTHORITY

Commissioner-at-Large Position 6

Albert Schreiber

Fire

NORTH COUNTY REGIONAL FIRE AUTHORITY

Commissioner-at-Large Position 6

Debora

Nelson

Fire

NORTH COUNTY REGIONAL FIRE AUTHORITY

Commissioner-at-Large Position 6

Larry Longley

Fire

NORTH COUNTY REGIONAL FIRE AUTHORITY

Commissioner-at-Large Position 7

Rob Johnson

Fire

NORTH COUNTY REGIONAL FIRE AUTHORITY

Commissioner-at-Large Position 7

Steve Maisch

Fire

SCRFA COMMISSIONER DIST 2

Commissioner District 2

Carol McMahon

Fire

SCRFA COMMISSIONER DIST 2

Commissioner District 2

Mike Fearnehough

Fire

SCRFA COMMISSIONER DIST 4

Commissioner District 4

Micah Rowland

Fire

SNOHOMISH REGIONAL FIRE & RESCUE

Commissioner Position 3

Randy Fay

Fire

SNOHOMISH REGIONAL FIRE & RESCUE

Commissioner Position 7

Bill Wirtz

Fire

SNOHOMISH REGIONAL FIRE & RESCUE

Commissioner Position 7

Davin Alsin

Fire

SNOHOMISH REGIONAL FIRE & RESCUE

Commissioner Position 7

Troy Elmore

Fire

SOUTH SNO. CO. FIRE & RESCUE RFA

Commissioner-at-Large Position 6

Derek Daniels

Fire

SOUTH SNO. CO. FIRE & RESCUE RFA

Commissioner-at-Large Position 6

Edward C. Widdis

Judicial

SNOHOMISH SUPERIOR COURT

Judge Position 16

Brett Rogers

Judicial

SNOHOMISH SUPERIOR COURT

Judge Position 16

Miguel M. Duran

Judicial

SNOHOMISH SUPERIOR COURT

Judge Position 17

Jody Cloutier

Judicial

SNOHOMISH SUPERIOR COURT

Judge Position 17

Mary C. Anderson

Judicial

SNOHOMISH SUPERIOR COURT

Judge Position 17

Patrick M. Moriarty

Port

PORT OF EDMONDS

Commissioner-at-Large Position 4

Selena Killin

Port

PORT OF EDMONDS COMMISSIONER DISTRICT 2

Commissioner District 2

David Preston

Port

PORT OF EVERETT COMMISSIONER DISTRICT 2

Commissioner District 2

Alfred G. Favre

Port

PORT OF EVERETT COMMISSIONER DISTRICT 2

Commissioner District 2

Bob Champion

Port

PORT OF EVERETT COMMISSIONER DISTRICT 2

Commissioner District 2

Ken Heaton

Port

PORT OF EVERETT COMMISSIONER DISTRICT 2

Commissioner District 2

Tom Stiger

Public Hospital

HOSPITAL DISTRICT 1

Commissioner-at-Large Position 3

Dee Bender

Public Hospital

HOSPITAL DISTRICT 1

Commissioner-at-Large Position 3

Gregory Accetturo

Public Hospital

HOSPITAL DISTRICT 2

Commissioner Position 1

Bob Meador

Public Hospital

HOSPITAL DISTRICT 2

Commissioner Position 1

Deana Knutsen

Public Hospital

HOSPITAL DISTRICT 2

Commissioner Position 4

Karianna Wilson

Public Hospital

HOSPITAL DISTRICT 2

Commissioner Position 4

Mark Laurence

Public Hospital

HOSPITAL DISTRICT 3

Commissioner Position 2

Tina Davis

Public Hospital

HOSPITAL DISTRICT 3

Commissioner Position 5

Tim Cavanagh

School

ARLINGTON SCHOOL DISTRICT NO. 16

Director District 1

Joy Johnson

School

ARLINGTON SCHOOL DISTRICT NO. 16

Director District 1

Matthew Dimond

School

ARLINGTON SCHOOL DISTRICT NO. 16

Director District 2

Sheri Kelly

School

ARLINGTON SCHOOL DISTRICT NO. 16

Director District 4

Mary Levesque

School

ARLINGTON SCHOOL DISTRICT NO. 16

Director District 4

Sam Ostap

School

DARRINGTON SCHOOL DISTRICT NO. 330

Director District 1

Jennie Requa

School

DARRINGTON SCHOOL DISTRICT NO. 330

Director District 2

Marree Perrault

School

DARRINGTON SCHOOL DISTRICT NO. 330

Director District 3

Maggie Weimer

School

EDMONDS SCHOOL DISTRICT NO. 15

Director District 1

Carin Chase

School

EDMONDS SCHOOL DISTRICT NO. 15

Director District 1

Nicholas Logan

School

EDMONDS SCHOOL DISTRICT NO. 15

Director District 3

Hawk Cramer

School

EDMONDS SCHOOL DISTRICT NO. 15

Director District 5

Arjun Kathuria

School

EDMONDS SCHOOL DISTRICT NO. 15

Director District 5

Nancy Katims

School

EDMONDS SCHOOL DISTRICT NO. 15

Director District 5

Nicholas Jenkins

School

EVERETT SCHOOL DISTRICT NO. 2

Director-at-Large Position 2

Charles Mister, Jr.

School

EVERETT SCHOOL DISTRICT NO. 2

Director-at-Large Position 2

Jennifer (Jen) Hirman

School

EVERETT SCHOOL DISTRICT NO. 2

Director-at-Large Position 5

Charles Adkins

School

EVERETT SCHOOL DISTRICT NO. 2

Director-at-Large Position 5

Janelle Burke

School

EVERETT SCHOOL DISTRICT NO. 2

Director-at-Large Position 5

Roman Rewolinski

School

EVERETT SCHOOL DISTRICT NO. 2

Director-at-Large Position 5

Ryne Rohla

School

GRANITE FALLS SCHOOL DISTRICT NO. 332

Director District 1

Peter LeDoux

School

GRANITE FALLS SCHOOL DISTRICT NO. 332

Director District 2

Bill Dane

School

GRANITE FALLS SCHOOL DISTRICT NO. 332

Director District 4

Tina Veatch

School

INDEX SCHOOL DISTRICT NO. 63

Director-at-Large Position 1

Caleb Carrington

School

INDEX SCHOOL DISTRICT NO. 63

Director-at-Large Position 3

Chelsea Estep-Armstrong

School

INDEX SCHOOL DISTRICT NO. 63

Director-at-Large Position 3

Troy Bender

School

INDEX SCHOOL DISTRICT NO. 63

Director-at-Large Position 4

Kim Elias

School

INDEX SCHOOL DISTRICT NO. 63

Director-at-Large Position 4

Mallory Sullivan

School

INDEX SCHOOL DISTRICT NO. 63

Director-at-Large Position 5

Amy R. Johnson

School

LAKE STEVENS SCHOOL DISTRICT NO. 4

Director District 1

David Iseminger

School

LAKE STEVENS SCHOOL DISTRICT NO. 4

Director District 2

Paul Lund

School

LAKE STEVENS SCHOOL DISTRICT NO. 4

Director District 2

Shawn Schrader

School

LAKE STEVENS SCHOOL DISTRICT NO. 4

Director District 3

Colin Kreiger

School

LAKE STEVENS SCHOOL DISTRICT NO. 4

Director District 3

Mari Taylor

School

LAKEWOOD SCHOOL DISTRICT NO. 306

Director District 3

Dana Krueger

School

LAKEWOOD SCHOOL DISTRICT NO. 306

Director District 4

Dawn Taylor

School

LAKEWOOD SCHOOL DISTRICT NO. 306

Director District 4

Peter J. Nigro

School

LAKEWOOD SCHOOL DISTRICT NO. 306

Director District 5

Leah Tocco

School

MARYSVILLE SCHOOL DISTRICT NO. 25

Director District 2

Brian Nelson

School

MARYSVILLE SCHOOL DISTRICT NO. 25

Director District 2

Eliza Davis

School

MARYSVILLE SCHOOL DISTRICT NO. 25

Director District 2

Tiffani V. Mondares-Riggs

School

MARYSVILLE SCHOOL DISTRICT NO. 25

Director District 3

Beth Hoiby

School

MARYSVILLE SCHOOL DISTRICT NO. 25

Director District 3

Elora Wykes

School

MARYSVILLE SCHOOL DISTRICT NO. 25

Director District 3

Keira Atchley

School

MARYSVILLE SCHOOL DISTRICT NO. 25

Director District 3

Sherryl Kenney

School

MARYSVILLE SCHOOL DISTRICT NO. 25

Director District 5

Kristen Michal

School

MONROE SCHOOL DISTRICT NO. 103

Director District 1

Crystal Blakely

School

MONROE SCHOOL DISTRICT NO. 103

Director District 1

Jeremiah Campbell

School

MONROE SCHOOL DISTRICT NO. 103

Director District 1

Roy (Trey) Sherrill

School

MONROE SCHOOL DISTRICT NO. 103

Director District 1

Tiana Armstrong

School

MONROE SCHOOL DISTRICT NO. 103

Director District 2

Chuck Whitfield

School

MONROE SCHOOL DISTRICT NO. 103

Director District 2

Eric Halvorson

School

MONROE SCHOOL DISTRICT NO. 103

Director District 2

Melanie Ryan

School

MONROE SCHOOL DISTRICT NO. 103

Director District 4

James Etzkorn

School

MONROE SCHOOL DISTRICT NO. 103

Director District 5

Andrew Fegler

School

MONROE SCHOOL DISTRICT NO. 103

Director District 5

Jennifer Bumpus

School

MUKILTEO SCHOOL DISTRICT NO. 6

Director District 1

Simon H. Bai

School

MUKILTEO SCHOOL DISTRICT NO. 6

Director District 3

Kyle Kennedy

School

MUKILTEO SCHOOL DISTRICT NO. 6

Director District 5

John Gahagan

School

NORTHSHORE SCHOOL DISTRICT NO. 417

Director District No. 2

Elisabeth Sotak

School

NORTHSHORE SCHOOL DISTRICT NO. 417

Director District No. 2

John Pfeil

School

NORTHSHORE SCHOOL DISTRICT NO. 417

Director District No. 3

Chris Cazares

School

NORTHSHORE SCHOOL DISTRICT NO. 417

Director District No. 3

Han Tran

School

NORTHSHORE SCHOOL DISTRICT NO. 417

Director District No. 3

Myriam Juritz

School

SNOHOMISH SCHOOL DISTRICT NO. 201

Director District 2

Rob Serviss

School

SNOHOMISH SCHOOL DISTRICT NO. 201

Director District 2

Tabitha Baty

School

SNOHOMISH SCHOOL DISTRICT NO. 201

Director District 4

Monica Weber

School

SNOHOMISH SCHOOL DISTRICT NO. 201

Director District 4

Sarah Adams

School

SNOHOMISH SCHOOL DISTRICT NO. 201

Director District 4

Sherri Larkin

School

STANWOOD-CAMANO SCHOOL DISTRICT NO. 401

Director District 3

Brittney Trammell

School

STANWOOD-CAMANO SCHOOL DISTRICT NO. 401

Director District 3

Miranda Evans

School

STANWOOD-CAMANO SCHOOL DISTRICT NO. 401

Director District 4

Betsy Foster

School

STANWOOD-CAMANO SCHOOL DISTRICT NO. 401

Director District 4

Stephen Hendrickson

School

STANWOOD-CAMANO SCHOOL DISTRICT NO. 401

Director-at-Large Position 5

Phil Snider

School

STANWOOD-CAMANO SCHOOL DISTRICT NO. 401

Director-at-Large Position 5

Satin-Deseree Arnett

School

STANWOOD-CAMANO SCHOOL DISTRICT NO. 401

Director-at-Large Position 5

Steve King

School

SULTAN SCHOOL DISTRICT NO. 311

Director District 1

Dee Thompson

School

SULTAN SCHOOL DISTRICT NO. 311

Director District 1

Jody F. Kerr

School

SULTAN SCHOOL DISTRICT NO. 311

Director District 1

Ron R. Powers

School

SULTAN SCHOOL DISTRICT NO. 311

Director District 3

Dave Shepherd

School

SULTAN SCHOOL DISTRICT NO. 311

Director District 3

Lisa Hoesel Finley

School

SULTAN SCHOOL DISTRICT NO. 311

Director District 4

Cory Dearborn

School

SULTAN SCHOOL DISTRICT NO. 311

Director District 4

Marianne Naslund

School

SULTAN SCHOOL DISTRICT NO. 311

Director District 4

Mary Cameron Perillo

Sewer

LAKE STEVENS SEWER DISTRICT

Commissioner Position 2

Andrea Wright

Sewer

LAKE STEVENS SEWER DISTRICT

Commissioner Position 2

Chris Vallo

Sewer

LAKE STEVENS SEWER DISTRICT

Commissioner Position 3

Kevin Kosche

Water

ALDERWOOD WATER AND WASTEWATER DISTRICT

Commissioner Position 3

Alan Rubio

Water

ALDERWOOD WATER AND WASTEWATER DISTRICT

Commissioner Position 3

Jack Broyles, Jr.

Water

ALDERWOOD WATER AND WASTEWATER DISTRICT

Commissioner Position 3

Mike Pivec

Water

ALDERWOOD WATER AND WASTEWATER DISTRICT

Commissioner Position 4

Brian Travis

Water

ALDERWOOD WATER AND WASTEWATER DISTRICT

Commissioner Position 4

Larry Dean Jones

Water

ALDERWOOD WATER AND WASTEWATER DISTRICT

Commissioner Position 4

Pat Peck

Water

CROSS VALLEY WATER DISTRICT

Commissioner Position 2

Ginger Desy

Water

HIGHLAND WATER DISTRICT

Commissioner Position 1

Ted Stonebridge

Water

MUKILTEO WATER AND WASTEWATER DISTRICT

Commissioner Position 3

Mike Johnson

Water

OLYMPIC VIEW WATER DISTRICT

Commissioner Position 3

Judi Gladstone

Water

OLYMPIC VIEW WATER DISTRICT

Commissioner Position 3

Maralyn Chase

Water

OLYMPIC VIEW WATER DISTRICT

Commissioner Position 3

Sarah King

Water

SILVER LAKE WATER AND SEWER DISTRICT

Commissioner Position 3

Anne Backstrom

Water

SILVER LAKE WATER AND SEWER DISTRICT

Commissioner Position 3

Kathleen Strong

Water

STARTUP WATER DISTRICT

Commissioner Position 2

Renette Villella