$23.5 million in budget cuts approved by Mukilteo School Board
MUKILTEO, Wash., April 18, 2023—After hearing a presentation that incorporated input from students, staff, families and community members and a recommendation of how to reduce next year's budget, the Mukilteo School Board approved a Reduced Educational Plan, or a 7.5 percent budget reduction, to address the district's projected $23.5 million 2023-24 operating shortfall at its board meeting on Monday, April 17.
The resulting budget reductions impact nearly every part of the district said Superintendent Alison Brynelson.
"From administration to department support to school support, the cuts will be felt districtwide," shared Superintendent Brynelson. "We prioritized students' academic and enrichment experiences as well as their social-emotional well-being wherever possible."
Brynelson added, "This is a very difficult situation, and we made some heart-wrenching decisions that had to be made for the organization to continue operating. We are very aware that each position has a face, name and livelihood attached to it and we feel the impact of each staff and their family affected by these budget reductions."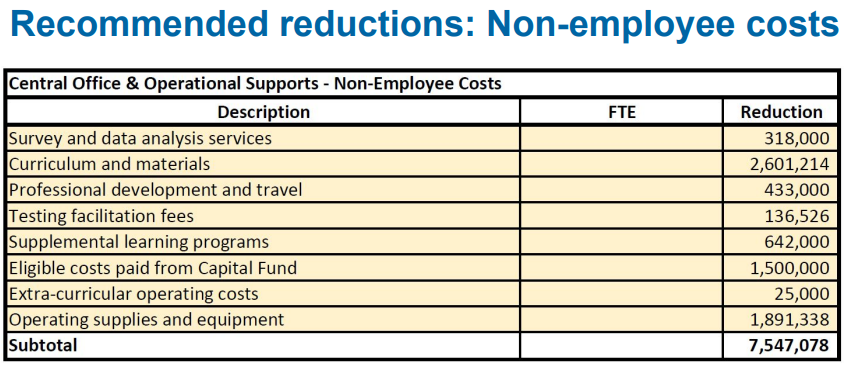 In addition to eliminating over $7.5 million in non-employee costs such as operating supplies and equipment, survey programs, and curriculum, the plan also eliminates the following staff positions:
31.3 Basic education classroom teachers and paraprofessionals ($4.4 million)
24.7 School support paraprofessionals and support teachers ($3.4 million)
55.5 District office and support services staff including administrators, office professionals, and maintenance, and Virtual Academy staff, ($8.1 million)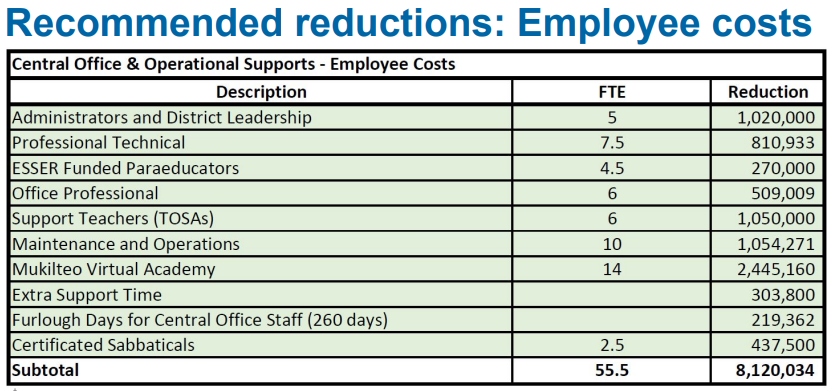 The district is hopeful to add some positions back, but the decision to do so will be based on student enrollment in the fall.
"Just once before, during my service on the board, the district went through a similar time of significant budget cuts," School Board President Judy Schwab shared. "The fact that we were able to work through those difficult decisions back then doesn't make tonight's decision any less painful or less frustrating. From that experience, though, I know we can rise above these challenging times in the long run. We want our community to know their board and the district will continue to focus on our mission of success for every student and to advocate with legislators for full funding to accomplish that essential goal."
Contributing Factors to Mukilteo School District's Budget Woes
Mukilteo School District like many others throughout the state have projected budget shortfalls for the 2023-24 school year. According to its 2022-23 operating budget, the school district enrolls some 15,200 students, employs approximately 1783 staff, and operates on $310 million.
The District will not have the presently assured financial resources to maintain its program and services at the current levels for 2023-24 and was forced to make reductions in the District's educational program for 2023-24 school year. In what the District is calling the "perfect storm" of funding shortages, enrollment has declined since 2020 and is projected to remain flat for 2023-24, its regionalization factor for state funding has decreased in addition to general state funding shortages, and a one-time federal funding will no longer be available.
Enrollment: The Mukilteo School District has lost 628 students since the fall of 2019 which equates to about $6.3 million in funding—roughly the equivalent of an entire elementary school!
Lingering McCleary Case outcomes: One of the largest contributing factors to the budget issues facing school districts across the state is that in response to McCleary in 2018, the state changed public education funding formulas to rely more on state funding and less on local funding.
The state limited how much districts could collect locally and has gradually reduced the regionalization funding to offset the higher cost of living in the area. Mukilteo School District's regionalization funding has decreased two percent each year since then, starting at 24 percent and decreasing to its current 18 percent.
As we all know, cost of living has not decreased over the past few years. In fact, inflation has increased living costs. In the past several years, staff pay rates increased with a significant driver being an inflationary measure the state sets that is called the Implicit Price Deflator (formerly known as COLA, or Cost of Living Increase). Last year the District saw high Implicit Price Deflator and a similar increase is expected again this summer.
While this is good news for staff wages, the state only funds certain positions and at a basic pay rate. The district pays the difference to pass on the benefit to all employees which comes from the district's general budget. The estimated impact of that increase is about $6 million annually for our district.
End of one-time federal funding (ESSER): The Elementary and Secondary School Emergency Relief (ESSER) funds the District received during the pandemic were one-time funds and have been allocated. According to the District, these funds delayed the currently budget crunch and was critical through the pandemic with needed supplies and services. The end of ESSER funding represents about $14 million next school year.
Further budget related information is available on the district's Business Services website.