ESD Board dissolves School Resource Officer program in contrast with student support
By Erin Freeman | Lynnwood Times Staff
Edmonds, Wash., – In a unanimous decision, Edmonds School District officials have ended its last existing contract with local law enforcement, completely dissolving the school resource officer program placing police officers throughout the district's high schools.
The Edmonds School District's (ESD) board of directors voted 5-0 during a meeting Tuesday, August 11, to effectively terminate the Snohomish County Sheriff's Offices school resource officer (SRO) services from Lynnwood High School. The vote follows the board's decision seven weeks ago to discontinue the SRO program at the district's three other high schools.
On June 23, the school board voted unanimously to discontinue the SRO program in Edmonds-Woodway, Meadowdale, and Mountlake Terrace high schools, ending the district's relationship with the Edmonds, Lynnwood, and Mountlake Terrace police departments. They had tabled the decision concerning SRO presence in Lynnwood High School due to concerns of law enforcement response time in the case of an emergency.
The presence of police officers in schools has become a focal point in the wave of national demonstrations protesting against police violence in the wake of George Floyd's death, a Black Minneapolis man killed by a white police officer. And while the district's decision to end the relationship with local law enforcement followed in suit of the civil unrest, board President Deborah Kilgore says that the decision was a three-year process lead by community discussions citing concerns with inequitable discipline and data points.
"Since 2017, there have been several occasions upon which large numbers of community members…have urged District leadership and/or the Board to remove SROs from our high schools, on behalf of all our students, but primarily on behalf of Black, Indigenous and other people of color (BIPOC) who, as research tells us, are most at risk of enduring harm from interactions with police," said Kilgore in a statement."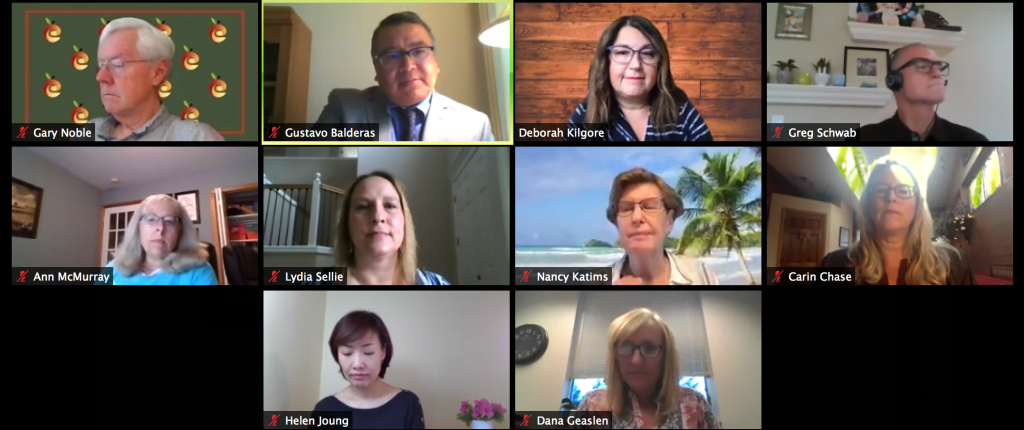 In recent months, hundreds of community members have expressed split opinions on SRO presence on campus. During a virtual community forum on June 17, over one hundred people expressed their views to ESD officials on the broader impact of SROs.
The majority of those participants favored the removal of SROs, explaining how police presence can negatively affect the school experience for students of color and disrupt their sense of safety. Other supported keeping them, saying that SROs protect students with their outreach and that school safety risks suggest a need for on-campus police.
Before the first round of SRO contract terminations, the district issued a survey to all students in grades nine through 12 to receive concentrated feedback from the population the decision would largely affect. The in-house survey revealed that a majority of the 852 students who responded felt safer at school with on-campus police and noted they had only experienced positive interactions with them.
According to the student survey results, 30.08% of student participants have had a positive or very positive interaction with an SRO on campus, while 3.35% responded as having had a negative or very negative interaction.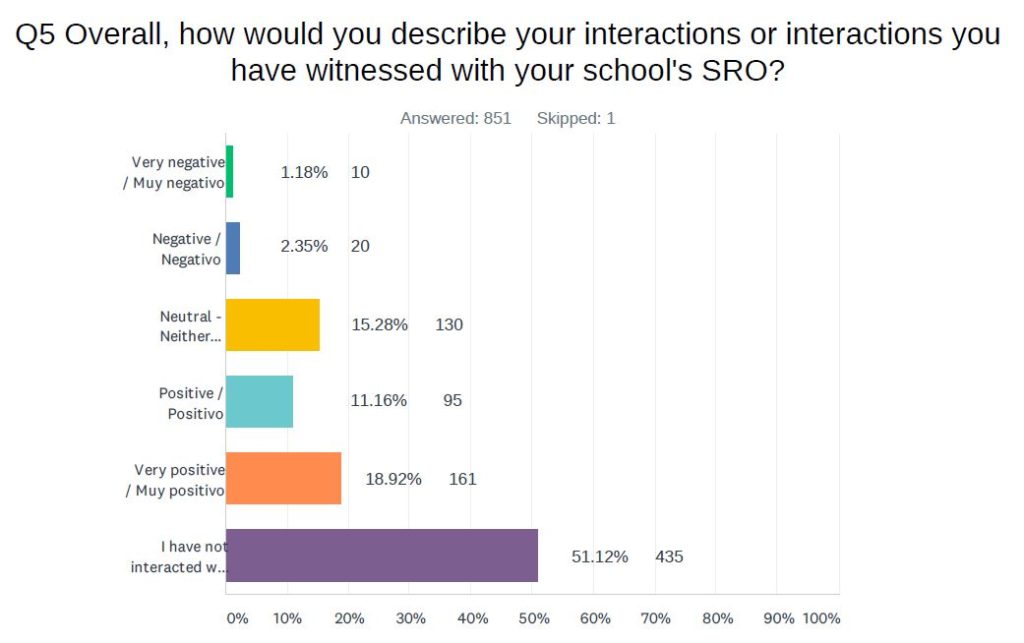 47.75% of the same pool of students noted feeling somewhat or very physically safe with SRO presence on campus, and 8.11% answered that having an SRO on campus makes them feel very or somewhat physically unsafe.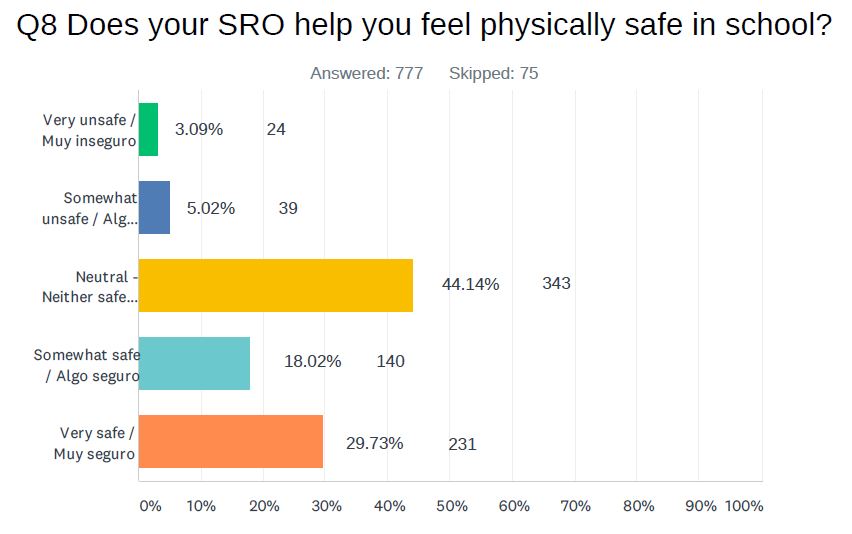 Survey results also showed that 7.7% said their SRO made them feel emotionally and mentally very unsafe/somewhat unsafe, and 35.43% said they made them feel somewhat/very safe.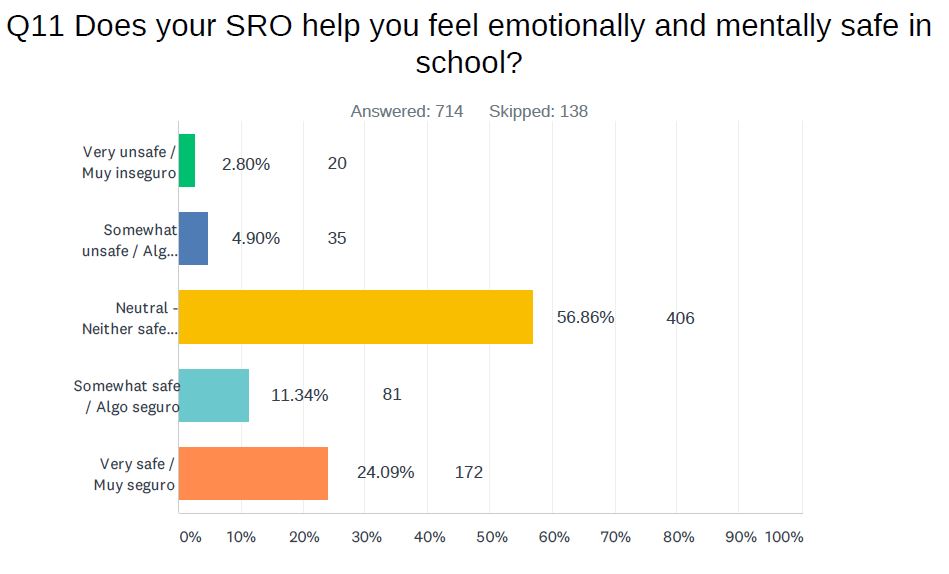 Kilgore noted that the decision to end the police contracts was not based solely upon any individual group's judgment, but rather a collection of board members, staff, students, parents, and other community members' input on how to best serve the entire student body.
"It is about doing what it takes to provide all our students with a high-quality education while keeping them safe and well," said Kilgore in a statement. "It is clear to us that the current model, which includes an SRO, is not meeting the needs of all our students."
Looking ahead, district staff are gauging potential alternatives with local law enforcement agencies. During the August 11 meeting, Assistant Superintendent Greg Schwab proposed reinstating the liaison officer model program- the policing model ESD used in 2010-18.
Under the model, officers from local police agencies would be assigned high schools and be present on campus dependent on their regular patrol duties, says Schwab.
"They would be a resource for schools for those non-emergencies that oftentimes do require some police officer intervention," said Schwab. "Custody disputes, parenting plans, court orders that need to be enforced, drug and alcohol concerns and also make themselves available for class presentations as needed."
Liaison officers would assist in the establishment of an individualized safety plan for their school. In the case of an emergency, they would respond to their school's 911 request, if available. Other law enforcement in the area would substitute for the liaison officer or additionally respond based upon circumstance.
Schwab says he plans to propose the liaison model to the Snohomish County Sheriff's Office and measure their interest to partner with Lynnwood High School. Further discussion related to the liaison officer program will take place during the school board's August 25 meeting.