Arlington man linked to seven fentanyl overdoses inside jail
EVERETT, Wash., May 18, 2023—Additional charges have been filed against Justin Michael Sims, the suspect linked to a widespread fentanyl exposure of seven inmates Wednesday night at the Snohomish County Jail.
Sims, 37, from Arlington, was booked into jail on May 16, 2023, for Theft 3 warrants stemming from an Arlington Police investigation.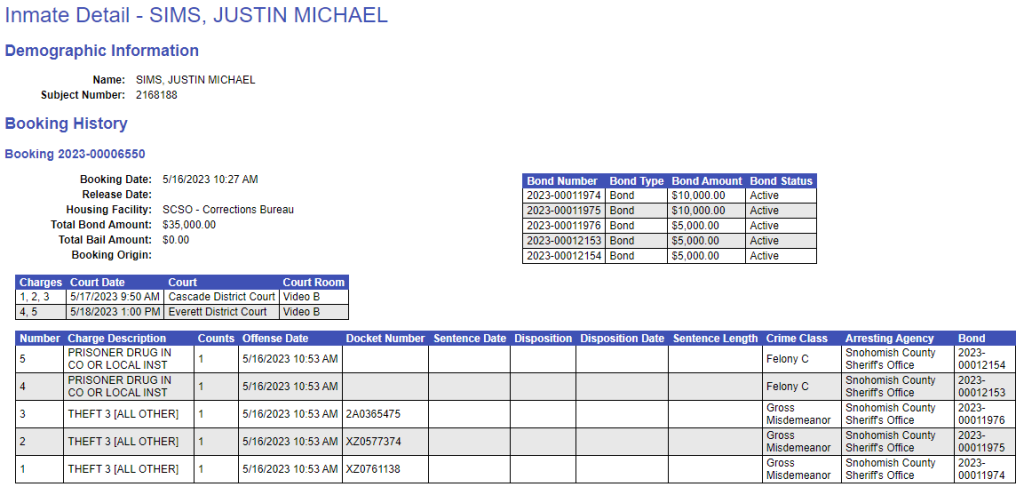 At approximately 7:35 p.m. on Wednesday, May 17, Corrections Deputies called a medical emergency at the Snohomish County Jail. A corrections deputy was inside a housing module when he observed an inmate displaying symptoms of an opiate overdose.
While jail staff were treating the first inmate, a second inmate in the same module began displaying similar signs of an overdose. A total of seven inmates began displaying physical signs of an overdose and were administered Narcan.
Everett Fire responded and transported all seven inmates to Providence Regional Medical Center. All the inmates were conscious when transported and have since returned to the Snohomish County Jail.
The housing module where the medical emergencies occurred was in lockdown and all inmates strip searched. Fentanyl was recovered from the Sims' cell, and he is currently the primary suspect for introducing the drug into the jail. Sims was not among the seven inmates who were transported to Providence in response to this incident.
Two charges were referred on Sims for possession of a controlled substance inside a correctional facility which is a Class C felony. He is scheduled to appear in court Thursday.
The Snohomish Regional Drug Task Force is conducting a criminal investigation and detectives believe the fentanyl was brought inside the facility by Sims but have not ruled out additional suspects.
Due to the rise in fentanyl in our community, in early 2023, all Snohomish County Corrections Deputies began carrying Narcan while on duty.
At 284 total fatal overdoses – opioids as well as other drugs – Snohomish County lost more than five people per week on average in 2022. Between 2017 and 2022, the number of opioid-related overdose deaths reported in Snohomish County more than doubled. The number of those that involved fentanyl jumped from 24 to 189, which represents a nearly eight-fold increase. The county has already exceeded 80 fatal overdoses within the first quarter of 2023, with more than half of them tied to opioids.
The Snohomish County Sheriff's Office would like to thank the Snohomish County Corrections Deputies, Jail Medical personnel, and the Everett Fire Department.
This remains an active investigation.
RELATED ARTICLES