Man linked to seven overdoses in county jail found guilty of fentanyl possession
EVERETT, Wash., August 28, 2023—Back in May of this year, an inmate held in the Snohomish County Jail in Everett was accused of possessing fentanyl in a county jail, which led to the overdose, and subsequent hospitalization, of seven other inmates.
Justin Michael Sims, 37, from Arlington, was booked into jail on May 16, 2023, for Theft 3 warrants stemming from an Arlington Police investigation.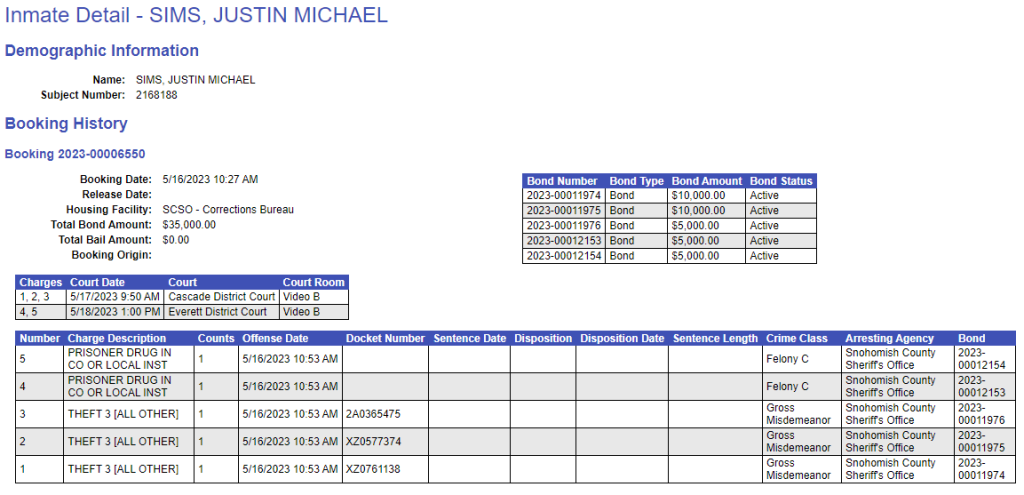 At approximately 7:35 p.m. on Wednesday, May 17, Corrections Deputies called a medical emergency at the Snohomish County Jail. A corrections deputy was inside a housing module when he observed an inmate displaying symptoms of an opiate overdose.
While jail staff were treating the first inmate, a second inmate in the same module began displaying similar signs of an overdose. A total of seven inmates began displaying physical signs of an overdose and were administered Narcan.
Everett Fire responded and transported all seven inmates to Providence Regional Medical Center. All the inmates were conscious when transported and have since returned to the Snohomish County Jail.
The housing module where the medical emergencies occurred was in lockdown and all inmates strip searched.
Officers Greg Mueller and Detective Ehrhart located torn pieces of paper in Cell#36 which had a white powdery substance on it hiding in a box of crackers. The total weight of the powder was 22.90 grams. Cell#36 belonged to Sims and cellmate Erich Thompson, who had been assigned there before Sims' arrival. The torn pieces of paper had Sim's name on it and appeared to be from his court appearance order.
SCSO Jail Deputy Williams advised that he had been the one to initially clear this cell prior to SRDTF detective's arrival, the police report states. Deputy Williams advised that he had kept each cell's cleared property separate from each other and led Officer Mueller to the proper cell and the property it contained at the time of the overdoses.
Mueller deduced the pieces of paper belonged to Sims. A commercially available test kit used for detecting fentanyl tested positive later.
Several of the victims described the supplier of the overdose related narcotics as being either "new to the cell unit and/or an overweight, bald male with a beard", records read. Other inmates told officers the source of the substance came from Cell#36.
Sims was not among the seven inmates who were transported to Providence in response to this incident.
Three charges were referred on Sims for possession of a controlled substance inside a correctional facility, a Class C felony, and two counts of possession of a controlled substance with intent to manufacture or delivery, both Class B felonies. He was found guilty of all three charges on August 11 and sentenced to 12 months in prison at the Washington State Corrections Center.
Earlier this month, another Snohomish County Jail inmate was found in possession of fentanyl, which resulted in the overdose of two of his cellmates.
Jail staff reviewed security footage and noticed the inmate passing something back and forth to other inmates. A strip search was conducted on the inmate and jail staff noticed something strange but he "pushed it back up," Captain Ogawa said.
The inmate told officers he had a hernia although the jail nurse disagreed.
For the first time ever, a Snohomish County judge and Bureau Chief issued a warrant for a cavity search of the inmate suspected to be in possession of the drug. An Everett-based gastrointestinal specialist later found a baggie full of fentanyl hidden in the man's rectum.
Harborview in Seattle, Providence in Everett, and Swedish in Edmonds all refused to conduct the procedure even though it was deemed a medical emergency, Kiro 7 reported. Officers said if the bag had ruptured it could have been fatal.
The inmate is being charged with possession of a controlled substance within a county facility and the case is currently under investigation. It has yet to be determined if the inmate smuggled in the drug or obtained the fentanyl within jail walls.
Due to the rise in fentanyl in our community, in early 2023, all Snohomish County Corrections Deputies began carrying Narcan while on duty.
At 284 total fatal overdoses – opioids as well as other drugs – Snohomish County lost more than five people per week on average in 2022. Between 2017 and 2022, the number of opioid-related overdose deaths reported in Snohomish County more than doubled. The number of those that involved fentanyl jumped from 24 to 189, which represents a nearly eight-fold increase. Snohomish County has already exceeded 80 fatal overdoses within the first quarter of 2023, with more than half of them tied to opioids. 
RELATED ARTICLES