Lynnwood unveils memorial monument dedicated to Gold Star Families
LYNNWOOD, November 2, 2022—Hundreds gathered at Lynnwood's Veteran's Park today for the unveiling of the City's new Gold Star Families Memorial Monument – a tribute to Gold Star Families and relatives who sacrificed their lives while serving in the military.
Gold Star Families Memorial Monuments are two-sided tributes crafted in black granite that provide Gold Star Families – families who have lost a loved one in military service – a permanent place to pay tribute to their loved ones. The memorial demonstrates Lynnwood's commitment to veterans and the love one's they left behind, letting them know the community cares for them and appreciates the family's enduring sacrifices.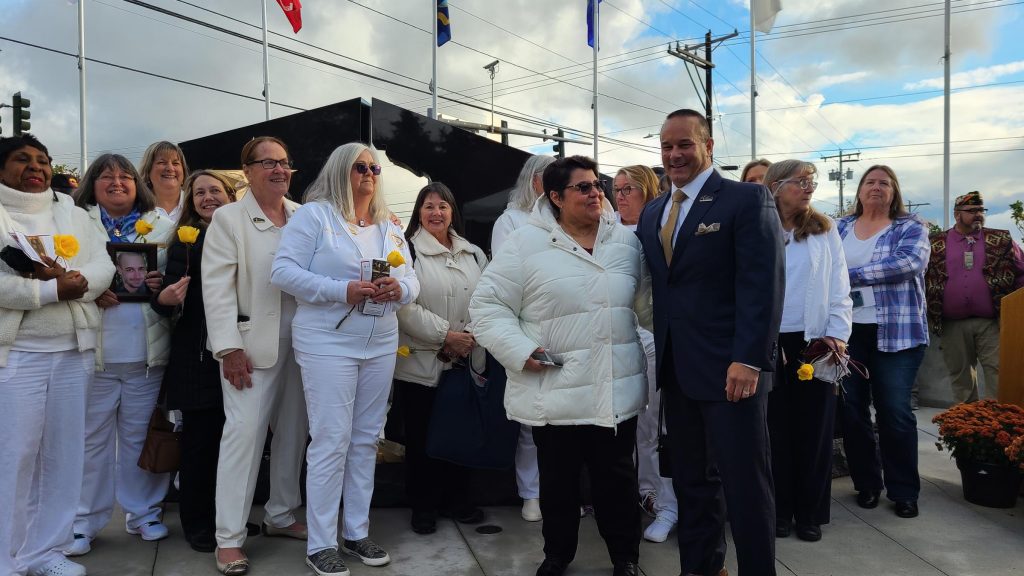 There are a total of 200 Gold Star Families monuments throughout the United States and only three here in Washington State including today's monument. Lynnwood was the chosen site of the monument after careful consideration between four other cities. The other monuments in Washington are located in Walla Walla, and Forks, respectively.
"It was our past mayor [Nicola Smith] that really got involved in veteran's initiatives and Hero's Cafe and our signage in our city that just spoke volumes as to what veterans mean to Lynnwood," Mayor Christine Frizzell told the Lynnwood Times regarding why she believed Lynnwood was the chosen site of the monument over other cities.
The monument was crafted by Oregon Memorials and paid for entirely by individual donations completely covering the $60,000 price tag. The Foundation raised a little over $70 thousand and plans to use the surplus funds for its next monument.
Monica McNeal, Gold Star mother who has been with Gold Star Mothers since 2011, a year after her son, LanceCorporal Eric Ward, was killed while serving in the United States Marine Corps, told the Lynnwood Times she is proud of the neighboring communities and their donations.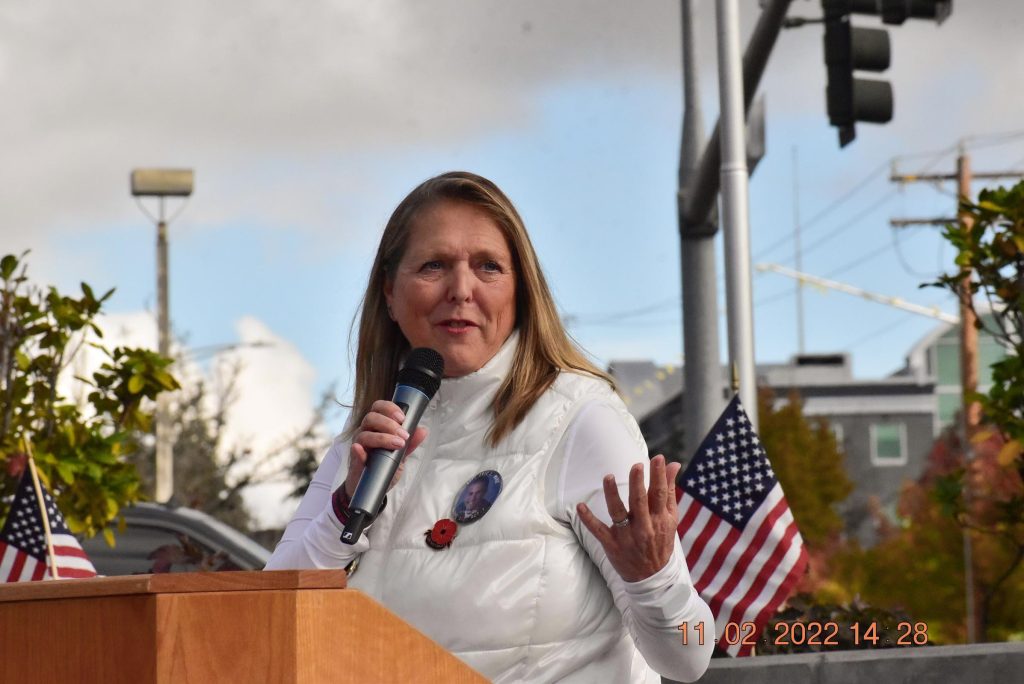 "We are a service organization, we got out and serve, it's not about us it's about going out and making other people's lives better remembering them," McNeal told the Lynnwood Times. "The community really rallied together [to get this monument erected]. We had everything from a $10 donation to a $30 thousand donation. We had no fundraisers it was really just community effort so I want to thank, once again, the neighboring communities."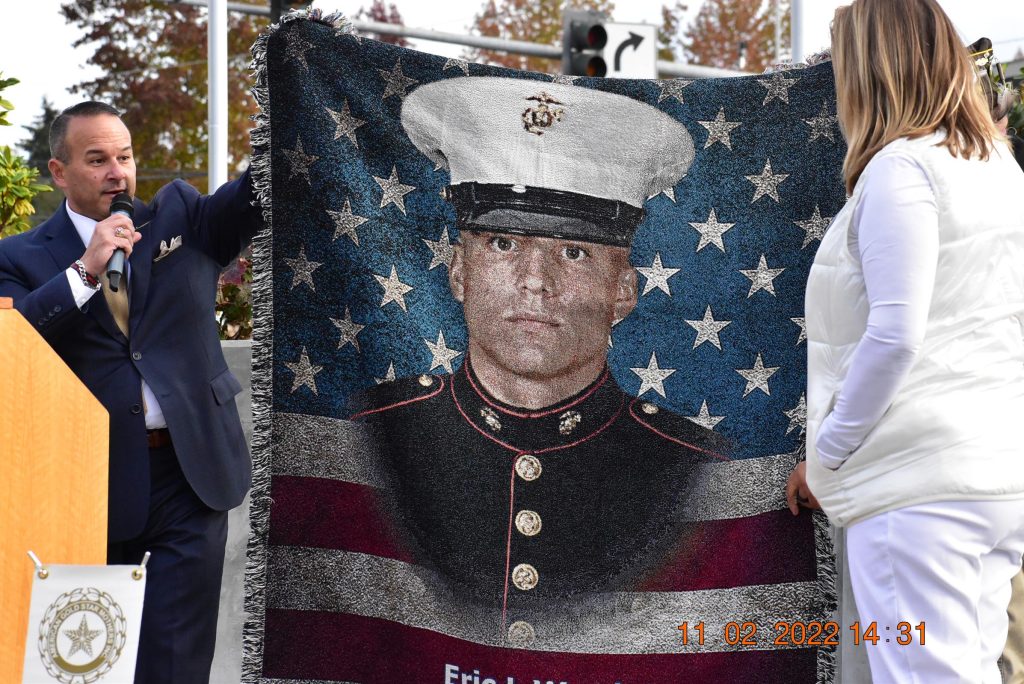 Although all 200 Gold Star monuments across the country are similar on the front-facing panel – reading, "Gold Star Families Memorial Monument a tribute to Gold Star Families and Relatives who sacrificed a Loved One for our Freedom," the back side panels are all unique. What's even more unique to Lynnwood's monument is the use of a process called "glass art," the first monument to utilize this process, which melts glass straight into the granite resulting in an image that will never fade or be weather-torn, Andy Lopez, USMC Vet and Board Member for Wine Country Marines, told the Lynnwood Times.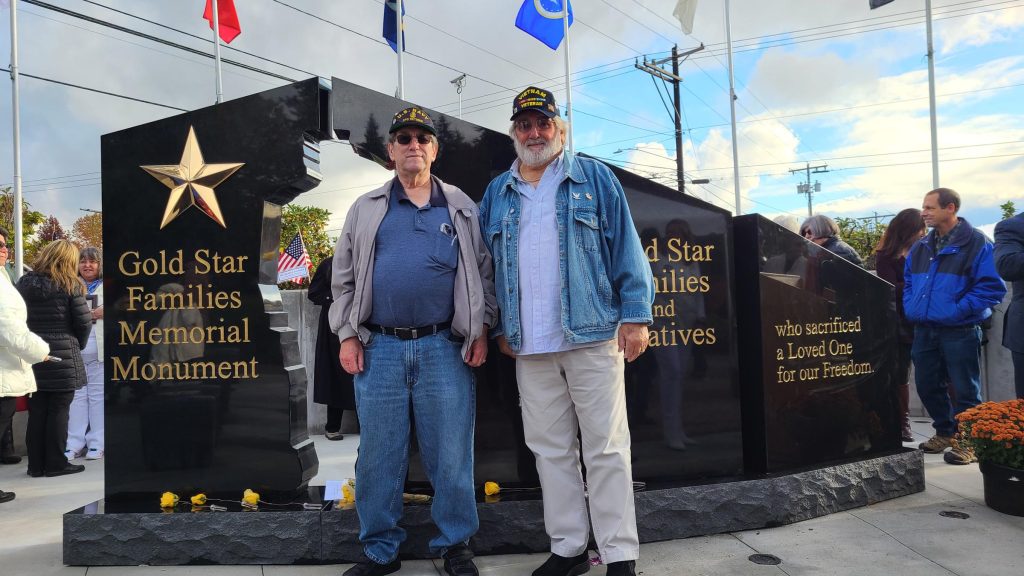 Lynnwood's back panel features five images, representing the "homeland," the "family," the "patriot," the "sacrifice," and the "legacy." The monument also has sand from Iwo Jima, water from Belleau Wood, and challenge coins buried underneath its foundation furthering its unique and powerful symbolism.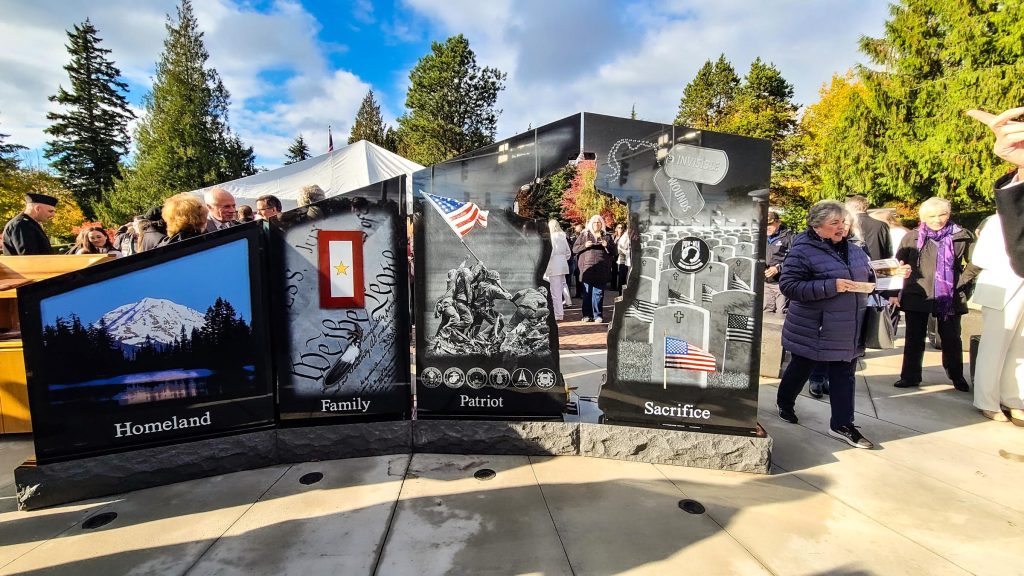 "I know that Woody is looking down right now and he's excited," Lopez told the Lynnwood Times.
The Lynnwood monument is also unique in that it honors death by suicide, specifically, in which 22 veterans are lost by suicide a day. To honor them, surrounding Lynnwood's Gold Star monument, are 22 benches honoring these veterans.
The goal is to bring Gold Star Families memorial monuments to all 50 states originated from veteran Woody Williams, for whom the Woody Williams Foundation is named. The first monument was completed in Williams' home state of West Virginia in 2010.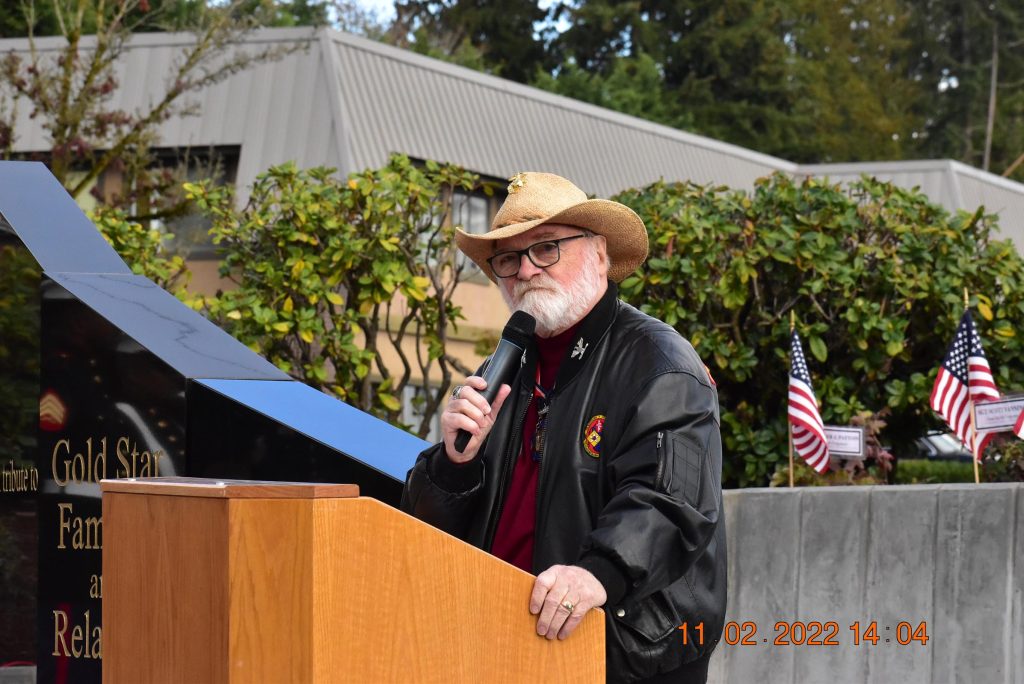 Hershel "Woody" Williams was a United States Marine Corps Veteran and Congressional Medal awardee who passed away on June 29, 2022. His foundation, a charitable 501c(3) nonprofit, continues to conduct Gold Star Families outreach, provides Living Legacy scholarships to eligible Gold Star Children, and advocates for educational benefits for Gold Star members in his name.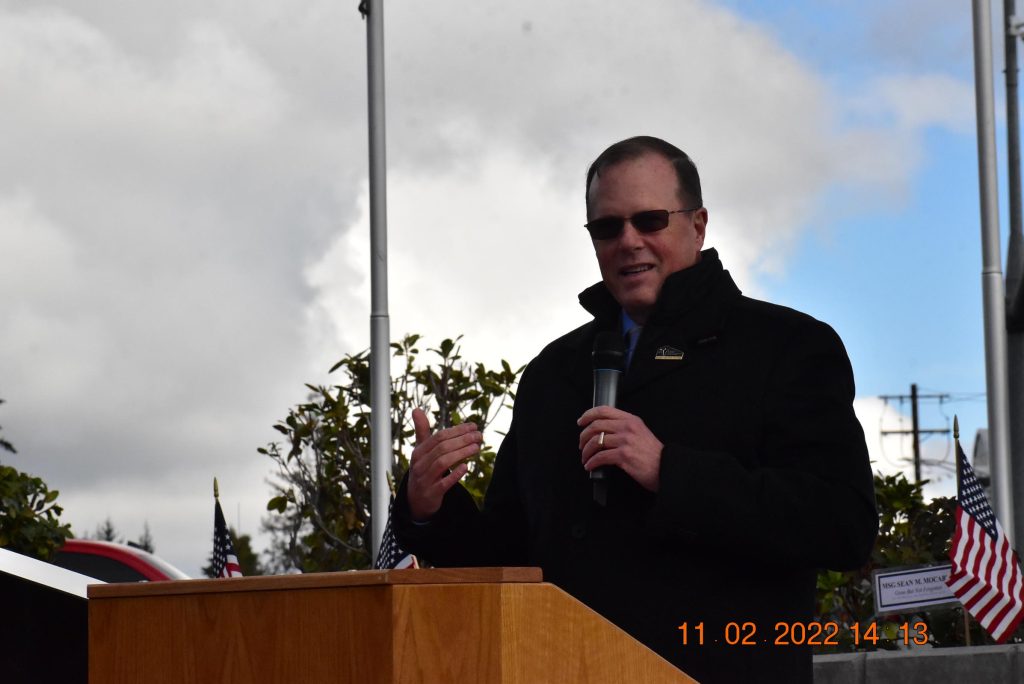 Wednesday's ceremony was led by Andy Lopez, Master of Ceremonies, USMC Veteran and Board Member of Wine Country Marines, featuring remarks by Lynnwood Mayor Christine Frizzell and Michael Reagan, Vietnam Combat Veteran and Founder of the Fallen Hero Project, as well as keynote speaker Lieutenant General Mark R. Wise, retired United States Marine Corps.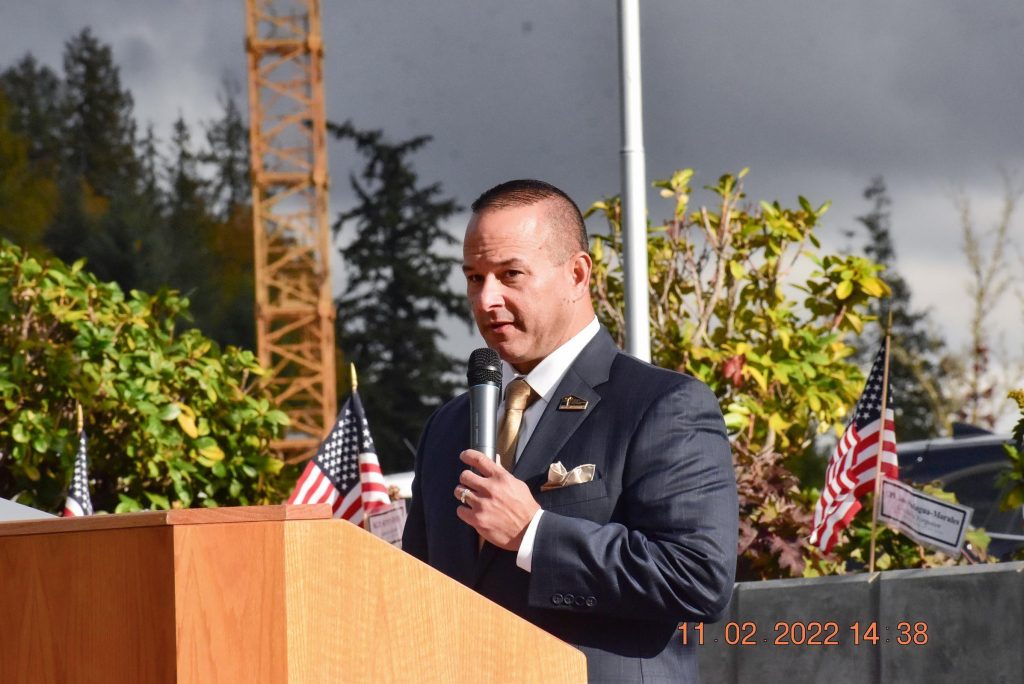 Before these speakers took the podium, McKenna Sessions, Lynnwood City Councilwoman Shannon Sessions' daughter, expertly sang the National Anthem prior to the crowd taking moment of silence in honor of service men and women who paid the ultimate sacrifice for the Nation's freedom.
"If there's any doubt in your mind that we live in the greatest nation on the face of this earth, there shouldn't be because it is," Lieutenant General Wise said during his remarks. "It is because it's a beacon of hope. It is the single most nation that is sought after for the freedoms we enjoy and the security that we provide. When you start to talk about our men and women who have served this nation and the importance of what they do, because they're not just standing up for your freedom, they're standing up for those who can't do it themselves. It's an awesome responsibility."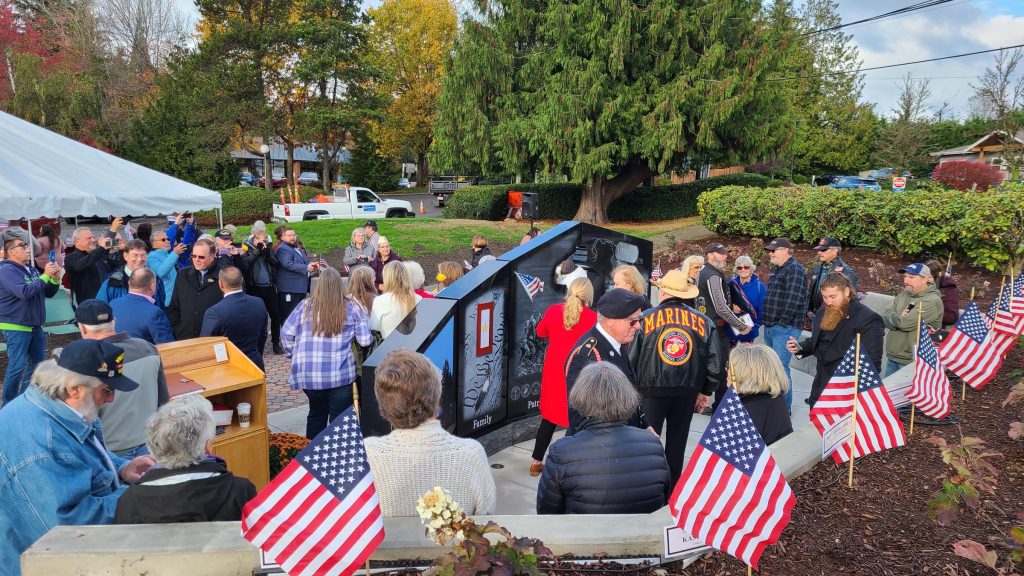 In attendance of Wednesday's ceremony were Lynnwood City Council members Dr. Julieta Altamirano-Crosby, Council President George Hurst, and Dr. Steve Woodard of Volunteers of America and Mountlake Terrace Councilman, to name a few.
"This is absolutely amazing and truly an honor to be here," Dr. Steve Woodard told the Lynnwood Times. "I had the honor of working at Edmonds College at our veteran's resource center where I got to know some Gold Star mothers and Gold Star families. This is long overdue."
Concluding the ceremony, David Puente Jr., Deputy Director of YOUR WA State Department of Veterans Affairs read a letter from Governor Jay Inslee before the RS Seattle Marines performed the retiring of the colors, and buglers Glenn Ledbetter and Laurence Stusser played Taps.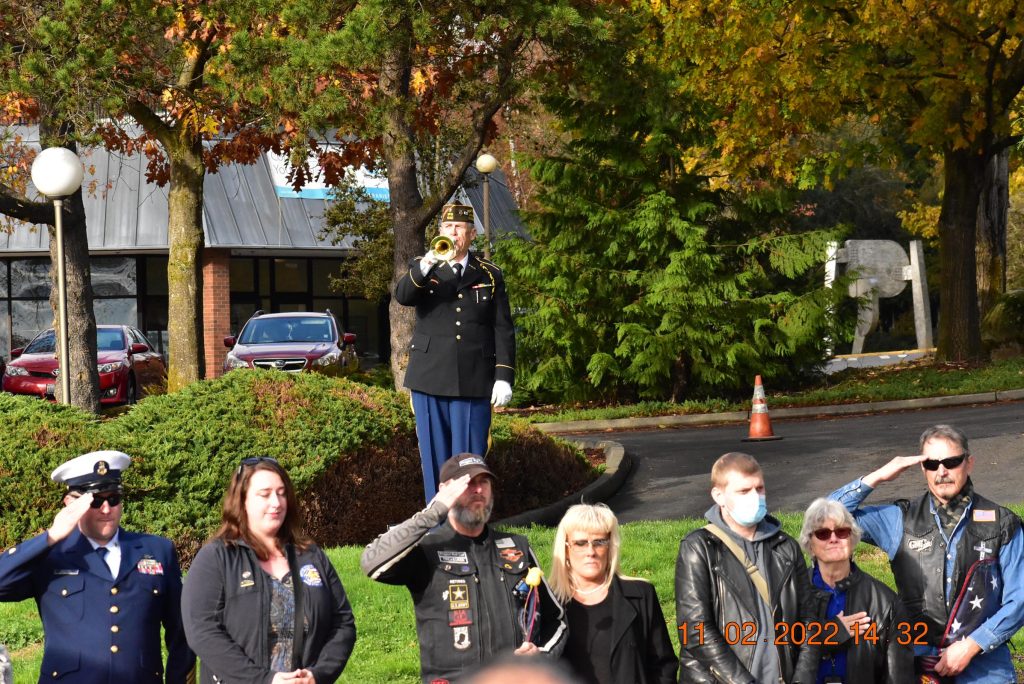 "Words cannot encapsulate the extraordinary loss that Gold Star Mothers and Gold Star Families have experienced, nor can a monument adequately demonstrate our utmost gratitude for their sacrifice. But today we gather to pay tribute to the soldiers and families that have demonstrated their profound sense of duty, dedication to service, and love of our country. Washingtonians, and indeed all Americans, owe these Gold Star families a tremendous debt…We honor you for your sacrifice and service to our state and nation," Gov. Jay Inslee wrote in a letter read by David Puente.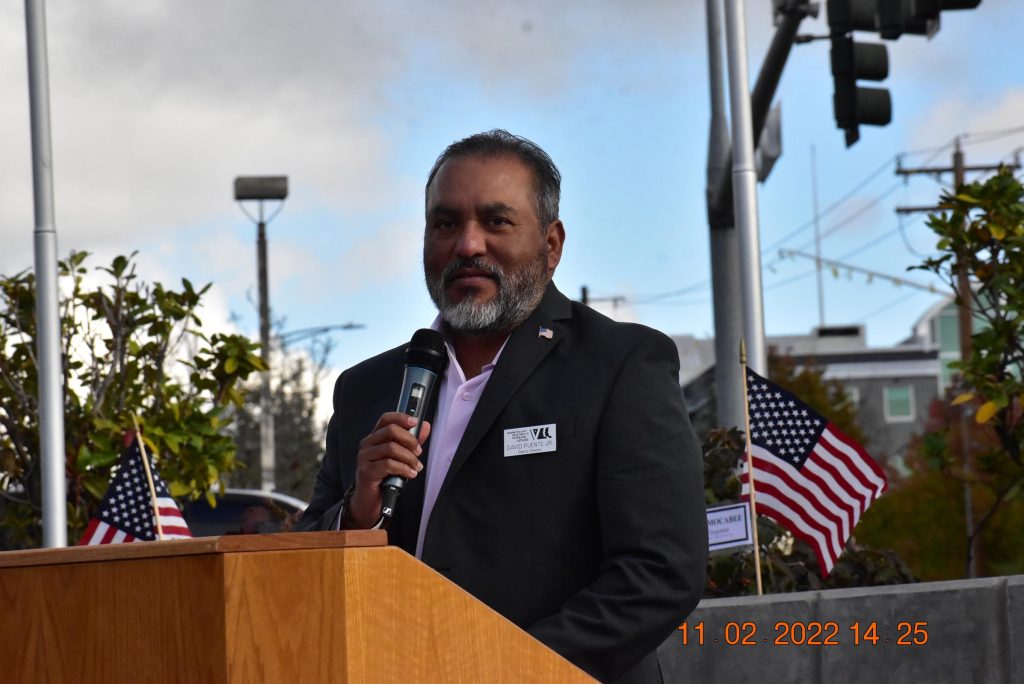 Veterans Park is located on the Civic Center campus south of the Lynnwood Library. In 1999, the Veterans of Foreign Wars Post 1040 began development of the veterans' memorial in the plaza to honor veterans of past wars. The entry sign at the Veterans Way entrance was built as an Eagle Scout project in 2003.
Lynnwood Gold Star Families Memorial Monument Pictures