Journalist Tim Pool locked out of Twitter for criticizing groomers
Social media platform Twitter suspends journalist, political commentator and YouTuber Tim Pool for criticizing a picture showing adults showing sexual content to children. Twitter suspended his account because, according to Pool, he stated in the tweet that the adults in the picture were "grooming" the kids.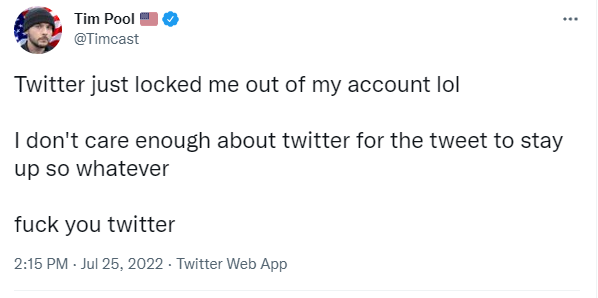 Pool has over one million subscribers on YouTube and draws over 300 hundred thousand daily views.
Shortly after the suspension, Pool began "s***posting," as he calls it, on the platform with a series of Tweets on the alleged hypocrisy of Twitter when it comes to pedophilia on its platform.
https://t.co/L9rAXZCntV pic.twitter.com/t2VLlRWWjX

— Tim Pool 🇺🇸 (@Timcast) July 25, 2022
https://t.co/7FNyIH4uXU pic.twitter.com/64h0qaxShi

— Tim Pool 🇺🇸 (@Timcast) July 25, 2022
https://t.co/CajrJntgTW pic.twitter.com/S6N7sAlKjG

— Tim Pool 🇺🇸 (@Timcast) July 25, 2022
https://t.co/Oj3MCvault pic.twitter.com/9h2fn9nOz9

— Tim Pool 🇺🇸 (@Timcast) July 25, 2022
On his daily Timcast IRL livestream on YouTube on Monday, Tim Pool shared that shortly after criticizing the social media platform, his ad runs with Twitter were cancelled.
On July 21, Daily Dot confirmed with Twitter that it will ban users who refer to people as "groomers" on its social media platform
Twitter provided the following statement to Daily Dot claiming that calling transgender or nonbinary people "groomers" violates the platform's policies against hate speech.
"We are committed to combating abuse motivated by hatred, prejudice, or intolerance, particularly abuse that seeks to silence the voices of those who have been historically marginalized. For this reason, we prohibit behavior that targets individuals or groups with abuse based on their perceived membership in a protected category," Lauren Alexander, Twitter's health product communications lead, said via email to Daily Dot.
"Use of this term is prohibited under our Hateful Conduct policy when it is used as a descriptor, in context of discussion of gender identity."
Many have criticized the move by Twitter and earlier Reddit believing that it is conflating gender identity with pedophilia.
All Reddit's accomplished by banning the word groomer has furthered the misconception that we are all pedophiles and/or support it.

Will Twitter do the same? We hope not.

The woke mob has done more damage to our community than even the most homophobic person could ever hope to. pic.twitter.com/pIbFxgsZXO

— Gays Against Groomers (@againstgroomers) July 25, 2022
To add to the backlash by both Reddit and now Twitter, users have replaced the word "groomer" with "predditor" to circumvent AI algorithms.
Fixed it. #Reddit #Groomers pic.twitter.com/SJgOfNh3b7

— Sam Wheat (@SamWheat753) July 18, 2022