73-year-old Edmonds man arrested for allegedly killing wife
UPDATE [10 a.m. Aug. 1, 2022] Per the latest police press release, John Shipley confessed to the murder of his wife. "During this interrogation, the suspect admitted to the crime, including how the incident unfolded and detailed specific acts he took that ended the victim's life."
EDMONDS, Wash., July 31, 2022 – Friday afternoon Edmonds Police Officers and Detectives responded to a death investigation in the 23400 block of 94th Ave W. An adult female was deceased, and an adult male was detained after calling 911.
A team from the Washington State Patrol Crime Lab responded to assist the detectives at the scene.
After initial investigation, a 73-year-old male was booked into jail for 2nd degree Murder, Domestic Violence. The victim is the 66-year-old wife of the suspect and both lived in the home.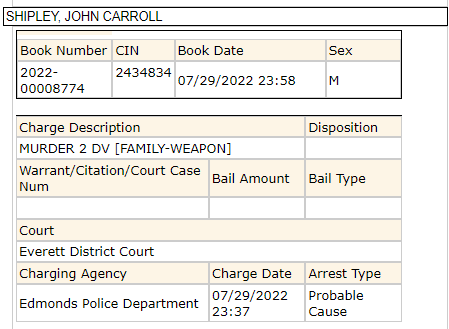 The medical examiner also responded to assist with determining cause and manner of death. There is no active threat to the community.
Developing story…
August 1 Post
Original Post