Unprecedented FBI raid on the home of a U.S. President
PALM BEACH, Fla., August 8, 2022 – As part of a federal investigation into allegations of the removal of classified documents from the White House when he left office, the Federal Bureau of Investigation today raided Mar-a-Lago, the home of former President Donald J. Trump.
The Secret Service was notified by the FBI in advance of the action. According to USA Today, the FBI raiding the home of "a former U.S. president has little precedent in American politics — if any."
In an emailed statement, President Trump accuses that the law enforcement action by the FBI as "prosecutorial misconduct" and "the weaponization of the Justice System."
He added that "such an assault could only take place in broken, Third-World Countries. Sadly, America has now become one of those Countries, corrupt at a level not seen before."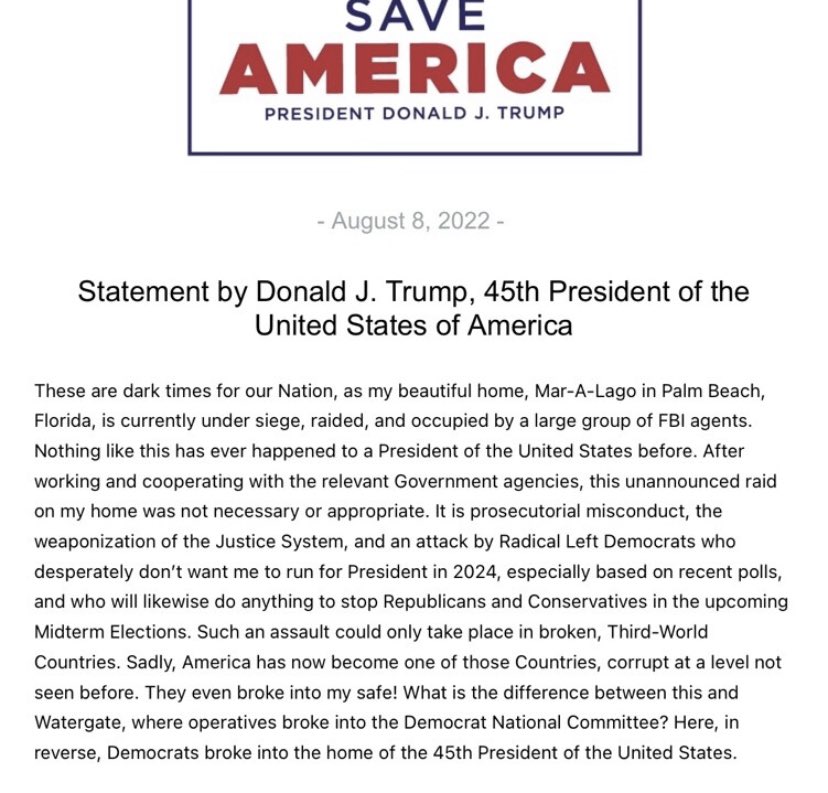 In a tweet, Congresswoman Pramila Jayapal (WA-07) applauded the FBI raid and called on the jailing of former President Trump.
That's what happens when you break the law, try to steal an election, and incite a deadly insurrection.

Donald Trump should be in jail. I'm glad to see the FBI taking steps towards accountability. https://t.co/Z2Okzopo9M

— Rep. Pramila Jayapal (@RepJayapal) August 8, 2022
Republican National Committee Chair Ronna McDaniel in a tweet sharply criticized the move by the FBI calling it "outrageous."
Absolute power corrupts absolutely. Countless times we have examples of Democrats flouting the law and abusing power with no recourse, including Hunter Biden. Democrats continually weaponize the bureaucracy against Republicans. This raid is outrageous.

— Ronna McDaniel (@GOPChairwoman) August 9, 2022
No statements by the both the Department of Justice and FBI related to this recent law enforcement action have yet to be released.
Lara Trump, wife to Eric Trump, warns of the precedent this has for the average American citizen.
"If this is what they are able to do to the former president of the United States, think about what they can do to you," Lara Trump said.