Sound Transit announces delays to Link extension openings
SEATTLE, Wash., August 22, 2022—On August 18, the Sound Transit Board System Expansion Committee received a detailed briefing (jump to 1:01:40 in recorded meeting above) on efforts to identify new opening dates for current East Link, Lynnwood, Federal Way and Downtown Redmond Link construction projects. This disclosure of delays comes just a year after Sound Transit board members passed a realignment plan mitigating a projected $6.5 billion budget shortfall.
Link
Extension
Original Revenue
Service Date
Revised Revenue
Service Date
Schedule
Delay
East
mid 2023
mid 2024
at least 1 year
Federal Way
December 2024
mid 2025
several months
Lynnwood
July 2024
November 2024 /
January 2025
4 to 6 months
Downtown
Redmond
December 2024
April 2025
4.5 months
During the 45-minute presentation it was shared that the fiscal impact of the new revenue service dates ranging from 4 months to "at least a year" depending on the light rail line, will be presented sometime in the 4th quarter of 2022. It was not disclosed if the delays in the East Link, Lynnwood, Federal Way and Downtown Redmond Link extensions would have any impact to the realignment plan the Board adopted in August of last year that only pertained to delivery dates for ST2 and ST3 projects not yet in construction.
Since April of this year, Sound Transit has been flagging delays affecting East Link, Lynnwood, Federal Way and Downtown Redmond Link extensions, including current issues and trends that are global in nature and others that are local and project specific. Action plans responding to project challenges are listed in this detailed memo.
Members of the committee appreciated the transparency of Sound Transit staff to share the "sobering news", but two members specifically called for more Expansion Committee oversight.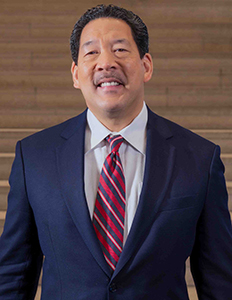 "One of the concerns I heard before I was a board member was perhaps the lack of transparency or the untimeliness of information and quite frankly, this is on leadership," Seattle Mayor Bruce Harrell said. "As political leaders and elected leaders on this call, we are very accountable, and we have to be accountable… I just don't have the data to say this was unavoidable. So, before I know that, I wouldn't certainly suggest it was avoidable."
Mayor Harrell added, "I expect a standard of excellence and when I even walk around some of our current facilities, not our expanded facilities, quite candidly, I'm not seeing a standard of excellence. And so, I hope moving forward we take this sobering news, and we all wake up, and have what I'll just call moving forward, a standard of excellence."
Snohomish County Executive Dave Somers share a similar sentiment in his statement calling for better quality control within the project.
"The mortar issue for me is an example," Executive Somer said referring to the June 2022 discovery of delamination and cracking of the repair mortar applied under rail fasteners in the East Link Extension. "Thin layers of mortar… I've tried that in places, and it's never worked around the house."
In 2019, it was discovered that concrete placements were too low, and, in some cases, comprised of poorly consolidated concrete. To remedy this, the contractor installed Sound Transit approved repair mortar. Beginning in fall 2020, the repair mortar placed under the fasteners was first observed as failing. Upon further inspection, quality issues were identified including poor concrete workmanship, concrete placements that were too low, too high, constructed to the wrong geometry, or resulting in voids under rail fasteners.
This resulted in removal/replacement of repair mortar and in some cases, the entire plinths, or the top portions of plinths, demolished and replaced. This then led to additional quality issues and deviations from the design identified, including instances where there is 1) too little or too much concrete covering the rebar; 2) incorrect rebar spacing and embedment within the plinth; and 3) missing rebar. These deficiencies raised concerns regarding the integrity and durability of the plinths for the East Link Extension.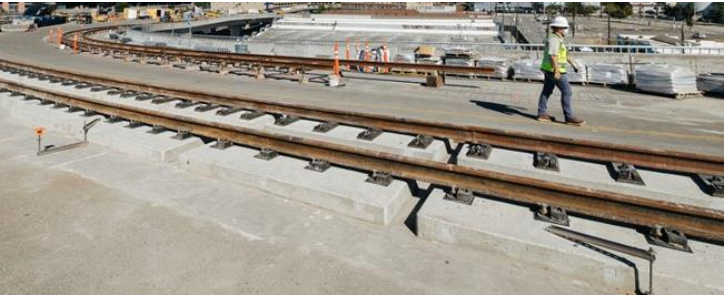 "I would really like the board to go through with staff and look back on both our oversight process, understand it better, look for improvements, and also when these decisions are made, how we can minimize the risk, because absolutely the most expensive thing is to have to fix the problem twice or three times. So, we need to catch these things up front," Executive Somers said.
John Lebo, Executive Project Director of East Link at Sound Transit shared that quality inspectors become blind to quality defects in a term he called, "complacency."
"So, we have found that when that through the rotation process, they're exposed to different crews, we actually increase the level [caliber] of inspection because you're then working with different crews and so you see things that you may not have seen," Lebo told the members of committee during last Thursday's meeting. "So, it helps the crews become much more consistent when they observe the work so that we maintain the high level of tolerance and quality that we're looking for."
It was also mentioned that Sound Transit is in the process of hiring more quality inspectors. However, no on-the-job training plan nor lead-time to train quality personnel was shared with committee members.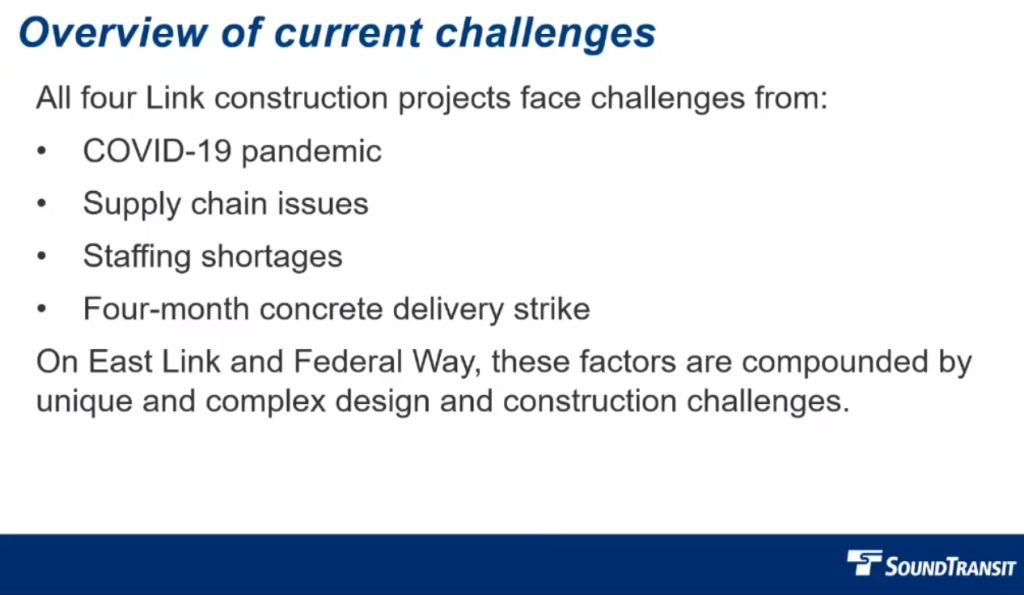 While continuing work is required to identify new project opening timelines, based on the most recent assessments, completion of construction for the Lynnwood and Redmond projects, previously scheduled for mid-2024, may be impacted by four to six months, only slightly exceeding the more than four-month delay caused by the concrete delivery strike that ended in April.
Lynnwood Link Extension
As with other projects, the Lynnwood Link Extension has been impacted by the concrete delivery strike as well as COVID-19. The strike came at a critical time for construction on the Lynnwood extension, when concrete needs were especially important. The strike primarily affected L200, the southern segment of the project, that runs north from the existing Northgate Station to just south of the Snohomish County line. Due to lack of work, the contractor (Stacy and Witbeck/Kiewit/Hoffman) had to temporarily lay off some craftspeople. This resulted in a lag time for returning to work once the strike ended.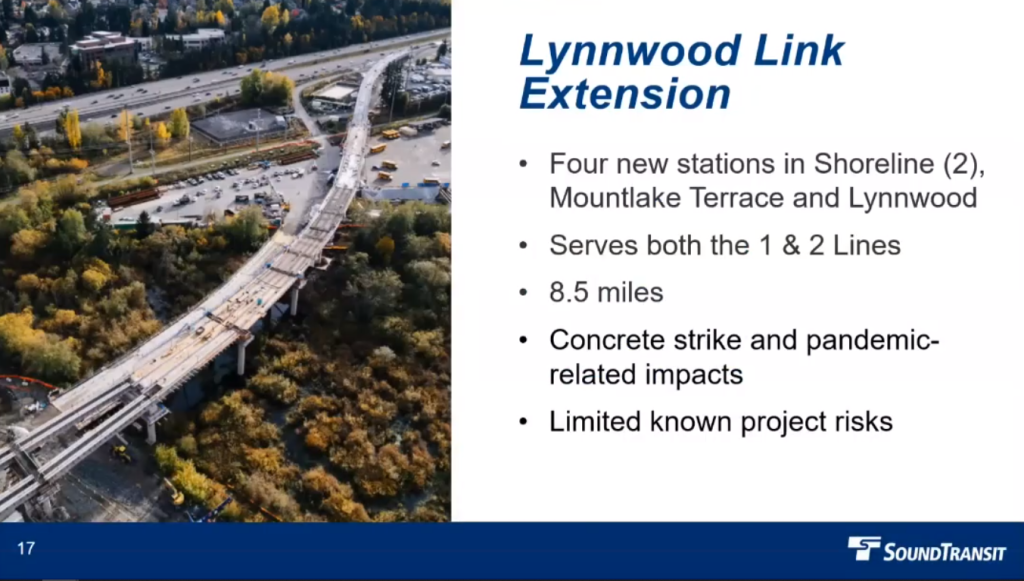 The strike and COVID-related shutdowns and restrictions eroded much of the project's eight-month float. As a result, future risks have the potential to further delay the opening of the project. Fortunately, known risks specific to the project are relatively limited. These include general risks such as challenges that can arise from staffing and supply chain issues, as well as completing fiber-optic connectivity, with work already underway to mitigate risks for the latter.
While it is too early to accurately assess the resulting construction delay, Sound Transit believes it could be in the range of four to six months.
Downtown Redmond Link Extension
Anticipated delays for Downtown Redmond Link construction completion were also driven primarily by the concrete delivery strike and COVID-19. Construction schedule impacts due to these two factors have been quantified and negotiated with the contractor to be four and a half months, which is mitigated in part by owner-controlled float in the project schedule.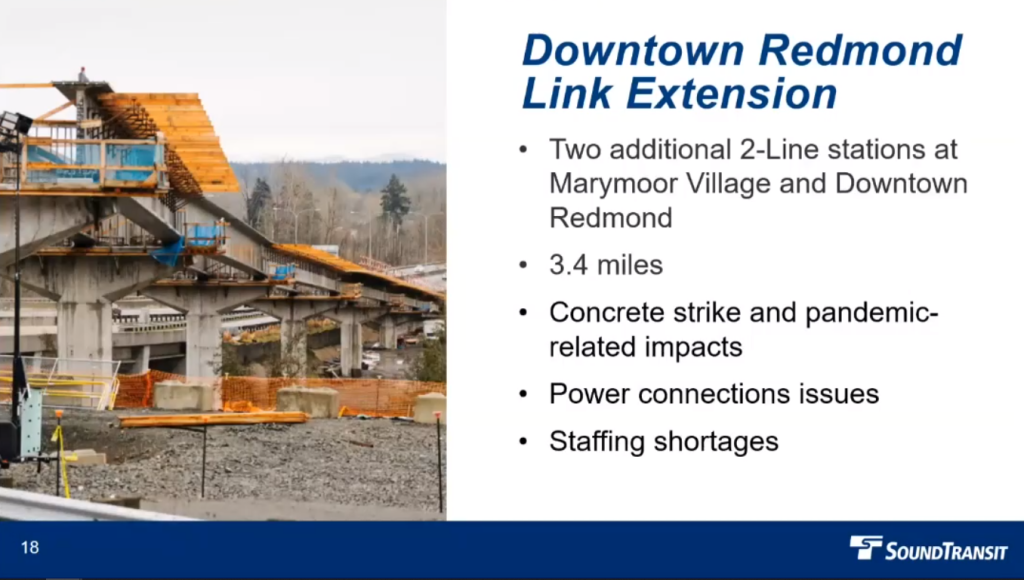 Fortunately, known schedule risks specific to the project are relatively limited. Those include general risks such as challenges that arise from staffing and supply chain issues, managing potential changes in design as lessons are learned on other projects, and work that is necessarily performed by others.
East Link Extension
On East Link, ongoing work to address construction challenges is projected to delay the project by at least a year beyond the previously scheduled mid-2023 opening.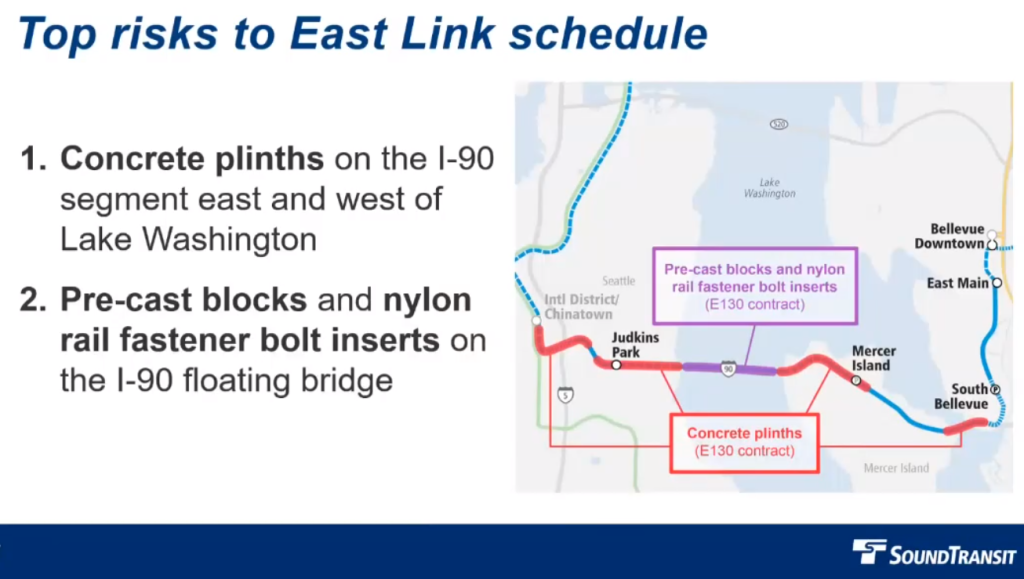 Identifying new opening timelines requires continuing work to resolve project risks, as well as a programmatic review that is getting underway.
"Within about the next four years, our carbon- and congestion-free light rail system will more than double from 26 to 62 miles and from 25 to 50 stations," said Sound Transit Interim CEO Brooke Belman. "While we are on a path to fully resolve impacts of COVID-19, the concrete delivery strike and our construction challenges, we have more work to do before we can reliably establish opening dates. We will work tirelessly with our contractors to complete these extensions as rapidly as possible without compromising on safety or quality."
Thursday's System Expansion Committee update summarized construction challenges in detail. On East Link, the biggest challenges involve construction quality and durability concerns about plinths, or raised concrete structures, that support the tracks in key sections of the alignment.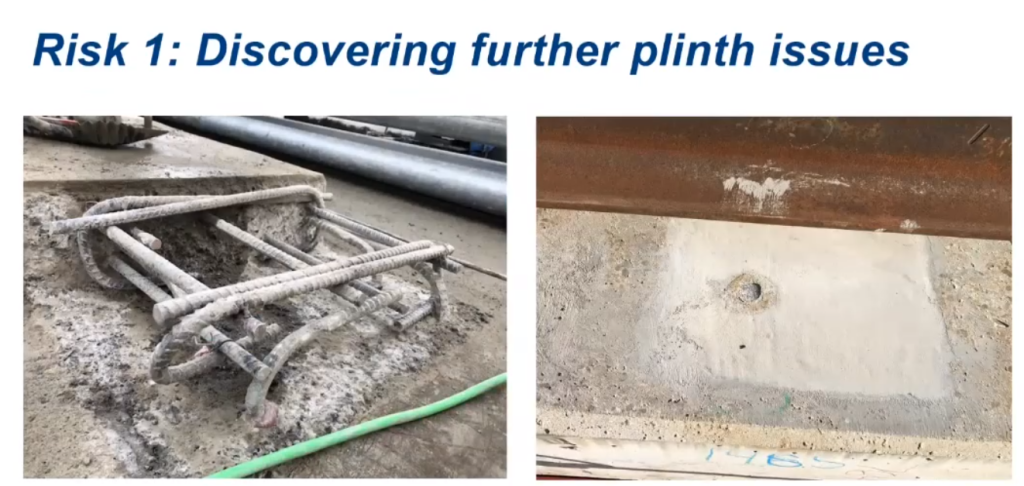 On both the east and west sides of the I-90 floating bridge, the contractor's work to fix problems with cast-in-place concrete plinths supporting the tracks has led to the identification of further challenges. These include issues with mortar pads, rebar placements and track fasteners, which the contractor has agreed to fix by re-casting the plinths to ensure the long-term reliability and safety of the extension.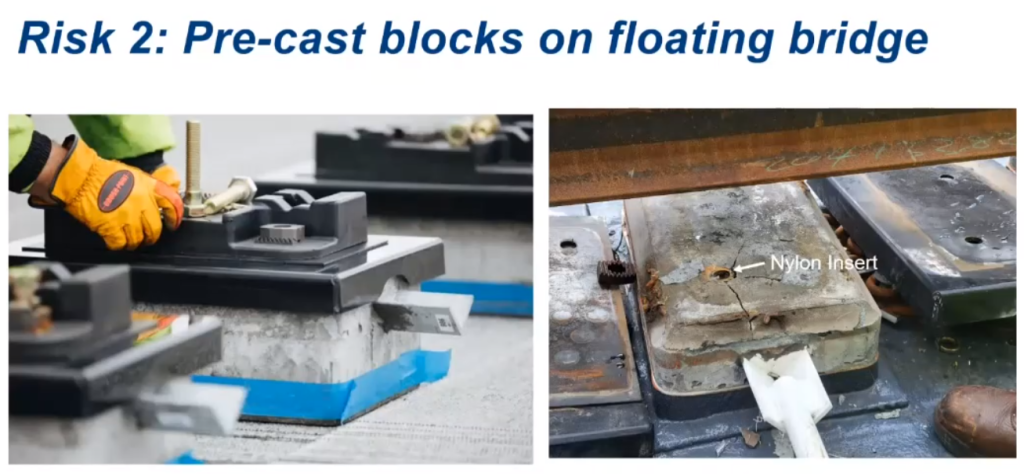 The agency has also been closely analyzing concerns related to pre-cast concrete blocks supporting the tracks on the bridge itself. Fortunately, a forensic engineering firm's preliminary investigation results during July and August indicate the blocks do not need to be replaced.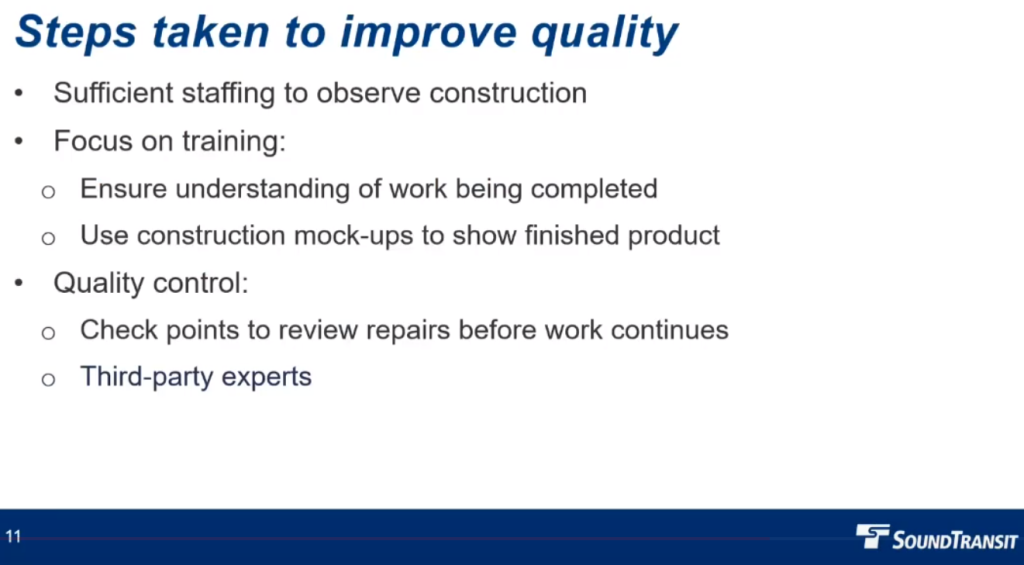 Federal Way Link Extension
The Federal Way Link Extension faces an unexpected ground instability issue that has the potential to require redesigning a segment in Kent adjacent to I-5 and South 259th Place. While it is too early to accurately assess the resulting construction delay, the expected project completion is to extend some number of months into 2025 rather than occurring in late 2024.
On the Federal Way Link Extension, the previously mentioned ground stability issue involves a slope adjacent to I-5 that recently experienced a localized failure. On July 19, approximately 200 linear feet of embankment slid downslope by approximately nine feet, requiring a roughly three-day precautionary lane closure on southbound I-5. The slope has been temporarily stabilized, and Sound Transit and its design-build contractor are working with the Washington State Department of Transportation on permanent design solutions that will address a liquifiable layer of soil that has been identified fairly deep below the light rail alignment. Work to identify solutions will remain focused on minimizing delay to the project.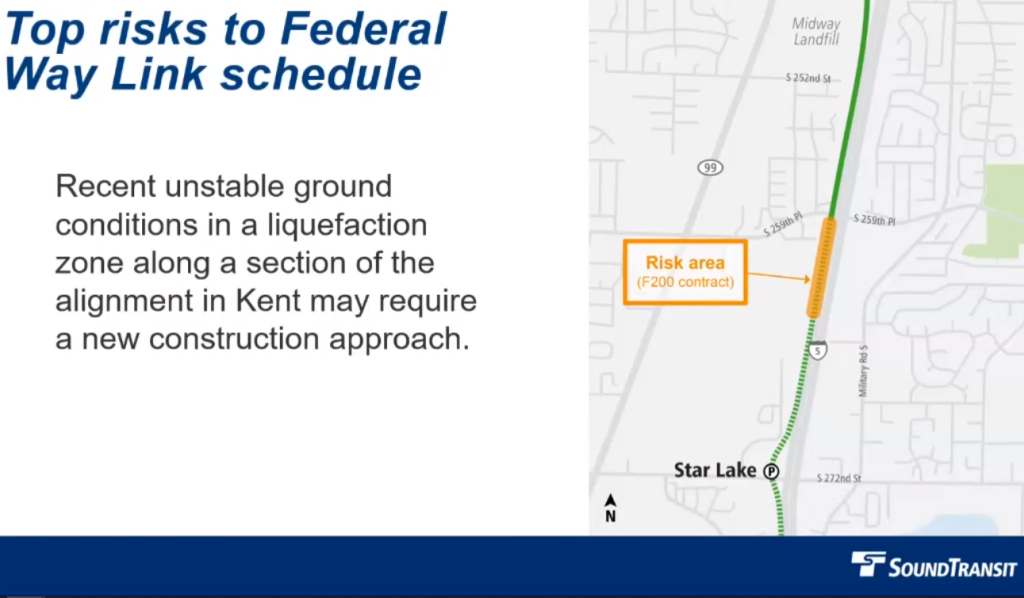 Risk Mitigation and Impact Study
Work is moving forward in two areas to support updating opening timeframes for the projects:
Implementing action plans to resolve project risks and challenges: Specific action plans are underway to address quality challenges. Additionally, staff have implemented changes supporting intensified inspections and monitoring of contractors' work. Work continues to assess required timelines for implementing fixes.
Conducting a programmatic risk assessment: Work is also getting underway to analyze the implications of the projects collectively. Since each project is part of a system, Sound Transit will need to look at the projects' current status at a programmatic level, with focus on details of project sequencing. The programmatic analysis is critical because staffing and safety considerations mean that light rail segments that are in construction must be activated sequentially within appropriate safety and staffing parameters, with up to six months of testing prior to activating each segment.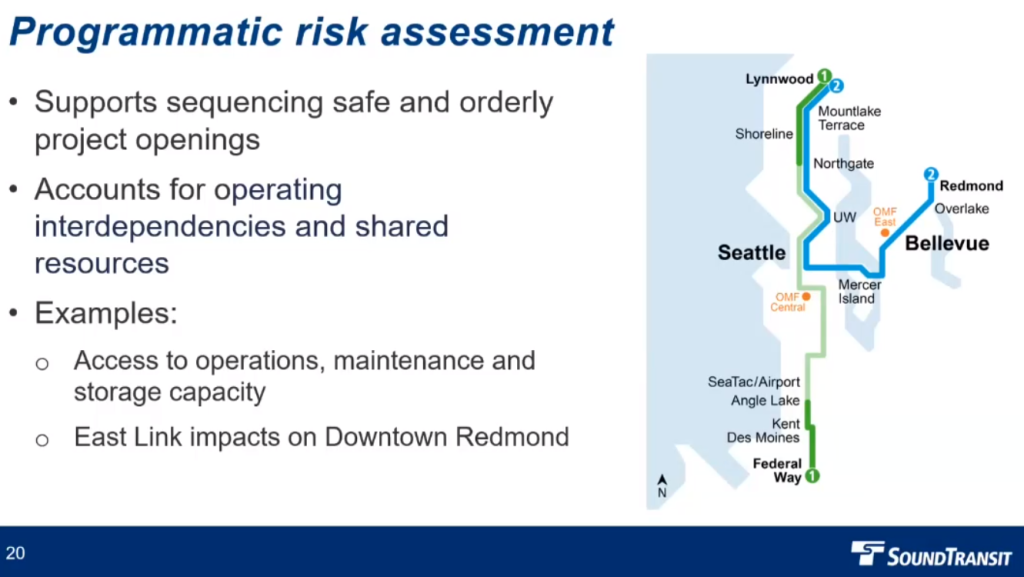 Sound Transit will maintain intensive focus on these tasks and opening the projects as rapidly as possible without compromising their safety and quality. Action plans responding to project challenges are summarized in a presentation provided at August 18th's meeting and a detailed memo.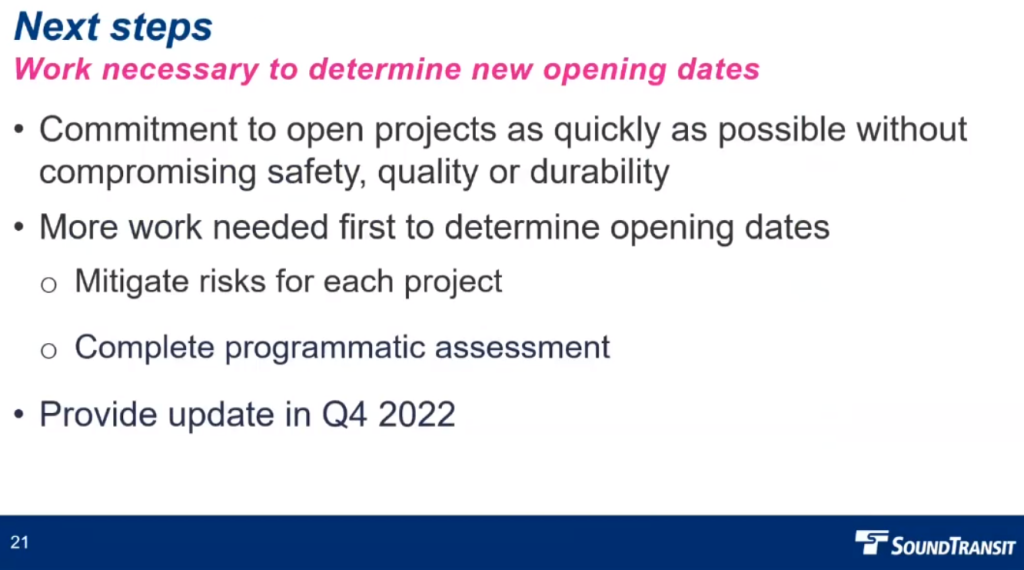 Upcoming Meetings
The next Board of Directors meeting is scheduled for August 25, 2022, from 1:30-4 p.m. The Board establishes policies and gives direction and oversight. It is empowered under state law to identify ballot measures for voter approval of regional transit projects and maintains the Long-Range Plan that identifies potential projects to submit to voters. Learn more about the Board.
The next Systems Expansion Committee meeting is scheduled for September 8, 2022, from 1:30-4 p.m. The System Expansion Committee oversees projects that expand transit options in the region including scope, budget, schedule and construction activities, and strategies for project development and delivery. Learn more about the committee.
---
Content Source: Sound Transit Press release with additions by Mario Lotmore.