Volunteers of America presented with $1 million for Lynnwood Neighborhood Center
LYNNWOOD, Wash., August 31, 2022—The executive team from Volunteers of America Western Washington (VOAWW) along with members of Lutheran Trinity Church, and the Lynnwood Neighborhood Center Steering Committee, were presented with a generous $1 million check from Stephanie Wright on Monday in her last official act, concluding 12 years of service on the Snohomish County Council.
"I know everybody thinks we're here about the $1,000,000 gift, but to me, the reason I'm here is I wanted to come out and thank the members of Trinity Lutheran who had this vision for this project, who saw something next to their church and proactively worked with Rick Steves and everybody else to purchase this and put this into motion," Stephanie Wright said to attendees.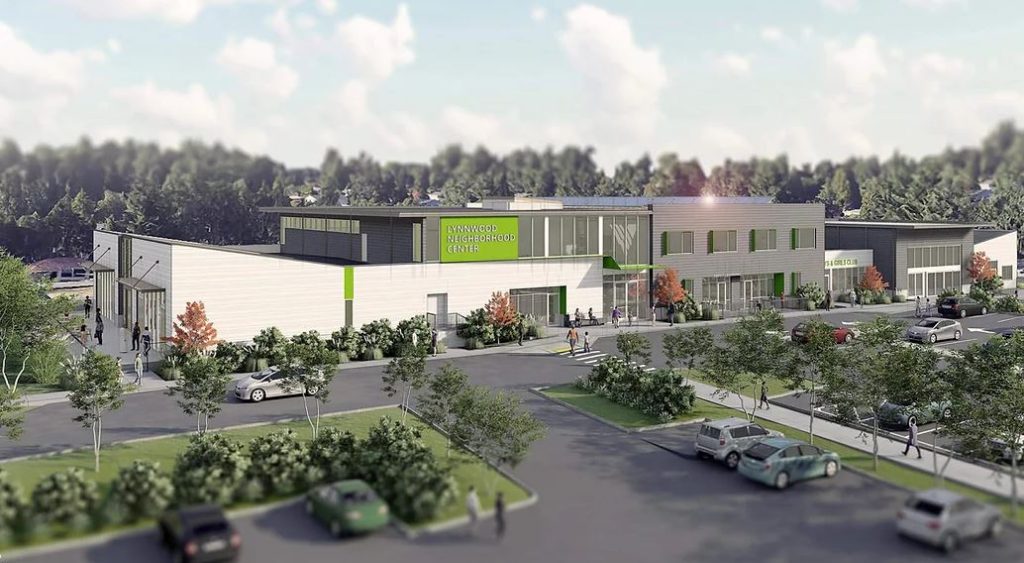 The Lynnwood Neighborhood Center will be a 40,000 square-foot Leadership in Energy and Environmental Design (LEED) certified facility on approximately two acres of land located at Trinity Lutheran Church near 196th St and HWY 99. Monday's contribution by then-Councilwoman Wright brings the total monies pledge to $14 million, just about 60% of the project's total pre-pandemic funding goal of $20 million.
Plans call for the site to be leased to the Snohomish County offices of Volunteers of America for $1 per year for the next 50 years as part of the social service hub envisioned on the property. The next phase of the project is expected to break ground by mid-2023.
The new space will be anchored with a new Boys and Girls Club and provide an integrated facility with multiple nonprofits working to engage the community and support low-income families through the complex struggles they may experience. The building will include gathering spaces, training facilities, and event space, an Early Childhood Education and Assistance Program (ECEAP) classroom, and behavioral, medical, and dental services.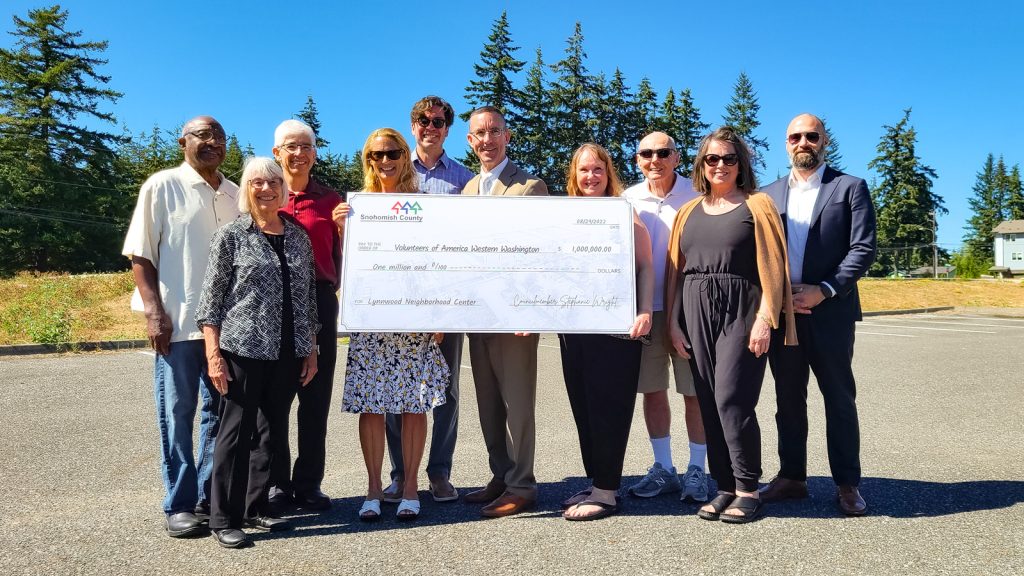 The Neighborhood Center received a jump start with a $3 million gift from television personality and local philanthropist Rick Steves and $2.2 million in funding from the state's capital budget in 2018 thanks to District 32 Rep. Ruth Kagi (1999 to 2019) and Rep. Cindy Ryu.
"I just give so much credit to Trinity for their vision," Rep. Kagi told the Lynnwood Times. "For Volunteers of America, I mean they're just really a remarkable organization and I'm looking forward to working on getting the remaining funding and coming back for the ribbon cutting."
VOAWW President and CEO Steve Corsi thanked both Kagi and Wright for their ongoing efforts to help secure both partnerships and funding for the project. He recognized Trinity Church member Denny Derrickson who first proposed the need of a neighborhood center 11 years ago.
"Councilmember Wright means what she says…you don't just talk but you do, that means a lot and we are very grateful to all of you," Corsi said.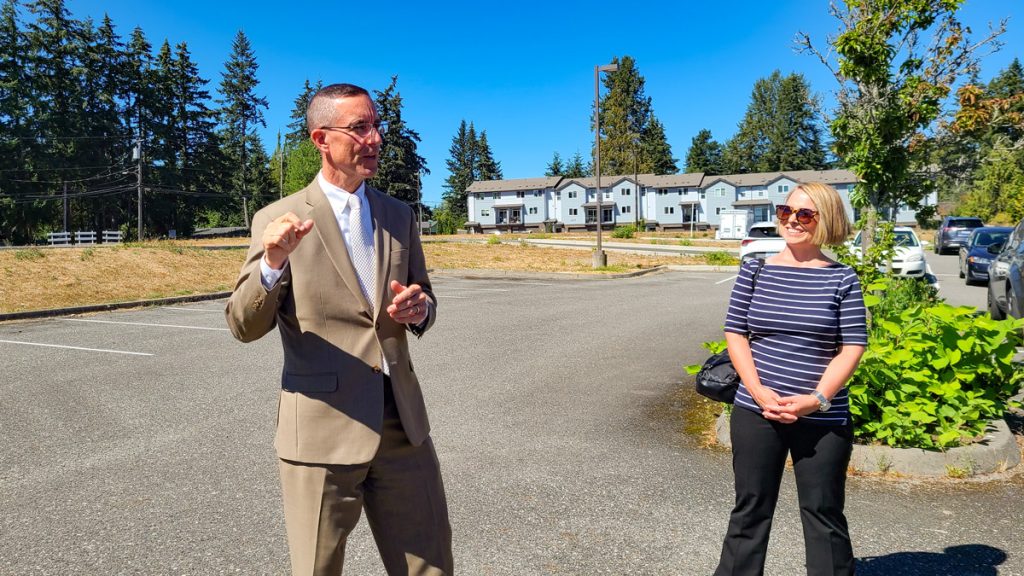 He recalled a sticky note message from a phone conversation he had with Councilwoman Wright that read, "Let me know what you need. Finances don't matter. Please tell me how I can help. I want homework."
And coming through is what outgoing Councilwoman Wright did.
"We found a way to do community grants in each district because each district had different needs, especially coming out of the pandemic," Stephanie Wright said to attendees. "And I think that this center, with childcare, behavioral health, dental, medical, education, training rooms…it's everything that we needed in this community. So, for us to be able to give this grant to VOA…is just an amazing honor for me to be part of your vision, part of your project. Thank you for letting me be part of this and to all of you."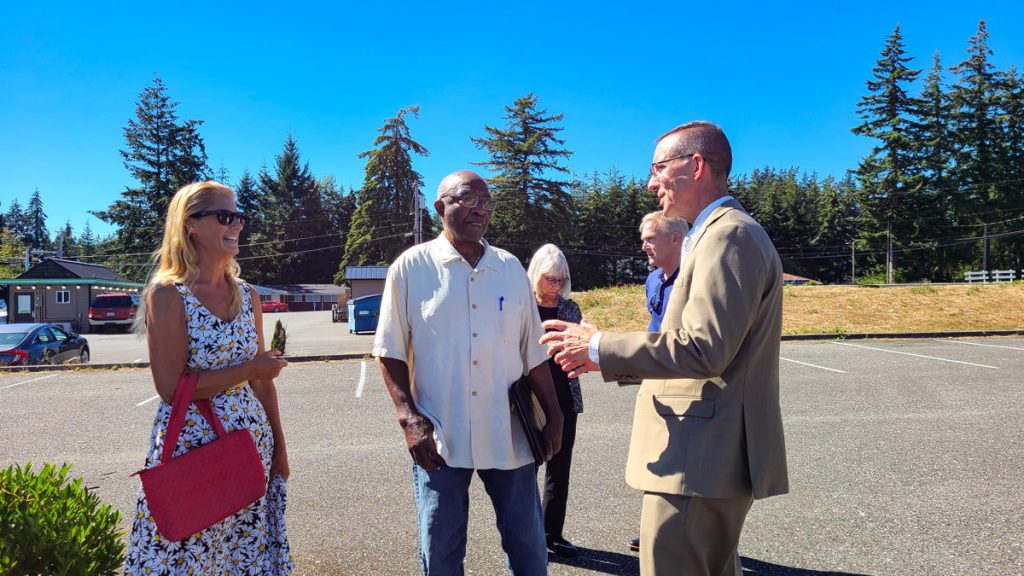 The Lynnwood Neighborhood Center fully aligns with the VOAWW's mission "to serve people and communities in need and create opportunities for people to experience the joy of serving others."
This community commitment would not be possible without VOAWW's ongoing partnerships with Trinity Lutheran Church, Center for Human Services, Medical Team International, Boys & Girls Clubs, Korean Community Service Center, and Latino Educational Training Institute.