Escalating tensions in Europe: Nord Stream gas pipelines sabotaged
The Nord Stream, a pair of offshore natural gas pipelines in Europe that run under the Baltic Sea from Russia to Germany, has been sabotaged according to European commission president Ursula Von der Leyen.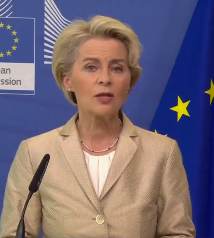 At approximately 2 a.m. GMT and 5 p.m. GMT on Monday, a seismograph on the Danish island of Bornholm, near where the leaks occurred, recorded spikes. Currently, upwards of 5.2 million cubic feet of natural gas is spewing into the Baltic Sea and, and according to The Guardian, creating a kilometer-wide area of bubbling gas.
The steel pipe of the Nordic Stream has a wall of 1.6 inches and is coated with steel-reinforced concrete up to 4.3 inches thick. Each section of the pipe weighs 11 tons, which goes to 24-25 tons after the concrete is applied. Sections of the pipelines are between 260-ft to 360-ft deep.
In August, Russian state energy giant Gazprom cut all deliveries through the Nord Stream 1 pipeline citing maintenance issues. However, earlier this month, Gazprom said it would not resume flows through the pipeline because of an oil leak at its Portovaya compressor station.
"Until the issues on the operation of the equipment are resolved, gas supplies to the Nord Stream gas pipeline have been completely stopped," Gazprom said in a statement.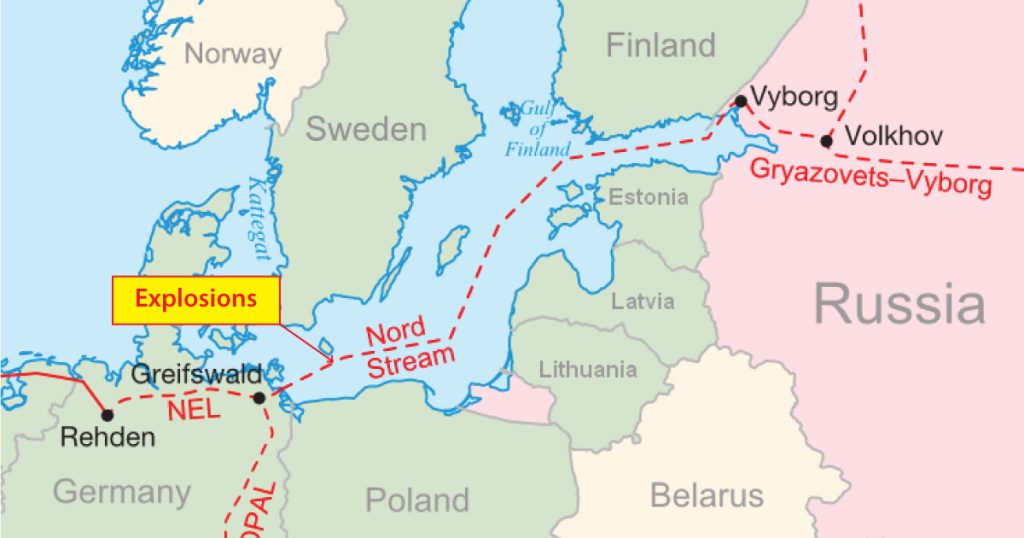 Since February, Russia has been in an energy standoff with Europe – specifically Germany – since it launched its military action against Ukraine.
The apparent sabotage of the Nord Stream gas pipeline will add to Europe's increasing energy crisis as it heads into winter. Energy prices were the single biggest driver of record inflation in Europe (approximately 9.1% across the 19 countries that use the euro), rising to 38% in August.
According to a recent article in the Wall Street Journal, "More than half of German retailers see their economic existence threatened by energy costs, according to a survey this week by the German Retail Association, a trade group."
US national security adviser Jake Sullivan and NATO Secretary General Jens Stoltenberg have now both characterized the incident as an act of sabotage, but European officials have not yet publicly identified a culprit.
Without any proof, a senior Ukrainian official blamed Russia for the sabotage. However, The Kremlin has said claims that Russia is behind the attacks on the Nord Stream gas pipelines are "stupid and absurd".
Forbes reports that former Polish Defense Minister, Radek Sikorski, blames the United States for sabotaging the two pipelines. Back in February during a joint news conference with German Chancellor Olaf Scholz, President Joe Biden told reporters, "If Russia invades, that means tanks or troops crossing the border of Ukraine again, then there will be no longer a Nord Stream 2. We will bring an end to it."
When asked how, the president says with a smirk, "I promise you, we will be able do that."
Norway announced that it will strengthen security at its oil and gas installations in the Baltic Sea the Nordic country's energy minister said on Tuesday.
The sabotage comes during the referendum votes in the Ukrainian eastern provinces of Luhansk, Donetsk, Kherson and Zaporizhzhia that began on Friday. Vote tallies from complete results on Tuesday in the four provinces ranged from 87% to 99.2% in favor of joining Russia.
The administrators of Ukraine's Luhansk and Kherson regions have formally requested of Russian President Vladimir Putin to incorporate their territories into Russia. Annexation of all four regions would result in Russia annexing 15% of Ukraine overnight.
US secretary of state, Antony Blinken, vowed that the west will never recognise Russia's annexation of Ukrainian territory, which he called part of a "diabolical scheme" by Moscow, AFP reports.
President Putin is scheduled to address both houses of Russian parliament on Friday, September 30, to what analysts suspect, to formally announce the annexation of these providences into Russia. If Russia declares the four Ukrainian regions part of its territory, Putin could portray any Ukrainian attempt to recapture them as an attack on Russia itself, justifying a potential war.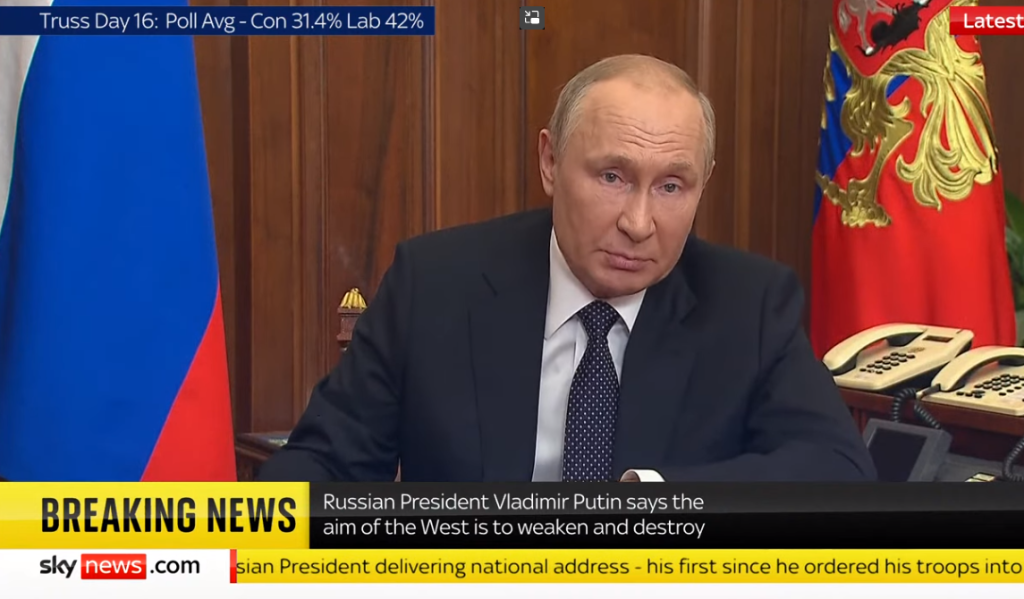 Last week, during an address to his nation on September 21, Russian President Putin announced the mobilization of 300,000 reservists and threatened nuclear retaliation if Russia's "territorial integrity" is threatened.
"I would like to remind you that our country also has various means of destruction, and for some components more modern than those of the NATO countries," Putin said.
"And if the territorial integrity of our country is threatened, we will certainly use all the means at our disposal to protect Russia and our people. This is not a bluff."
European Commission president Ursula von der Leyen today proposed a new $6.7 billion package of Russia sanctions, designed "to make the Kremlin pay" for escalating the conflict in Ukraine with what she called a "sham" referendum in occupied territory.
"We do not accept the sham referenda and any kind of annexation in Ukraine, and we are determined to make the Kremlin pay for this further escalation," she told reporters in Brussels.