Helping over 400 Ukrainian families find peace in Snohomish County
ARLINGTON, Wash., August 21, 2022—Farhad, his wife Natalia, and two children, lived relatively simple lives in their home city of Odessa, Ukraine. Farhad worked as a cabinetmaker and Natalia worked teaching English at a nearby elementary school. They were your typical Odessan family but, on February 24, 2022, everything changed.
Farhad was on his way to the grocery store that Thursday morning when he heard it: a loud explosion that shook the port city streets. People began to run, panicked, leaving Farhad, not quite knowing what was going on, thinking of his family first. He ran home and ushered his wife, kids, and mother Tetyana to the basement to seek shelter. As the air raid sirens echoed through the streets, Farhad told the Lynnwood Times his children were terrified, stuttering, and unable to form proper sentences.
"Kids understand. When we go to the basement, they know something is going on," Farhad said.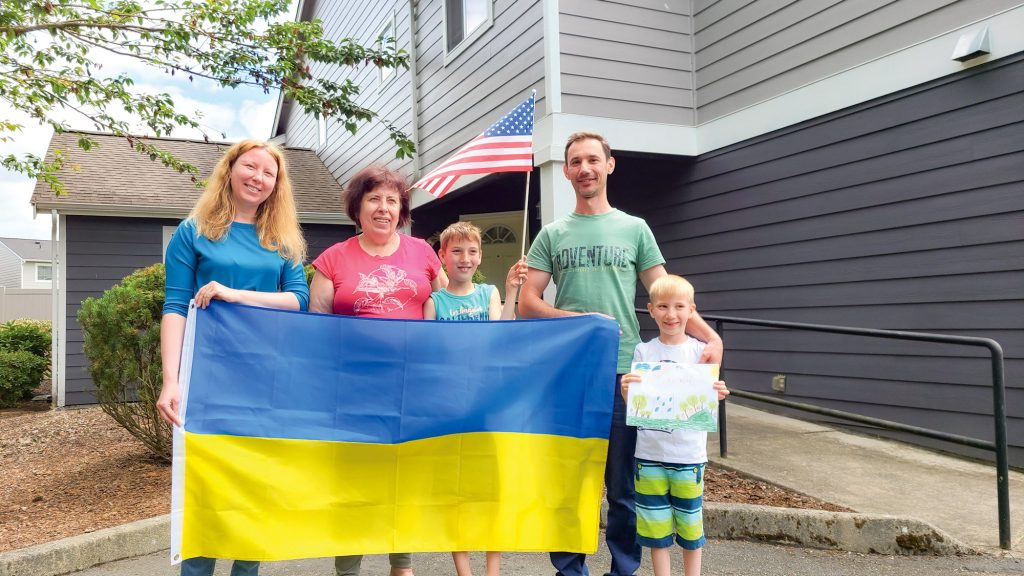 The Russian airstrikes fired that day left 22 Ukrainians dead, and at least 6 injured. By February 27, just three days after the initial bombings occurred, Russian saboteurs had begun operating in Odessa. the next month Russian warships, situated offshore in the Black Sea, continued to pelt the city with missiles, targeting warehouses, and leaving a wake of destruction in their aftermath.
February 24 was the first day of the Russian invasion of Ukraine, a major escalation in the Russo-Ukrainian war that began in 2014. It has caused the largest refugee crises since World War II, with more than 6.4 million Ukrainians fleeing their home country and a third of the population displaced. The purpose, Russian President Vladamir Putin said, was to "demilitarize and denazify" Ukraine.
Farhad and his family lived in their basement for the next month as things continued to worsen. Occasionally he would leave to restock resources and see his home city more and more decimated by the invasion. He knew he and his family needed to escape but didn't know where to go or how.
When their neighbor, someone who had disappeared and was presumed dead, returned to Odessa he mentioned he had fled to nearby Poland which gave Farhad an idea. He helped his family pack all of their belongings into two suitcases and hailed a cab to the closest train station.
"We left everything behind. Our life was in two suitcases between five people," Natalia, Farhad's wife, told the Lynnwood Times.
The train station was packed like sardines and nobody seemed to know what time the next train would come. As Farhad and his family waited, squeezed between the bodies of other families, they could hear the sirens and bombings of their home from the platform. Eventually the train came and they got on, tucking themselves into a car that was meant to fit two. It wasn't until the train left the station that all was quiet, the passengers, although crowded together, not saying a word.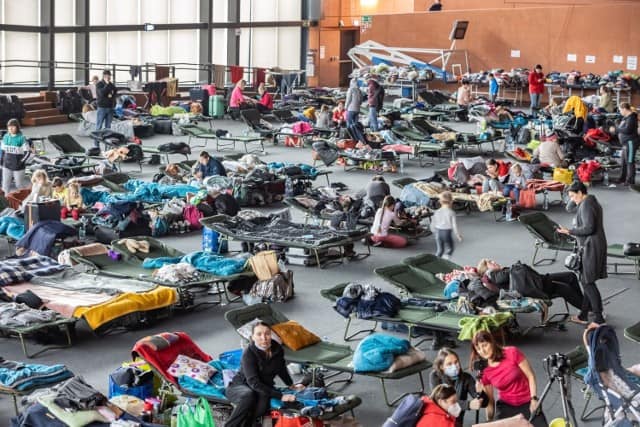 It took an entire day to reach their destination in Sopot, Poland, where the family stayed for a while but still felt unsafe with Russian ships occupying the Baltic Sea. They planned to escape to the United States, to join Natalia's sister, Julie Wold, in Seattle but there were some complications due to Farhad being born in Azerbaijan and not an official Ukrainian citizen.
That's when Wold turned to Van Dinh-Kuno, Executive Director of Refugee and Immigrant Services Northwest in Everett. 
Dinh-Kuno, a former refugee from Vietnam, has dedicated most of her adult life helping others at Refugee & Immigrant Services Northwest where she has been Executive Director since 1991. After moving to Washington state, she was hired first as a job developer, then assistant director before assuming her current position of 28 years. As the result of her own experience, through her organization, she is committed to providing culturally and linguistically appropriate services so all refugees and immigrants can build a better life for themselves and their families.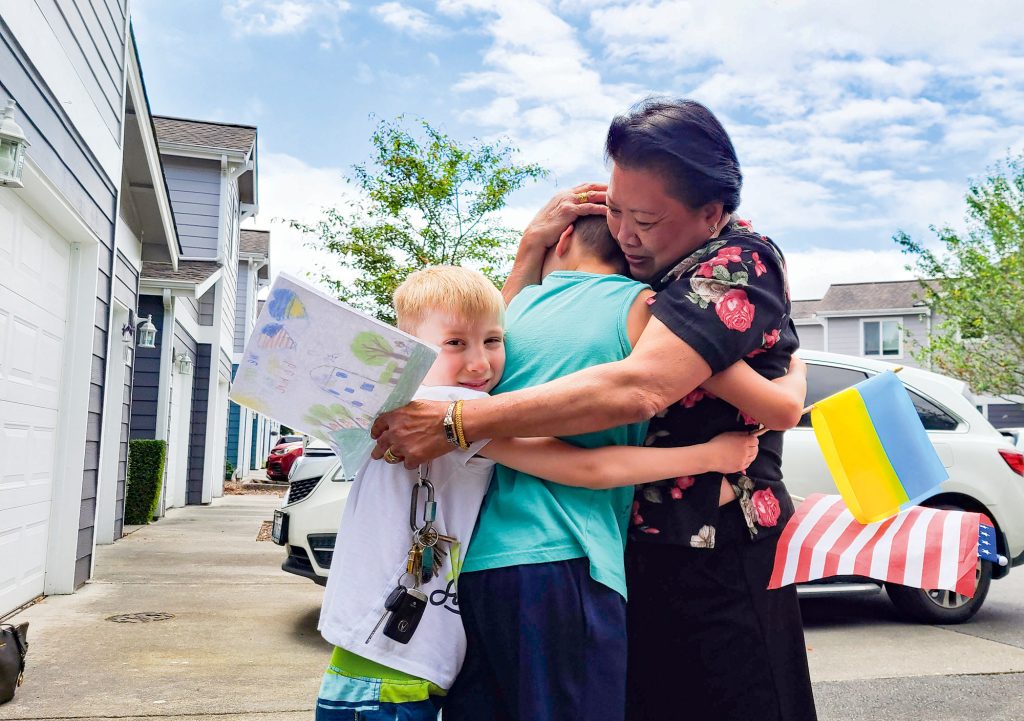 "Van is an amazing person. She really helped streamline [the immigration process] in a world where nothing is streamlined," Wold told the Lynnwood Times.
Dinh-Kuno's agency got to work setting helping Farhad and his family sign up for medical services, food assistance, enrolling in English classes at Edmonds Community College, work authorizations and fee wavers, and obtaining temporary protective immigration status.
While Dinh-Kuno handled the immigration process Wold, with the help of the Everett Police Department, organized a fundraiser to help her family afford a fully furnished apartment in Arlington where they still live, happily, today. Farhad and his family told the Lynnwood Times that they have noticed the benefits of their new lifestyle change most in their children who have abandoned their stress in pursuit of simply being kids.
"I feel this is the duty, not only as a former refugee, but as a member of our community to band together and support Ukrainian refugees. That's what our country is all about," Dinh-Kuno told the Lynnwood Times.
Since the Russian invasion of Ukraine began Dinh-Kuno's agency has helped over 400 Ukrainian refugee families begin new lives in Snohomish County.
For more than 40 years, Refugee & Immigrant Services Northwest (RISNW) has been helping newly arrived refugees and immigrants rebuild their lives and achieve their full potential as contributing citizens in their new country.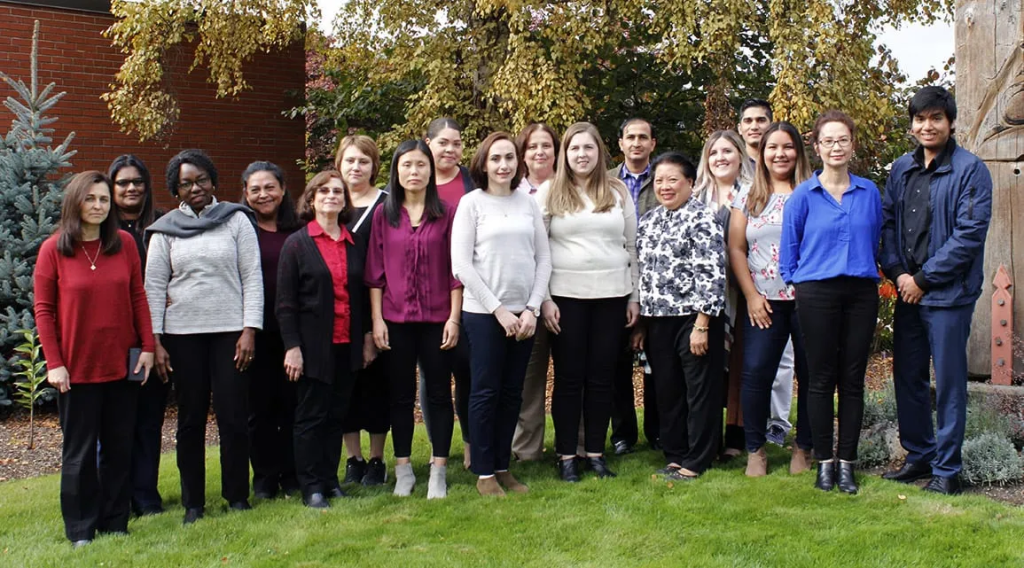 RISNW is a refugee-led, multi-ethnic, multi-cultural organization with the mission to empower refugees, immigrants, and their families to become self-sufficient and healthy, contributing members of society.
Beginning as a grassroots organization in 1977, the agency started with serving newly arrived Southeast Asian refugees in Snohomish County. Since then, it has grown to become a multi-service organization serving refugees and immigrants living in Snohomish, Whatcom, Skagit, San Juan, and Island Counties.
RISNW's core staff of 20 full-time and 137 on-call interpreters are fluent in 40 languages and dialects who value partnerships, collaborations and services delivered by culturally relevant and linguistically appropriate staff who reflect the clients they serve.
They accomplish this by providing a comprehensive array of linguistically and culturally appropriate services, and advocate for equitable funding and services for limited English-speaking refugees and immigrants.
To help RISNW continue to provide assistance to Ukrainian refugees in Snohomish County, click here.