SNOHOMISH COUNTY, October 2, 2022—The National Weather Service forecasts beautiful weather throughout Snohomish County with no chance of showers expected. Winds will be coming from the northwest ranging from 5-7 mph. Daily temperatures will be temperate this week fluctuating between a low of 54°F in the evenings to 74°F in the afternoons.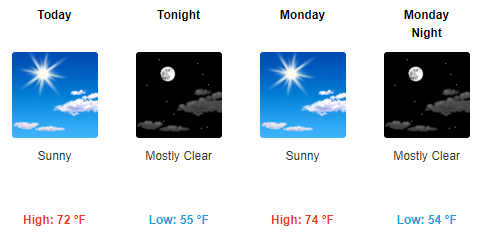 Upcoming Weather Forecast (September 25 to October 1) for Snohomish County
Sunday (Oct 2): Sunny, with a high near 72. Calm wind becoming west northwest 5 to 7 mph in the afternoon.
Sunday Night: Mostly clear, with a low around 55. West wind around 6 mph becoming calm in the evening.
Monday (Oct 3): Sunny, with a high near 74. Calm wind becoming west northwest around 6 mph in the afternoon.
Monday Night: Mostly clear, with a low around 54. West northwest wind around 5 mph becoming calm in the evening.
Tuesday (Oct 4): Partly sunny, with a high near 72. Calm wind becoming west southwest around 5 mph in the afternoon.
Tuesday Night: Partly cloudy, with a low around 54.
Wednesday (Oct 5): Partly sunny, with a high near 69.
Wednesday Night: Partly cloudy, with a low around 54.
Thursday (Oct 6): Partly sunny, with a high near 69.
Thursday Night: Partly cloudy, with a low around 54.
Friday (Oct 7): Mostly sunny, with a high near 71.
Friday Night: Partly cloudy, with a low around 54.
Saturday (Oct 8): Mostly sunny, with a high near 70.
Check out these ideas for outdoor fun!
Edmonds Marina Beach Park: Located at 470 Admiral Way (near a bus stop for those who don't drive), Edmonds Marina Beach Park has 230 acres of BBQ stands, picnic areas, a playground, off-leash dog park, boat launch, and a volleyball net and sand court throughout 47 park and open space sites. The park resides on 1-mile of shoreline looking out into Kingston over gorgeous Puget Sound.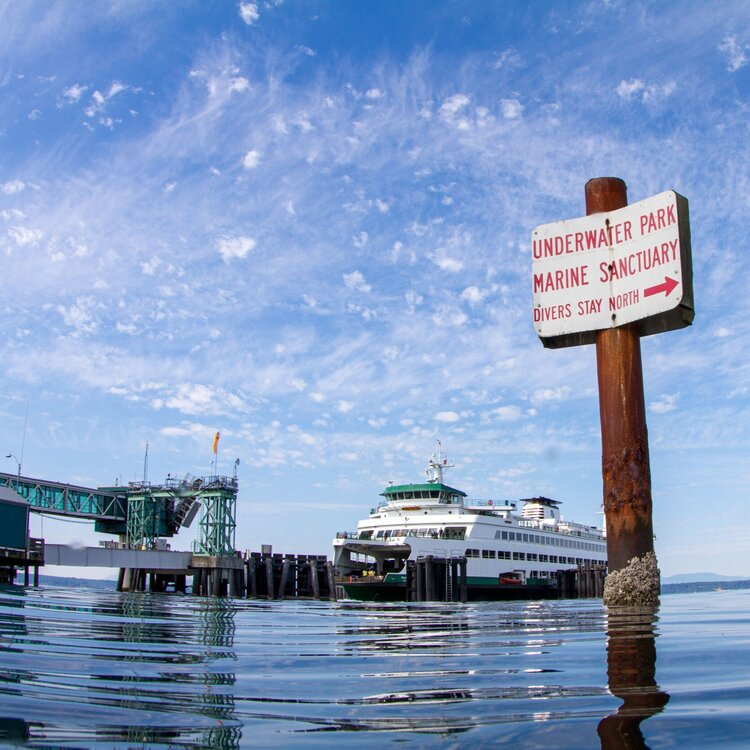 Edmonds Underwater Park: You read that right, a park completely submerged in water! And unless you are a rockfish, octopus, or any of the other rich and vibrant marine life that calls this conservation home, it may be best to bring your scuba gear. Established in 1970 by the City of Edmonds and Washington State Department of Natural Resources, Edmonds Underwater Park is one of the Pacific Northwest's most popular dive destinations with over 25,000 visits from scuba divers a year. Divers can expect to see jellyfish, sea lions, crabs, multiple species of fish (including salmon), and even the occasional orca while traveling the 27 acre underwater trail. For those who are not certified divers, an above-water beach area makes for the perfect viewpoint for watching divers enter and exit the Salish Sea.
Howarth Park: Everett's Howarth Park is a perfect place to bring your dog, children, family, friends or loved ones. Located at 1127 Olympic Boulevard, right off Mukilteo Boulevard, the parks has multiple walking trails, viewpoints that look out into Possession Sound, an off-leash dog park, and a sandy beach area where you can look for seashells or watch the sunset over the mountains.
Kayak Point County Park: A spectacular saltwater beach park located along the shores of picturesque Port Susan at 15610 Marine Drive in Stanwood. From its 3,300 feet of shoreline to its evergreen forests, Kayak Point Park offers a beautiful setting for pier fishing, windsurfing, picnicking, hiking, camping, boat launching and more. Have an ocean view picnic at one of the picnic shelters, a beach bonfire at one of the fire pits, set up some crab pots for Dungeness and red rocks or fish for flounder, sole, true cod, rockfish and walleye pollock year-round and have a fresh seafood feast right on the beach.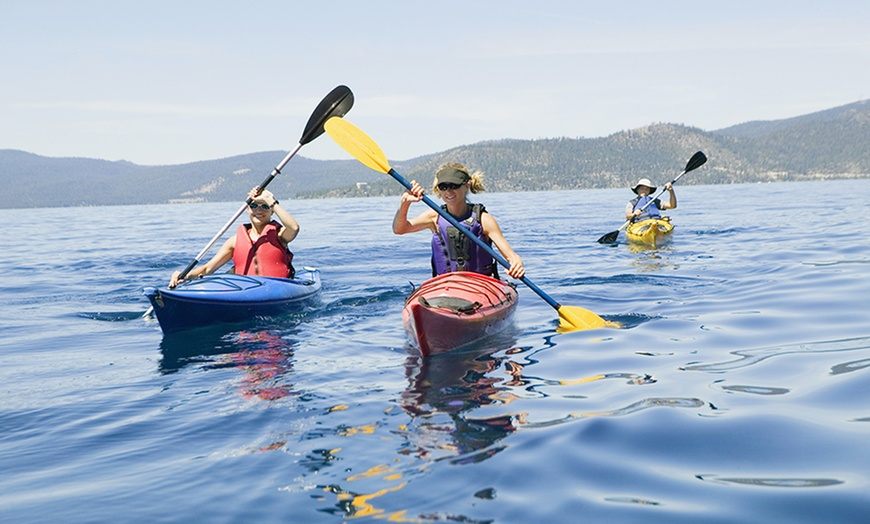 Mukilteo Lighthouse Park: Perhaps one of the most unique, definitely historical, destinations in Snohomish County is Mukilteo's Lighthouse Park. Constructed in 1950 on a filled tideland the park has beach access as well as a Historical Society and gift shop for beachgoers looking for a history lesson. This upcoming September 9 through 11 Lighthouse Park will also be the site of Mukilteo's annual Lighthouse Festival with live music, a beer garden, booths, and food trucks. This year's festival is especially commemorative as the city will be celebrating its 75th anniversary. Grab a beer or ice cream at Diamond Knot Brewery, some fish n chips from Ivar's, take a tour of the lighthouse, or watch the seals and sea lions bob their heads in Possession Sound from the beach or pier.
Picnic Point County Park: Located on the shores of Puget Sound, Picnic Point Park offers a tranquil and scenic setting for picnicking and beach activities. Tables and charcoal cookers are available for picnicking enjoyment while watching the sunset over Whidbey Island and the distant Olympic Mountain range. With its large pedestrian overpass, the park provides convenient access to the beach, picnic areas, and restrooms. However, those who are physically challenged may require assistance.
Jetty Island: While island hopping the 35 unique islands in the Puget Sound is a great adventure any time of year, Everett's 1-mile-long Jetty Island is a summer must visit for its kiteboarding, beaches, and swimming in the shallow, warm, frothy waters. The adventure of getting to Jetty Island is all part of the fun and open to anyone who can boat, paddle board, or canoe out to the manmade island. A ferry is also available from July 6 to September 5 (Labor Day) Wednesday, Thursdays, and Sunday from 10 a.m. to 5:45 p.m. and on Friday and Saturdays from 10 a.m. to 6:45 p.m. departing from Jetty Landing on 10th Street and West Marine View Drive in Everett.
Kayak Point: Previously listed as a great beach location, Stanwood's Kayak Point also offers a great campsite opportunity. What better way to experience a great beach then to call it home for a few days? After a day of fishing at the beach walk back to camp to throw your fresh catches over the fire or explore the surrounding nature trails for your morning exercise.
Wenberg: Also, near Stanwood's waterfront is the award-winning Wenberg Park campsite which
offers splendid opportunities for picnicking, sunbathing, and boating across 45 acres. The park has 70 campsites spread out across three loops, three picnic shelters, an enclosed swim beach with rinse shower, and 1,140 feet of freshwater shoreline with a two-lane concrete boat launch for all your water works.
River Meadows: Arlington's 150-acre River Meadows campsite, 20416 Jordan Road, rests on open meadows and forests along the banks of the Stillaguamish River. You can fish along the mile-long riverbank, camp in the summer or rent a yurt year-round, picnic, hike, geocache, bird watch, or play catch in the meadow. The park's expansive meadows offer a great location for large events, such as family reunions, scout jamborees, weddings, and community celebrations.
Flowing Lake: Flowing Lake Regional Park, also known as Leckie's Beach, is an immensely popular park that offers a variety of recreational activities. The day-use area provides access to the beach and amenities which include a boat launch, fishing dock, playground, picnic tables, picnic shelters and an amphitheater. For those that wish to stay a little longer, the park includes a campground with a mix of cabins and campsites and a heated restroom with showers. A nature trail encompasses a portion of the campground for those seeking a little solitude. The park and campsite is located at 17900 48th Street Southeast in the city of Snohomish.
Lake Roesiger: This beautiful campground is located on the southeast end of Lake Roesiger (across the road from Lake Roesiger County Park), densely wooded and perfect for scout, church, educational groups or family reunions. There are 10 walk-in campsites that can host a total of up to 50 people and all sites are walk-in only with guests carrying their belongings to the sites from the nearby parking lot. While the hike to each of the campsites is short it is also steep and may be strenuous for some. However, a ADA site is also available to those who need it.
Squire Creek: Just outside the Town of Darrington, at 41415 State Road 530, enjoy a peaceful camping experience among the trees. Squire Creek offers camping among the beautiful moss-laden trees of an old-growth forest. The park is a perfect staging area for adventures into the Mount Baker – Snoqualmie National Forest, hiking to the base of Whitehorse Mountain, or participating in the Bluegrass Festival in Darrington and the Summer Meltdown Festival (see Summer events). Access to the Sauk River is just five minutes away at Backman Park and two large picnic shelters are located near the crystal clear waters of Squire Creek.
Whitehorse: Also located just outside the Town of Darrington, Whitehorse Regional Park Campground becomes the ultimate "gate-a-way" in Snohomish County, with close access to the Whitehorse Trail, North Mountain bike trails, and other DNR and Forest Service lands. 15 of the 18 spacious sites have water, 50 amp power, and sewer connections.