Hundreds attend Tiffany Smiley's New Mom in Town bus tour in Snohomish County
SNOHOMISH COUNTY, November 6, 2022—Veterans advocate and U.S. Senate candidate Tiffany Smiley (R-WA) was greeted by hundreds of residents in three Snohomish County cities—Everett, Marysville, and Monroe—as part of her statewide New Mom in Town bus tour. Hundreds also attended her La Conner, Oak Harbor, and Wenatchee events in the area.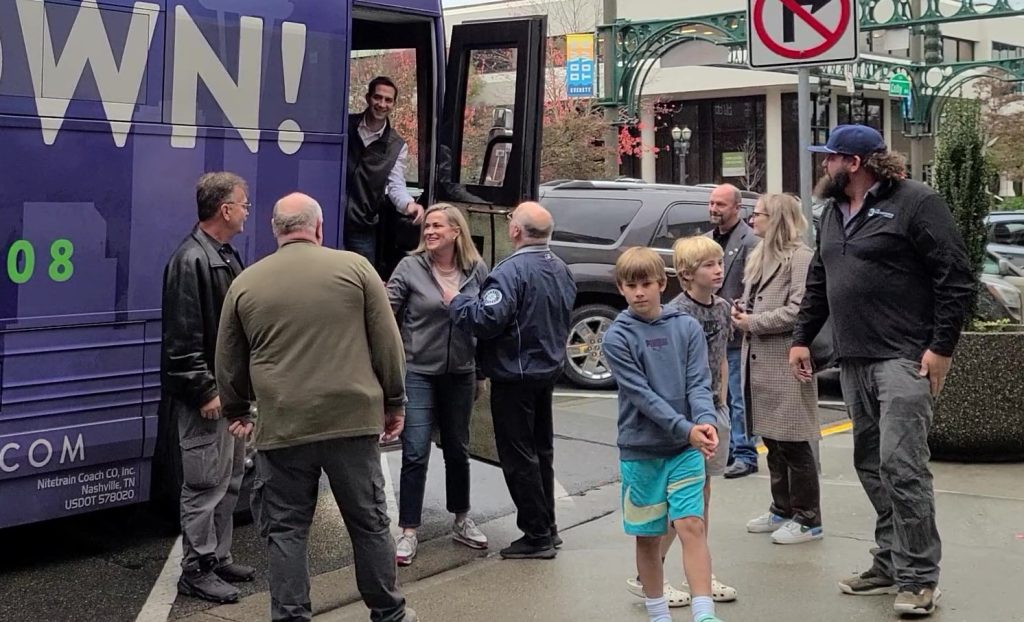 On Friday, Senator Tom Cotton (R-AR) joined Smiley to stumped for her at the Everett, Ellensburg, Leavenworth, and Oak Harbor stops.
To an impressive crowd of approximately 140 in deep-blue Everett, Sen. Cotton criticized Smiley's opponent Senator Patty Murray's (D-WA) handling of inflation, U.S. energy policy, and the cost-of-living hardships Washingtonians are experiencing today.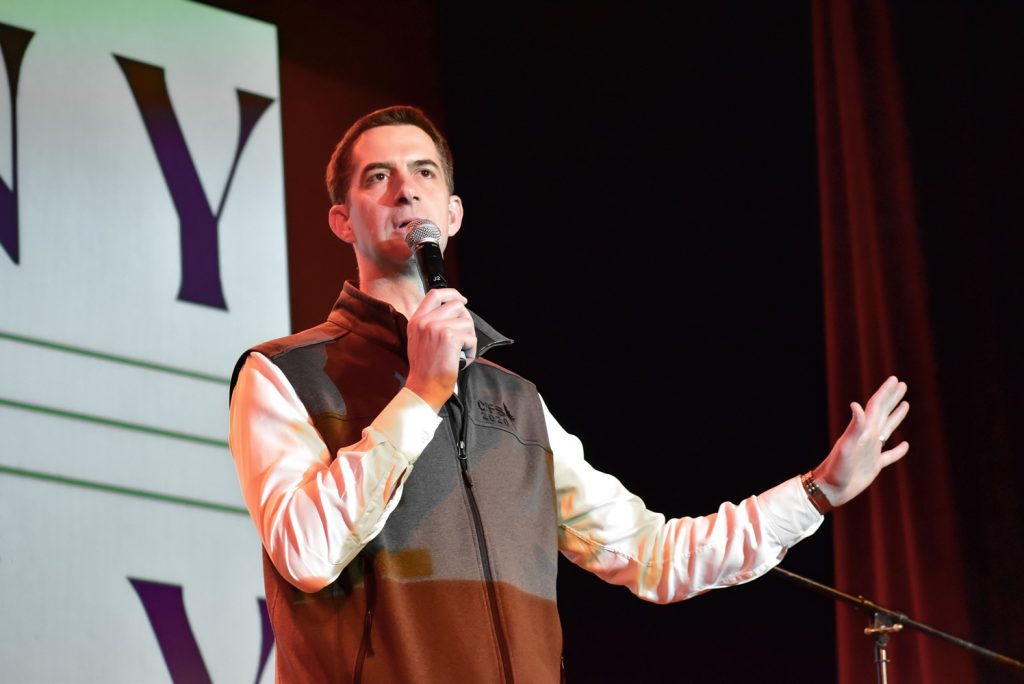 "I have known Tiffany and Scotty for years," Senator Cotton opened at the Historic Everett Theater. "They have been great champions and fighters for our Nation, for our troops, for our wonderful veterans, and she is going to be a great fighter for you and the people of Washington state in the United States Senate."
He continued, "If you want to bring some commonsense back to Washington [D.C.], if you want to put some checks and balances in place on Joe Biden's failed ideological agenda, then let's elect Tiffany Smiley on Tuesday night."
Two local residents we spoke with who attended Friday's Everett event shared similar sentiments and called for change.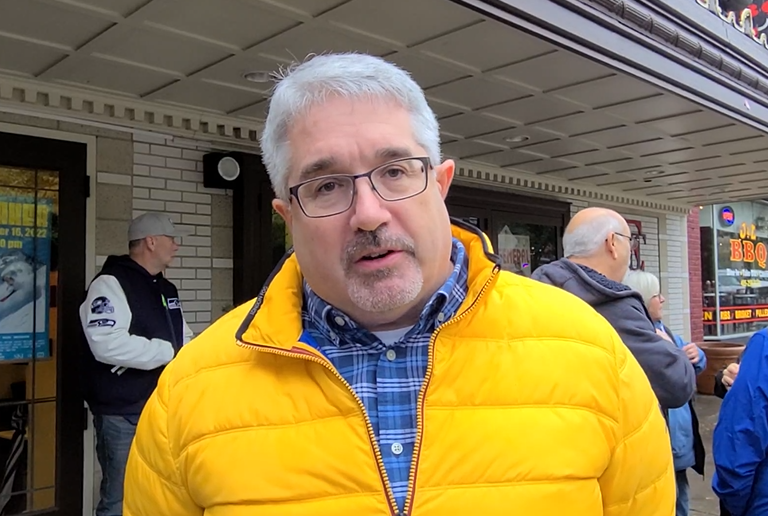 "Crime is out of control in the United States – neighborhoods are not safe," Bill Caldwell told the Lynnwood Times. "Patty Murray supported him [President Joe Biden] 99% of the time. Inflation is high, crime is high, school standards are falling…its time for a change. Tiffany has energy, she is smart, she is caring, she is a mom, and she has proven success to our veterans and veterans care givers."
Josephine Wentzel, founder of Angels of Justice, told the Lynnwood Times it's time for a change. Wentzel started the organization to apprehend her daughter's killer. Over the years, she has rescued children and save families from organized human tracking gangs.
"We need change," Josephine Wentzel told the Lynnwood Times. "Tiffany is bringing in new ideas and new resources and we are hopeful for a change in our Nation."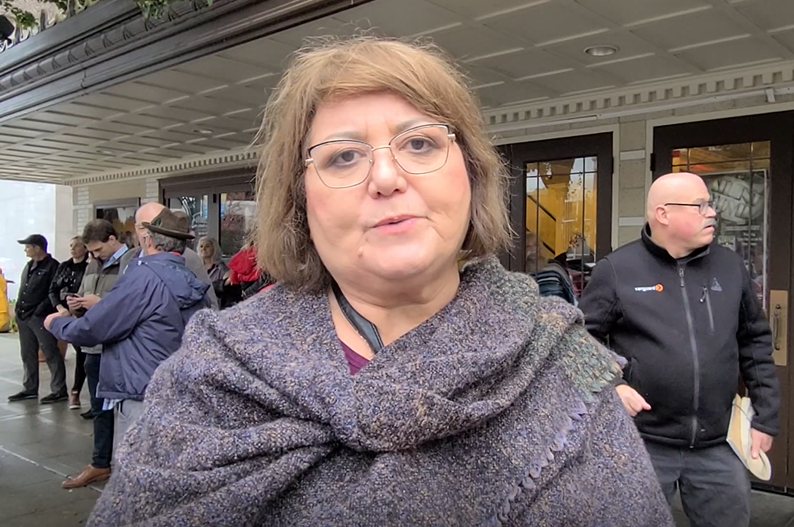 After launching on October 25 in Maple Valley, the bus tour has visited 43 cities to date from Spokane to Port Angeles and Ferndale to Vancouver. She aims to make 46 stops across 28 of Washington's counties to speak "directly with the voters of Washington."
"Like me, you believe Washington state is worth fighting for," Smiley told attendees to applause. "We are officially a tossup race!"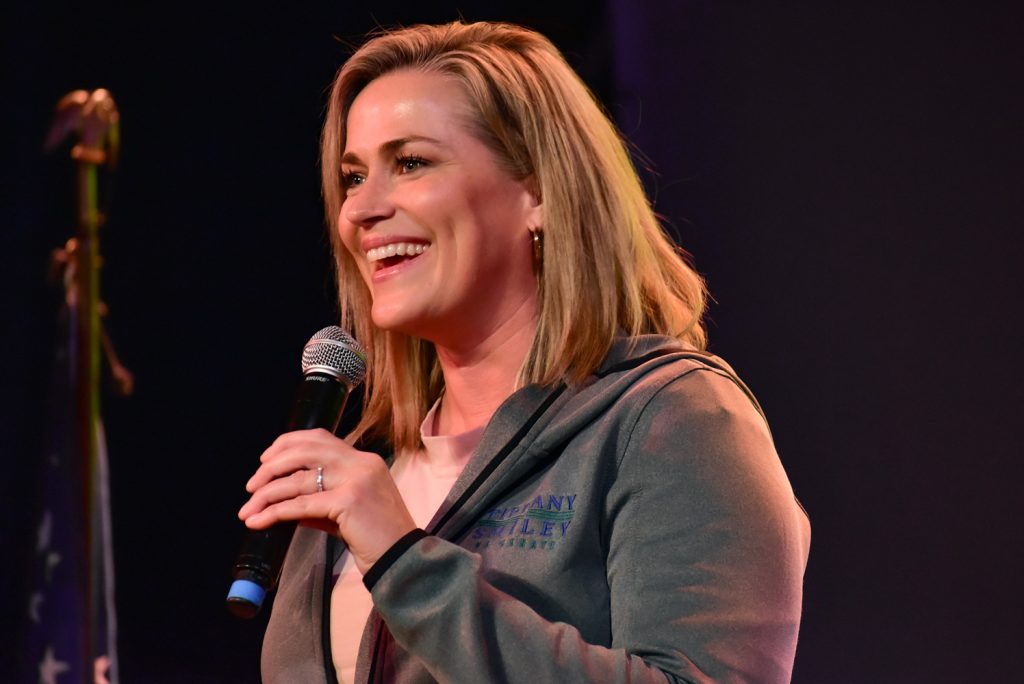 Smiley continued, "From the rising cost of living, rising gas prices, crime, education, we have a fentanyl crisis here in Washington state, Senator Murray addresses none of this. She has been in the Senate for 30 years, and she has only gotten nine bills with her name on it across the line."
She shared that the lack of bills from Senator Murray should convey to every Washingtonian that Murray is "too extreme" to work with and "doesn't work" for the residents of the state.
Smiley then criticized Murray's lack of prioritizing the wellbeing of Washington residents by not using her seniority in the Senate to oppose the American Rescue Plan, the Inflation Reduction Act, and a U.S. energy policy making the county more reliant on foreign adversaries.
"If seniority really mattered, then why didn't she [Murray] stop the American Rescue Plan that is causing the greatest inflation we are seeing in a generation," Smiley said. "If seniority really mattered, why didn't she stop the Inflation Reduction Act which does nothing to reduce inflation. If seniority really mattered, why did she wage war on our American energy independence."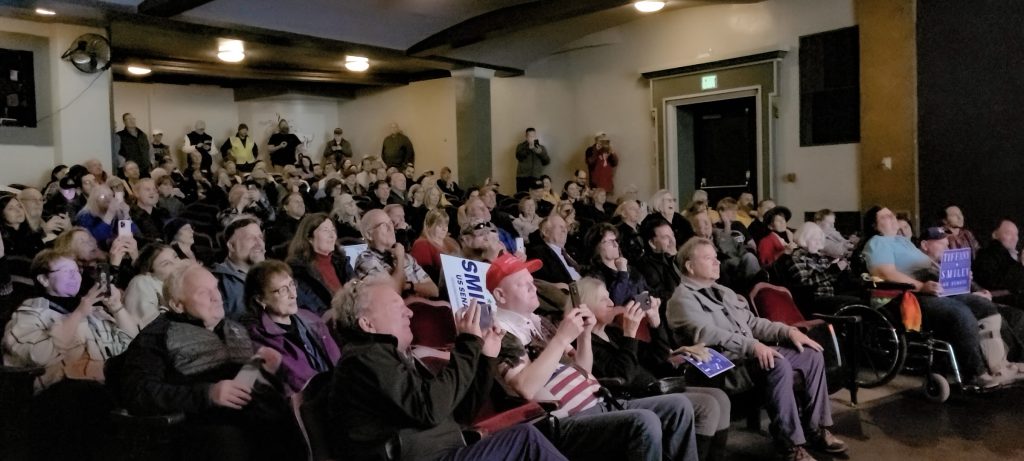 According to a post-debate Trafalgar Group poll, Republican candidate Tiffany Smiley is in a statistical tie to unseat 30-year Democratic incumbent Patty Murray, which if successful, will add to the projected GOP-controlled Senate majority.
The polling firm surveyed 1,207 likely General Election voters between October 25th to 28th just days after the first Smiley-Murray debate, and with a margin of error of 2.9 percentage points, Smiley has gained 2 points to poll at 48.2% to Murray's 49.4% — a statistical tie. FiveThirtyEight gives Trafalgar Group an "A-" as one of the most accurate pollsters in the country.
The latest RealClear Politics projections for the Senate have Republicans winning 53 seats and Democrats at 47 seats according to the latest polling. A Smiley win would increase that lead to 54 seats and for the first time in 34 years, have a Republican senator representing Washington state since Slade Gorton was elected in 1988.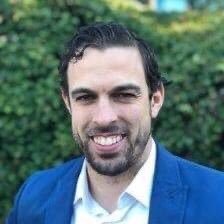 Caleb Heimlich, Chairman for the Washington State Republican Party, is thrilled with the momentum of support Washingtonians are showing towards Smiley's Recovery and Reform platform. He shared that on each stop he has been with Smiley on the bus tour, he is seeing crowds between 100 to 200 attendees.
"Voters are not feeling good about the direction of the State and the country… When you have a 30-year incumbent like Patty Murray in office who has been there five terms, people are saying, are we better off today than we were two years ago, and the answer is a resounding no!"
Photos from Smiley's New Mom in Town bus tour
Wenatchee – November 3
🚌BUS TOUR UPDATE🚌

We finished Day 10 on a strong note yesterday in Wenatchee with another full house!!

I'm back on the road this morning & I would LOVE to meet you on the trail! I'll be in:
📍Leavenworth
📍Ellensburg
📍Everett
📍Oak Harbor

RSVP: https://t.co/lGRwH0dHBx pic.twitter.com/zMxIdwAnX2

— Tiffany Smiley (@SmileyForWA) November 4, 2022
Leavenworth – November 4
🚌BUS TOUR UPDATE🚌

This morning the "New Mom In Town" bus trekked through the snow to visit the Blue Spirits Distillery in Leavenworth!

I'm reminded every day just how beautiful our state is — and it will be an honor of a lifetime to serve Washington in the U.S. Senate! pic.twitter.com/Az5XrjedLv

— Tiffany Smiley (@SmileyForWA) November 5, 2022
Ellenburg- November 4
🚌BUS TOUR UPDATE🚌

Today's second stop on the "New Mom In Town" tour was on the rodeo grounds in Ellensburg… and, once again, we packed the place!!

Thank you to everyone who came out — in the cold, no less! — to meet me! pic.twitter.com/hqa8X9TiwE

— Tiffany Smiley (@SmileyForWA) November 5, 2022
Oak Harbor – November 4
🚌BUS TOUR UPDATE🚌

It was such an honor to host Senator @TomCottonAR here in Washington for the last couple stops on the "New Mom In Town" bus tour yesterday!

Thank you to everyone who came out in Oak Harbor last night! Today we'll be in:
📍La Conner
📍Marysville
📍Monroe pic.twitter.com/2oosvPxGAJ

— Tiffany Smiley (@SmileyForWA) November 5, 2022
La Conner – November 5
🚌BUS TOUR UPDATE🚌

The "New Mom In Town" bus tour is back at it again for Day 12 today, with our first stop in La Conner!

I've met so many amazing Washingtonians from every corner of this state over the past dozen days (and past 18 months)! We are ready to WIN BIG on Tuesday! pic.twitter.com/R7eaCs7kH4

— Tiffany Smiley (@SmileyForWA) November 5, 2022
Marysville – November 5
🚌BUS TOUR UPDATE🚌

Despite the power outages in Snohomish County this afternoon, we still packed the Marysville Historical Society museum!

Thank you to everyone who came out to meet me — even in a dark museum! I promise, brighter days are ahead for EVERY Washingtonian! pic.twitter.com/4A2LvVVs7E

— Tiffany Smiley (@SmileyForWA) November 6, 2022
Monroe – November 5
🚌BUS TOUR UPDATE🚌

Today the "New Mom In Town" bus made its FOURTH stop in Snohomish County since we launch this tour last week!

Every stop here has been PACKED & super high-energy — and our stop in Monroe today was no different!

We will WIN BIG in Snohomish County! pic.twitter.com/xVEvo6WLLS

— Tiffany Smiley (@SmileyForWA) November 6, 2022
For more information about the bus tour, including surrogates and stop locations, click here.