New polls show Smiley now ties Murray leading into second Senate debate
SEATTLE, Wash., October 30, 2022—According to a post-debate Trafalgar Group poll, Republican candidate Tiffany Smiley is in a statistical tie to unseat 30-year Democratic incumbent Patty Murray, which if successful, will add to the projected GOP-controlled Senate majority.
The polling firm surveyed 1,207 likely General Election voters between October 25th to 28th just days after the first Smiley-Murray debate, and with a margin of error of 2.9 percentage points, Smiley has gained 2 points to poll at 48.2% to Murray's 49.4% — a statistical tie. FiveThirtyEight gives Trafalgar Group an "A-" as one of the most accurate pollsters in the country.
This was the largest survey to date of any publicly released poll according to RealClear Politics with party affiliation at 44.2% Democrat, 33.4% Republican, and 22.4% No Party/Other. Approximately 80% of participates were white and 53.1% of all respondents identified as female.
A Moore Information Group poll of 500 live phone and online interviews conducted between October 20th to 22nd show a tie of 46% for both candidates with a four-percentage point margin of error. Of the roughly eight percent of respondents who were undecided in the U.S. Senate race, by a two-to-one margin, majority had an unfavorable view of Murray (18 percent favorable to 47 percent unfavorable). Overall, Murray dropped 3 points in net favorability to 45% whereas Smiley gained 3 points in favorability at 44% than from a month earlier.
The top issues for undecided voters were crime with 18% and controlling government spending and taxes at 16%. Also, 80% of undecided voters shared that they feel the country is on the "wrong track" with 60% disapproving of Biden's job performance. According to FiveThirtyEight, Murray has voted 96.3 percent in lockstep with President Biden's positions over the last two years.
Senator Murray has criticized her opponent for allegedly hiding "her support for abortion bans from Washington voters" and her associations to Senate Minority Leader Mitch McConnell and what the Murray campaign calls "MAGA" Republicans. However, the 45th President of the United States has yet to endorse Smiley and during their first debate on October 23, Smiley made it very clear to voters that although she is pro-life, she supports state's rights on the issue.
On November 5, 1991, Washington voters approved Initiative 120 (50.4% to 49.96%) declaring that a woman has a right to choose physician performed abortion prior to fetal viability (24 to 25 weeks into pregnancy). Based on current Washington law, the overturning of Roe v. Wade has no immediate effect or impact. The state legislature in Washington would have to restrict or prohibit the medical procedure and any action by the legislature would need to be signed by Governor Jay Inslee, who holds veto power which would require two-thirds vote by the legislature to overturn.
Adding to the political discourse, just on Friday, Washington State Governor Inslee (D) attacked Smiley calling her an "election denial" candidate who "foments" political violence, a claim the Smiley campaign called "shameful and DIVISIVE."
Despite the aforementioned and millions of dollars in attack ads from the Murray campaign and democrat-leaning PACs, Smiley's Recovery & Reform agenda appears to be resonating with Washingtonians compared to Murray's Work for Washington campaign.
Smiley outraised Murray, nearly two-to-one, in third quarter contributions according to the latest Federal Election Commission (FEC) filings. The Smiley campaign is currently sitting on a war chest of $2.4 million to Murray's $3.8 million, improving her funding gap by an impressive $3 million!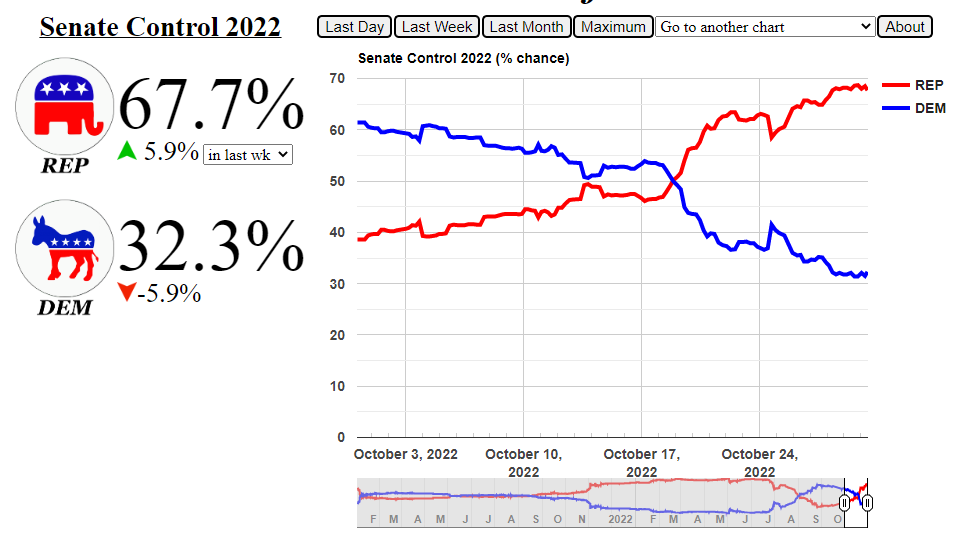 According to Election Betting Odds, the GOP shot up 20.4 points within the last two weeks to a 67.6 percent chance of winning the U.S. Senate and an 88.7 percent chance of taking control of the U.S. House of Representatives. The RealClear Politics projections for the Senate have Republicans winning 53 seats and Democrats at 47 seats according to the latest polling.  A Smiley win would increase that lead to 54 seats and for first time in 34 years, have a Republican senator representing Washington state. Washington state's last Republican senator, Slade Gorton, was elected in 1988.
Smiley and Murray will meet again on Sunday, October 30, at 5 p.m. for a live one-hour Town Hall from the KIRO 7 News studios in Seattle that will air on KIRO 7 and stream on its digital platforms.