LYNNWOOD, Wash., November 26, 2022—Lynnwood Police and SWAT arrested a man yesterday who attempted to blow up a local business after barricading himself in the establishment and threatening the owner.
The suspect, Michael Paul Hargett, was taken into custody at approximately 8:55 p.m. and is facing charges of obstruction of a law enforcement officer, arson 2 of a business, theft of a motor vehicle, assault 2 (non-family member), and malicious mischief 1 of a business. If convicted, he would be facing multiple Class B felonies each of up to 10 years in prison and fines up to $35,000.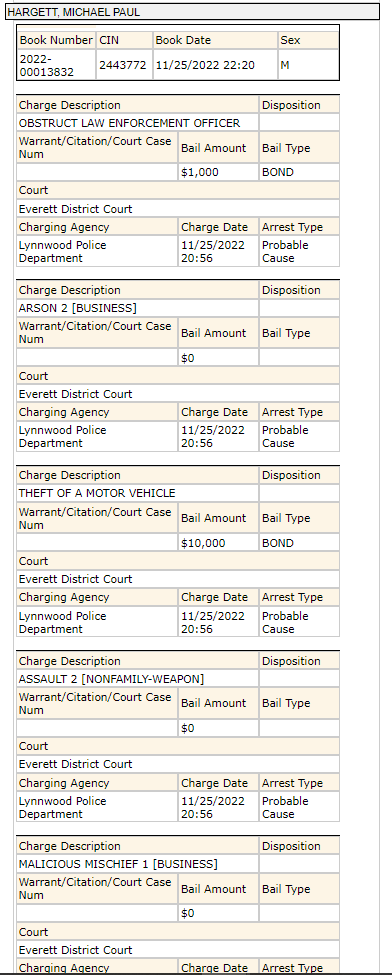 At approximately 4:15 p.m. on Friday, November 25, 2022, Lynnwood Police arrived on the scene to an unknown male threatening a business owner with a screwdriver at the 17700 block of Highway 99 and initiated de-escalation techniques as the suspect held a crowbar.
According to the police report, the police deployed TASER after the suspect stated that he had a handgun in his waistband. The suspect, unphased by the TASER fled into an adjoining room where he staged propane and acetylene tanks near front door and threatened to blow the building up.
Authorities evacuated the occupants of the adjoining businesses as the subject broke windows and threw objects out at the police.
After the suspect started a fire inside the building near the propane tanks, SWAT utilized a fire hose from a tactical vehicle to douse the flames. SWAT created breach points into the business after utilizing robot and other surveillance to see inside. The suspect was non-responsive to directions.
Less lethal impact projectiles were then used after suspect was located who was later detained and taken into custody at approximately 8:55 p.m.
Witnesses are telling us it's a police standoff in the 17700 block of Hwy 99. Suspect barricaded inside a business threatening to burn it down. Live on KOMO-TV at 11pm pic.twitter.com/LqqitbZyeG

— Joel Moreno (@JoelMorenoKOMO) November 26, 2022