Singer-songwriter Dolly Parton received the $100 million Courage and Civility Award from Amazon founder Jeff Bezos, last month, to be used on whatever charity she sees fit.
"[Parton] embodies these ideals so thoroughly, she gives with her heart, what she's done for kids, literacy, and so many other things is just incredible," Jeff Bezos said at the ceremony.
Parton is known for giving back to her community, specifically as it relates to strengthening literacy and education. She founded the Imagination Library in 1994, a book gifting program that mails books to children regardless of their economic status, and recently expanded to more zip codes around Washington.
"I was so excited when Washington expanded my Imagination Library a couple months ago, and now I'm over the moon to learn that we're opening the program to all children in the state – it's just amazing," Dolly Parton said in a statement issued to the Office of Superintendent of Public Instruction.
Parton's Imagination Library has distributed nearly 200 million books to children across five countries and, just last month, received the Library of Congress' $150k David. M. Rubenstein Prize.
Parton also donated $1 million to Vanderbilt Medical Center, during the COVID-19 outbreak, to aid in their vaccination research, established the Dollywood Foundation in 1988, and established the Dolly Parton Scholarship which provides $15,000 toward college tuition.
Bezos began distributing the Courage and Civility Award 2021 to recipients Van Jones, writer, political commentator, and lawyer, and chef José Andrés. The $100 million attached to the award have a ten-year window to be distributed to non-profit organizations.
Parton has not disclosed how she plans to distribute the funds, whether to her own organizations, others, or a mixture of both, but she assured the crowd Saturday that she "will do [her] best to do good things with this money."
The Imagination Library was founded with the intention of mailing free, high quality books to children, five and younger, regardless of income status. Originally books were just delivered to homes within Sevier County, Tennessee – where Parton is originally from – but the program was such a success Parton expanded it in 2000 reaching one million mailed books by 2003. In 2006 the program expanded to Canada, then to the United Kingdom a year later, Australia by 2013, and Ireland by 2019.
Check Availability – Enroll Your Child Today
With the recent Washington State expansion there are now 43 Imagination Library affiliates in the state with four in Snohomish County. The county's affiliates are the Arlington Education Foundation, Lake Stevens Education Foundation, Monroe Public Schools Foundation, and the Stanwood-Camano Rotary.
Families who are interested in benefiting from receiving free books under the Imagination Library's service can fill out an eligibility from through these affiliates. Also, those who are interested in expanding the existing affiliate programs can do so by contacting the Regional Director.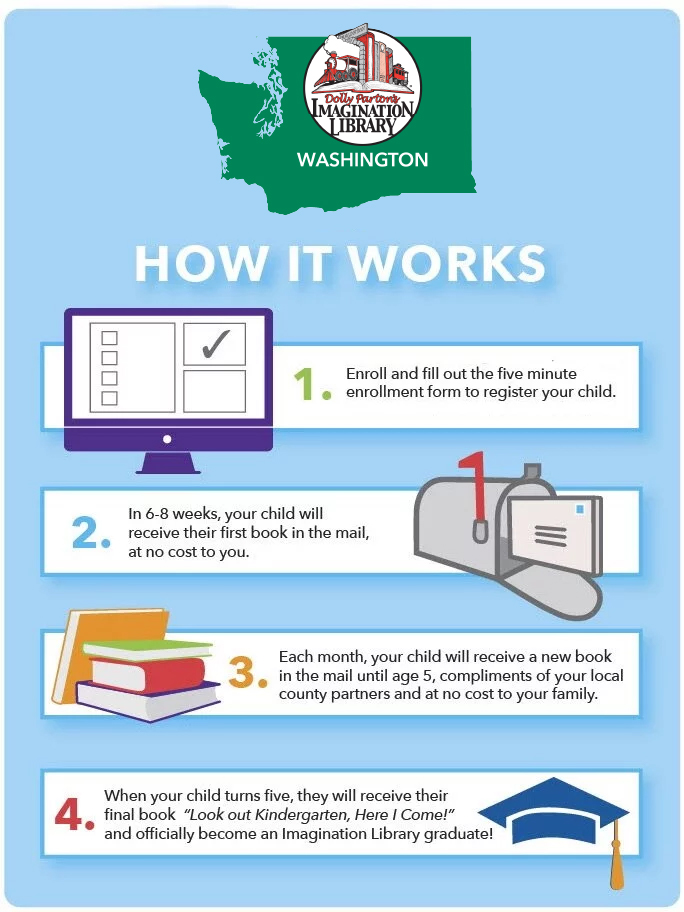 "We are excited about Dolly Parton's Imagination Library, and their work getting books in children's hands. Books and stories are a cornerstone for early learning. Sno-Isle Libraries loves when community partners inspire and spark a love of reading," Katie Leone, Marketing and Communications Manager for Sno-Isle Libraries, told the Lynnwood Times.
Sno-Isle Libraries believes that a child having their own library is important and supports young bibliophiles through Storytimes and Stay, Play and Learn programs for early learners. Additionally, with a Sno-Isle library card patrons can check out up to 300 physical items (including books, DVDs, music CDs, and audiobooks) at a time.
To enroll your child or be notified when an affiliate launches a program in your community for a free monthly book, click here.