SNOHOMISH COUNTY, December 20, 2022—The Stillaguamish Tribe proudly donates over half-a-million dollars to the Greater Snohomish County and the Foundation for Edmonds School District receives a $15,000 grant from the Puyallup Tribe of Indians Charity Trust Board.
The Stillaguamish Tribe displays its support for those in need with generous donations of $200,000 to Northwest Harvest, $100,000 to the Arlington Community Food Bank, and an additional $300,000 for their "A Christmas Wish" program. This money will help families who are experiencing food insecurity get access to necessary sustenance and nutrition. Additionally, through the "A Christmas Wish" program the Tribe will be able to provide gifts to over 2,000 children. With a goal of donating to help those in need enjoy a more joyful holiday season, the Tribe recognizes the importance of giving back to its local communities and is committed to doing all it can to make sure everyone has a heartwarming holiday season.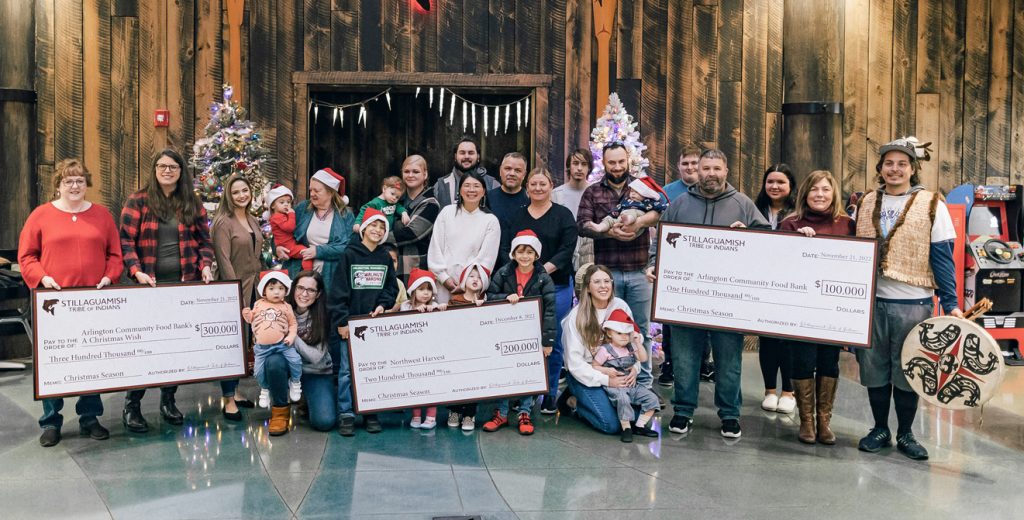 "Each holiday season we, the Stillaguamish Tribe, in addition to our normal charitable giving throughout the year, like to choose a few organizations to gift a large donation to that we feel will have the biggest impact on our direct community," says the Board of Directors of the Stillaguamish Tribe. "It is important to us that our younger generation is involved in the spirit of giving to carry on the tradition as they grow. We are grateful and happy that we are able to help families that are having a difficult time during the holiday season, we especially wanted to make Christmas special for as many children as we possibly could."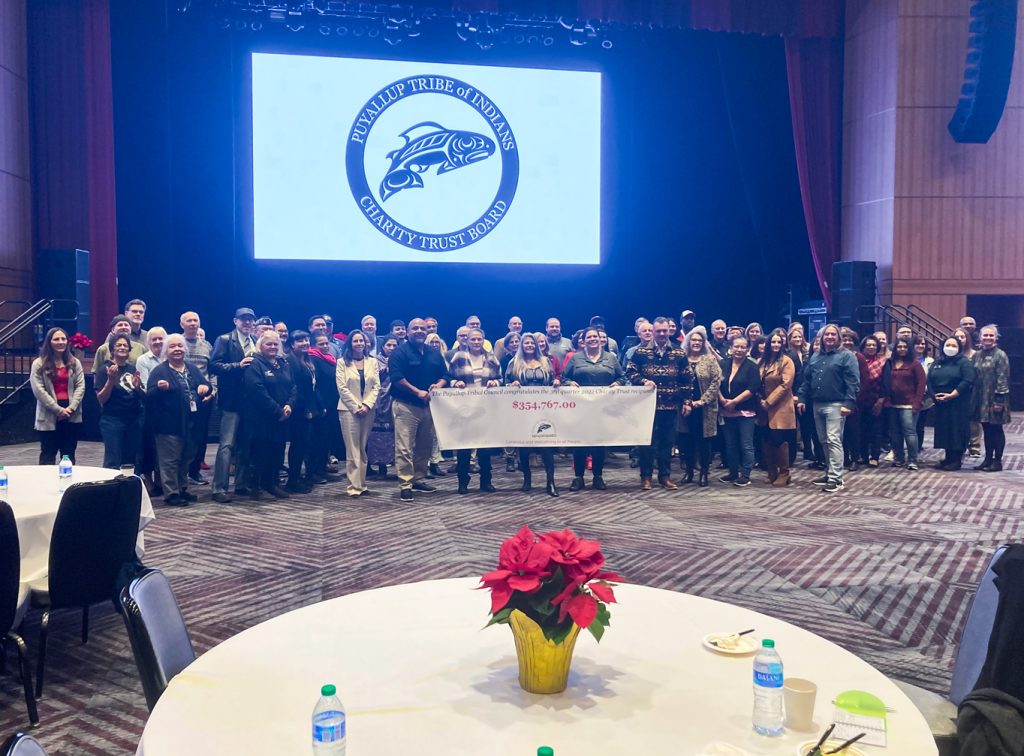 The Puyallup Tribe have lived in the Puget Sound for thousands of years and are known for their "generous and welcoming behavior to all people." Funding from their $15,000 grant to the Foundation for Edmonds School District will be used to support the Foundation's Nourishing Network program.
Each week, the Nourishing Network delivers weekend meal kits to hundreds of students in the Edmonds School District who struggle with food insecurity, wherever they are sheltered. Over the holidays, they will also provide hundreds of warm holiday meals to families in need, helping to spread joy and provide much needed support over a season that can be difficult for many.
"We are very honored to receive this grant from the Puyallup Tribe," says Deborah Brandi, Foundation Executive Director. "The grant will help us fill the hunger gap for so many children. We are so thankful for this opportunity and the chance to participate in their ceremony, it's a tremendous honor."
The Nourishing Network also provides seven pop-up pantries to help students and families who are struggling toward the end of the month. Additionally, the program provides a nine-week summer meals program to help students over the summer months who don't have access to free and reduced breakfast and lunch, a program that only runs during the school year.
---
SOURCE: The Stillaguamish Tribe and