Meadowdale winter play is a reminder that the arts should never be overlooked
LYNNWOOD, Wash., January 16, 2023—Although still in high school, the talent of the cast of Meadowdale Drama's adaptation, The Curious Incident of the Dog in the Night-Time, are beyond their years. To properly execute the multiple layers and complexity of a play like this requires a talented and intuitive cast paired with an intelligent and visionary director—lucky for its audience, this production had both!
For those unfamiliar, The Curious Incident of the Dog in the Night-Time is the dramatic adaptation of Mark Haddon's novel of the same name which published in 2004.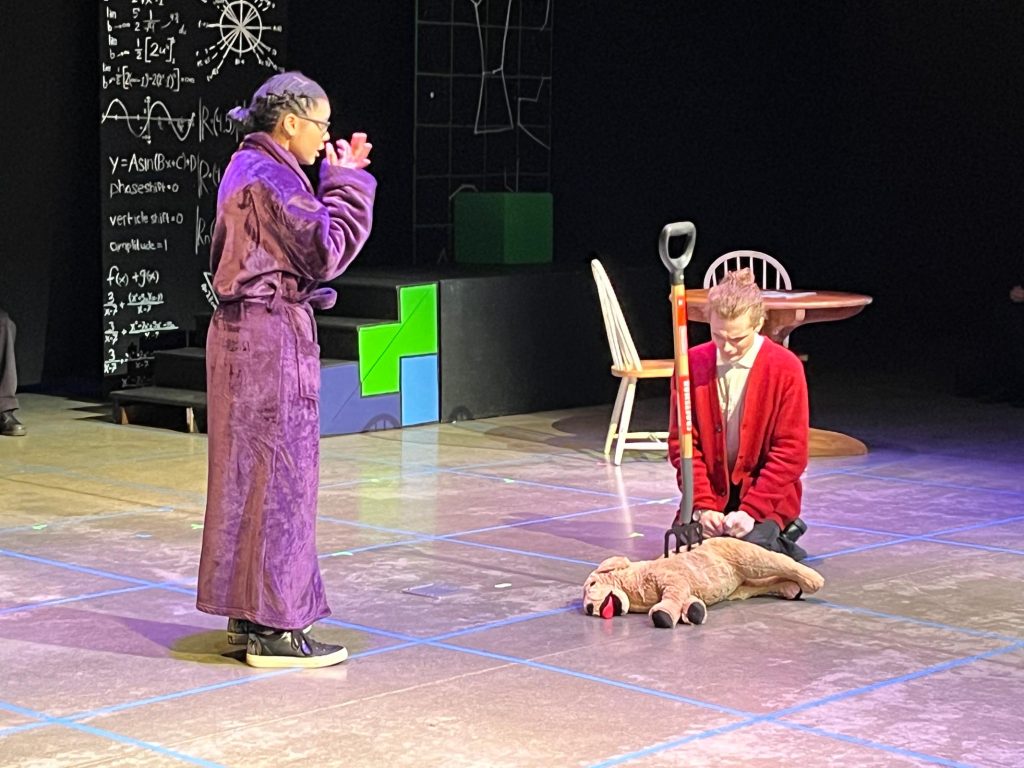 The story follows Christopher Boone, a 15-year-old English boy who embarks on solving the murder of Wellington—his neighbor's dog who was fatally stabbed with a garden fork. The play is uniquely told through Christopher's mind resulting in a sort of play-within-a-play experience. Although never specified, it is strongly suggested that Christopher falls within the autism spectrum and in Haddon's original novel there is even a blurb referencing Asperger syndrome—now called Autism Spectrum Disorder. 
It was important to Jacqueline Meyners, Director of the play and Meadowdale High School Drama Instructor, to feature proper autism representation in her cast which led to her decision to cast Josh Kretz, an autistic actor, as Christopher. Despite the strong suggestion that Christopher falls within the autism spectrum the first openly autistic actor to play him on stage wasn't until 2017 with Mickey Rowe (a Seattle native) at the Indiana Repertory Theater. 
"It is our responsibility as educators, artists, and humans to tell stories in the most authentic way possible," Meyners wrote in her Director's note.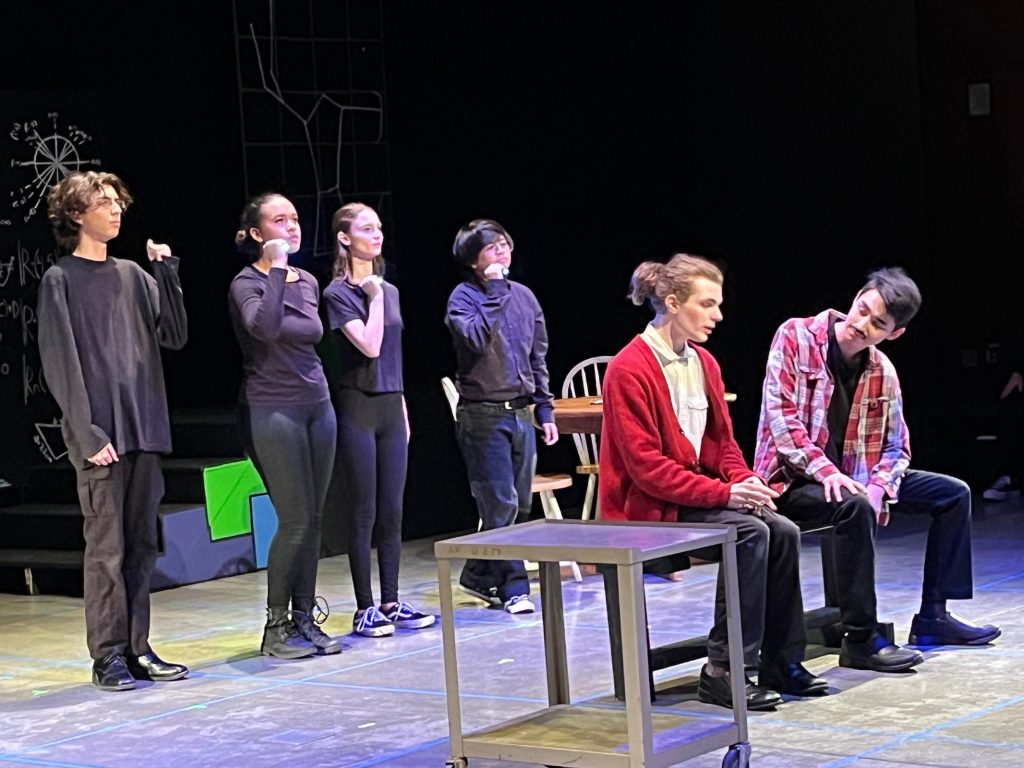 It was clear by Kretz's performance of Christopher that he had dedicated a great deal of time to not only learn his many lines of course, but deeply think about how to bring his character to life in a way many young actors often lose sight of. Subtleties such as posture, the way he walks and moves, what he does with his hands when standing idle, how he acts with his face and body when another character has the spotlight. These are just some of the idiosyncrasies Kretz brings to the stage demonstrating he is not only a deeply analytic actor but also has the talent to back up his theory.
Kretz's performance is believable, vastly emotional, and somehow manages to perfectly execute what it's like to live, day-to-day, in the shoes of a boy overstimulated by the world around him, the never-ceasing thoughts within him, and how he manages to overcome tough life hurdles when something as minute as getting on a train can take everything you have.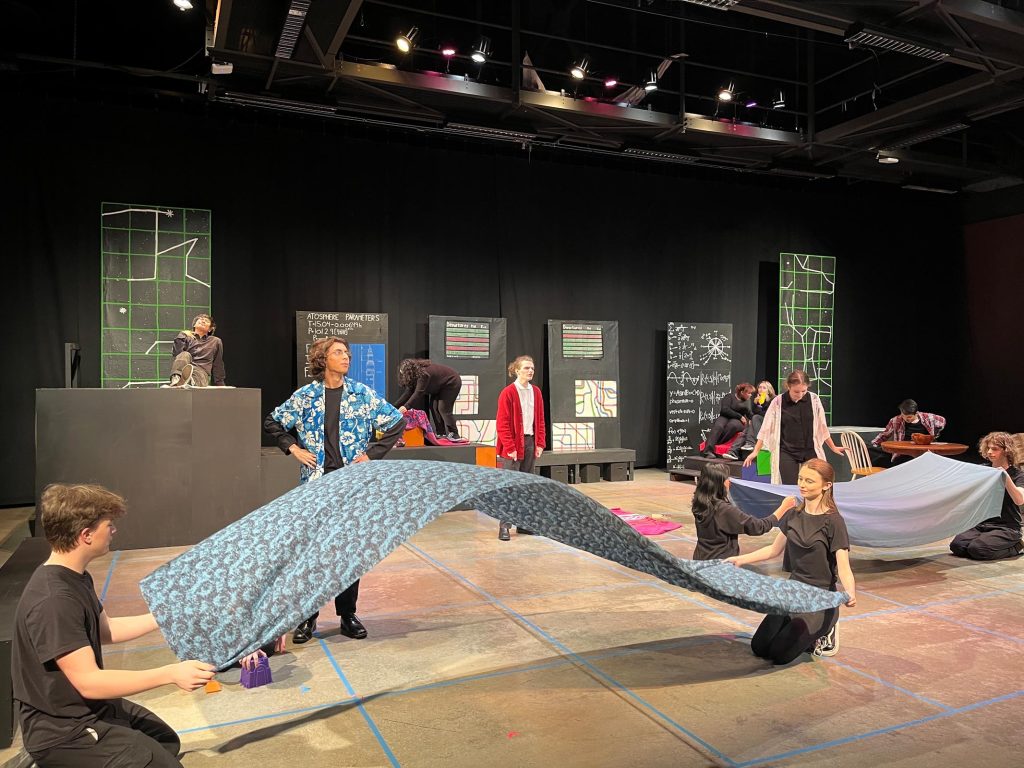 While the entire cast is great, Daryna Ilyashenko as narrator, Nick Irwin as Ed Boone, and Jo Ray as Judy Boone are three performances that deserve specific attention second to Kretz.
Irwin's portrayal of Christopher's father, Ed, accurately interpreted the subtext that gives the part blood—a father trying to balance raising a neurodivergent child single-handedly while dealing with his own problems after being abandoned by his wife who left the family for another man. Irwin brings a multi-layered performance to this character that leaves the impression the character is managing his demons well, and also loves his son very much despite whatever challenges and stress he brings.
Ray's depiction of Christopher's mother Judy as smug, posh, and somewhat selfish provides insight as how mother could walk out on the family—although never explicitly stated in the script. Bringing an answer, through Ray's performance, to an unanswered question is another example of smart acting typically found beyond the years of high schoolers. It shows that Ray, just like Irwin and Kretz, didn't simply read the script and learn the lines but asked questions, analyzed, and filled the gaps of information with an authentic performance the way their characters would if they were actually living and breathing.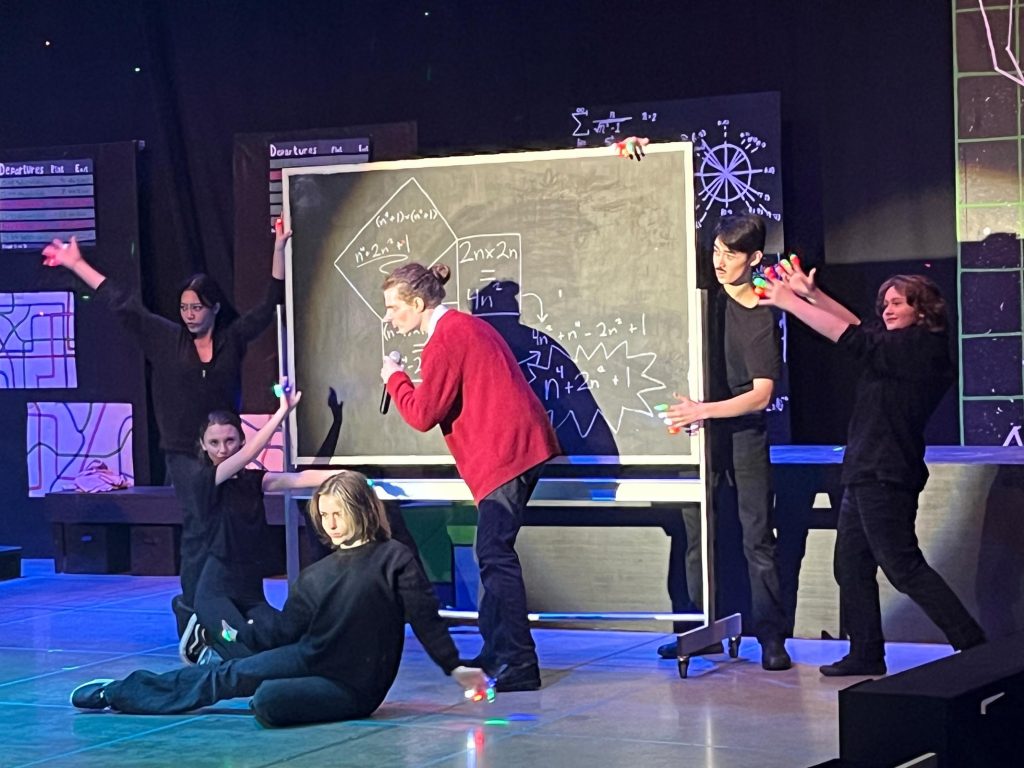 The set, while kept minimal, was a creative approach to illustrating the inside of an autistic boy's head—cubes and grids, trivial physics formulas, train schedules, and constellations scribbled on boards, and an upper level connected by Tetris block stairs (each of these things are referenced somewhere in the story).
One of the smartest, and more creative approaches the play's direction took, however, is its use of props. Instead of physical objects, actors themselves played the part of props from a microwave; to an escalator; to a door; to even a train and the landscape it sped through. Having to bend their bodies into different shapes and create different sounds required a level of physical acting talent that warrants a special applause even for the production's extras. 
While The Curious Incident of the Dog in the Night-Time is not without its humorous moments, it is first-and-foremost a drama about a boy who has trouble making sense of a world that is already hard to make sense of. What starts as a whodunnit murder mystery eventually morphs into a journey, both internal and external, toward self-discovery.
Beginning as a character who couldn't even take his first step on a train, to one who is confident to do anything, The Curious Incident of the Dog in the Night-Time is both an important window into the inner workings of autistic minds, but also a lesson in tenacity. What's more, Meadowdale High School's performance and its many layers that could easily be missed with a less talented crew, just goes to show how important high school arts are and how much talent lies within these departments.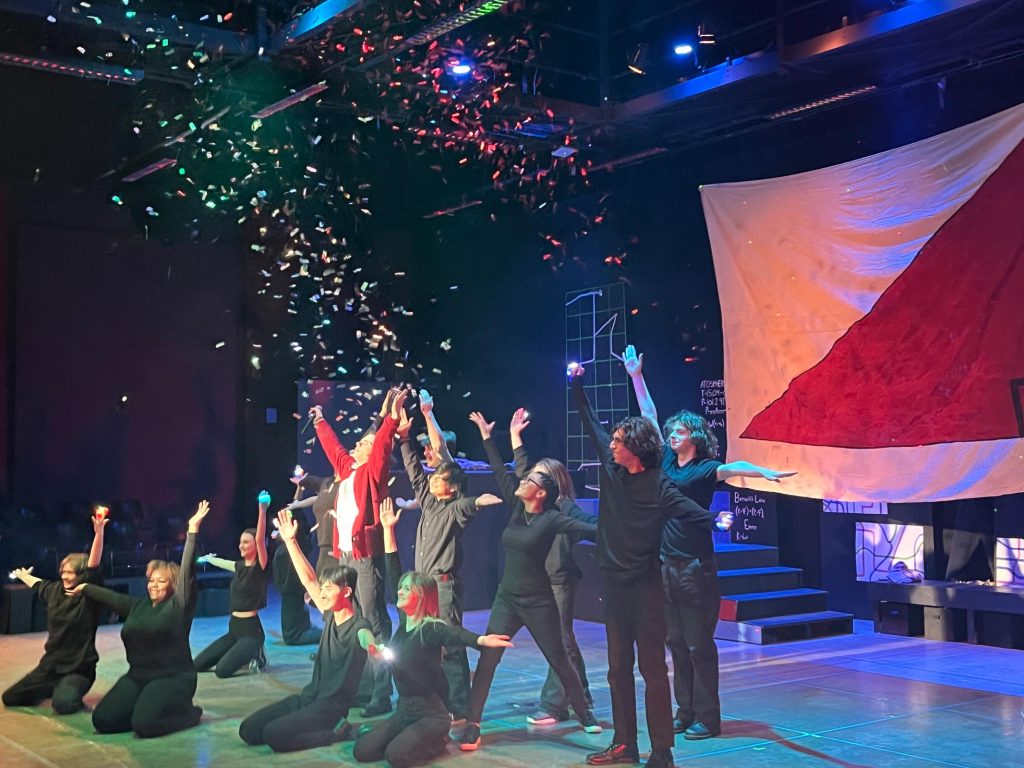 The play ran three evening showings from January 12 through Saturday, January 14, packing in a mixed-aged crowd of hundreds. 
The Meadowdale Drama Department will return to the stage on May 11 through 13 with Newsies, and DramaFest on June 9. 
To read the Lynnwood Time's preliminary write-up of the production, which includes interviewing several of the actors, Stage Manager Lucy Knudson, and Director Jacqueline Meyners, click here. 
---
Editor's Note: This article was written with an editorial slant. All thoughts and opinions are of the author.