"Unlawful," "Sickened," "Heinous:" Local law enforcement respond to fatal beating of Tyre Nichols
SNOHOMISH COUNTY, Wash., January 28, 2023—Local law enforcement agencies throughout Snohomish County released statements of disgust to the video footage of the fatal beating of Tyre Nichols, 29, by five Memphis Police Officers on the evening of January 7, 2023. Nichols died on January 10 at St. Francis Hospital.
"The cruelty endured by Mr. Nichols, compounded by the inaction of those officers around him, has left police officers, including all those at the Mukilteo Police Department, feeling sickened, angry, and appalled," the Mukilteo Police Department released in a statement Friday. "Our hearts and thoughts are with the family, friends, co-workers, and community of Mr. Nichols."
[Full video] City of Memphis releases video clips that show police beating Tyre Nichols, a former Sacramento resident.

The five officers charged with Nichols' beating and death have been released from jail on bail. https://t.co/IYqEK2nYpD #TyreNichols #TyreNicholsVideo pic.twitter.com/Log485e3ap

— Matthew Keys (@MatthewKeysLive) January 28, 2023
The FedEx worker, skateboarder, and father of a 4-year-old, was less than 250 feet from his mom's home as he cried and screamed "Mom! Mom!" as two officers repeatedly strike him in the face.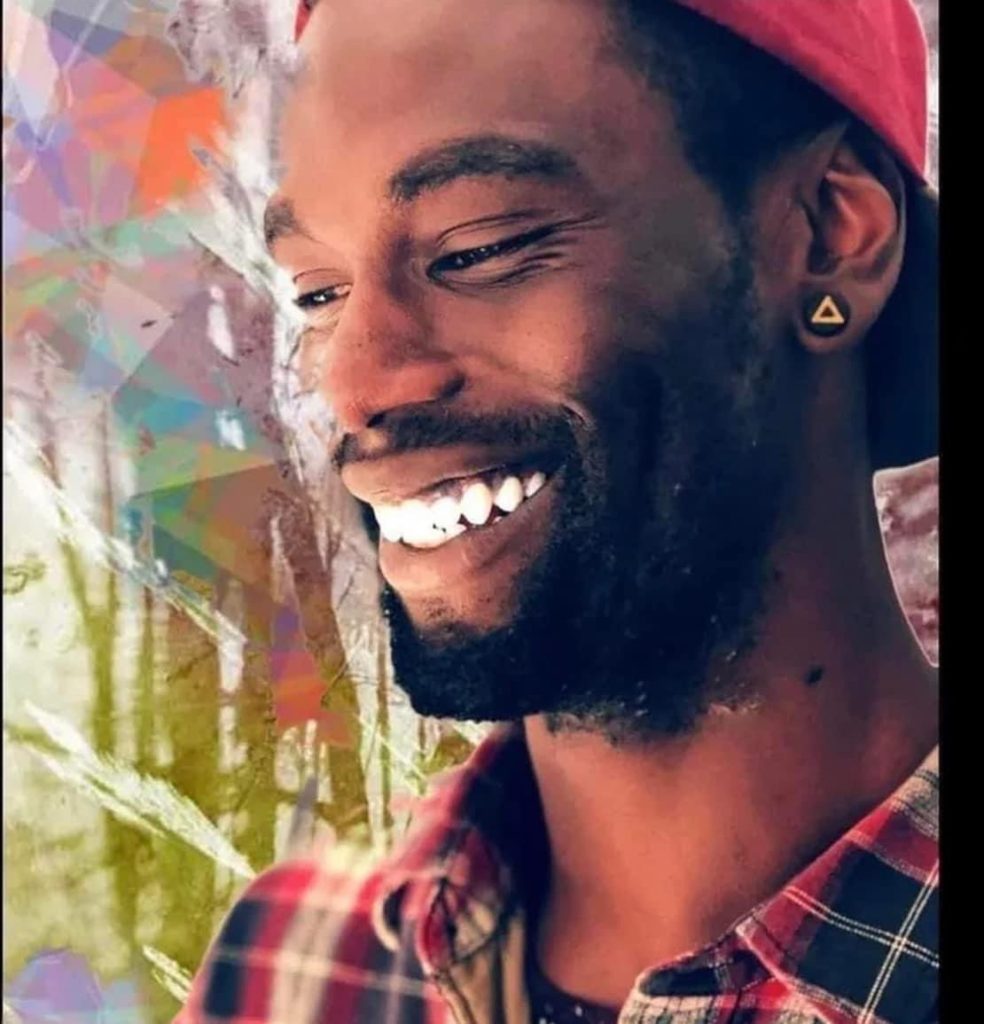 The graphic video from both a SkyCop camera and officers' body cameras shows Memphis Police of the SCORPION— Street Crimes Operations to Restore Peace in Our Neighborhoods—unit using pepper spray at least twice on Nichols. They also tased him at least twice, struck Nichols multiple times with both open and close fists to the face, repeatedly kicked him in the face and torso, and struck Nichols with a baton at least five times in the head.
For 22 minutes, Nichols blooded, was propped against a police vehicle as he sat on the ground, until an ambulance arrived. He was taken out by stretcher. At St. Francis Hospital where Nichols was taken, he suffered cardiac arrest and was on kidney dialysis.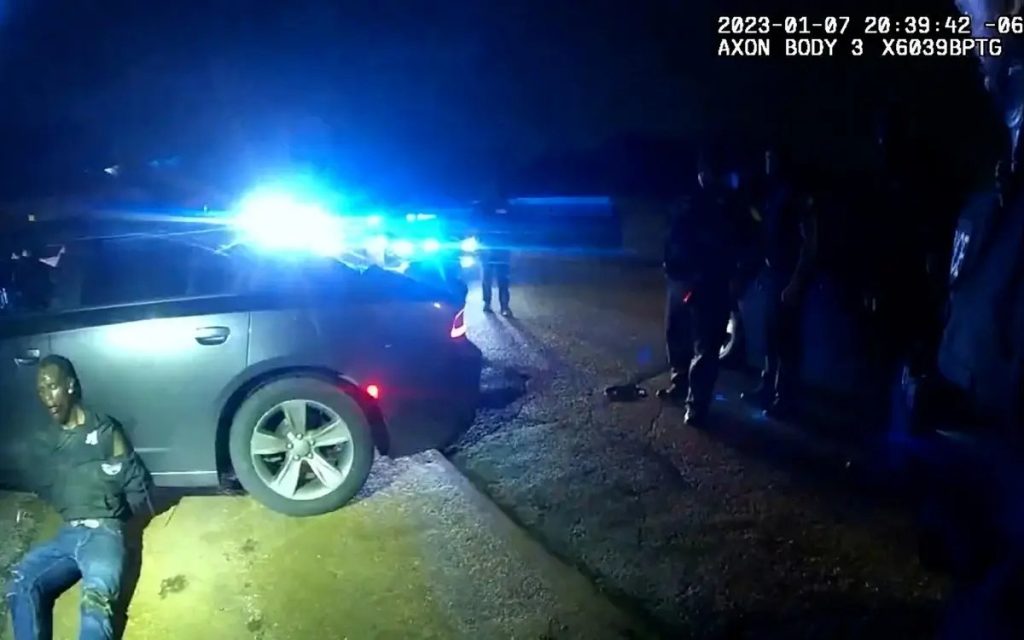 "I just feel like my son was sent here on assignment from God and his assignment was over and he was sent back home," RowVaughn Wells, mother of Tyre Nichols, said during a CNN interview with Don Lemon. "God is not going to let any of his children's names go in vein, so, when this is all over, it's going to be some good and some positive; because my son was a good and positive person."
In a statement released by the Snohomish County Sheriff's Office on Saturday, the law enforcement agency called the actions by the five members of Memphis PD's SCORPION unit as "senseless and unlawful."
"Last night, the body camera footage showing the senseless and unlawful beating of Tyre Nichols was released by the Memphis Police Department," the statement opened. "We are deeply saddened to see the disturbing actions by these law enforcement officers."
The Memphis Police Department announced on Saturday that it has permanently deactivated its "Scorpion Unit," Fox News reports.
"While the heinous actions of a few casts a cloud of dishonor on the title SCORPION, it is imperative that we, the Memphis Police Department take proactive steps in the healing process for all impacted," the announcement deactivating the SCORPION unit reads.
— Memphis Police Dept (@MEM_PoliceDept) January 28, 2023
The Tennessee Bureau of Investigation (TBI) announced Thursday that the Shelby County Grand Jury returned indictments, charging all five Memphis Police Officers—Tadarrius Bean, Demetrius Haley, Emmitt Martin III, Desmond Mills, Jr., and Justin Smith—with seven counts each: Second Degree Murder, Aggravated Assault, Aggravated Kidnapping with Bodily Injury, Aggravated Kidnapping in Possession of a Deadly Weapon, Official Misconduct, Official Misconduct – Refrain, and Official Oppression.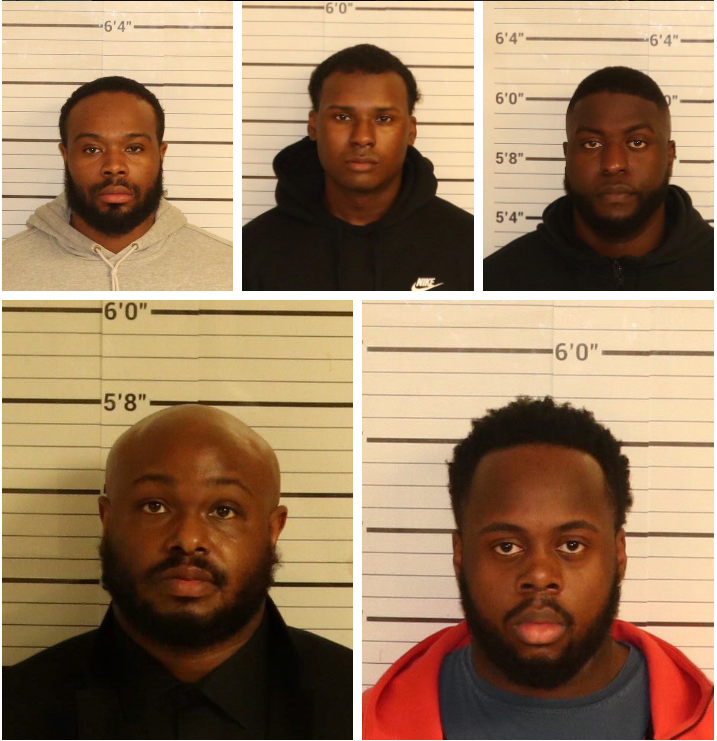 According to Tennessee law, second-degree murder is a Class A felony punishable by 15 to 60 years in prison.
All five officers have been fired by the Memphis Police Department and were booked into the Shelby County Jail. All five former police officers bonded out of jail Friday morning. Martin and Haley are out on a $350,000 bond, and the other three each posted bond of $250,000.
TBI agents began its use-of-force investigation surrounding the arrest of Tyre Nichols on January 8, at the request of 30th Judicial District Attorney General Steve Mulroy.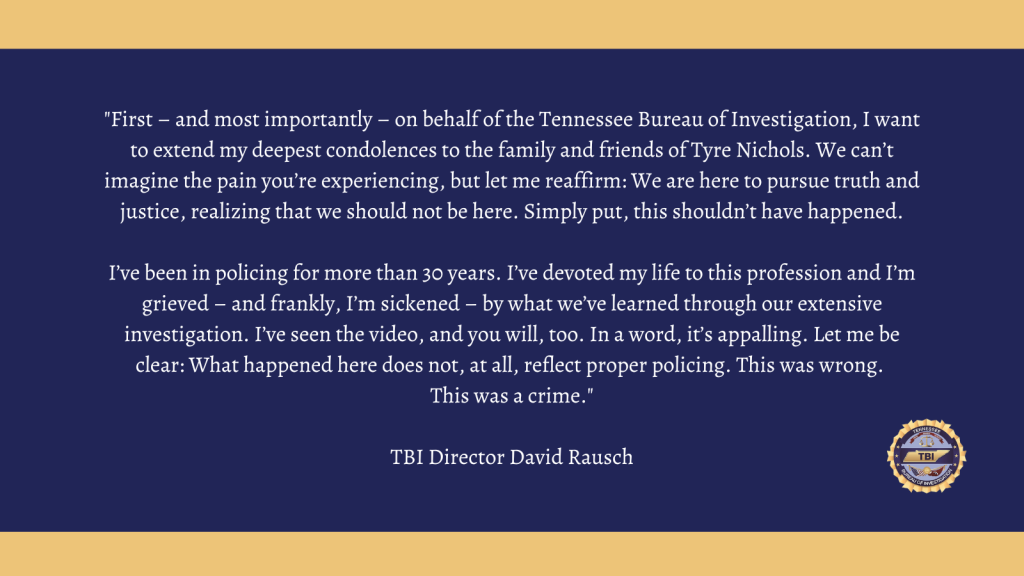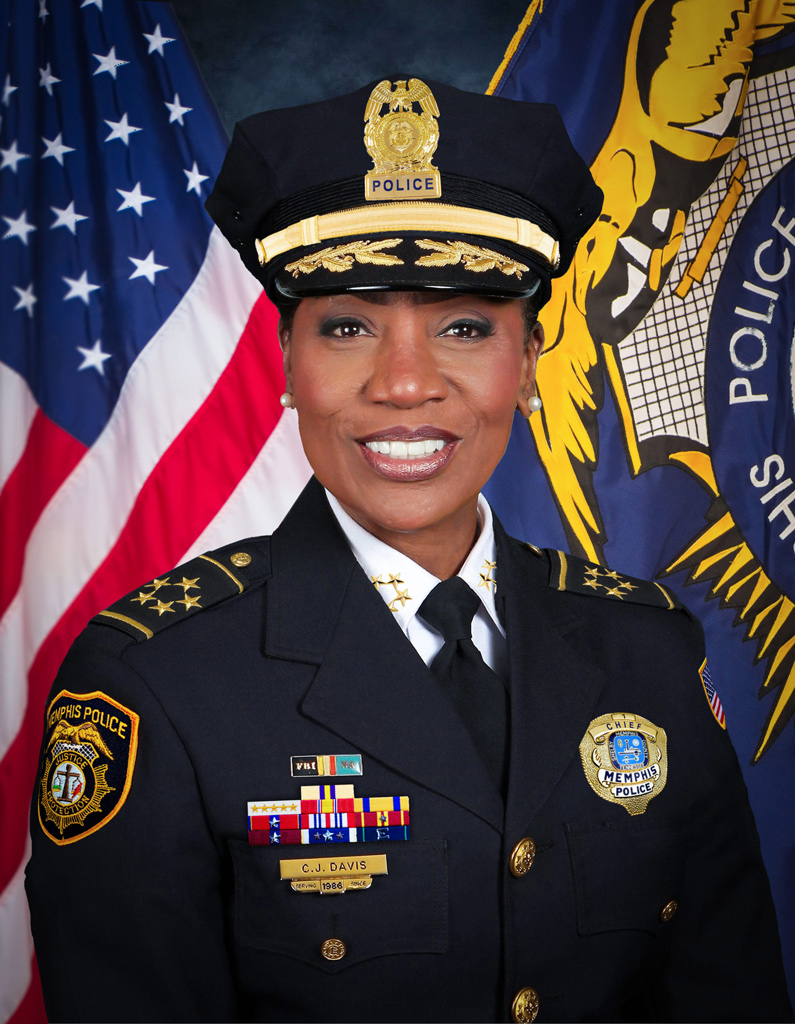 "The first encounter occurred at approximately 8:22 p.m. [on January 7, 2023] during a traffic stop at the intersections of Raines and Ross Roads, in which evidence shows Nichols ran from officers during a physical altercation," TBI released in its statement. "A second encounter occurred a short time later around Castlegate Lane and Bear Creek Cove, which also included a physical encounter, after which Nichols, 29, was hospitalized in Memphis with critical injuries."
Officers pulled over a vehicle for suspected reckless driving, according to a statement from Memphis police. However, Memphis Police Chief Carelyn Davis shared that there is no dashcam video footage of the incident and no evidence to corroborate the officer's justification to pulling Nichols over.
On January 18, the Department of Justice announced a civil rights investigation has been opened into the death of Nichols.
"Last week, Tyre Nichols tragically died, a few days after he was involved in an incident where Memphis Police Department officers used force during his arrest," Kevin G. Ritz, US Attorney for the Western District of Tennessee, said in a statement.
Law enforcement statements on the death of Tyre Nichols
Below are statements released from law enforcement agencies in Snohomish County: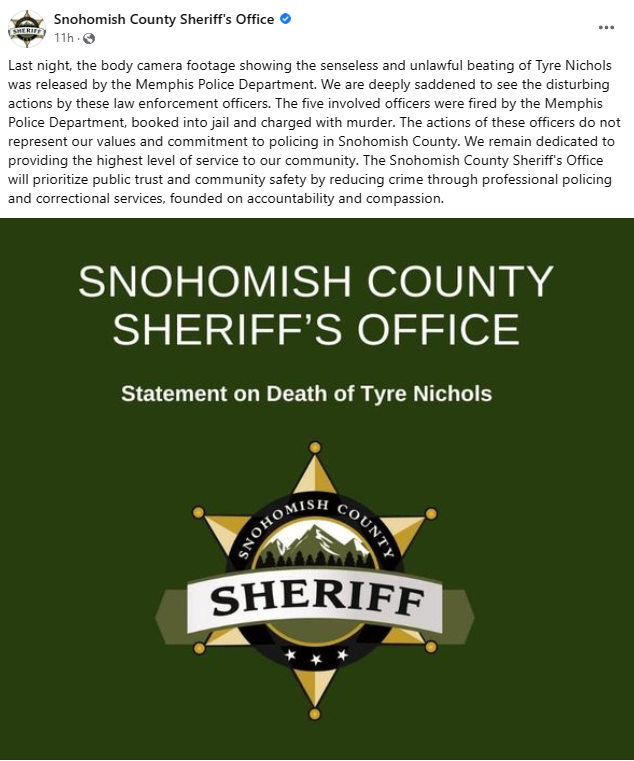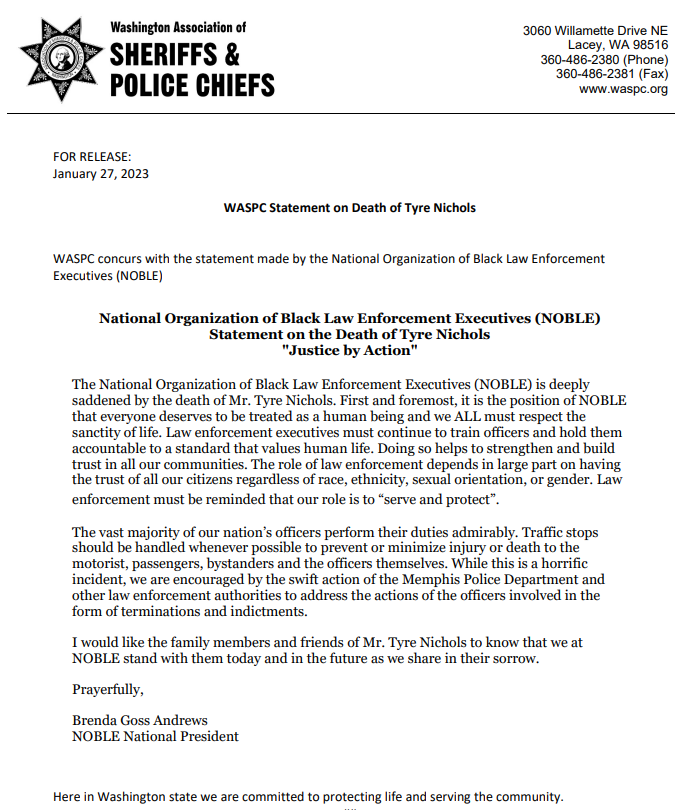 ---
Article Updates
January 29, 2023 [12:32 p.m.]: Added statement by Lynnwood Police Department, Arlington and WASPC shared statement