Kristen Michal sworn-in as Marysville School District Board of Director
MARYSVILLE, Wash., January 29, 2023—At a special school board meeting on Thursday, January 26, Marysville Superintendent Dr. Zac Robbins administered the Oath of Office to the newest member to join the Board of Directors, Kristen Michal.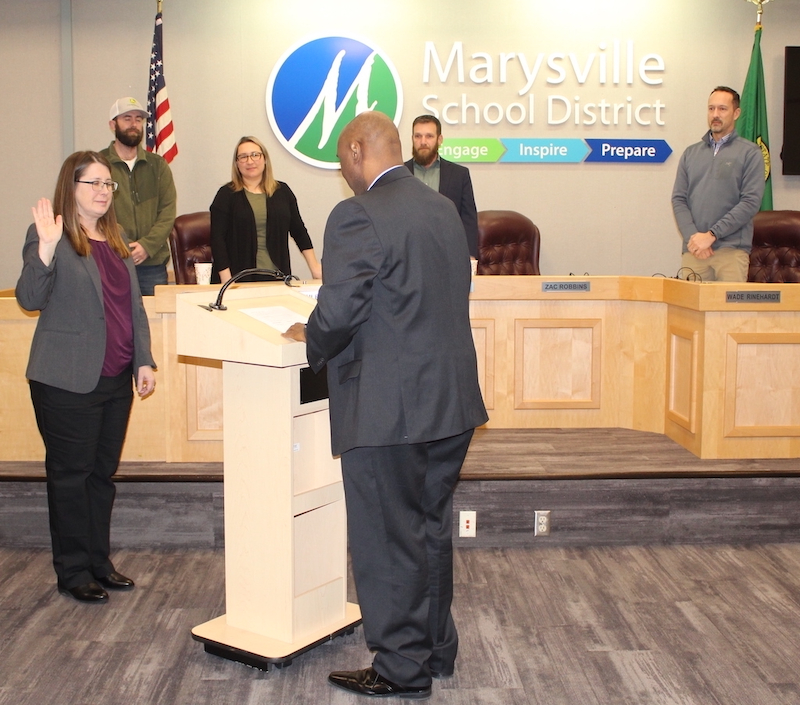 Michal was appointed to serve as the District Director for Area 5 — the southern area of the school district. She will fill the seat for the remainder of the term which expires in November of 2023. She will participate in her first official board meeting on February 6, 2023, which will be held at Cascade Elementary School.
On November 28, 2022, the District announced that it was accepting applications to replace the position of Area 5 Board Director, after Katie Jackson resigned from for personal reasons. Seven applications were received by the District and after a screening and scoring process, the Marysville School Board of Directors narrowed the applicants down to three finalists.
On January 11, 2023, in a Special Session meeting, the Board interviewed the three finalists —Kristen Michal, Cassandra Denn, and Brock Wolitarsky. Following the interviews, the Board deliberated in an Executive session to discuss the candidates' qualifications. On January 18, the Board publicly voted and selected Kristen Michal to fill the vacancy.