Charges dropped, investigation ongoing against Lake Stevens teacher
LAKE STEVENS, Wash., February 1, 2023—Snohomish County prosecutors dropped all charges on Monday against Mark Warren Hein, a Lake Stevens High School teacher, who was arrested last week for sexual misconduct with a minor.
Lake Stevens PD is continuing its investigation and is working with the Snohomish County Prosecutor's Office to refile pending those results, Detective Jeff Young, of the Lake Stevens Police Department, told the Lynnwood Times.
Hein was placed on administrative leave this school year while allegations of inappropriate and unprofessional conduct were investigated by local law enforcement. He was arrested by the Lake Stevens Police Department, January 25, and was booked at the Snohomish County Jail. He posted bail that evening and was released.
The charges included two counts of communicating with a minor for immoral purposes, two counts of assault with sexual motivation, and two counts of sexual misconduct with a minor all gross misdemeanors punishable up to 364 days in jail and $5,000 in fines. All of these charges have since been dropped and his arraignment, scheduled for last Tuesday, was cancelled.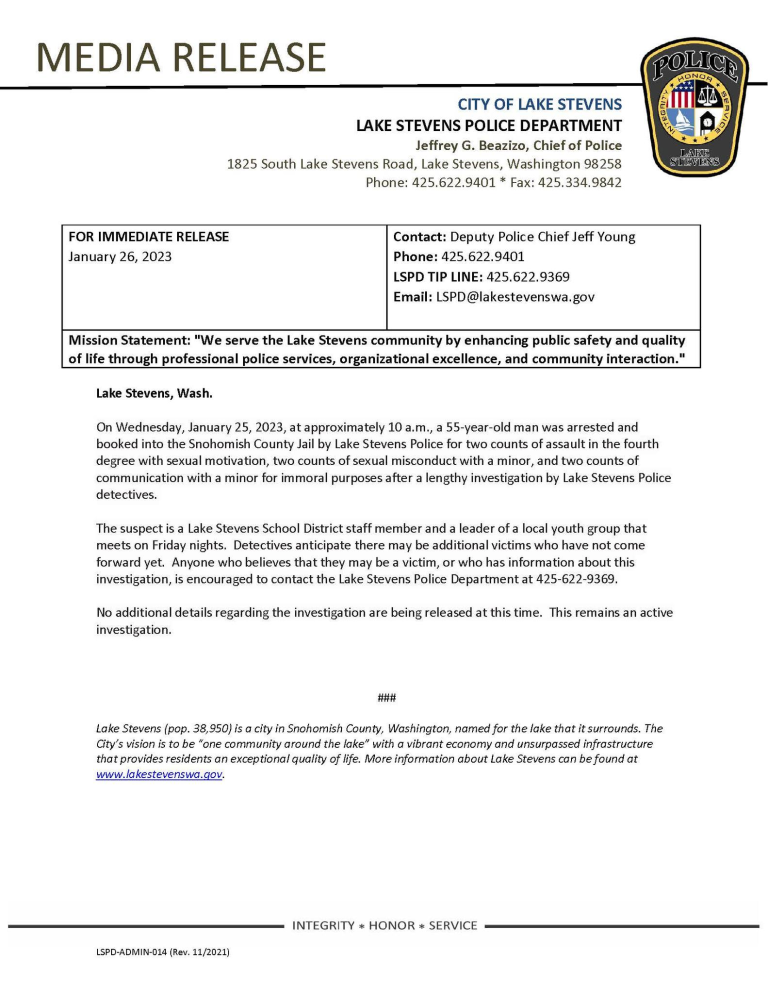 Hein taught Calculus while coaching varsity boy's basketball and tennis at Lake Stevens HS, where he has worked since 2003 until being put on paid administrative leave last August. He also volunteered at Lake Stevens Young Life but left in 2022, Kaitlyn Russum, of Lake Stevens Young Life, confirmed.
Russum did not comment on whether there were observations of suspicious behavior or any impressions at all on Hein during his volunteer work at Young Life.
Hein's alleged victim, a 15-year-old Lake Stevens HS student, confided in her therapist several things relating to the math teacher and coach last summer leading to a mandatory report to Child Protective Services. Despite the student bringing the issue to school administration it is unclear whether the school also reached out to CPS, which is a state requirement per SB-6171 that was signed into law by Governor Gary Locke in 2004.
The Lynnwood Times reached out to Lake Stevens High School administration asking what protocol they took following the student's claims, but they declined to comment.
Bill Young, Lake Stevens resident and father of a Lake Stevens HS student, told the Lynnwood Times he is "concerned with how the administration handled it" based on reading the probable cause affidavit, independent research, and discussions with both parents and students.
"The Lake Stevens Detective went out on a limb and filed charges after a comprehensive investigation, at the very least [Hein] admitted he sent emails and texts that were probably not appropriate to send to a teenage girl, and this young lady went to a certified counselor who diagnosed her with PTSD because of it, and thought enough of this situation that she immediately contacted CPS," said Young. "When I put these three things together it leads me to thinking I'm 90% sure there's some validity to these lady's claims."
Young continued that the "gossip" surrounding parents and students is there may be multiple victims and he wondered if that could be the "impetus behind the prosecutor saying they're gonna pull back for now." He clarified that this is merely supposition, however.
Young has spent 15 years working as a Safety Officer in two different school districts—Mukilteo and Shoreline—led lectures at Universities, and has authored newspaper editorials on school safety. With a background in investigation, he said the whole situation "raises red flags."
"My heart goes out to this young lady and her family. This should have never been allowed to happen. It is my great hope and prayer that this young woman receives the support, encouragement and healing that she so richly deserves," said Young.
In the Lake Stevens PD's report Detective Parnell stated that, as her investigation progressed, she learned of a second victim who had similar complaints about Hein's behavior.
The charges were dropped Monday without prejudice meaning the prosecutor is still reviewing the case rather than it being concluded. Hein's attorney, Laura Shaver who owns her own private practice, took the dropped charges as a victory for her client telling the Everett Herald that Hein had been "vindicated" and "absolved of wrongdoing." The Lynnwood Times reached out to Shaver's office, but she has not returned our calls.
Hein's investigation was picked up by Detective Kristin Parnell. Parnell has been successful in numerous investigations including an incident last year when a Lake Stevens Mini Mart employee attempted to groom and engage in sex with a minor.
Detective Parnell found probably cause for Hein's arrest last week based on a month-long investigation which she believed substantiated the student's claims – including Hein's disciplinary records with the school acquired via a search warrant.
The student told Child Forensic Interviewers at Dawson's Place, in Everett, Hein's behavior began last September when he would caress her hair and inappropriately touch her upper thigh, refusing to stop when asked. He would do this at least once per class, she said. Hein would also exchange notes with her that were personal in nature, invited her to an overnight Young Life camp, and asked where she was competing for a cheerleading competition so he could attend. In one of these notes Hein asked what the student and her boyfriend do together, which the student photographed as evidence. The student also noticed her grades would change to A's, undeservedly, even for an assignment she failed to turn in. When she asked Hein why she received an A he reportedly replied "don't you need better grades?"
According to records obtained by the Lynnwood Times, Hein assigned the alleged victim to sit next to his desk during class where she remained throughout the school year despite other students' desks rotating monthly. When the student asked why, Hein responded "Just leave it. Don't you want to be next to me in class in case you need help?" In some cases the proximity of the student's desk to Hein's was so close the two were "side-by-side", the report states, even appearing to be touching knees in a photograph she took as evidence, although the photograph does not show any faces.
On September 8, 2021, Hein sent an email to the student, and one other female student (also a minor), saying "Hey you two. I am enjoying you two in class already. You bring energy and effort and are just fun! Looking forward to the year and getting to know you both better." Some emails sent to these two students were outside school hours and from his iPhone – not his work computer.
In once instance, the school was only allowing students to use one restroom on campus due to a recent TikTok trend. Hein told the student if she needed to use the restroom she should do so, as to have enough time to gather her things and make it to her next class. The bell rang while she was in the restroom and she immediately felt Hein had misled her into thinking she had more time than she had. When she returned to Hein's classroom he was alone during what was a scheduled "planning period" – meaning he did not have any other students during this time. She also noticed her belongings had already been packed in her bag. Hein said he had done it to make it "easier on her" pleading her to stay with him instead of going to her next class. The student said she did not want to stay but Hein insisted saying he could write a note excusing her from her next class. When she finally left she noticed her bag had been stuffed with candy, which she knew was not there before and was the type of candy Hein typically kept in his desk. Hein had previously said that the candy was "not for everyone" but would frequently ask the student if she wanted any before class.
At least one of the two students (possibly both) would frequently be asked to stay after Hein's class for no other reason but to talk about personal things – which often resulted in the student being late to their next class and made them feel uncomfortable, the report states.
Hein also approached the student's boyfriend at the time, who was trying out for the boys' basketball team, and asked him questions like: "how is [redacted] as a girlfriend?", "What do you you two do together?", and "What do you two do together when you're alone?"
Hein also asked to take pictures with the student frequently and asked her to send them to him, including a picture taken of her on pajama day – when her outfit exposed a portion of her chest and midriff. Another student reportedly was also asked to take pictures with Hein in a similar way. According to the report, Hein also asked both students if they had SnapChat, took one of their phones and took a "selfie" of himself on one of their SnapChat apps.
When the student and her mother approached school administration about Hein's behavior, they transferred her to a new math class and reportedly spoke to Hein, ordering him to stay away from her. Hein did not heed the administration's request and continued to visit her in her new classroom frequently, continuing to caress her arm and asked if she was "mad" at him for transferring classes.
Hein admitted to Officers that he sent students emails outside school hours and that he was also aware of the school's order to refrain from contacting her. The Lynnwood Times has submitted a request for these emails, but Hein could seek a court order to have the records blocked. The Times is also awaiting records from the OSPI to find out what action the administration took following the student's complaint.
As a result of Hein's behavior the student began to have epileptic seizures that became so intense she could no longer attend school or school sporting events.
Hein, when interviewed by investigators, said his behavior was a "big misunderstanding" and shrugged off his physical touching, which he admitted, as just being an affectionate person by nature. He also said that every conversation and note exchange was initiated by the student. Hein denied talking to the student's boyfriend and approaching her in the hallways after he was ordered by the school to refrain contact. Multiple other students who witnessed these interactions said otherwise.
Dr. Ken Collins, Superintendent for the Lake Stevens School District said in a released statement that the district has fully cooperated with the police investigation and the Snohomish County Prosecutor's Office throughout the process and will continue to do so.
"I know that this significantly impacts our Viking Community, and the Lake Stevens Community as a whole. Please know that there are many aspects and details of this investigation that we legally cannot comment on. We are not attempting to hide anything or to minimize the situation. We are simply bound by confidentiality laws that disallow us from discussing details," Dr. Collins said. "Our focus remains on the education and support of our students."
The school district encourages students to report any instances of inappropriate conduct and all reports will be taken seriously and thoroughly investigation.
"While we are unable to provide further details, support is available to any student who needs it. We have an incredibly strong community, and we will continue to work together to get through this challenging time," Dr. Collins continued in a prepared release.
This is the second instance of a Lake Stevens High School teacher in recent years after Thomas "Chris" Mattingly was put on administrative leave for sexual misconduct, for allegedly having a relationship with a student dating back to 2001.
Mattingly, after leaving Lake Stevens High School, relocated to a school district in Shepherd, Montana where he was subsequently put on leave for an additional sexual misconduct incident. Prosecutors did not file charges since the student was of the age of 18 and had graduated after the relationship started.
Students should report emergencies to 911. Non-emergency information can be shared with any staff member or on the anonymous SafeSchools Tip Line.
This is a developing story, updates to follow…
UPDATED FEBRUARY, 3, 2023 WITH ADDITIONAL INFORMATION FROM ACQUIRED POLICE RECORDS.