Lynnwood approves ARPA funds to tackle gang-related graffiti
LYNNWOOD, Wash., March 1, 2023—The Lynnwood City Council approved several uses of American Rescue Plan Act (ARPA) funds during their business meeting on February 27.
The largest of these was a $388,432 request for ARPA funds made by the Parks, Recreation & Cultural Arts Department for efforts to combat graffiti and passed in a 6-0 vote by the council. Councilmember Joshua Binda was not present.
"Last week, [we] provided you an extensive presentation on the issues we are facing in our parks. I think nothing has really changed since last Monday — we've been tagged even more this week. It's very unprecedented," Parks, Recreation & Cultural Arts Department Director Lynn Sordel said to the council. "We believe the proposal we've submitted to you using ARPA money is a sound approach. It would allow us to provide badly needed help for a very overworked team."
The parks department requested funds to hire two limited-term, full-time employees (FTE) and for the subsequent supplies needed. The two employees would primarily focus on responding to and removing graffiti within 24 hours in Lynnwood.
RELATED ARTICLE: Park tour of Lynnwood: How safe is your park?
According to both the parks department and Lynnwood Police, quickly removing graffiti tends to lower the amount of tagging overall.
"The longer it takes us to get going on this, the more entrenched those gangs and entities are going to be and the harder it will be to root it out of our community," Councilmember Patrick Decker said. "We don't have any time to waste on this. We can't wait two weeks, three weeks, a month or two months to figure out where the fundings come from."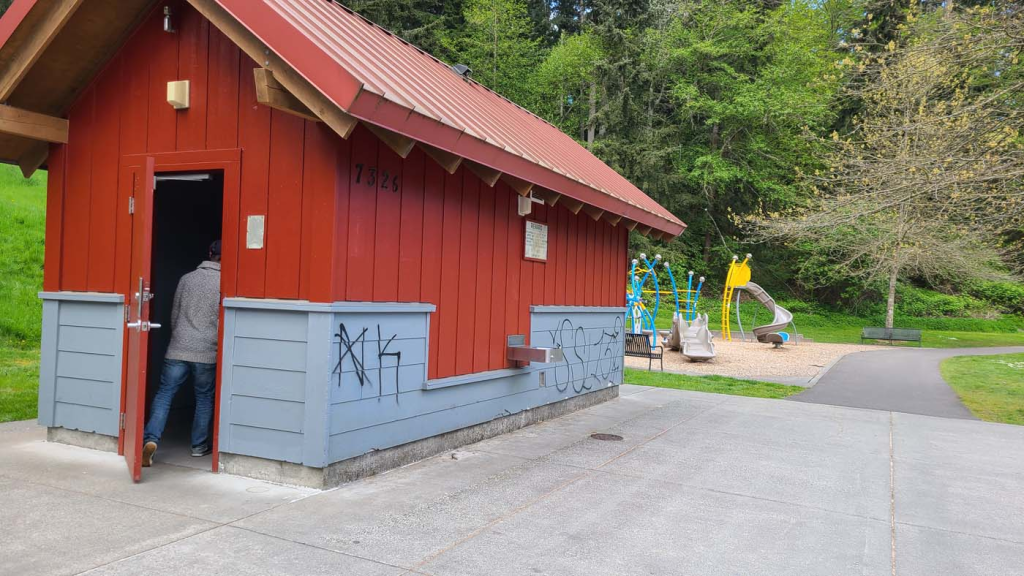 Councilmember George Hurst moved to amend the motion to utilize money from the general fund instead of utilizing ARPA funds. According to Hurst, recent sales tax revenue for Lynnwood exceeded financial forecasts — with 2021-2022 sales tax revenue doing so by $895,000 and January 2023 by $650,000.
"And so, I do believe the general fund can support the park's request of $388,432 for the two FTE positions and that those funds are available now. There will be no delay," Hurst said. "We have about a million dollars plus in ARPA funds before we make a decision tonight and I really do believe these should be used for community needs and not hiring city FTEs."
Hurst went on to suggest that the council instead consider other requests, such as the Northwest Veterans Museum discussed last meeting, Homage Senior Services, the Human Services Commission's ask of $327,520 for a school-based mental health program, and a family housing academy. Councilman Hurst's wife, Pam Hurst, serves on the Human Services Commission.
The amendment failed in a 1-5 vote with other council members highlighting that the park's request fits within ARPA guidelines. Those against the amendment also pointed to the need to utilize the remaining temporary ARPA funds before they expire and that the added positions are for a limited-time program. Should the city evaluate that the program is still needed after two years, then city funds can be allocated as such.
The aforementioned request from the veterans museum was amended to include other Heritage Park entities — the Lynnwood-Alderwood Manor Heritage Association and the Sno-Isle Genealogical Society — and was approved by the council in a 6-0 vote. Each entity was allocated $2,500 from ARPA funds for pandemic-related relief.
The next phase of the Lynnwood Wastewater Treatment Plant was also discussed during the meeting: the bid to construct temporary systems to deal with sludge while construction continues. This would not only include storage of sludge meant to be hauled away, but the transfer and odor control systems as well.
The Public Works Department presented the need to proceed to this phase during the council meeting on February 8 as the incinerator system currently dealing with sludge is failing, causing sludge to build up at the plant.
The $2.1 million contract to McClure and Sons, Inc of Mill Creek passed as a unanimous consent agenda item during the meeting. The bid of $1,929,643.73 includes a $192,964.27 contingency for the project.
To report any issue with a park, alert park and maintenance crews by clicking here.