Hundreds filled Rosehill for a celebration of womanhood
MUKILTEO, Wash., March 8, 2023—Over 200 people from Spokane to Edmonds, British Columbia to Oregon, filled Rosehill Community Center on Friday, March 3, for 13th annual International Women's Day awards—a night celebrating the accomplishments of womanhood. The event was organized by Mukilteo resident and community organizer Ayesha Riaz Khan.
"What I am seeing from you is a spark," Ayesha told attendees in her opening remarks.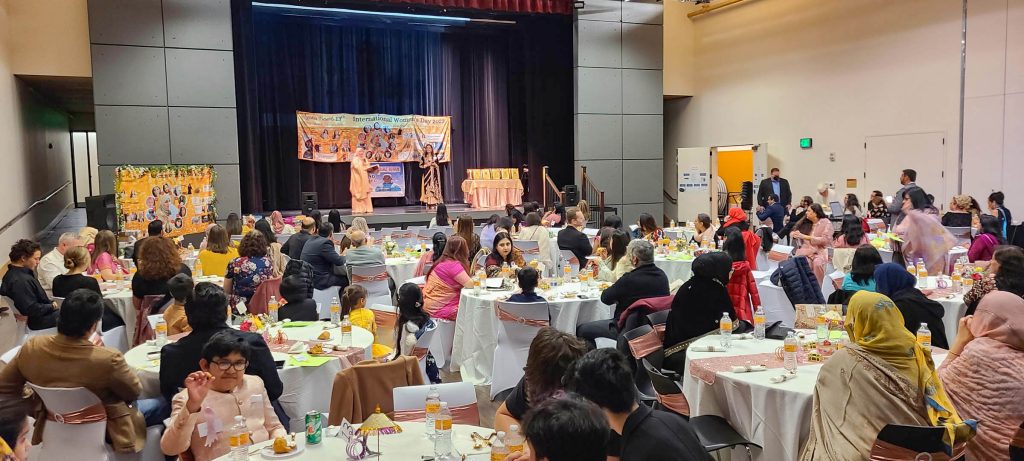 As an engaged resident of Mukilteo, Ayesha has worked on several projects supporting refugee families, and leading the communication panel of the Islamic Center of Mukilteo as a board of director. She is the wife of Mukilteo Councilman Riaz Khan, mother of their three kids, and is a substitute teacher within the Mukilteo school district, specializing in English and history.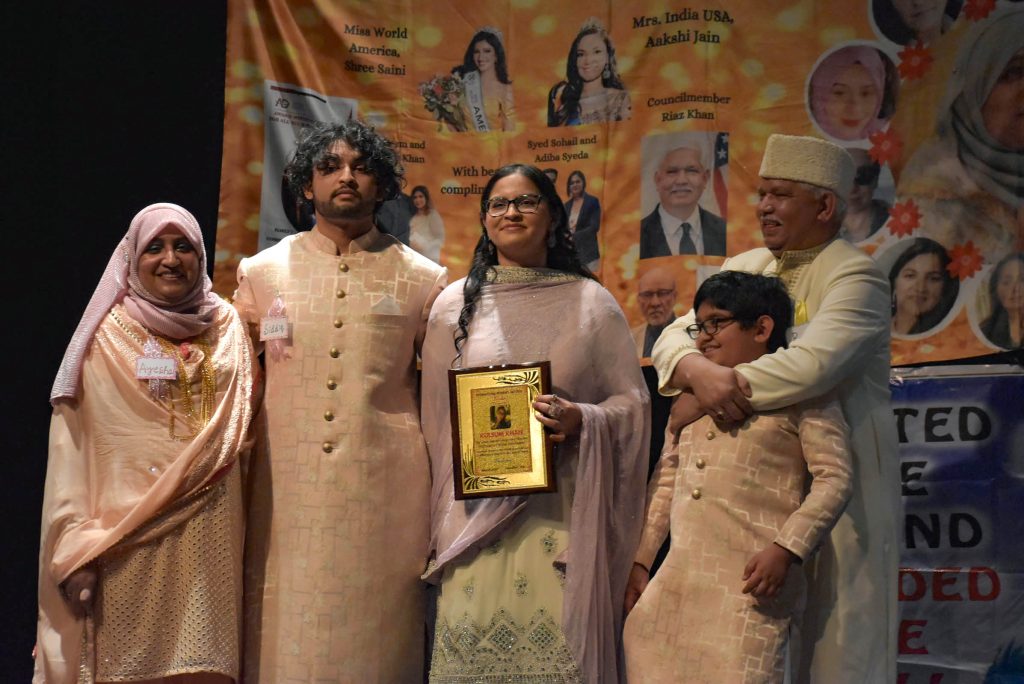 In our interview, Ayesha shared that coming from India, she wants other women to know there is more to being a woman than cooking, cleaning and taking care of the kids.
"So, most of the woman say after I awarded them and coming to my parties and everything, they got confidence," Ayesha told the Lynnwood Times. "They are opening their own books of poetry. A few have started going to the college, a few started running their own businesses…One said, I got confidence in speaking after I met you."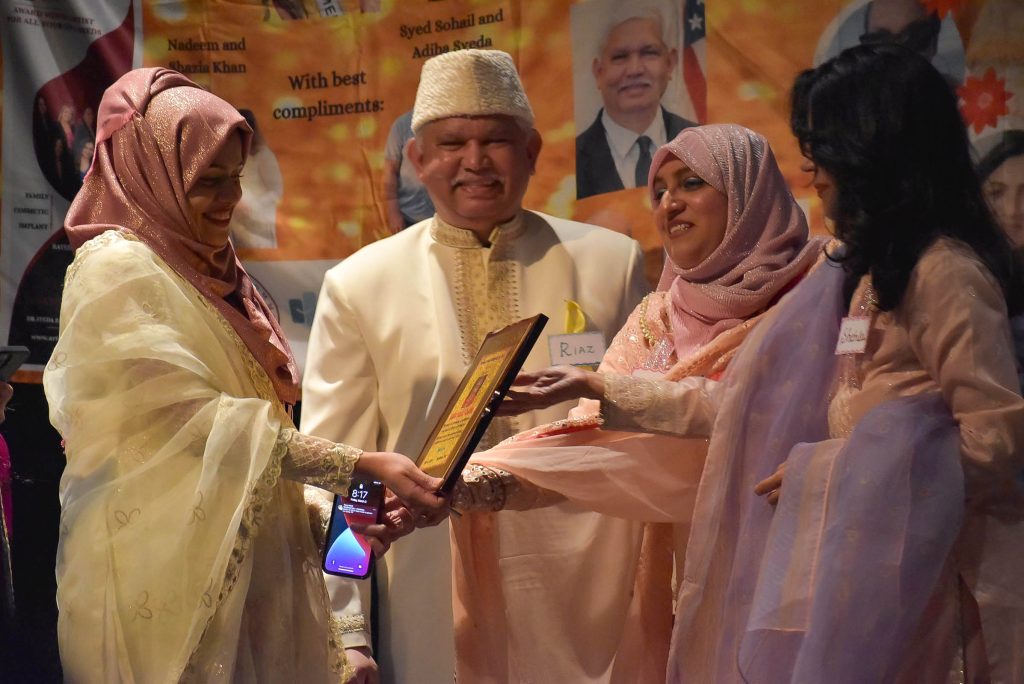 Through Ayesha's efforts, she is proud to be unlocking the hidden talents many women didn't know they possessed.
"I'm boosting their energy and I'm boosting their confidence," Ayesha said. "I really appreciated the men who came to support their daughters, their wives, and their mothers."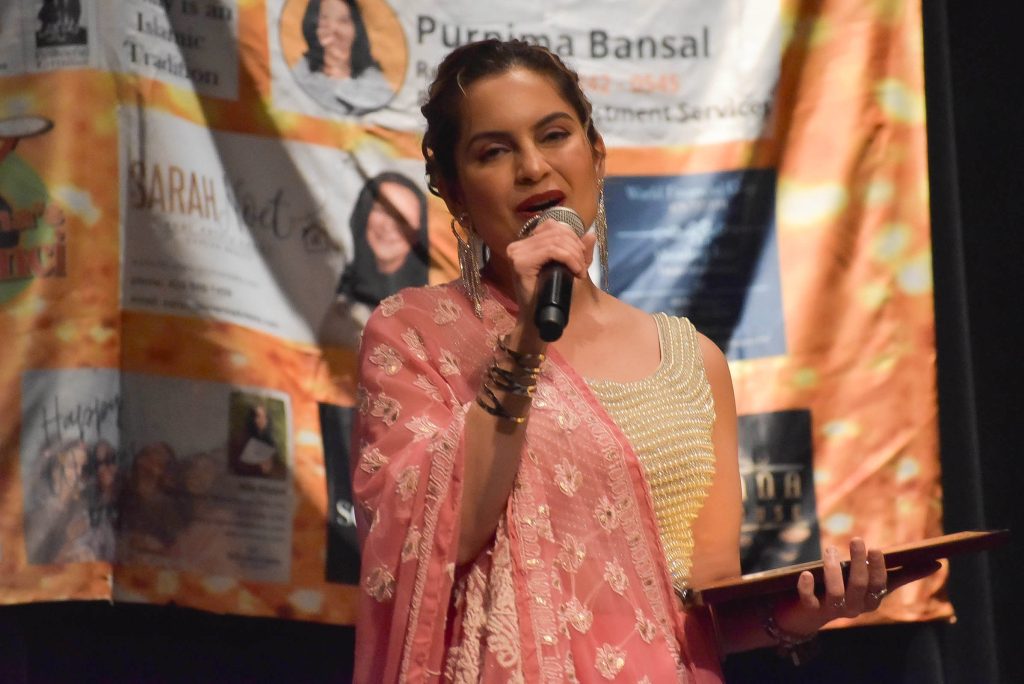 Ayesha is thankful to be celebrating this year after recently having open heart surgery but shared she is passing the torch for future International Women's Day celebrations to the next generation. She will, however, continue to help others strive to be their best and volunteer in the community.
After brief speeches by the Tacoma Mayor Victoria Woodards and Mukilteo Councilman Khan, 26 women were announced, one-by-one, to receive a gold-colored plaque with their respective name and the words, "For your outstanding contribution and support to our community. Women around the world are making a difference and you are one of them."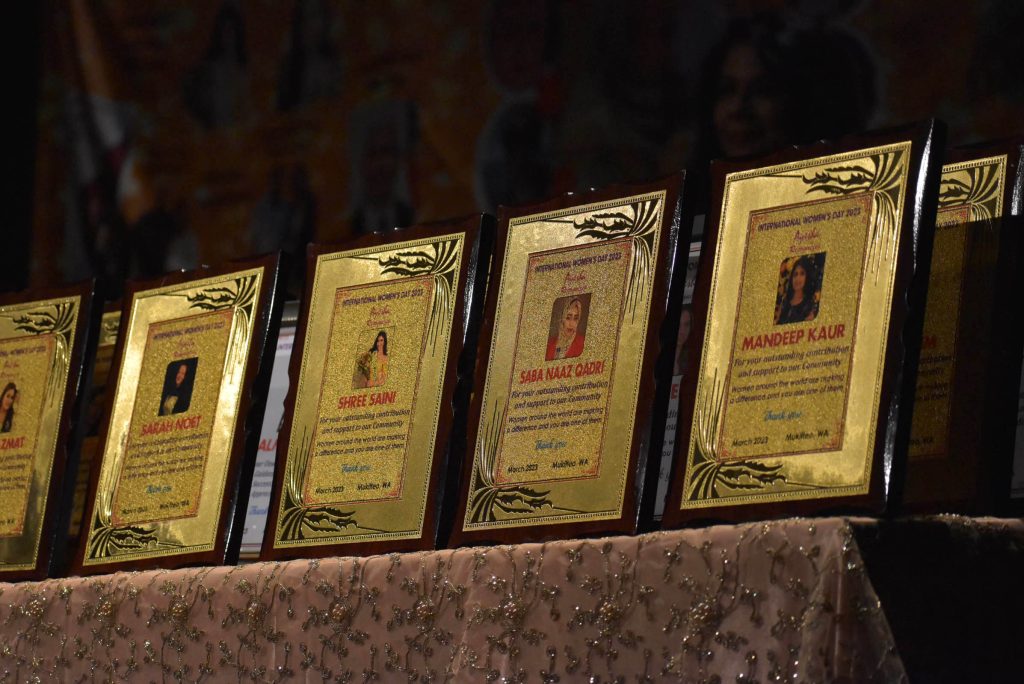 Achievements ranging from being pioneering leaders in their professions to their respective local communities were read aloud. The audience enjoyed songs performed by several awardees.
Demi Chatters, Vice Chair of the Snohomish County Human Rights Commission, shared how grateful it was to witness Saturday's event honoring "some amazing women, some amazingly accomplished women" sharing their experience to empower the next generation of women.
"As one of the speakers mentioned, although we are 50 percent of the population, we do not have 50 percent of the rights and the access within the communities that we reside in," Chatters told the Lynnwood Times. "So to have an event like this, that highlights the need to support women to ensure that girls have adequate educations, adequate access to economic pathways to success, to ensure that women have access to all of the reproductive health services that they might need, these are critical issues that women need to have addressed in order to live the most fruitful, most powerful lives they can."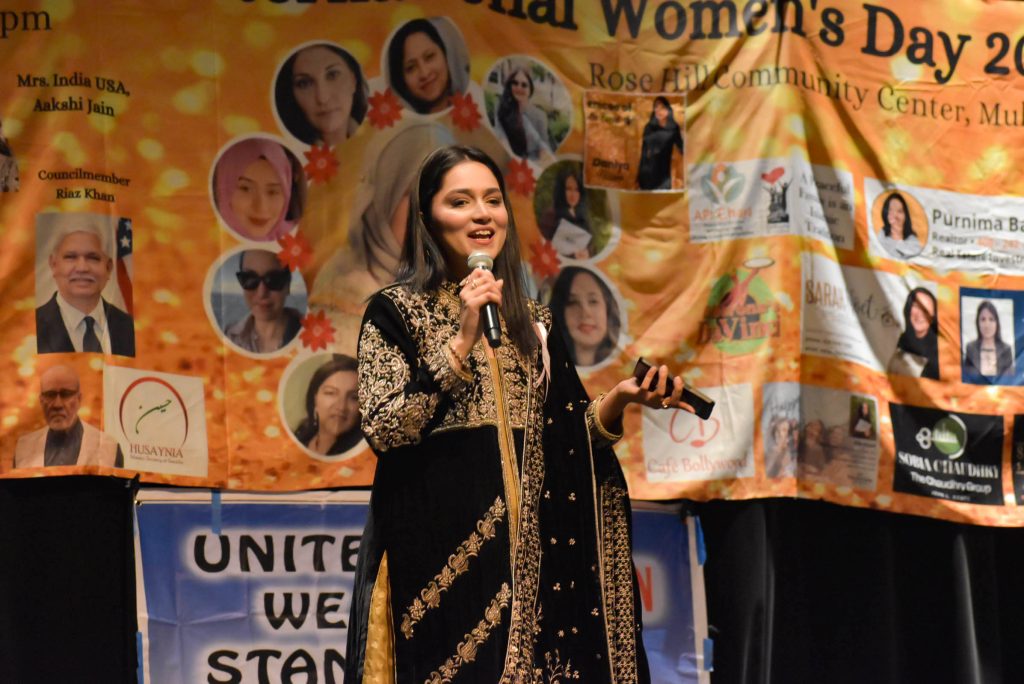 Currently, the Snohomish County Human Rights Commission is accepting nominees for its annual awards that recognize and celebrate the extraordinary contributions of individuals, organizations, and businesses in furthering the principles of the Universal Declarations of Human Rights and Cultural Diversity. Nominations can be submitted for the following awards: Human Rights, Young People's, Law, Diversity Visionary, Community Organization, and Educator's.
Also attending the event were Snohomish County Councilwoman Megan Dunn and Mukilteo Councilman Steve Schmalz.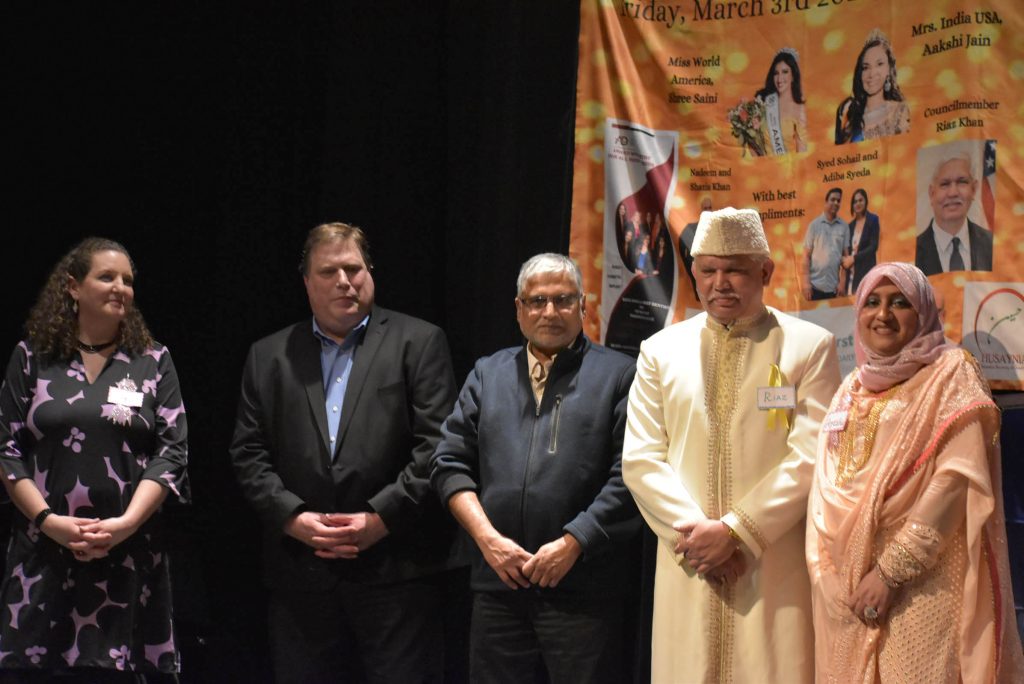 Councilman Schmalz added that we must remember the accomplishments of women not only for one day but every day.
"Even though International Women's Day is recognized on this day, we should celebrate and be thankful each day for the leadership women all over the world have shown," Schmalz said.
Councilwoman Dunn, an International Women's Day awardee the previous year, thanked Ayesha for hosting the event and how a simple gesture of inclusion can break down barriers.
"Within the first five minutes I met her, she did one of the most amazing things that you can do, she invited me to her home for a meal," Dunn said. "I think that's the best way to get to know your community, get to know one another and the breakdown barriers to meet each other. Thank you so much for welcoming me into your home."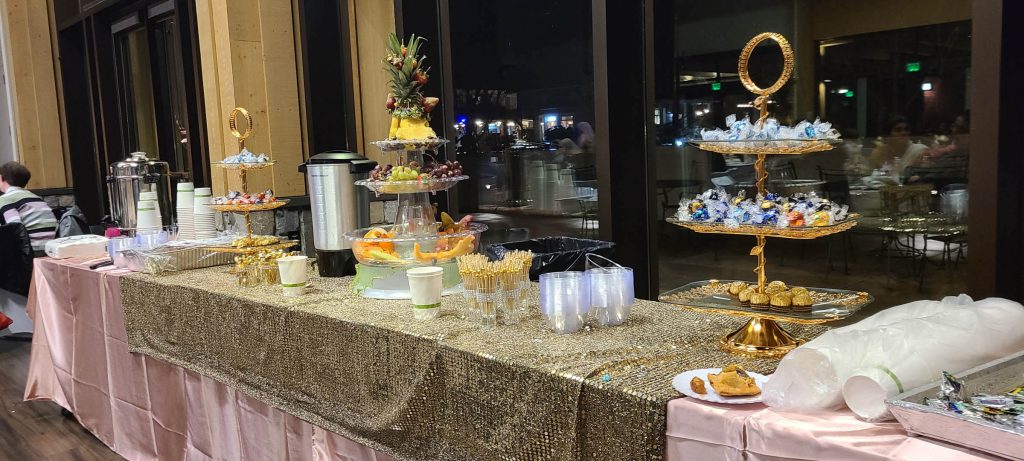 When asked why so many come year-after-year to Mukilteo to celebrate International Women's Day, Councilman Khan shared, "Mukilteo is a family-oriented place, a place to bring families. Some came here to see the job market. Boeing is hiring a lot of people here, so they want to see what the city looks like…that is the beauty about this event."
2023 Awardees
Mandeep Kaur
Saba Qadri
Vasudha Sharma
Salma Khan
Shabana Shaik
Sawrajpreet Kaur
Widad Gaddah
Akshi Jain
Nabrath Sheriff
Sajida Hussain
Sonia Keshwani
Iffat Gul
Rani Azmat
Sadia Khan
Shree Saini
Dr. Adiba Syeda
Dr. Iffath Sultana
Nousheen Rizvi
Dr. Syeda Bakhtawar
Adriana Mohamed
Sarah Noet
Warda Khan
Amber Iqbal
Asifa Salim
Shazia Khan
Kulsum Khan
2023 International Women's Day Sponsors
Imran Aslam & Siama Kanwal – Alberona's Pizza – Purima Bansal, Real Estate Skyline – Alia Kiyani, Real Estate, Windermere – Shahana & Iftikhar Khan, Shahana Steakhouse – Mandeep Kaur, World Financial Group – Dr. Syeda Bakhtawar, Artisan Dental – Neelam Khaki, API Chaya – Nickhath & Khizer Sheriff, MAPS MCRC Essentials First – Sarah Noet, Real Estate & Productivity – Sobia Chaudhry, The Chaudhry Group – Masood Zaidi – Menka Soni, Real Estate – Cedars Restaurant, Sadia Malik Khan – Sajida & Jamal Hussain – Umair Moinuddin & Dr. Iffath Sultana – Shazia & Nadeem Khan – Bollywood Café – Dr. Adiba Syeda & Sohail Syed