Mukilteo Robotics Club headed to world championship competition
MUKILTEO, Wash., March 21, 2023—Mukilteo Robotics is a club that burst into the competitive scene last season, achieving multiple tournament victories and sent two out of four teams to state championships last year. Now, one of these teams is headed to compete for the World Championship title in April!
"We are very proud of these students who have worked hard and pursued their passion for robotics," Mukilteo School District Superintendent Alison Brynelson told the Lynnwood Times. "Thanks to a wonderful community effort, they are getting to experience a world-class exciting and competitive learning opportunity."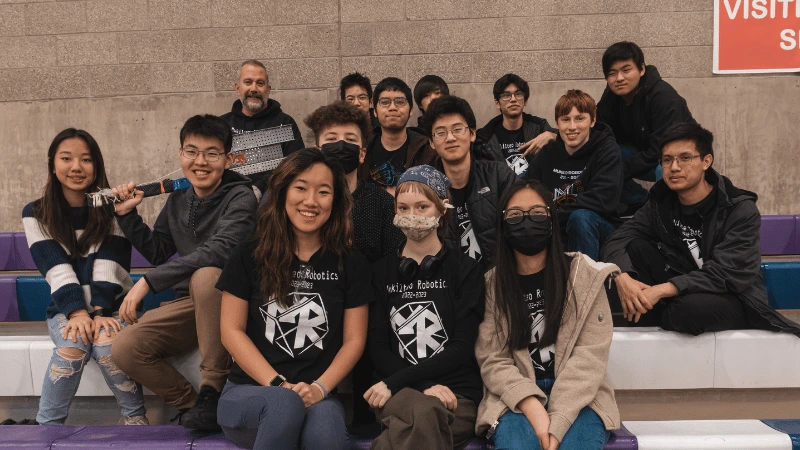 On April 25 through May 4, the students of Team Modulo are headed to Dallas, Texas, for the VEX Robotics Competition—the largest, and fastest growing, robotics program in the world with more than 20,000 teams from 50 countries playing in over 1,700 competitions worldwide.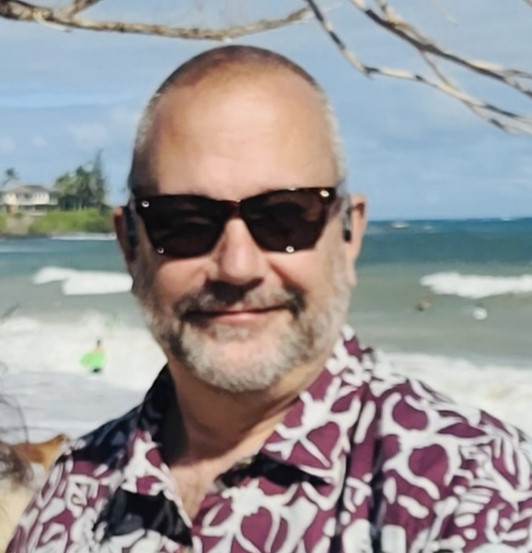 "It is a great joy to see the team accomplish getting a qualification to Worlds at States. The expression on their faces was memorable," said Pete Stiles, Coach of Mukilteo Robotics. "This is something we will remember for a long time."
The competition will involve pitting together robots, both built and programmed by the students, in a gaming event called Spin Up—which involves launching flying disks into a goal while manipulating field elements in a fast-paced and exciting match.
"Modulo is a well-integrated team with good technical skills that has great spirit and enjoys what they are doing," said Stiles. "The team is very focused on making yet another better version of their robot. They have the technical knowledge and just need to manage the integration of the physical robot and the software they have written."
Stiles has been coaching High School Robotics for six years. Each week 24 Mukilteo high schoolers met in an unsuspecting place—Electroimpact, a machine manufacturer in Mukilteo that specializes in aerospace automation—to develop their creative skills on homemade robots.
What began as a fun project to do with both his son and his son's friends, eventually evolved into hosting a club that meets at Electroimpact each Thursday and Saturday evening.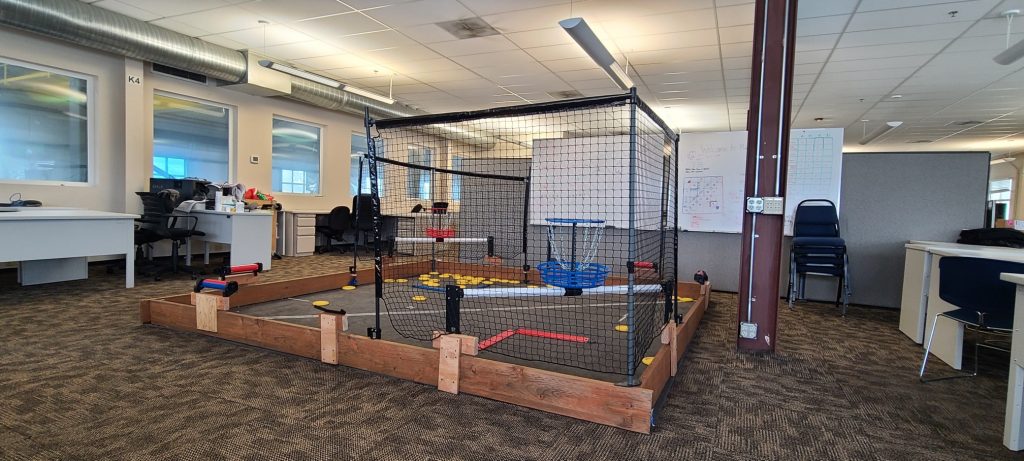 Stiles attempts to have a hands-off approach with his students, whenever possible, creating a fine balance between letting the team run on their own while providing guidance when needed. This includes managing their time, writing schedules, and learning the value of time management for extensive practice.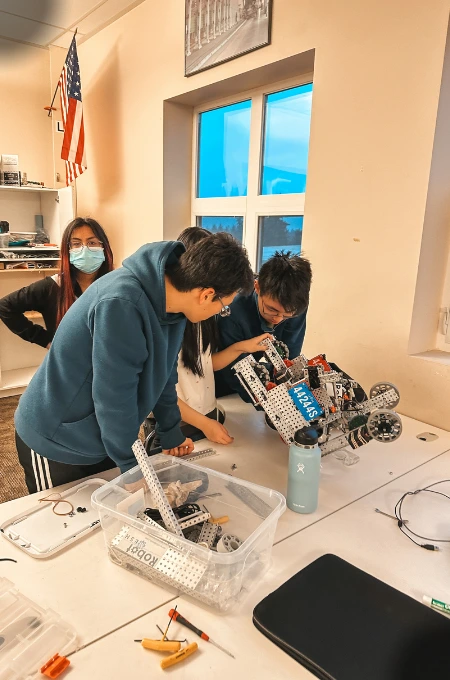 The two high schools that comprise Mukilteo Robotics, Mariner High School and Kamiak High School, simply didn't have the capacity to host a robotics club that could support a competitive schedule, Stiles told the Lynnwood Times. Mariner High School retired its robotics program three years ago and Kamiak's existing robotics program met only one hour a week.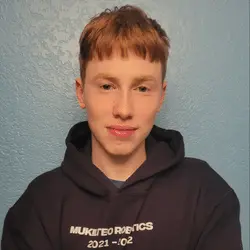 Competitor and Club President, Mariner High School Senior Sean Clough, found the space at Electroimpact in an effort to secure funding for the club in 2021. While door knocking with a handful of informational fliers he stumbled upon the company. Peter Zieve, Founder and CEO of Electroimpact, not only agreed to sponsor the club with an initial $3,000 donation, but provided the office space for students to meet and practice.
Since then, Electroimpact has donated $70,000 to local robotics clubs within the last year, with its most recent donation going to Mukilteo Robotics in the amount of $5,000.
"That kid [Clough] is amazing; that kid is going to go far," Peter Zieve, CEO of Electroimpact, told the Lynnwood Times referring to Clough.
Clough's interest in robots stemmed from an interest in Lego robotics in elementary school. He joined the robotics club at Mariner High School but when it was forced to shut down, he took the initiative to start his own club, as at the time, the closest competitive robotics teams were in Lake Stevens and Redmond, respectively.
In addition to Clough, six other Mukilteo School District students make up Team Modulo including: Long, Wanhao, Oliver, Vincent, Derek, and Scott (last names redacted). Each team is carefully selected by students of similar age so that they can form relationships that they can build on in the future, Stiles informed the Lynnwood Times.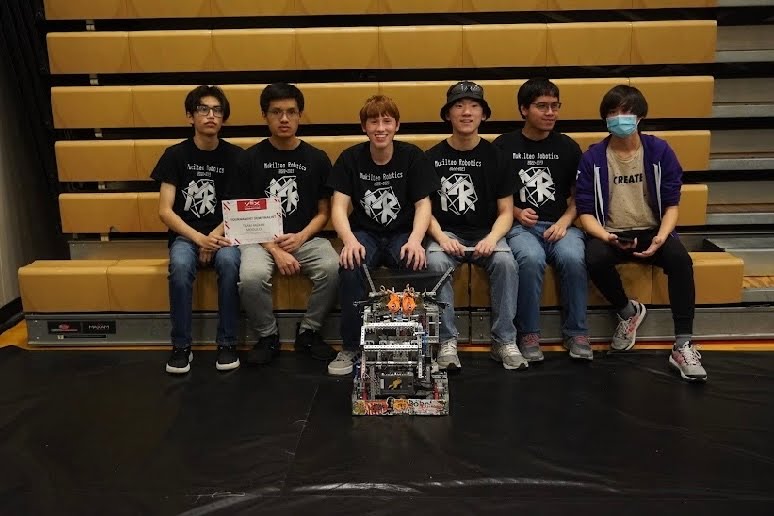 Mukilteo Mayor Joe Marine shared with the Lynnwood Times his appreciation to both Clough and Stiles for their dedication to STEM and finding a way to keep youth engaged in career paths of the future.
"Mukilteo Robotics is opening doors of possibilities for students of both Kamiak and Mariner in STEM fields," Marine said. "I am proud for these students who will represent the best of our community in Dallas."
Even with the generous donations of Electroimpact, a consistent challenge Coach Stiles has witnessed over the years is securing funding to keep the activity free for students. A trip to the world championships, for example, runs approximately $10,500 per team, half of which the club has secured through donations. The club is continuing to utilize social media as an outreach tool to secure the remaining funds for World Championship this April.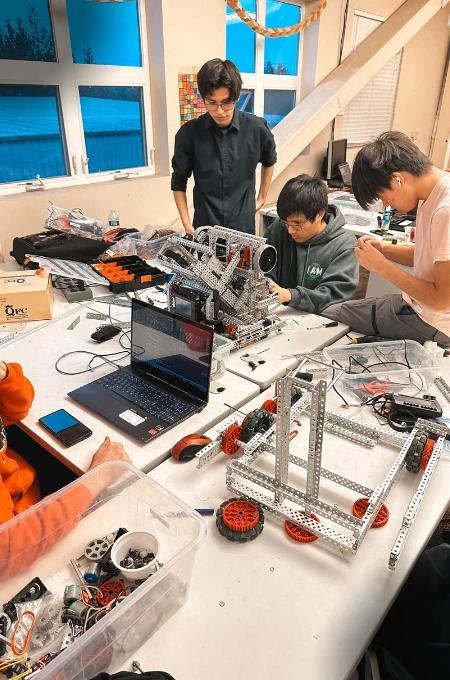 "We need to figure out how to keep our organization funded so that money is not an issue and at the right size so we are effective for the interested students," said Stiles. "I hope students walk away with better insight and skills in areas that can help them make a better future for themselves and others. If they also learn the value of volunteering to help other people, that would be an added benefit."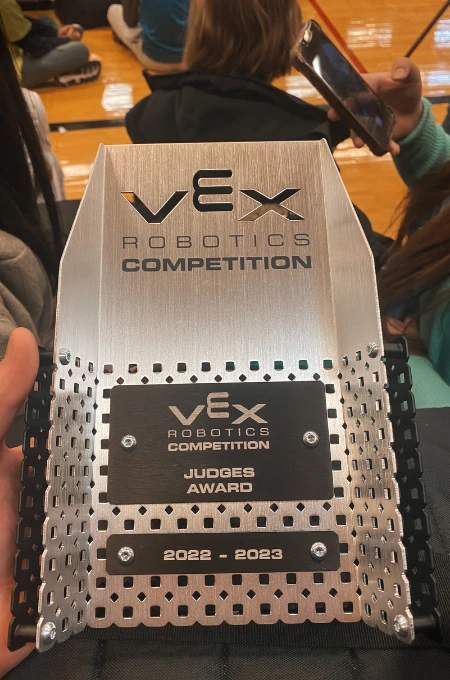 Success for Stiles is exposing students to STEM concepts and letting them explore their interests all while integrating different types of personalities. Having students spend hours together while not staring at phones or computers along with winning matches and/or competitions is all an added bonus, he said.
---
Editor's Note: Kamiak High School student and Lynnwood Times intern Emily Chu contributed to this article.