Public invited to annual Support 7 fundraiser on April 22
It's time to register for the 2nd Annual Support 7 Reception and Auction that supports first responders and victims of trauma in person, on-scene 24/7/365. The event will begin 3 p.m. on Saturday, April 22, at Community Life Center, 19820 Scriber Lake Rd Suite #2, Lynnwood.
Tickets are $75 per person or $600 per table of 8, (tables receive special gift). To register visit https://support7.ejoinme.org/register/.
Each ticket includes entry, hearty appetizers provided by Chef Dane Catering, beverages (beer, wine, and non-alcoholic), a chance to bid on amazing items at the Silent Auction, and a seat for the main event. After the event concludes, you can continue the fun and the giving by going out to dinner at one of these two places: Todo Mexico or Moonshine BBQ in Lynnwood. They have graciously offered to give a portion back to Support 7.
For the Dessert Dash, if you would like to participate, please bring cash, checks, or you can charge your card on file. Also, those of you already connected to local public safety agencies- check to see if your agency already has a table you can join.
Support 7 is a non-profit organization that has been serving South Snohomish County since 1981 as well as "helping victims, survivors and their families move from crisis and trauma to hope and healing," according to its website.
The nonprofit partners with local first responders and assists them as well as victims in moments of crisis such as unexpected natural deaths, death by suicide, homicide and other fatalities. It provides individuals a private place with water and snacks where they can step away from the crisis, onlookers and potential media they may not want to deal with at the moment. Support 7 also provides a connection to other resources like grief counselors, funeral, medical examiner office, etc.
The organization also responds with its mobile unit to care for displaced victims' & families from house and commercial fires, SWAT callouts, and vehicle collisions involving pedestrians.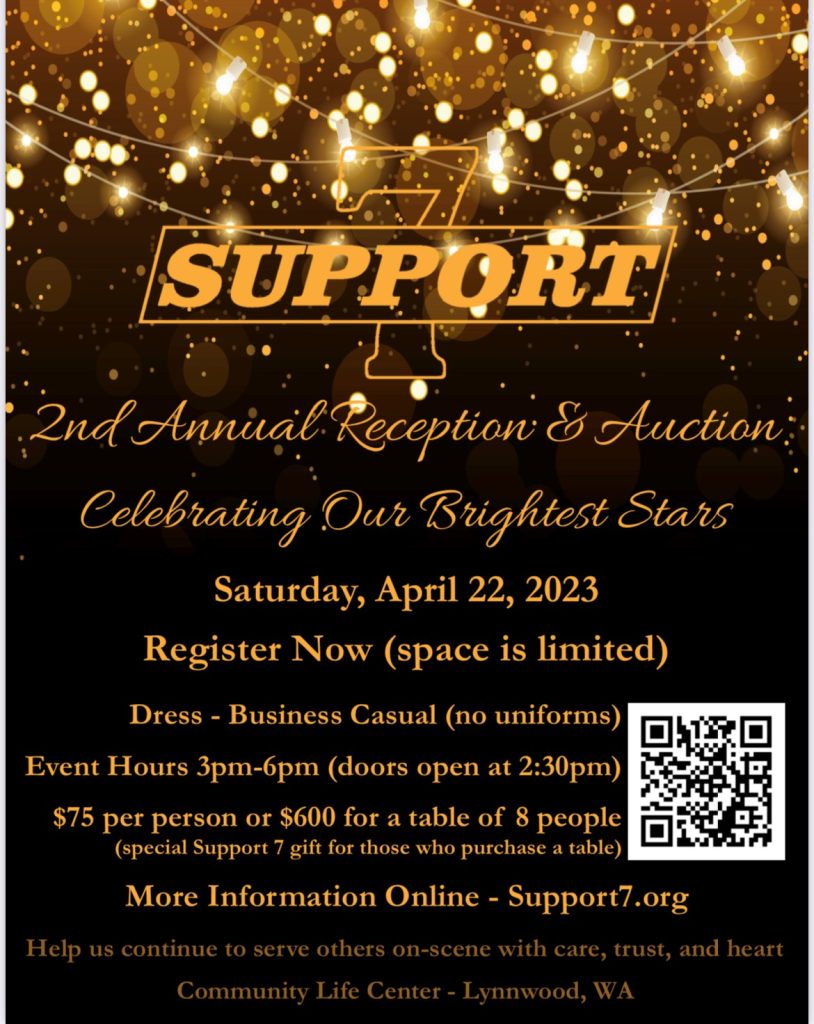 If you would like to contribute to this 501(c)(3) heart mission, donations to "Support 7" can be made on our website www.support7.org or sent to PO Box 2604 Lynnwood, WA 98036. (EIN # 91-1156478)

Please be sure to "Follow" and "Like" us at "Support 7" on Facebook and Instagram.