Liberty Road Foundation raises $23,000 to break the cycles of child abuse and teen suicide
BELLEVUE, Wash., April 18, 2023—Liberty Road Foundation held its ninth annual "Spring for the Kids" Fashion Show Luncheon Monday, April 17, at the Hilton Hotel in Bellevue. The charity raised over $23,000, all of which will be evenly dispersed between Olive Crest and Raven Rock Ranch—two agencies that share the common goal of preventing child abuse.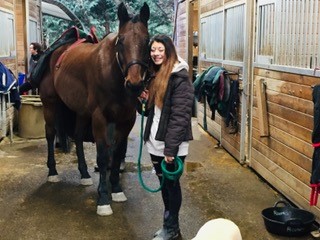 The event kicked off with Liberty Road Foundation's Executive Director, John Dammarell, speaking about their nonprofit, which aims to bridge the gap between the nonprofit world and the for-profit world by transforming the business community to restore, hope, dignity, and significance to those in need.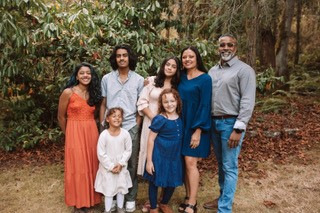 After a brief video, keynote speakers Dionne Joseph, Olive Crest foster parent, and Lucinda King, mother of a girl who benefitted from the services of Raven Rock Ranch, took the stage to share their stories on how the two agencies changed their lives.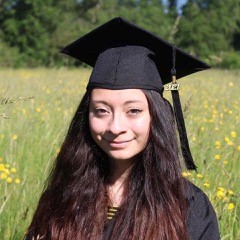 Olive Crest is dedicated to preventing child abuse and neglect by strengthening, equipping, and restoring children and families in crisis while Raven Rock Ranch helps victims of child abuse break the cycle of teen suicide, human trafficking, and domestic violence by pairing them with rescued horses.
In a heartbreaking, yet inspirational tale, King described how Raven Rock Ranch helped inspire her daughter, who entered the program with thoughts of suicide, into the woman she has become – now a happy student at Western Washington University. Raven Rock Ranch has a 98% success rate in helping children like King's daughter.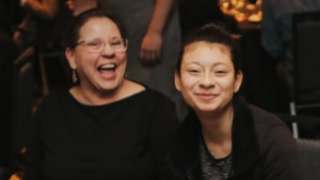 After that, 36 volunteer models, ranging in age from six to 72, featured designs from Chico's Bellevue Square, Just James Boutique, Sturtevant's, and Via Lago Kirkland in a runway-style fashion show produced by Jeffrey Wallace II.
In a "Spring for the Kids" Fashion Show first this year, the event's first ever blind model and seeing eye dog, Aurelia, walked the runway with the other models. Clark Roberts is the Executive Director of Ultimate Vision, whose mission is to guide future leaders to see life through a lens of compassion, kindness, and empathy, embracing their potential to live a life of significance.
"It was fabulous and very touching," Karilyn Dammarell, Executive Assistant for Liberty Road Foundation who was also the event's Emcee, told the Lynnwood Times.
The fashion show could not be made possible without the generous sponsorships of BECU, Debra Bartell, Cyndi Carver – Choice Gallery Homes, DeVries Properties | Windermere, Guild Mortgage – Seattle Metro, Harts & Pearls, Medosweet Farms, Passport Unlimited, and Valley Harvest Products.
Nine years ago, Karilyn Dammarell got the idea of hosting a fashion show as a way to offer a fun alternative to Liberty Road Foundation's several other events and fundraisers. In addition to its regular 11 bi-monthly Leadership Groups – connecting professionals, building awareness of the organization's cause while supporting and inspiring leaders to act – the organization also holds an annual Holiday Food Drive each October and an "Invest in a Kid" Backpack Drive in May. Next month marks the 10th year of this annual backpack drive, which provides students with much-needed school supplies across 90 different schools. Through 2022, 39,000 students received new quality backpacks filled with school supplies.
Liberty Road Foundation looks for "faith-based" or "like-minded" core values prior to establishing a partnership. Secondly, financial integrity and health are assessed, along with its volunteer program. After it is determined that an organization is a good cause and well-respected in their community, Liberty Road Foundation determines the viability of a long-lasting relationship.
"A lot of businesses want to help in their community, I truly believe that, but they don't know where to help," John Dammarell told the Lynnwood Times. "And to find out where to help they'd have to spend a lot of time researching because nobody wants to pour money down a rabbit hole…We're real careful to not throw money at every situation but we want to throw opportunity at every situation."
Dammarell shared combatting sex trafficking, homelessness, substance abuse, and increasing the accessibility of adoption and foster care as just some of the causes backed by Liberty Road Foundation.
The idea for the foundation stemmed from a trip to Guatemala 23 years ago when a man named Barry Horn, Founder of Liberty Road Foundation and current Board Chair, entered into an agreement with Agros International to help rebuild a village in Guatemala that had been destroyed by guerrilla warfare. At the time, Horn owned a successful mortgage company, Liberty Financial Group, and agreed to help rebuild Batzchocolá over the course of about four years with a cost of approximately $500,0000.
He then noticed there was no road connecting the village to the nearest town. Without a road, many villagers had to walk 4 miles through an extreme mountainous countryside to get their crops to market. This also reduced access to medical services, education, and various churches.
Horn returned to the US and raised approximately $80,000 before heading back to Guatemala to help rebuild that much needed road—which when completed was named Liberty Road after his business.
In 2007, John Dammarell, whose son was working for Horn's company, received a phone call from Horn to start a local foundation he believed would "transform the culture of small businesses."
Well, let's just say the rest is history!
"There's a huge gap between the for-profit world and the nonprofit world; neither of them understands each other," Dammarell said. "The for-profit world is all business, which is fine, they should be. But in the nonprofit world, you find people who are truly passionate about their vision but lack, in many cases, some business ability.
"If we can bring the two together and you can see the gifts that so many businesspeople have, and the wisdom so many of them have, and bring them to the nonprofit world, along with their finances and volunteerism, then we really feel that we can bridge that gap."