Lynnwood temporarily halts applications for substance abuse outpatient clinics
LYNNWOOD, Wash., April 18, 2023—To ensure adequate evaluation of its zoning codes, the Lynnwood City Council, during an emergency Special Business Meeting on Monday, April 17, voted 5-1 to an immediate six-month halt of the acceptance and processing of all applications for substance abuse outpatient clinics within its boundaries.
Because the City of Lynnwood Municipal Code Title 21, Zoning, has not been amended nor revised to address the desired location of substance abuse outpatient clinics within its boundaries, Council President Shannon Sessions requested of the Council to preserve the status quo for a six-month period to evaluate the appropriate location for substance abuse clinics and whether separation requirements between substance abuse clinics and schools and other uses are appropriate.
"I think that it is important that we do this because it gives us time…we are already working on the details, not necessarily to keep them out of Lynnwood but to have more control of where they are located in safer areas," Council President Sessions said.
Following the controversy surrounding siting of the Lynnwood Comprehensive Treatment Center by Acadia Healthcare next to the Alderwood Boys & Girls Club earlier this year, Mayor Christine Frizzell shared that her City is taking active steps to evaluate proper location and adequate community involvement of essential public facilities and substance abuse clinics. She informed the public that on April 14, the City received an application on March 31, for a "Tenant Improvement Building: Remodel" similar to that of the Lynnwood Comprehensive Treatment Center.
Upon further research by her Development & Business Services team, it was discovered that the application was to renovate a suite located at 6101 200 Street SW, Suite 100, for a substance abuse outpatient clinic, Mayor Frizzell shared.
"Staff took it upon themselves to do further research as the business model seems similar," Mayor Frizzell said. "They found that this applicant provides 'substance use disorder treatment programs providing outpatient medication assisted treatment via medication, counseling and community-based services.'"
According to the Development & Business Services permit portal, Community Medical Services based in Scottsdale, Arizona, is requesting permits for a $752,098 remodel of the suite. A google search of the address has the previous occupant of the space as the Snohomish Health District. The Lynnwood Times is awaiting confirmation from the county if this space was rented to them and for what purpose.
The suite Community Medical Services is seeking to renovate is 7,023 square feet, and according to realtor.com, was rented to the for-profit, CARF-accredited substance use disorder treatment program, at least four weeks ago with an asking rental price of $15,802 per month. For pictures of the interior of the facility, click here.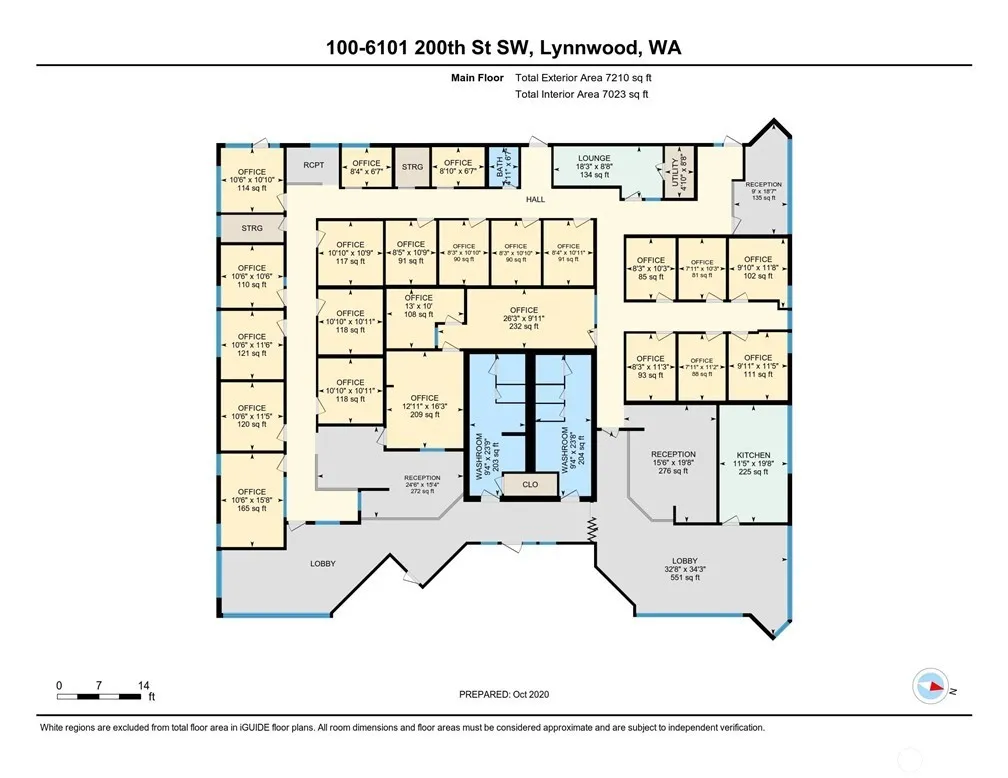 Community Medical Services currently has 45 clinics across the country with its Lynnwood clinic being the first Washington state location.
"We are proud to have opened the nation's first 24-hour Opioid Treatment on Demand (OTOD) center in Phoenix. We have since gone on to expand this model to Columbus, Ohio and West Allis, Wisconsin. At CMS, our focus is on meeting the challenges presented by the growing opioid epidemic in communities where treatment is lacking," their website reads in its "Who We Are" section.
The Scriber Lake Company, LLC, owns the two-story building of the proposed opioid treatment facility which is zoned HMU (Highway Mixed-Use) and that currently allows a variety of general commercial office, medical or specialty users. The proposed site, located just 550 feet from Lynnwood Bowl and Skate, is also located approximately 1,500 feet from the upcoming Lynnwood Neighborhood Center.
"When we received this application, we were concerned that is this going to be the right location," Community Planning Manager Karl Almgren shared with council. "We wanted to see if this location in the future is going to meet our current community's conversation regarding this code amendment and do we have the necessity to take actions as such for the moratorium?"
Almgren continued, "After review with the City Attorney, it was clear that we do have the opportunity to do so, as well as focusing on our code amendment to ensure that we are placing essential public facilities and outpatient substance abuse facilities in the correct locations that we want to see them in our community."
Councilman George Hurst was concerned if the six-month moratorium will hold considering that SB-5536, when passes and to take effect on July 1, is officially designating opioid treatment programs as essential public facilities.
Section 13.1(a) of the bill amends state law, RCW 36.70A.040, to deem opioid treatment and other similar programs as essential.
"…Essential public facilities include those facilities that are typically difficult to site, such as… opioid treatment programs including both mobile and fixed-site medication units, recovery residences, harm reduction programs excluding safe injection sites, and inpatient facilities including substance ((abuse)) use disorder treatment facilities…"
Senate Bill 5536, whose primary sponsor is Senator June Robinson (D-Everett), relates to controlled substances, counterfeit substances, and legend drug possession and treatment. The bill also restricts counties and cities to only impose reasonable conditional use requirements that are similarly applied to other essential public facilities and health care settings. The bill further prohibits cities and counties from imposing a maximum daily capacity on opioid treatment programs.
City Attorney Lisa Marshall shared with the council that because of the Growth Management Act (GMA) based law, RCW 36.70A.390, the city is entitled to a six-month moratorium with a one-year maximum to evaluate and develop zoning control for essential public facilities.
The final vote had Councilmembers Sessions, Hurst, Decker, Smith, and Altamirano-Crosby voting in favor of the emergency ordinance with Councilwoman Sutton voting against. Councilman Joshua Binda was absent from the meeting.
A public hearing will be scheduled within sixty days of Monday's passing of emergency Ordinance 3441.