Two board members out at disgraced Lynnwood Public Facilities District
LYNNWOOD, Wash, October 14, 2023—The Lynnwood City Council rejected reappointing Vivian Dong and Mike Miller to the Lynnwood Public Facilities District (PFD) board in a 4-2 vote during their October 9 business meeting. The PFD, a public entity that receives over $1 million of taxpayer monies annually, oversees the operations of the Lynnwood Event Center.
The final vote went as followed: 
Councilmember George Hurst: No
Councilmember Joshua Binda: No
Councilmember Shirley Sutton: No
Councilmember Patrick Decker: Yes
Councilmember Jim Smith: Yes
Council Vice President Julieta Altamirano-Crosby: Abstain
Council President Shannon Sessions: No
"I want to thank everyone who showed up to support me," Dong told the Lynnwood Times after Monday's City Council vote. "I felt this could have turned out much better should the Board took a different path resolving any pending issues. I have no doubt that I am on the right side of history."
Miller and PFD Executive Director Janet Pope declined to provide a comment.
The conduct of the PFD board has been a recurring topic during public comments since the attempted removal of Dong by the board back in July. 
Virtually all of the almost 40 speakers during the nearly two hours of public comments on October 9 either voiced their support for Dong (two-thirds) or the PFD board and Miller (one-third).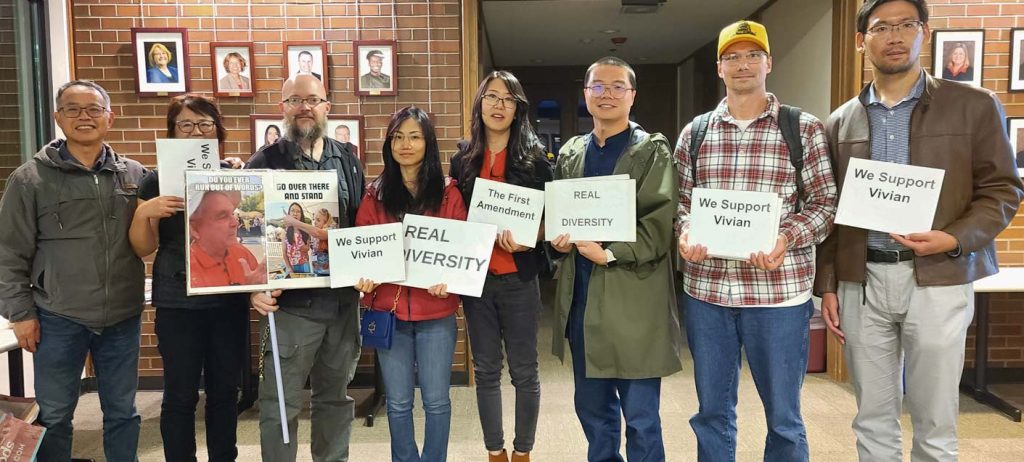 Prior to public comments, the council voted to extend the allocated time for public comment from 30 minutes to one hour based on the number of people who signed up to speak, later extending the time again to allow everyone (including those on zoom) to speak.
The Lynnwood City Council has extended this privilege to public commentators earlier this year during the controversy surrounding the City's approval of an Opioid Treatment Program facility just 500 feet from the Alderwood Boys and Girls Club and in 2021 shortly after the death of Tirhas Berhand Tesfatsion, a 47-year-old woman who committed suicide in the Lynnwood Jail.
Councilman Jim Smith recounted his experience attending the PFD meeting on July 11 as the council liaison as well as his own findings into the vote by the PFD's Board of no confidence against Dong. Smith stated that while he is "not faulting board members," he believed the PFD board acted improperly and on "erroneous information." 
"After just two meetings, to come up with this three-page letter that's all wrong makes no sense to me," Smith said. He then continued to point out from the letter falsehoods and erroneous accusations against Dong that was signed by all four other board members:  Wally Webster II, Rosario Reyes, Taylor Nordby, and Mike Miller. 
SHOWDOWN IN LYNNWOOD: Protests are planned at
Monday night's Lynnwood City Council meeting.
Councilmembers could settle one of the most contentious and controversial debates in recent memory.
Lynnwood Public Facilities District Executive Director Janet Pope and Board Chair… pic.twitter.com/ivpBpndwvV

— Jonathan Choe Journalist (Seattle) (@choeshow) October 10, 2023
Decker agreed with Smith, stating that both Miller and Dong "can continue to do great work" on the PFD board. He added that over the past several weeks, most of those advocating in support of the PFD's Board to remove Dong are not from the Lynnwood community and "have some form of benefit" such as marketing agreements.
"Let's put the matter behind us," Decker said. "Fully seat the board and ask the board to get back to the business of supporting our Lynnwood community." 
Decker questioned why the PFD has failed to fulfill financial requests by Dong and others into its financial dealings and contracts. Earlier in the meeting, its Financial Director, Josh Cain, shared that the PFD can provide that information upon request and that there was no need for the Public Records Request process. He also confirmed that all record requests go through Janet Pope and legal counsel for a formal response.
In a surprising twist of events, Councilman Hurst read a letter emailed from Senator Marko Liias (D-Mukilteo) and signed by in addition to Liias, Senator Jesse Saloman (D-Shoreline), and Representatives Cindy Ryu (D-Shoreline), Lilian Ortiz-Self (D-Everett), Strom Peterson (D-Edmonds requesting the city council to not reappoint Dong.
"As outlined in the Board's letter, Director Dong has not demonstrated an ability to balance her activities and her obligations to govern the District in the best interests of the public," the letter states.
All of these elected officials voted in favor of SB-5599, the controversial bill sponsored by Liias to delay notifying a parent or guardian of a runaway child who are seeking gender-affirming treatment. The bill gained national attention but failed to attain the required number of signatures to be placed as a referendum on the November ballot.
#BREAKING: The effort to overturn SB 5599 has failed. State Sen. Marko Liias(@SenMarkoLiias) just broke the news to a huge crowd at Arlington Pride. Today was the deadline to turn in signatures to the Secretary of State's Office. I also got off the phone with Dawn Land(@Dukland,)… pic.twitter.com/WTfAMoXWU1

— Jonathan Choe Journalist (Seattle) (@choeshow) July 22, 2023
All of the elected officials who signed the letter read by Hurst have not responded to the Lynnwood Times' questions sent to them Monday afternoon below:
Were you aware of inconsistencies and falsehoods to accusations of in the July 11 letter?
How were you made aware of the July 11 letter and how did you get involved in this matter?
Did you discuss the contents of the letter with any member of the Lynnwood Public Facilities District (Board and staff) or City of Lynnwood (council, mayor, staff), and if so, who?
What is your statement to the public on the appearance of interference of Monday's vote by applying state political pressure on a local city matter?
There seems to be a lot of political and monetary connections between various elected officials, Lynnwood CC members, and members of the PFD board. Does this have anything to do with your decision to sign the letter submitted to the council today?
The Lynnwood Times has filed Public Record Requests with the State in its ongoing investigation into this matter and the involvement of the PFD Board and its Executive Director in interfering and politicizing a city council vote.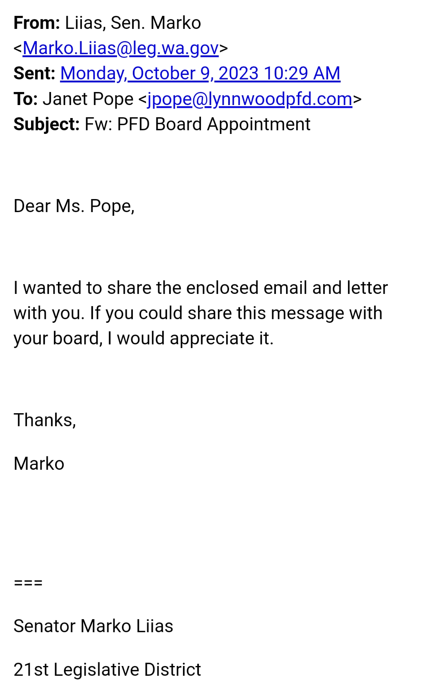 Hurst and Binda supported an amendment to remove Dong for reappointment to the PFD only, which would result in the original motion reappointing only Miller. The amended motion failed with 2 yeas (Hurst and Binda), 3 nays (Sessions, Decker, and Smith) and 2 abstentions (Altamirano-Crosby and Sutton).
Prior to the Lynnwood City Council appointing Dong to the Board, she established herself as a well-known community member in Lynnwood for her work with Safe Lynnwood — an organization created to protest against the opening of a methadone clinic just 433 feet away from the Alderwood Boys and Girls Club.
She has since used the Safe Lynnwood social media page to vocalize her political stance, some regarding pro-womanism and pro-women safe spaces issues — something Board members said conflicted with the PFD's "community-focused apolitical" approach.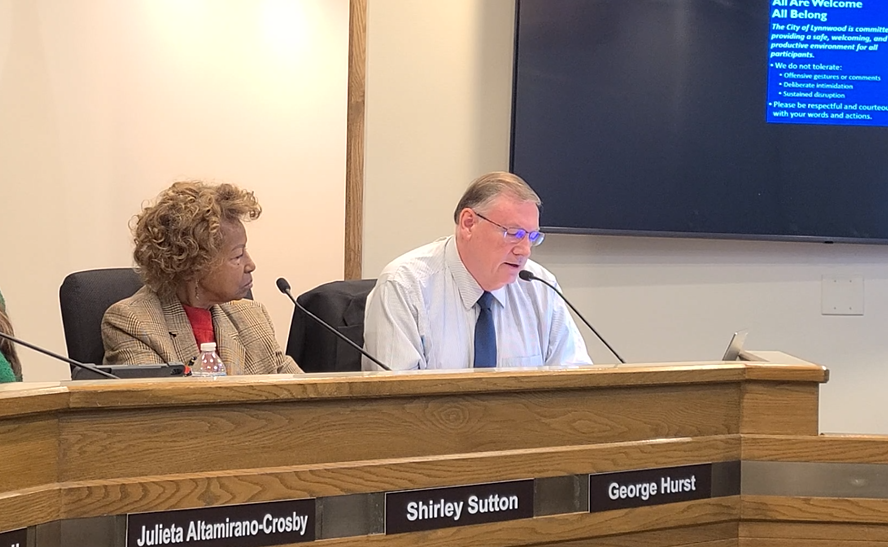 "I have to respect the four board members of the public facilities district," Hurst said just prior to the vote on Monday. "I respect Vivian Dong as a community activist, but I think she overstepped the bounds, as far as being a board member for the Public Facilities District in Lynnwood, by her actions."
Hurst believed that Dong's social media activities prior to the Olympus Spa rally were grounds for removal, while Binda stated that Dong was promoting a "trend of division" and alleged that Dong was involved in his recall effort.
In June of this year, a Snohomish County Superior Court Judge found sufficient reason to recall Councilman Binda for misfeasance, malfeasance, and violation of oath of office. The court accepted four of five charges brought forth by the Recall Binda Committee — a grassroots, community-led, effort to recall the 23-year-old from public office following concerns he misused public facilities for personal gain, mishandled campaign funds, lied to council, and lacked a certain decorum the community believed was "inappropriate" after he posed shirtless to promote a speak tour to mostly minors.
Leading up into the Olympus Spa rally on June 17 that was organized by Sovereign Women Speak — who considers themselves a "grassroots, non-partisan, and woman-centered" group yet considered a trans-exclusionary radical feminists (TERF) group by others — Dong sent an email to Matt Hendricks, PFD's attorney, on June 13, asking if she could attend to show her support "both as an Asian woman as well as the PFD board member to support our key tenant."
She received a response from Janet Pope that same day stating "you are certainly allowed to attend and have your own free speech, just not representing the PFD."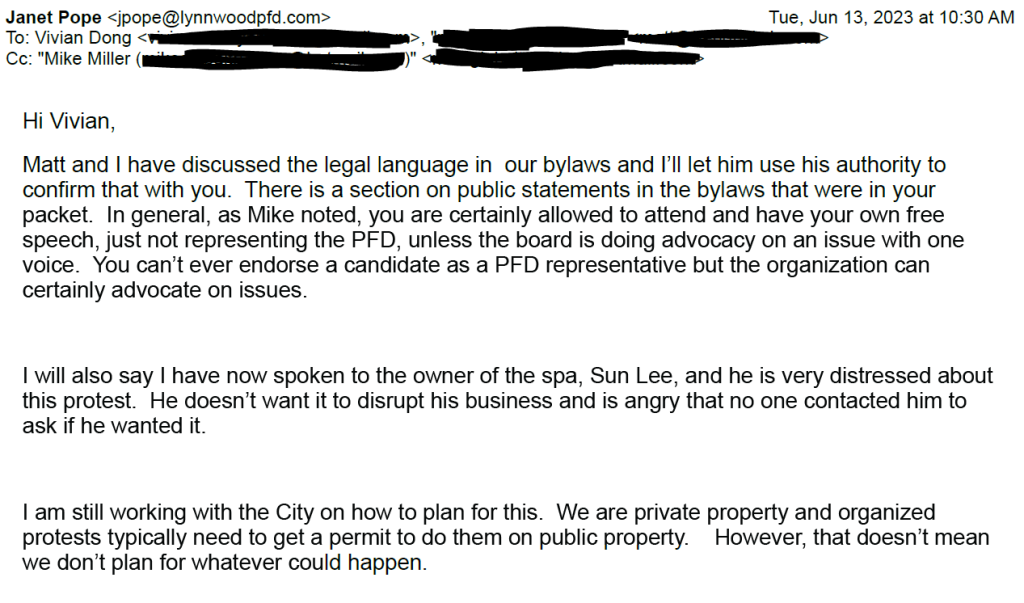 According to Lynnwood Public Facilities District By-laws, Article 10, Section 1, which deal with Board Director Conduct: "any director has the right to express personal views and opinions pursuant to Constitutional guarantees of freedom of speech, statements purporting to represent the view or pronouncements of the Board or the Public Facilities District or committees thereof shall not be made in advance of the Board's final determination of the matter, except as directed or authorized by a majority of the entire Board at any special or regular meeting or public hearing."
Never in Dong's social media posts did she claim to be speaking on behalf of the Board, nor as a Board representative. Pope herself was also in attendance at the June 17 rally.
Sessions and Sutton believed the best remedy was for neither party to be on the board, with Sutton saying it is the same as "trying to put a Band-Aid over something that is not going to work anymore."
"We need this to stop and if we voted both of them, there's going to be more distractions," Sessions said. "More distractions away from the PFD. More distractions away from the city. More mudslinging. I hope that's not true. I hope that if they both get appointed, that somehow everybody is able to come together, but I think there's just a lot of water under that bridge now."
Altamirano-Crosby cited the overwhelming toxicity as her reason for abstaining.
After the vote, the City Council adjourned to a somber chamber.
Essential public facilities ordinance
The council also unanimously passed an amended ordinance to update the city's zoning code regarding essential public facilities and their permitting process.
This change to the Lynnwood Municipal Code (LMC) addresses recent updates to state law, but also gives the mayor, the council and the public earlier notice on applications for essential public facilities.
"One of the reasons we did this was to be able to frontload an application earlier in the process to make sure that information can be provided to the community before any public hearing and before public comment was due," Community Planning Manager Karl Almgren said. "We really wanted to make sure that as much information on new applications for essential public facilities can be brought forward for the public input."
The ordinance has little impact on how the facilities are run. According to Almgren, most essential public facilities are licensed and regulated by other agencies: airports by the Federal Aviation Authority (FAA), mental health facilities by the Department of Health, and regional transit authority facilities by Sound Transit — to name a few.
Dong's efforts earlier this year brought attention to Acadia Healthcare opening an opioid treatment facility, now deemed an essential public facility by the state of Washington after Dong shared with the Washington State Department of Health that the RCW used to justify the placement of the facility next to the Alderwood Boys & Girls Club lacked statutory authority. Prior to the legislature changing the law in extended Legislative Session of this year, Dong and hundreds of supporters rallied in defense of safe spaces for kids. She discovered that the state statute only pertained to "in-patient" clinics whereas the opioid treatment facility was classified as an outpatient facility.
Back in April, the city council placed a moratorium on the acceptance and processing of applications for substance abuse outpatient facilities after being blindsided by the approval of Acadia Healthcare's Lynnwood Comprehensive Treatment Facility. The facility's proximity to the Alderwood Boys & Girls Club sparked outrage, prompting the council to pass an emergency ordinance. This emergency ordinance was set to expire on October 17.
As originally drafted, the new ordinance had no requirement to inform the mayor's office and city council of applications, prompting Hurst to ask if there was a need to codify informing city leadership.
"Staff approached that as a standard operating procedure, so that any application that will require a public hearing, a notification goes to the mayor's office and the city council," Almgren said. 
However, Decker stated concerns that standard operating procedures can be changed without notice.
"Our standard operating procedures are under the direction of the mayor and our intent and direction from the mayor has been, 'no surprises,'" Almgren said in reply to Decker. 
"I certainly understand that, and I appreciate the mayor's direction and leadership on that point. In 10 years, we may not have this mayor. There may be another mayor who has alternative approaches and that would mean that we would have no visibility," Decker said. "So, I would prefer that the intent that council be provided proper visibility were written into the ordinance rather than it just being standard operating procedure that could be changed without, again, notification or visibility of the council." 
After further discussion, Hurst moved to amend the ordinance to add this as a requirement, which passed unanimously.
Other Council Business
The Lynnwood City Council adopted a proclamation for Fire Prevention Week which was presented by Councilman Jim Smith and accepted by South County Fire Deputy Chief of Fire Prevention Todd Anderson.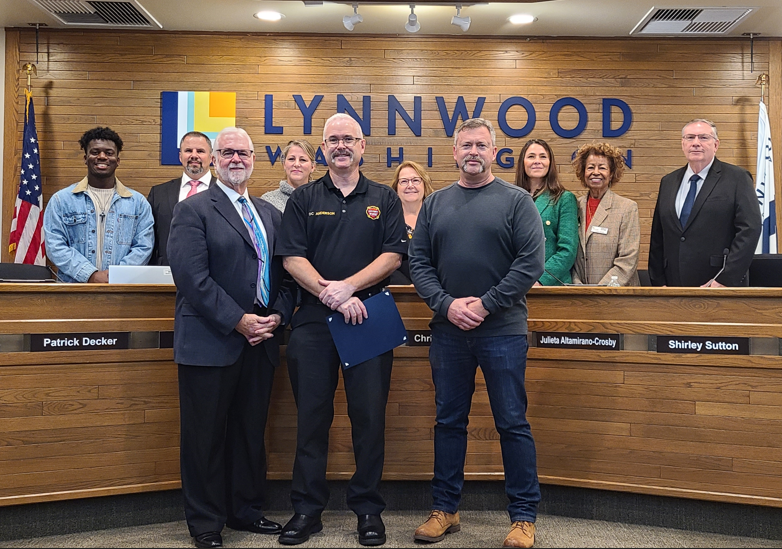 ---
Editor's Note: This article was written by George Ftikas, Jr. with additions by Mario Lotmore.