Lynnwood Council voted to allow AG to investigate LPD
LYNNWOOD, Wash., July 27, 2021 – City Council met July 26 in an emotional meeting that lasted three hours. Before the meeting, protestors gathered outside for an hour in response to Tirhas Tesfatsion's death in the Lynnwood Jail on July 13. According to the Snohomish County Medical Examiner, Tesfatsion's cause of death was declared a suicide. She was arrested on July 12 for a DUI misdemeanor with prior drug or alcohol arrests.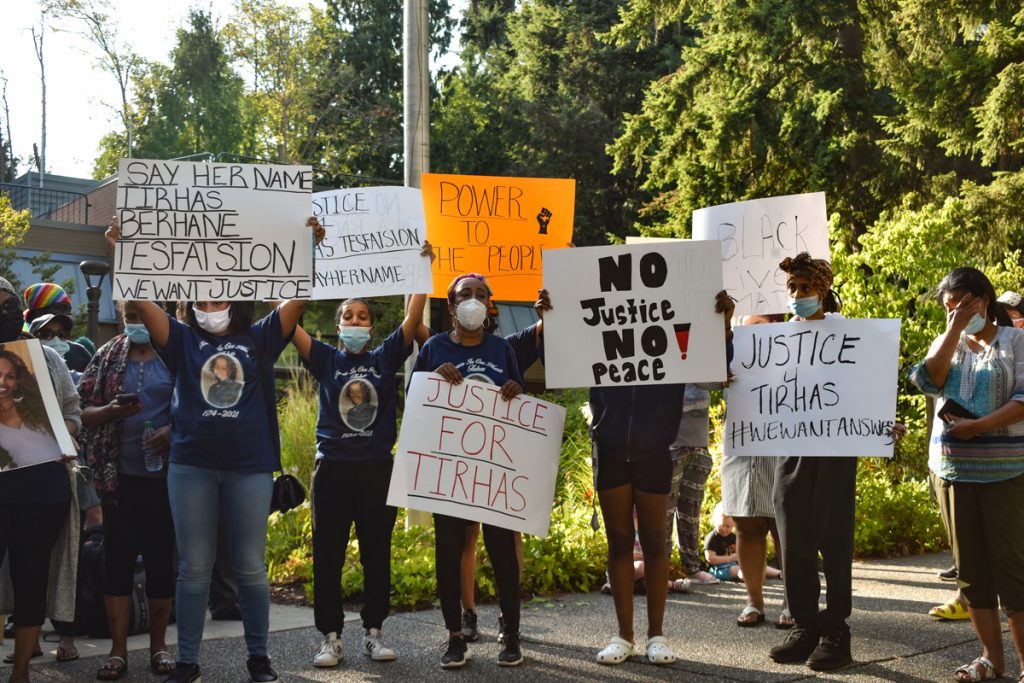 After the flag salute, President Councilman George Hurst moved that the agenda be changed to accommodate the 100 protestors outside. The council immediately proceeded to the approval of previous meeting minutes after the motion until the distant chant of "no justice, no peace" grew louder as the protesters entered the building.
Dozens of individuals donning various apparel with signs reading "Justice for Tirhas," "Defund the Police," "No good cops in a racist system," and "Say her name," attended the meeting in response to the death of Ms. Tesfatsion. The protestors chanted her name after they entered the building.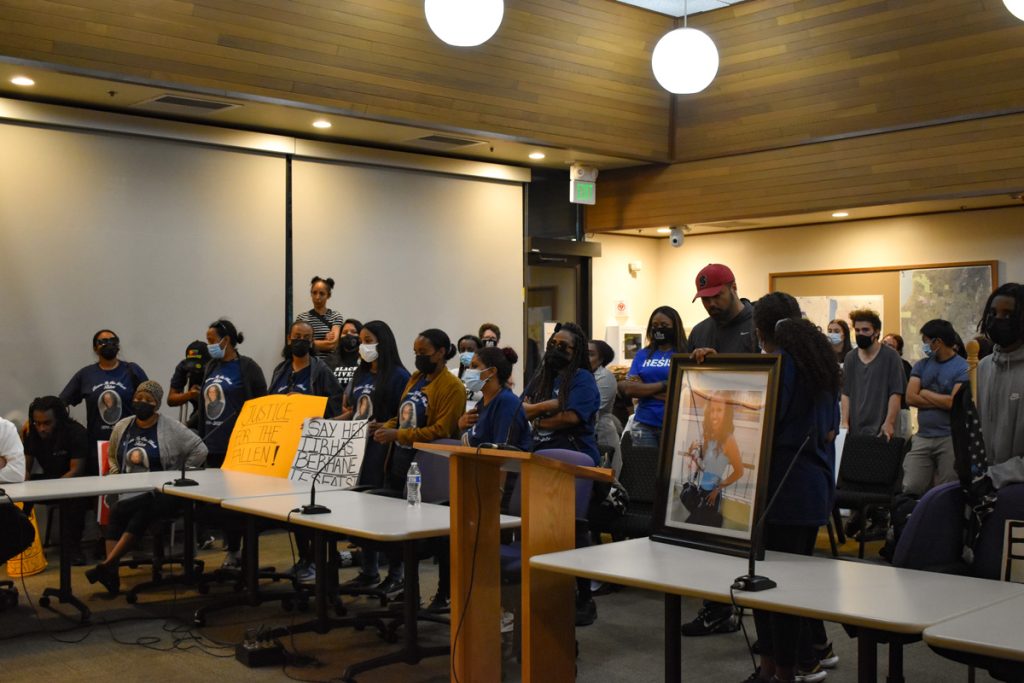 As the protestors quieted, Mayor Nicola Smith explained to the group that the agenda had been changed at the start of the meeting to dedicate time for public comment regarding Ms. Tesfatsion's death.
"If you had heard the agenda change, this whole meeting is going to be dedicated to you," Mayor Smith began. "We just have to do two business items and then we all want to hear from all of you in public comments. So I'd like us to move forward…and then you're going to have the floor."
Protestors responded, "She deserves first," and, "First and before business." They began repeating together, "People over property," followed by, "You work for us."
One protester shouted, "Council is to protect the people in the neighborhood…a black woman died in the hands of your police, so we will be a priority. We will not be taken back, we will not wait. We are here as a people to represent the people."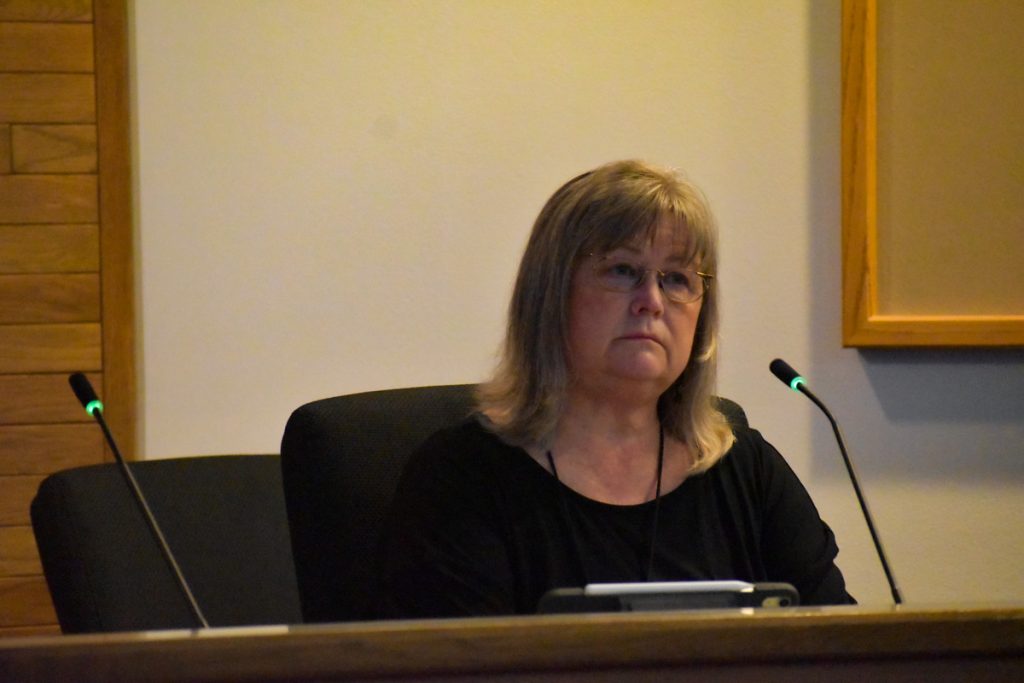 Sporadic shouts of "Black lives matter" and "You murdered her" echoed through the quieting room. As the room began to settle once again, Mayor Smith began to explain the situation regarding Tesfatsion but mispronounced her name, resulting in an eruption from the protestors, though Mayor Smith quickly corrected herself.
The mayor continued to summarize the case surrounding Tesfatsion's death, explaining, "Our Lynnwood police command staff immediately called for an outside investigation which was conducted by Kirkland police. They are still wrapping up their full investigation, which will take a few more days. We've been informed by the Snohomish County Medical Examiner's office, that the official manner of death was the result of suicide," Mayor Smith explained.
After Mayor Smith mentioned the suicide, the protestors began chanting, "They lie, they lie, we know it wasn't suicide."
Public comment began and Civil Rights Attorney James Bible, whose calm voice and professional demeanor seemed to settle the crowd, addressed the council, saying, "I want to be clear, the family reached out to the community, and the community responded."
Bible continued, "We do agree that this is a tragic incident, and we will say that this is something that never ever should have happened, especially in our own city because she didn't die outside on the street or in her own home. She died in the care and custody of the Lynnwood City jail… My position ultimately is that you should get out of the incarceration business and into the helping communities business."
Bible and others express upset with not only the death of Ms. Tesfatsion but also the incarceration system as a whole.
"We're looking to you for leadership in a different sort of way and it would be a bold move to say we need to go back to the drawing table, and we need to figure out something better for these human beings and make July 13th matter differently…to infuse humanity into our systems. Don't let her death be in vain. Don't let those last desperate moments of a sad hurt person be in vain."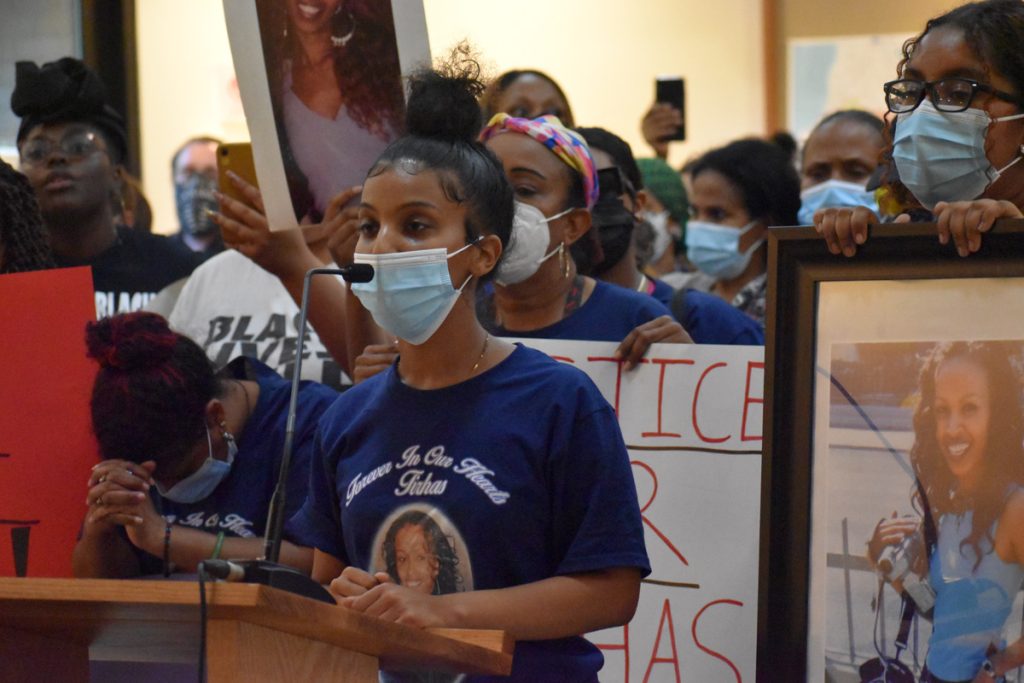 Ms. Tesfatsion's sister, the first of the family to speak, expressed questions revolving around her sister's death that she said remain unanswered. She asserted that police told her family that her sister was found in her room "next to the commode" but that the media reported she was found in the shower.
In it's July 21 press release, the Lynnwood Police stated that Tesfatsion was located in the shower and toilet area which is digitally masked for privacy.
"They saw her again at 3 o'clock when they went to give her her meds," Tesfatsion's sister added. "What meds? My sister was only there for 1 day. Less than 16 hours…They won't tell us. My sister was not on medication. We should know."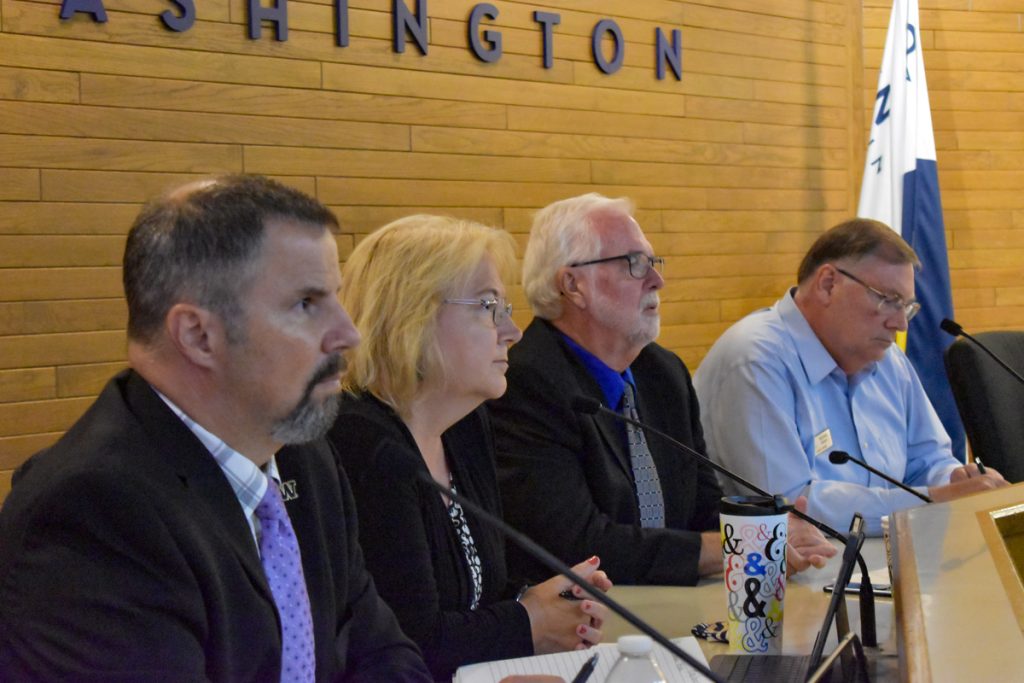 She continued, "We want answers…You guys failed to protect her, and then you guys murdered her and said she was suicid[al]. We are confused…It's not about Black lives—it's about life that was taken away. That's not fair."
The council was asked what they plan to do to prevent deaths at the hands of police in the future. Council president Hurst began to answer, saying, "We want answers, too. You all actually have more information than the council does right now," to which the crowd erupted in response.
He continued over the crowd, "There's an investigation going on…Once we see the results of that investigation, that doesn't mean that that's the end of it. That doesn't mean we can't have an independent investigation. We may go that step. But we don't know the result right now," suggesting that further investigations into the case may be considered.
The mayor added, "I have already demanded that the administration gets investigated, and they are going to search for all of those answers to the questions that you add, checking in, what times did that happen in the jail cell. We'll have someone else work with our chief, and we want to know as much as you do."
She continued, "Because if there's a failure in that department," to which the protestors shouted in response to her phrasing the situation as a hypothetical. "If there is a failure, we want to fix it, we want to fix it," she continued. "So we will be investigating every nook and cranny and working with all the officers that were there from the time she was picked up to the time of her death, and that is what has started at this time."
"It's been almost two weeks," one protester reminded.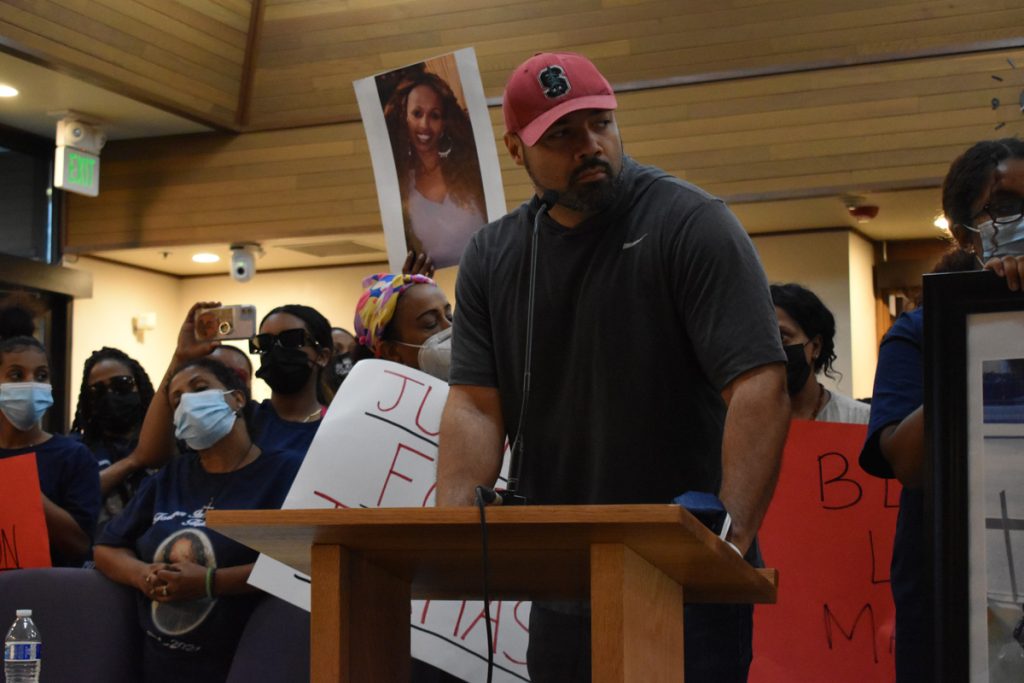 Another active protestor named Riall Johnson, Principal Partner at Prism Washington a political consulting group based out of Seattle, addressed the council regarding Tesfatsion's death: "When I was here last week after I heard about Tirhas's death, you all had a change to make comments…and you have a round robin where every council member gets to make a comment on something they may be thinking about, something they want to talk about. And all seven of you, every one of you said no."
At that point, protestors begin shouting "shame" and one loudly exclaimed "F*ck you."
"You had the chief of police here, you had the city manager here, none of you talked about Tirhas and you all knew. And you say that you don't know anything, you say we know more than you. That is just because you don't care because you had many chances" Johnson continued.
Members of the crowd shouted "white silence is violence" and "colonizer" at the council.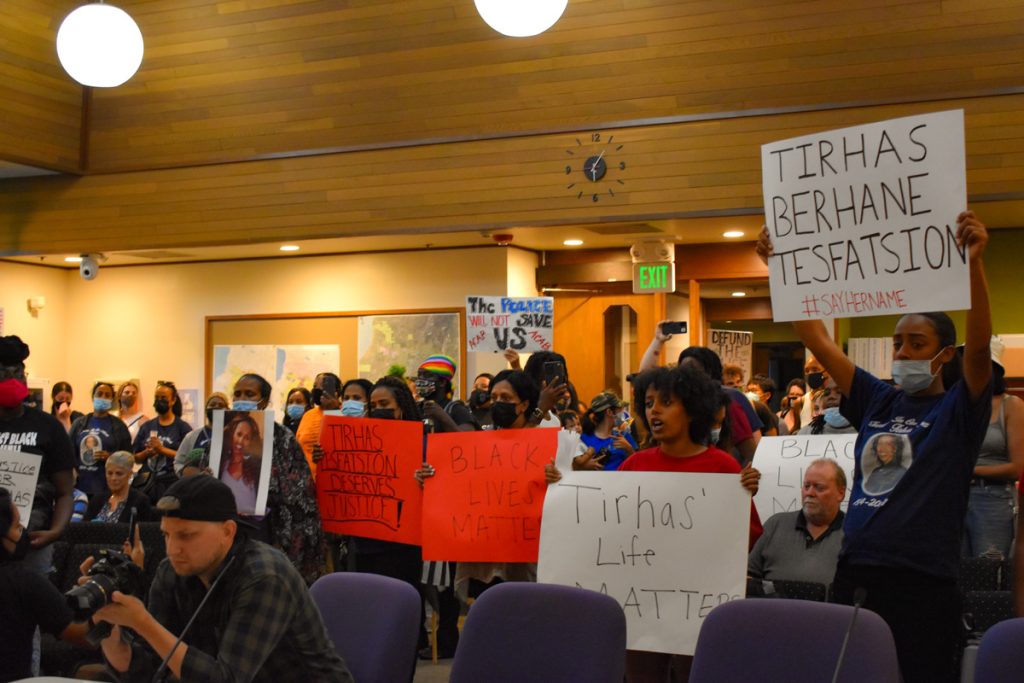 The meeting then shifted its focus from Tesfatsion's death to the city's funding of jails, referring to the new $64 million Community Justice Center. The city council intended to vote to award a construction contract to FORMA Construction Company for the Community Justice Center project, but the item was struck from the agenda to allot time for public discussion on Tesfatsion's death. The council voted at its March 22 business meeting to adopt the ordinance providing the issuance, sale and delivery of bonds to pay for the Community Justice Center.
Bible addressed the council again regarding the Community Justice Center, saying, "You all know, that as we talk about adding $70 million plus to the jail that people are on the verge of being homeless in the city of Lynnwood, and we know that people who find themselves in jail are those in poverty. We all know that."
Council did not comment on the Community Justice Center because Councilman Hurst shared that the council voted 2 minutes into the meeting to change the agenda.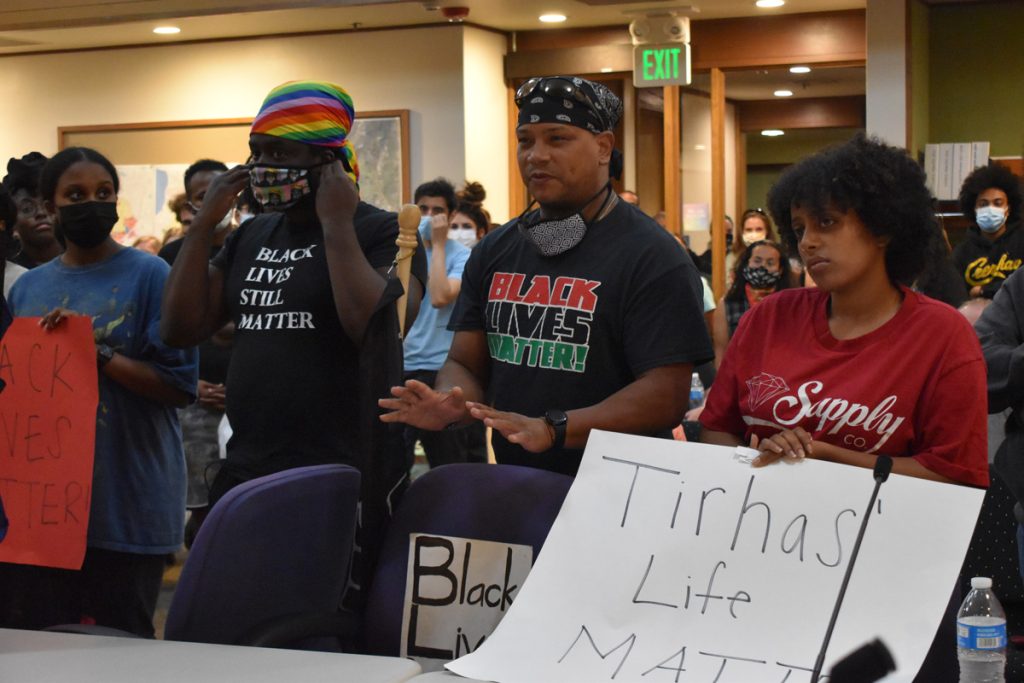 "In terms of your agenda," Bible asked, "at what point did you change that, between the time that it was printed and handed to human beings that showed up here today and now?" to which Councilman Smith responded, "You'll have to talk to the president and the mayor because they're the ones that make that decision."
"Because our understanding, and part of why we're here today is because it was in fact put on the agenda. How often and how many times do you simply change your agenda when people that are actually interested in showing up and talking about it actually show up to talk about it? Because that is not what a city council is for," Bible told the council, and further suggested, "So I guess what you could do since you voted to take it off, is you could vote to put it on," as the protestors cheered him on.
Councilman Hurst instead made a motion for the council to make an appeal to the Washington State Attorney General's Office for an independent investigation into Tesfatsion's death. Councilwoman Ross seconded the motion over Zoom, and the motion was approved unanimously.
Though the protestors cheered momentarily, they still wanted answers regarding the Community Justice Center.
Councilman Hurst committed that they will move the decision to the next work session on August 2nd, rather than postponing it until the next business meeting, despite the fact that work sessions typically do not include votes.
Though the protestors originally only called for discussion regarding the justice center, they were not satisfied with the decision to postpone the vote on the center and demanded the council vote that night, which Hurst refused.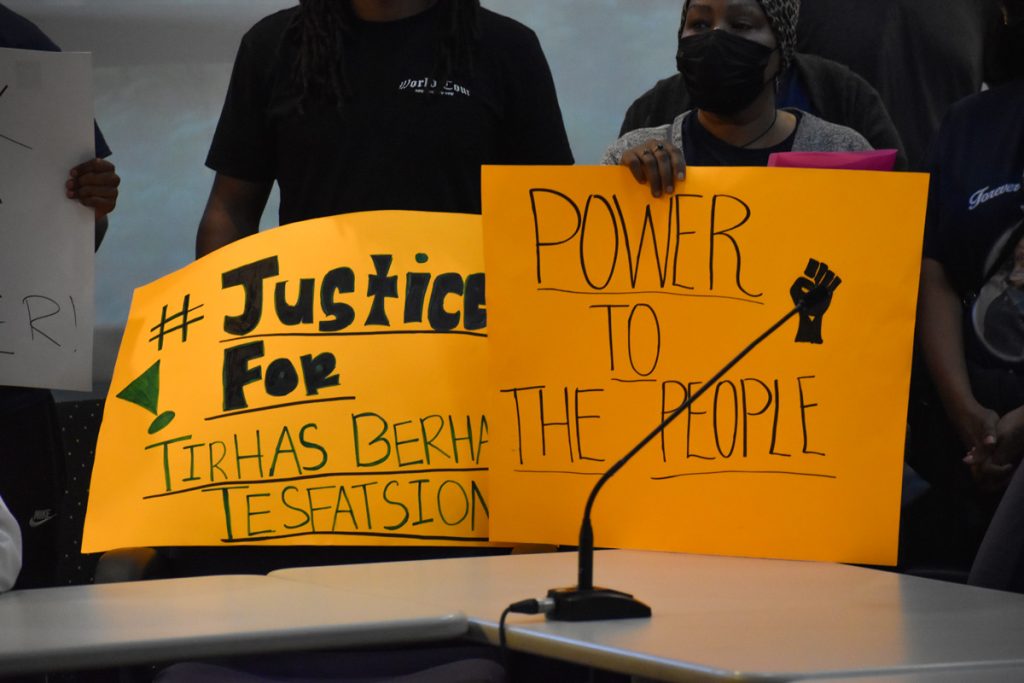 The protestors accused council of prioritizing building a jail which they believed was for the intent of higher incarceration, rather than prioritizing low-income housing, which Hurst also rejected. He claimed that the use of state police funding, which cannot be reallocated to housing, would lower the city cost of housing inmates in other city jails, which costs Lynnwood money that could be used in the communities.
Elizabeth Lundsford of Lynnwood told the council, "We just want to hear your heart. That you are not going to move f*cking forward with this community justice center until the investigation is done."
Josh Binda, BLM activist and Lynnwood City Council candidate said that he would not support moving forward with the Community Justice Center.
"I think we need to focus on affordable housing, I think this needs to be the number one priority first, and finding out the justice of the this [Tesfatsion's death] first." Binda told the Lynnwood Times. "We have to find methods to maintain the jail we have."
The council will vote for the Community Justice Center contract at the next Lynnwood City Council meeting on August 2nd.