Settlement of $1.75 million in Lynnwood jail suicide lawsuit
LYNNWOOD, Wash., September 17, 2023—The family of Tirhas Berhand Tesfatsion, a 47-year-old woman who committed suicide in the Lynnwood Jail on July 13, 2021, accepted a settlement offer, with conditions, by the city of Lynnwood in the amount of $1,750,001.
"The [Tesfatsion] Family will continue to do everything in their power to ensure this doesn't happen again and this sort of tragedy will not occur in the future," attorney James Bible of James Bible Law Group who represented the Estate of Tirhas Berhand Tesfatsion told the Lynnwood Times. "This was not the city of Lynnwood's best moment, but we are hopeful that from this point forward, that the city of Lynnwood will be better than that tragic day."
Bible added, "Our system of justice demands that we treat people humanely and that includes those who are incarcerated. The agreement to additional training is to make sure that those that working the jail are up to date on doing what is needed to protect life."
The family filed a wrongful death suit against the city of Lynnwood and five staff members on July 12, 2023, in United States District Court for the Western District of Washington, alleging jail staff negligence contributed to the suicide of Tesfatsion. On September 4, the city submitted an offer of judgement which was accepted by the family on September 7, resulting in the case being dismissed with prejudice on September 11, formally ending the litigation.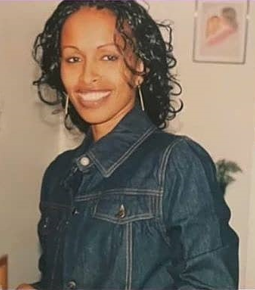 According to the agreed offer of judgement by the Estate of Tirhas Berhand Tesfatsion which lists her son, Jonathan Yohannes as its personal representative, the settlement is to "amicably resolve this matter" and is not an admission that the city of Lynnwood, nor any of the five staff members named in the suit, are "liable" or "committed any unlawful act." The city agreed to pay "reasonable attorney fees and costs" to the family and committed to provide Lynnwood Police annual training in the areas of suicide prevention, mental illness, addiction, and other related topics.
In 2022, the Estate of Tirhas Berhand Tesfatsion filed a claim for $30,000,000 against the city of Lynnwood which was denied by the Washington Cities Insurance Authority in July of that year. WCIA is an organization of 165 public entities in Washington state that assess liability risk and protect the fiscal assets of its members.
The death of Tesfatsion, lead to an outside investigation and protest by a defund the police movement. This was the first in-custody death at Lynnwood Jail since its opening in 1994.
On July 28, 2021, the state Attorney General's Office said that it does not have the authority to investigate Tesfatsion's death and that it was up to the Snohomish County Prosecutor's Office to pursue the case. The Snohomish County Prosecutor's Office, in July of that year, declined to pursue criminal charges. Two Lynnwood police officers were suspended without pay and one resigned following Tesfatsion's death.
According to Lynnwood Police Department Policy #C602, inmate safety checks are required at least once every 60 minutes. The policy allows for camera monitoring to supplement safety checks but not replace the need for direct visual observation.
Tesfatsion was arrested on July 12 for a DUI misdemeanor and had prior drug or alcohol arrests. She informed the jail that she suffered from depression but had no thoughts, nor ever attempted suicide. Based on an infectious injury to her arm, a concern for drug withdrawal, and a disclosure of mental illness, Tesfatsion was filed under "special consideration."
According to the Kirkland Police investigation report, at 1:51 p.m. July 13, 2021, video footage shows Tesfatsion tying her jail uniform into a ligature and testing it around her neck as she sat on the bottom bunk. Tesfatsion then tested the ligature, unsuccessfully, several times. She then moved to the next set of bunk beds and climbed the ladder to the top bunk where she appeared to attach the ligature to the railing before stepping back down.
Tesfatsion had a blanket draped over her body like a cape during this time, partially or fully obscuring the ligature from camera view.
At 2 p.m. video footage shows Tesfatsion taking a plastic chair into the bathroom area with the ligature attached to her neck but partially obscured by the blanket draped over her.
According to the report, her jail uniform was placed over the blue partition between the sink and toilet while standing on something. Her head lowered and then moved slightly. Through shadows cast upon the wall looking at the cell 7 wall camera, no movement can be seen just after 2:02 p.m. She did not re-emerge from the bathroom.
Around 3:01 p.m. a Lynnwood custody officer entered Tesfatsion's cell intending to administer medications prescribed by Dr. Scott McAfree of the Lynnwood Jail's nursing station. However, the officer found Tesfatsion unresponsive near the shower and toilet area of her cell.
According to the Snohomish County Medical Examiner, Tesfatsion's cause of death was declared "asphyxia by ligature hanging/suicide." The autopsy revealed she had marijuana, methamphetamine, amphetamine and fentanyl in her system.
During her incarceration, Tesfatsion called four different numbers for a total of nine phone calls of which none of her calls were accepted by the called party.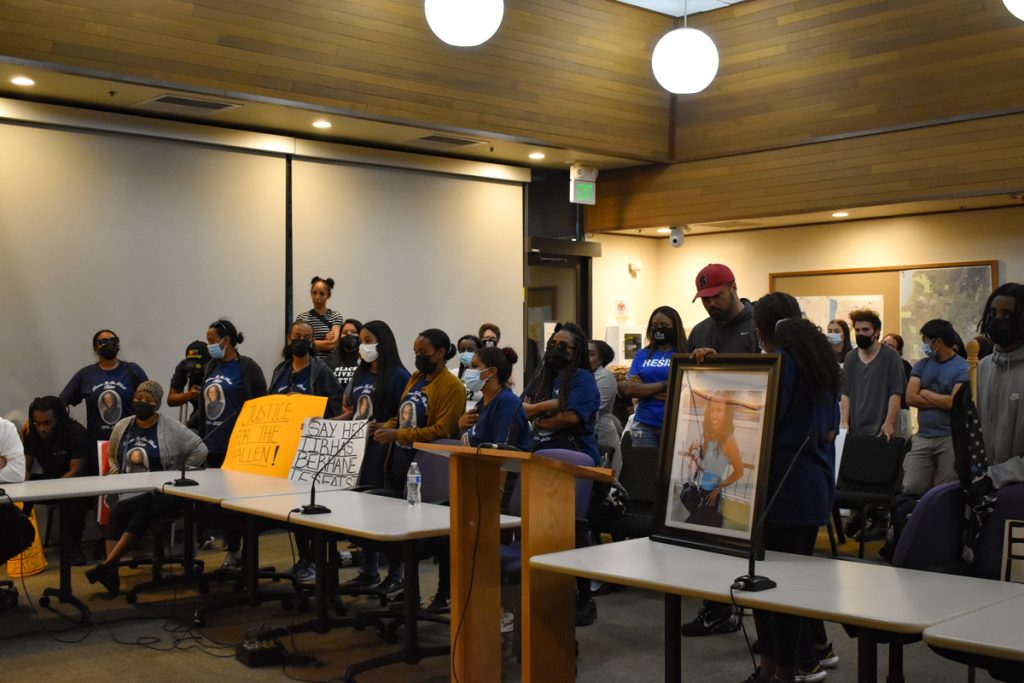 Tesfatsion's death sparked an emotional protest at Lynnwood City Hall on July 26, 2021, organized by the Seattle-based group Decriminalize Seattle who describe themselves as a "coalition that builds power in Seattle to invest in pro-community, pro-people initiatives and divest from policing and the criminal legal system."
Nearly 100 met outside City Hall, which included Tesfatsion's sister and niece, expressing concerns over in-custody safety and suspicions surrounding the cause of death before attending an emotional three-hour city council meeting.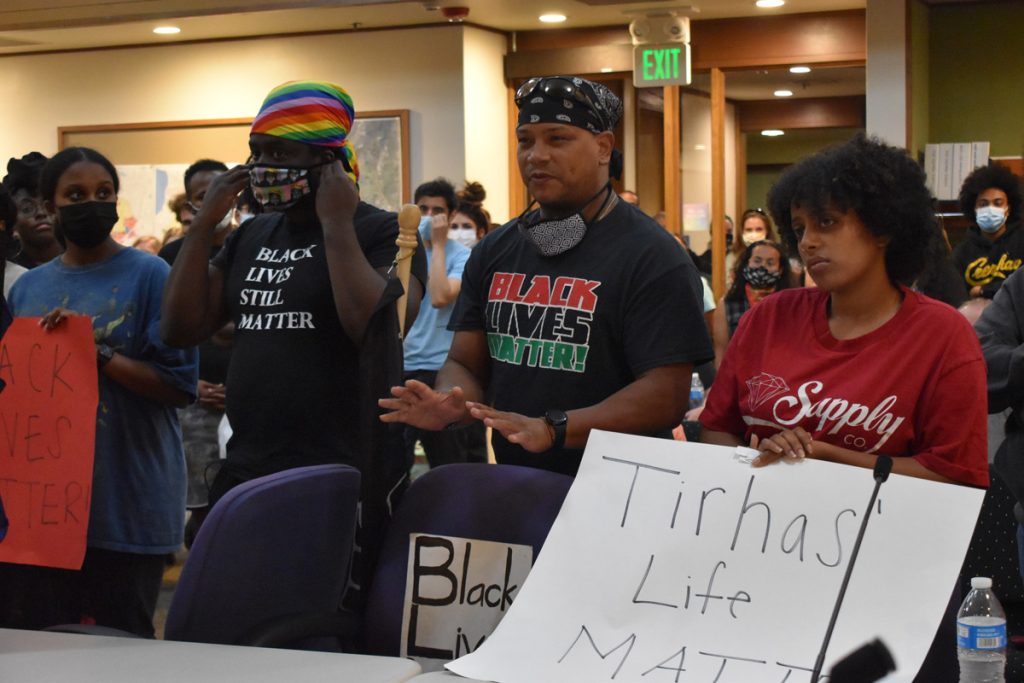 After the flag salute, then-Council President George Hurst moved that the agenda be changed to accommodate the 100 protestors outside. The council immediately proceeded to the approval of previous meeting minutes after the motion until the distant chant of "no justice, no peace" grew louder as the protesters entered the building.
Dozens of individuals donning various apparel with signs reading "Justice for Tirhas," "Defund the Police," "No good cops in a racist system," and "Say her name," attended the meeting in response to the death of Ms. Tesfatsion. The protestors chanted her name after they entered the building.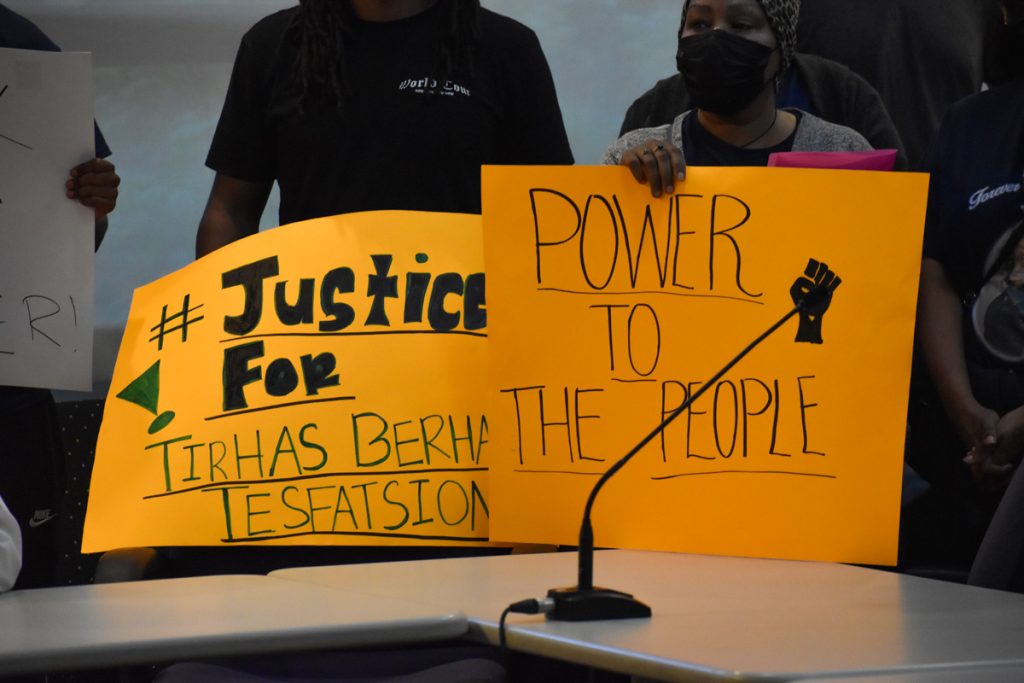 Sporadic shouts of "Black lives matter" and "You murdered her" echoed through the quieting room. As the room began to settle once again, Mayor Nicola Smith began to explain the situation.
"Our Lynnwood police command staff immediately called for an outside investigation which was conducted by Kirkland police. They are still wrapping up their full investigation, which will take a few more days. We've been informed by the Snohomish County Medical Examiner's office, that the official manner of death was the result of suicide," Mayor Smith explained.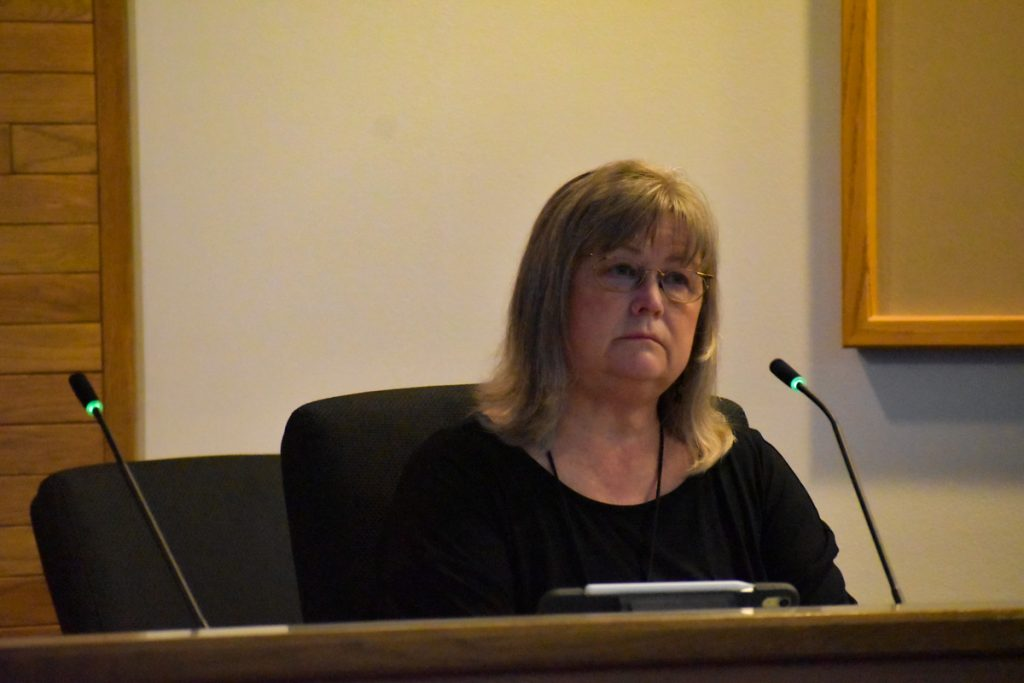 After Mayor Smith mentioned the suicide, the protestors began chanting, "They lie, they lie, we know it wasn't suicide."
Public comment began and Civil Rights Attorney James Bible, whose calm voice and professional demeanor seemed to settle the crowd, addressed the council, saying, "I want to be clear, the family reached out to the community, and the community responded."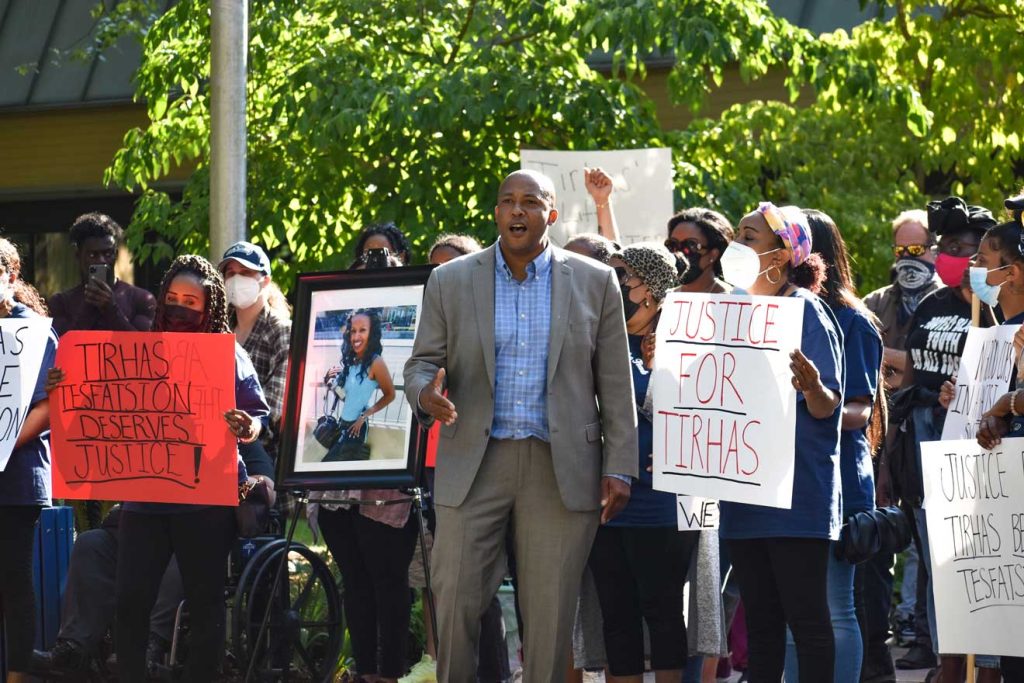 Bible continued, "We do agree that this is a tragic incident, and we will say that this is something that never ever should have happened, especially in our own city because she didn't die outside on the street or in her own home. She died in the care and custody of the Lynnwood City jail… My position ultimately is that you should get out of the incarceration business and into the helping communities business."
Bible and others express upset with not only the death of Ms. Tesfatsion but also the incarceration system as a whole.
"We're looking to you for leadership in a different sort of way and it would be a bold move to say we need to go back to the drawing table, and we need to figure out something better for these human beings and make July 13th matter differently…to infuse humanity into our systems. Don't let her death be in vain. Don't let those last desperate moments of a sad hurt person be in vain."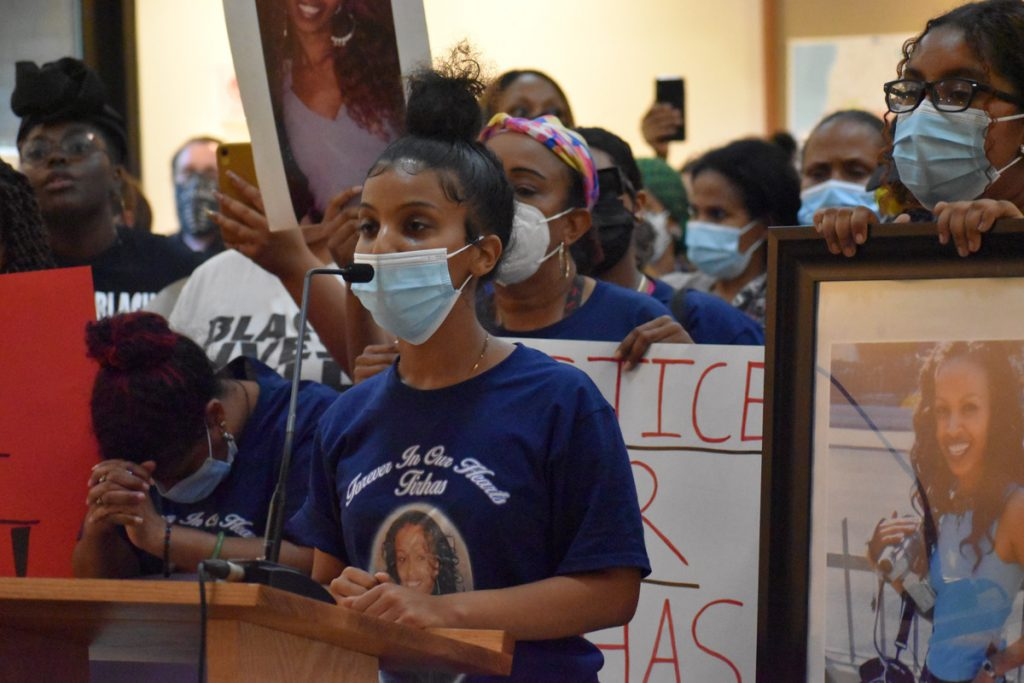 Ms. Tesfatsion's sister, the first of the family to speak at the meeting, expressed questions revolving around her sister's death that she said remain unanswered.
She continued, "We want answers…You guys failed to protect her, and then you guys murdered her and said she was suicid[al]. We are confused…It's not about Black lives—it's about life that was taken away. That's not fair."
Attorneys representing the Estate of Tirhas Berhand Tesfatsion were James Bible of James Bible Law Group, and Jesse Valdez of Valdez Lehman, PLLC, both of whom are located in Bellevue.
If you or someone you know is contemplating suicide, please contact the National Suicide Prevention Lifeline at 1-800-273-TALK or call 988 or visit www.suicidepreventionlifeline.org. If you or someone you know is struggling with substance abuse, seek out a local narcotics anonymous group at https://everettna.org/.
---
EDITOR'S NOTE: Article updated at 11:32 a.m. on September 18, 2023, to include a statement from attorney James Bible of James Bible Law Group who represented the Estate of Tirhas Berhand Tesfatsion.